Ebel's former students cut down Dodgers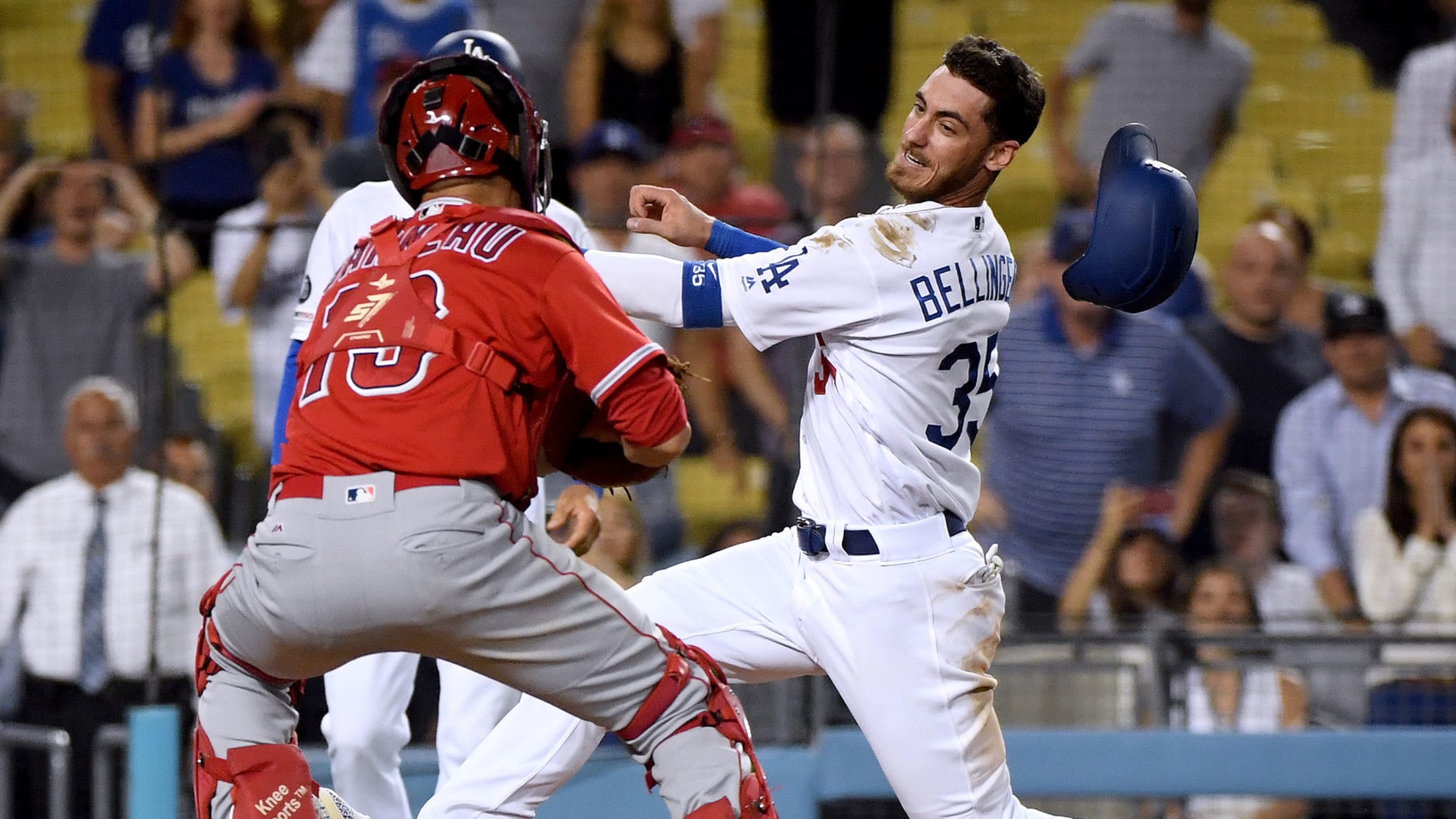 LOS ANGELES -- Dino Ebel had two of his current players thrown out at the plate on Tuesday night by two of his former players. Sometimes, that's the way the baseball gods work. The way Ebel works is, as third-base coach, he took responsibility for the two runs the Dodgers
LOS ANGELES -- Dino Ebel had two of his current players thrown out at the plate on Tuesday night by two of his former players. Sometimes, that's the way the baseball gods work.
The way Ebel works is, as third-base coach, he took responsibility for the two runs the Dodgers didn't score in a 5-4 loss to the Angels that ended with Cody Bellinger thrown out at the plate by right fielder Kole Calhoun trying to score from second base with two outs in the bottom of the ninth inning.
"To me, it was a good send, you've got to be aggressive," said Ebel, who coached 14 seasons with the Angels, including six as the outfield coach. "But any time you get a guy thrown out at the plate, I'm responsible. That's how I feel."
Ebel has been aggressively waving Dodgers runners home all season, overwhelmingly successfully, as they bolted to the best record in MLB. But in the bottom of the second inning, Max Muncy tried to score from second base on a sharp single to center by Corey Seager.
Mike Trout, who later would launch a 454-foot Loge Level blast, unleashed a 261-foot, 98.6-mph strike on the fly to catcher Dustin Garneau and Muncy was barely out on Trout's fourth outfield assist this year.
"He made a perfect throw, and that's all there is to it," said Muncy.
"It's easy to look back when a guy gets thrown out, but I trust [Ebel's] instincts," manager Dave Roberts said about the decision to send Bellinger.
Then, with the Dodgers trailing by two runs in the bottom of the ninth against closer Hansel Robles, Justin Turner walked for the third time, was doubled to third by Bellinger and scored on Muncy's sacrifice fly.
Pinch-hitter Enrique Hernandez scorched a 105.4-mph hit to right. Calhoun charged, stayed with a tricky second hop and reached with his glove to snare it, then uncorked another throw on target and on the fly, well ahead of Bellinger, who tried an evasive slide but was tagged on the upper arm. It was Calhoun's fifth outfield assist of the season.
"To be honest, it wasn't really close," said Bellinger. "Calhoun threw the ball real hard and accurate. I was out by a lot."
Hernandez said he knew he hit the ball hard enough that Calhoun might have difficulty fielding it cleanly.
"I knew he might misplay it, and in a way he did, but the ball got to him so quick, he had a chance to set his feet and make a strong throw," said Hernandez. "As a defender, you're expecting the guy to go. Your job is to make a good, low throw. It takes perfect throws for our guys to get thrown out. Sometimes you've got to tip your cap to the opposition."
Especially when you helped make the opposition who they are.
"They've all got plus-arms," said Ebel. "Trouty has worked extremely hard. When he came up, everybody said he was below average to maybe average. He worked hard to prove everybody wrong. He's got a plus-arm now. Cole has always had a plus-arm."
And they showed them off to the Dodgers and their former outfield coach, who gambled and lost.
"I felt Trouty -- with one out, Muncy at second base -- he had to go to his right and make the perfect throw to the plate to get Muncy," Ebel said of the second-inning play. "Calhoun -- bottom of the ninth and two outs -- Bellinger on a hard-hit ball, he had to go to his right and got his footwork in place and threw a perfect throw. Those two are on me. I know those guys, when they get the footwork together, they'll make a good throw, and they put it on the money."
Calhoun also homered and doubled twice.
The Dodgers had a third runner out at the plate in the sixth inning with the bases loaded when first baseman Albert Pujols made a tricky stop of Alex Verdugo's grounder and threw home for the forceout.
Ken Gurnick has covered the Dodgers for MLB.com since 2001.