Kenley gives up walk-off grand slam
Dodgers' closer nearly escaped bases-loaded, no-outs jam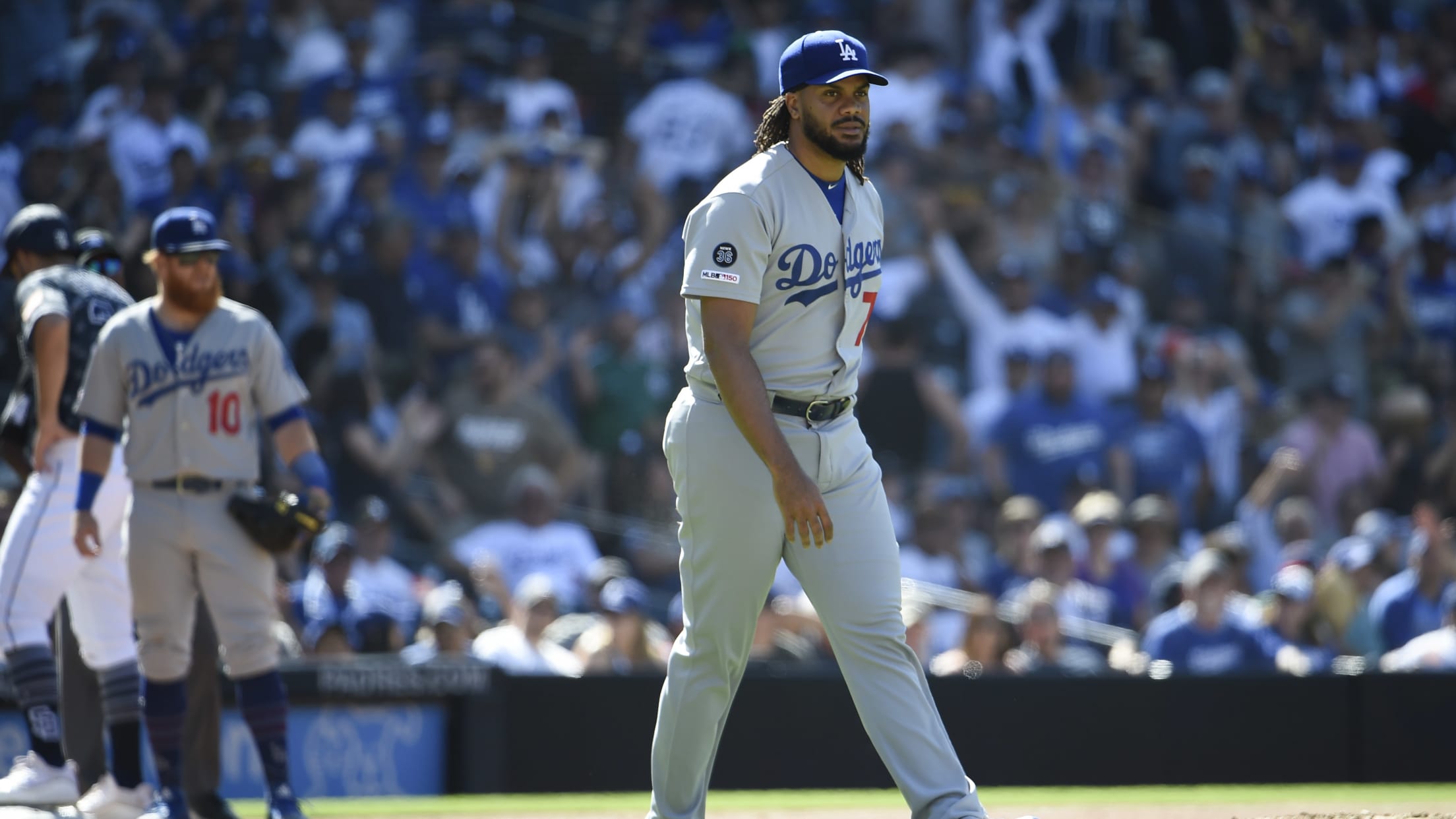 SAN DIEGO -- The Dodgers were denied a three-game sweep on Hunter Renfroe's 429-foot, pinch-hit walk-off grand slam Sunday afternoon at Petco Park. But it's a pair of bunts that never left the infield grass that they surely replayed in their minds on their drive back to Los Angeles on
SAN DIEGO -- The Dodgers were denied a three-game sweep on Hunter Renfroe's 429-foot, pinch-hit walk-off grand slam Sunday afternoon at Petco Park. But it's a pair of bunts that never left the infield grass that they surely replayed in their minds on their drive back to Los Angeles on Interstate 5.
The series ended with an 8-5 Padres victory after Renfroe yanked a 93-mph cutter from Dodgers closer Kenley Jansen over the left-field fence. Los Angeles was tantalizingly close to its third straight comeback win against a division foe on the rise, holding a 5-4 lead with two outs when Jansen delivered the 0-1 pitch to Renfroe.
"I tried to climb the ladder, but it stayed down a bit," Jansen said. "I threw my best pitch, what I wanted to throw there. That's baseball. You've got to shake it off."
The Dodgers, however, were a bit shaken by how the inning unfolded. After Eric Hosmer led off with a single. Manuel Margot and Wil Myers followed with bunt singles to load the bases with nobody out.
"If that's the way they have to beat me, I'll take that. It's a compliment," Jansen said. "Two perfect bunts -- they beat me."
"Perfect" might be a generous assessment. The Dodgers' defensive confusion contributed on Myers' bunt.
Margot's bunt rolled down the grass near the third-base line, and third baseman Justin Turner opted to watch, hoping it would kick foul, but it didn't.
Myers then put aside his power potential and pushed a bunt to the left side. Turner went to cover third, Jansen didn't break for the ball and shortstop Corey Seager hesitated while closer to second base than to the ball rolling toward the normal shortstop spot. For a moment, it appeared that Hosmer would have a chance to score from second base before Seager sprinted to grab the ball.
"It's unfortunate," Seager said. "It was one of those perfectly bunted, not great bunts that kind of confused us."
Said Dodgers manager Dave Roberts: "That can't happen. It doesn't matter whose fault it is, but that can't happen."
Tasked with escaping a bases-loaded jam while pitching for the third consecutive day, Jansen nearly did just that. The veteran right-hander struck out Greg Garcia looking at a cut fastball on a full count and then got Francisco Mejia to pop out. But Renfroe was waiting for his first swings of the day.
When Renfroe connected, the Padres were able to celebrate their comeback victory, something the Dodgers did in the first two games of the series. Los Angeles overcame 3-0 and 3-1 deficits to win Friday and Saturday. In the finale, starter Kenta Maeda spotted San Diego a 4-0 lead through four innings, including a 458-foot behemoth of a homer by Franmil Reyes, before the Dodgers went to work on what they hoped would be comeback win No. 3.
Max Muncy belted a three-run home run off Nick Margevicius in the fifth, and Chris Taylor provided a two-run shot off Robbie Erlin in the eighth as Los Angeles pushed ahead, 5-4. This time, the Dodgers were unable to hold that lead.
Jansen said his workload did not contribute to the outcome Sunday. Indeed, the previous time he worked three straight days, April 17-19, he finished with a 1-2-3 inning against the Brewers.
This time, the Dodgers could only take comfort that they won the series and tip their cap to their National League West neighbors.
"They're hungry. They want to beat us," Jansen said. "The National League wants to beat us. We're National League champs. We're going to get teams' 'A' games."