Here is each team's top int'l prospect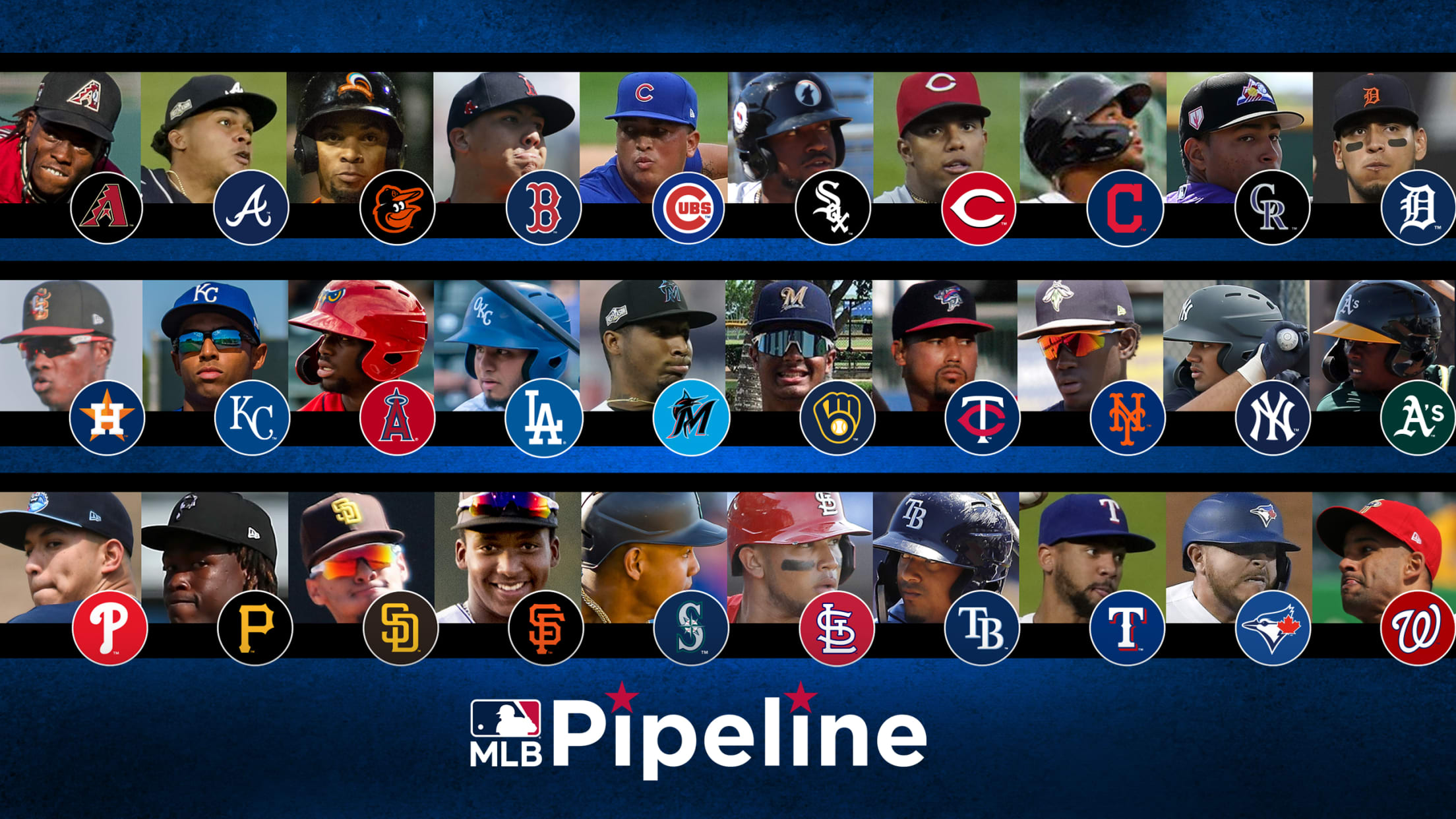 Pushed back by the coronavirus pandemic from its usual date of July 2, MLB's international amateur signing period opens on Friday. Along with the Draft, the international market remains the most cost-effective way to build a winning big league club. The most exciting player in the game today, Fernando Tatis
Pushed back by the coronavirus pandemic from its usual date of July 2, MLB's international amateur signing period opens on Friday. Along with the Draft, the international market remains the most cost-effective way to build a winning big league club.
The most exciting player in the game today, Fernando Tatis Jr., signed as an international amateur. So did José Ramirez, the runner-up in the 2020 American League MVP race, and Luis Robert, the second-place finisher in AL Rookie of the Year voting. So did Juan Soto, who placed fifth in the NL MVP voting (one spot behind Tatis), and Ronald Acuña Jr., who nearly pulled off a 40-40 season in 2019, and Rafael Devers and Yoán Moncada and Gleyber Torres and on and on ...
Who's next? Below, we highlight the best international player in each farm system.
AMERICAN LEAGUE EAST
Blue Jays: Alejandro Kirk, C (No. 6)
After signing for $7,500 out of Mexico in September 2016, Kirk introduced himself to a national audience four years later, when, after making the jump from Class A Advanced Dunedin straight to the Major Leagues at age 21, he connected on his first career home run as part of a 4-for-4 game. The 5-foot-8, 265-pound catcher stands out as much for his pure hitting ability as he does his superb plate discipline, the combination of which helped him record a .315/.418/.500 line with more walks (89) than strikeouts (60) in 151 Minor League games.
Orioles: Yusniel Diaz, OF (No. 8)
Diaz, who was the third-ranked international prospect in the 2015 class, signed with the Dodgers for $15.5 million and was dealt to the Orioles in the Manny Machado blockbuster trade in '17. The 24-year-old outfielder is best known for his bat, but he has several tools that project as either average or above average.
Rays: Wander Franco, SS (No. 1/MLB No. 1)
Franco was ranked as the No. 2 international prospect behind Shohei Ohtani for the 2017-18 period before the Rays inked him for $3,825,000 on July 2. The 19-year-old switch-hitter has done nothing but rake since then, compiling a .336/.405/.523 line with 71 extra-base hits, 110 RBIs and more walks (83) thank strikeouts (54) in 175 games across his first two seasons en route to his current spot atop MLB Pipeline's Top 100 Prospects list.
Red Sox: Bryan Mata, RHP (No. 4)
Set to sign with the Brewers out of Venezuela in July 2015 before a groin injury wiped out that agreement, Mata turned pro with the Red Sox for $25,000 six months later. He reached Double-A at age 20 in 2019 and has the upside to pitch in the front half of a rotation with an electric 93-97 mph sinker, a power slider and a fading changeup.
Yankees: Jasson Dominguez, OF (No. 1/MLB No. 48)
Is it possible to write about Dominguez without mentioning that he has drawn athletic comparisons to Bo Jackson, Mickey Mantle and Mike Trout? We're still trying to figure that out. Signed for $5.1 million out of the Dominican Republic in July 2019, he has the potential for well above-average tools across the board and has advanced skills as well.
AMERICAN LEAGUE CENTRAL
Indians: George Valera, OF (No. 5)
One of the top hitting prospects in the 2017 international class, Valera has played just one real season since signing for $1.3 million out of the Dominican Republic because of a broken hamate bone in 2018 and the pandemic last year. He has a beautiful left-handed swing and advanced hitting instincts, leading some evaluators to project him as a .300 hitter with 25-30 homers on an annual basis.
Royals: Erick Peña, OF (No. 5)
Peña's left-handed bat and power potential landed him the highest bonus ($3,897,500) of any player in Kansas City's 2019-20 international class. While he hasn't yet had a chance to showcase those loud tools in a Minor League game, the feedback on his performance during fall instructional league in each of the last two years has been glowing, and he reportedly held his own as a 17-year-old at Kansas City's alternate training site this past summer.
Tigers: Isaac Paredes, 3B/SS (No. 6)
The Cubs signed Paredes out of Mexico for $500,000 in July 2015 and then traded him to the Tigers two years later in a deal for Justin Wilson and Alex Avila. He reached the Majors for the first time in 2020 at age 21 but struggled in 34 games with Detroit, batting .220/.278/.290 with a 22.2 percent strikeout rate. The good news is that Paredes rebounded during his offseason campaign in the Mexican Pacific League, where he took home the league batting title with a .379 average and paced the circuit in OPS (1.060).
Twins: Jhoan Duran, RHP (No. 5)
Duran, whom the Twins acquired from the D-backs in July 2018, reached Double-A in '19 and is expected to make his Major League debut at some point in the '21 campaign. Duran signed with Arizona in 2015, and while he was projectable at the time, he was also very raw on the mound. That report held true three years later when he switched organizations, but the 6-foot-5 right-hander has made considerable strides over the past two seasons and features a nasty splitter and an electric fastball that can touch triple digits.
White Sox: Micker Adolfo, OF (No. 8)
MLB Pipeline's No. 2-rated prospect in the 2013 international crop behind only Eloy Jimenez, Adolfo signed for $1.6 million out of the Dominican Republic on the basis of his well above-average raw power and arm strength. He continues to show those tools but has been dogged by ankle, hamate and elbow injuries that have limited him to 364 pro games in seven years.
AMERICAN LEAGUE WEST
A's: Robert Puason, SS (No. 2)
The star of the A's 2019-20 international class, Puason signed with the club for $5.1 million in July 2019. The 18-year-old shortstop has yet to make his professional debut, but Oakland officials did get a good look at the young shortstop when he participated at the organization's alternate training site during the '20 season. A switch hitter, Puason is more of a line-drive hitter for now, but it's easy to see him hitting for more power as he continues to develop.
Angels: D'Shawn Knowles, OF/2B (No. 8)
It didn't take Knowles long to make an impression, as he excelled almost immediately after signing with the Angels in 2017 from the Bahamas. Just 17 at the time, Knowles hit .311 over 58 games of Rookie-level ball in '18. While his numbers dipped a bit the next season, the switch-hitter has improved his offensive approach and has demonstrated an impressive work ethic early in his career.
Astros: Freudis Nova, INF (No. 2)
Nova originally agreed to sign with the Marlins out of the Dominican Republic for $2.5 million in July 2016, but that deal fell apart when he tested positive for performance-enhancing drugs and he landed with the Astros for $1.2 million. He has plus raw power, similar speed and double-plus arm strength.
Mariners: Julio Rodriguez, OF (No. 2, MLB No. 15)
Rodriguez, 20, made a name for himself almost immediately after signing for $1.75 million in July 2017. The outfielder hit .315 in his professional debut in the Dominican Summer League in '18, then hit .326 across Class A and Class A Advanced (84 games total) in '19. While Rodriguez is bursting with potential, he struggled to hit in the Dominican Winter League this offseason and had limited reps this season after fracturing his wrist during Summer Camp. A full '21 season will be big for Rodriguez, and it wouldn't be a surprise to see him atop some prospect lists heading into '22.
Rangers: Leody Taveras, OF (No. 4)
One of the best athletes in the 2015 international crop, Taveras signed for $2.1 million from the Dominican Republic and progressed rapidly through the Rangers system. He made his big league debut this year at age 21, showing Gold Glove-caliber ability in center while hitting with more authority than he had in the Minors.
NATIONAL LEAGUE EAST
Braves: Cristian Pache, OF (No. 1, MLB No. 10)
Braves fans got a brief glimpse of Pache when he received four at-bats in late August last season and then got another big league opportunity (22 at-bats) in the postseason. The Braves signed the 22-year-old outfielder for $1.4 million in 2015, and while his approach at the plate has improved, Pache is best known for his defense. Arguably the best defensive prospect in all of baseball, Pache not only has a cannon for an arm, but also has plus instincts and will be a Gold Glove-caliber center fielder.
Marlins: Sixto Sánchez, RHP (No. 1/MLB No. 19)
The Phillies discovered Sánchez in the Dominican Republic while attending a workout for a Cuban catcher in February 2015 and signed him for $35,000, then used him as the key piece in the J.T. Realmuto trade four years later. He impressed in his first taste of the Majors last summer, allowing just five runs in his first six starts and blanking the Cubs for five innings in the Wild Card Series, frequently reaching triple digits with his fastball and confounding hitters with his changeup.
Mets: Ronny Mauricio, SS (No. 1/MLB No. 57)
Mauricio has continued to add strength to his ultra-athletic, 6-foot-3, 166-pound frame since signing with the Mets for $2.1 million in July 2017. Scouts believe that physical development will eventually translate to consistent game power for the 19-year-old shortstop -- a switch-hitter who produced a .268/.307/.357 line with 29 extra-base hits over 116 games with Class A Columbia during his 2019 full-season debut.
Nationals: Andy Lara, RHP (No. 4)
The Nationals viewed Lara as the top pitching prospect in the 2019-20 international class and made the Venezuelan right-hander their top target, signing him for $1.25 million at the start of the July 2 period. He's physically advanced for his age, featuring a projectable frame that should allow him to add velocity to a fastball that already touches 95 mph.
Phillies: Francisco Morales, RHP (No. 4)
One of the top pitching prospects in the 2016-17 class, Morales signed with the Phillies for $900,000. The 21-year-old has always had impressive stuff -- including a fastball that touches 98 mph and a plus slider -- but also took a step forward in 2019. While Morales has shown that he has the stuff to get hitters out, his command isn't always consistent, though the Phillies don't expect that to be a long-term issue.
NATIONAL LEAGUE CENTRAL
Brewers: Hedbert Perez, OF (No. 9)
The recipient of the second-largest bonus ($700,000) given out by the Brewers during the 2019-20 international period, Perez was a standout during instructional league in 2019 and he opened even more eyes this year as the youngest player (17) at Milwaukee's alternate training site. He has one of the higher ceilings in the system as a true center fielder who projects to hit for both average and power from the left side of the plate.
Cardinals: Ivan Herrera, C (No. 4)
Herrera has passed every challenge the Cardinals have thrown his way since the organization signed him for $200,000 out of Panama in July 2016. After slashing .284/.374/.405 between Class A Peoria and Class A Advanced Palm Beach in 2019, he stood out against older players in that year's Arizona Fall League. Herrera continued to surge forward with his development at the Cardinals' alternate training site in 2020, prompting the team to add him to their 40-man roster in November.
Cubs: Brailyn Marquez, LHP (No. 1/MLB No. 63)
The best pitching prospect signed by the Cubs since the Theo Epstein/Jed Hoyer regime took over in October 2011, Marquez turned pro for $600,000, the largest bonus any left-hander received on the international amateur market in 2015. The Dominican can run his fastball as hot as 102 mph and also has a power mid-80s slider and a developing changeup.
Pirates: Oneil Cruz, SS (No. 3/MLB No. 59)
Cruz's 6-foot-7 frame certainly isn't typical for a shortstop, but there are exceptions to every rule, and the 22-year-old has both a rocket arm and the necessary athleticism to stay at shortstop. Acquired from the Dodgers in a 2017 trade, Cruz reached Double-A in '19 at age 19 and has as much raw power as anyone in the Pirates' farm system. While he's hit just 32 homers over 336 career games, he showed an ability to hit for more power with an improved approach in '19 and could develop even more power as he fills out his frame.
Reds: Jose Garcia, SS (No. 6)
Garcia, whom the Reds signed in 2017, made his Major League debut this past season and hit .194 over 67 at-bats. While the 22-year-old struggled offensively in the Majors, it's important to remember that he skipped both Double- and Triple-A on the way to his debut. While Garcia held his own defensively, it was clear that he needs to get some more at-bats, so he may begin '21 in the Minors.
NATIONAL LEAGUE WEST
D-backs: Kristian Robinson, OF (No. 1/MLB No. 39)
Signed out of the Bahamas for $2.5 million in July 2017, Robinson slashed .282/.386/.514 with 14 homers in 2019 while reaching Class A Kane County in his age-18 season. While the 6-foot-3 outfielder's massive right-handed power may be his calling card, he also has an all-around set of tools that should allow him to impact games in multiple ways. The 20-year-old outfielder will need time to develop, but the final product could be that of a true middle-of-the-lineup slugger.
Dodgers: Keibert Ruiz, C (No. 2/MLB No. 68)
Ruiz has been on the fast track since signing for $140,000 out of Venezuela in 2014, reaching Double-A at age 19 in 2018 and homering in his first big league plate appearance last August. He's an elite contact hitter with burgeoning power and the tools to be a solid defender behind the plate.
Giants: Marco Luciano, SS (No. 2/MLB No. 29)
The Giants haven't signed a homegrown international All-Star since Pablo Sandoval in 2003, but Luciano should change that in the near future after signing for $2.6 million out of the Dominican Republic in 2018. The top-rated middle infielder in his international class, he has outstanding bat speed and power, precocious hitting ability and a chance to stay at shortstop.
Padres: Tucupita Marcano, INF (No. 6)
Named for the town of Tucupita, where he's from in Venezuela, Marcano signed for $320,000 in July 2016. He's only 21, but already possesses some of the best plate discipline and strike zone judgment in the organization, as underscored by his 99 walks compared to 76 strikeouts in 212 Minor League games. Marcano also projects as an above-average hitter in the big leagues -- he hit .270 at Class A Fort Wayne in 2019 -- though he's unlikely to ever offer much in the way of power.
Rockies: Helcris Olivarez, LHP (No. 16)
Yonathan Daza ranks higher on the Rockies' Top 30 Prospects list, but Olivarez impressed at the Rockies alternate training site and has certainly improved his stock heading into 2021. The lefty, whom the Rockies signed in '16, struggles with control at times, but he sits in the mid- to upper-90s with fastball and throws a curveball that flashes plus as well. Olivarez, 20, was the youngest player at the Rockies' alternate training site and drew club officials' eyes while competing against players with significantly more experience. Like plenty of young players, he lacks consistency at times, but he has shown that his stuff is good enough to succeed, and his desire to succeed could ultimately help him reach his ceiling.