Martin, Kelly return to game action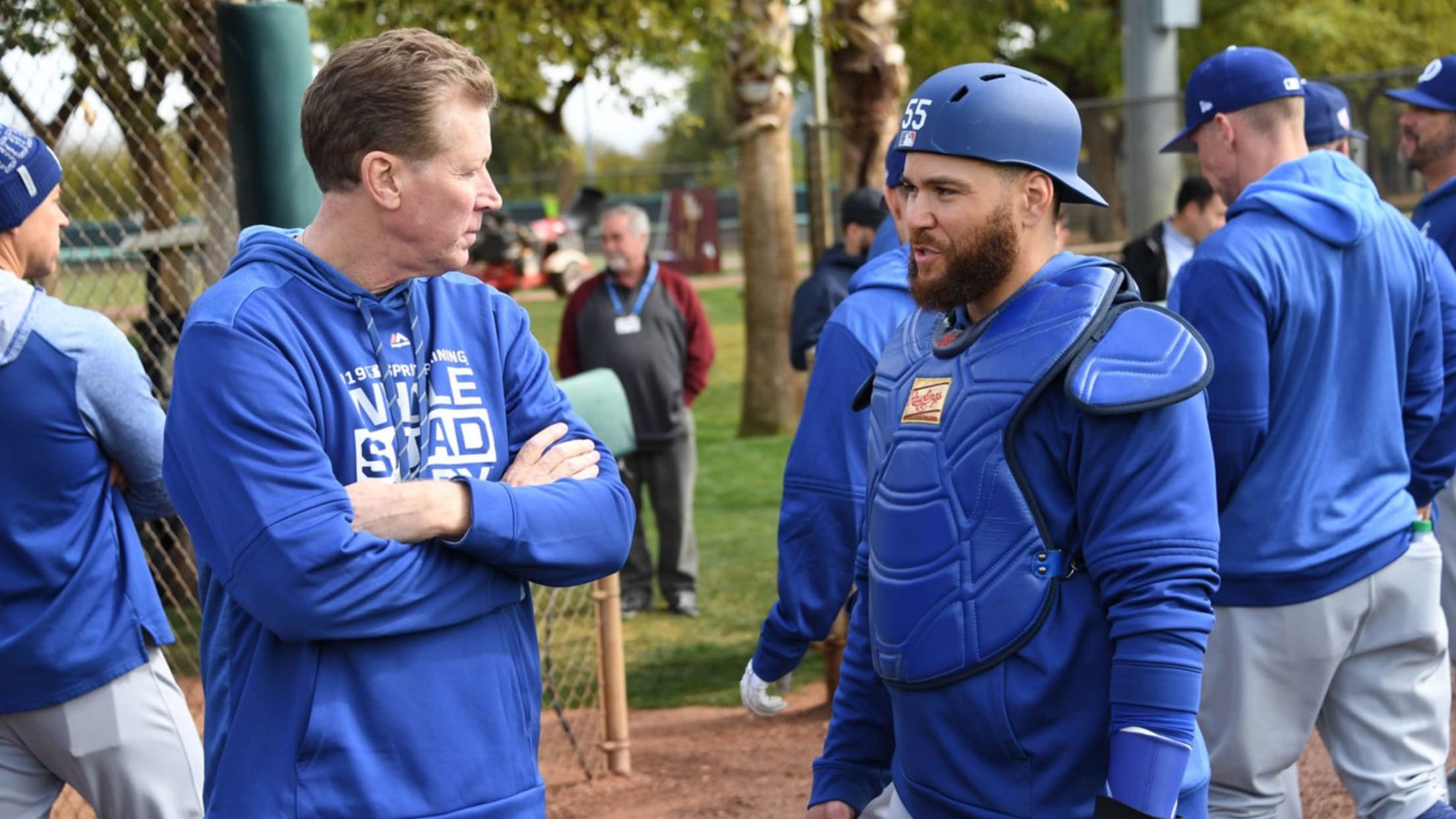 SCOTTSDALE, Ariz. -- Dodgers catcher Russell Martin and reliever Joe Kelly returned from back injuries to play in Sunday's 3-1 win over a Rockies split squad and came out healthy. Martin went 1-for-2 and caught two innings, his first game action since Feb. 26, when he went to the sidelines
SCOTTSDALE, Ariz. -- Dodgers catcher Russell Martin and reliever Joe Kelly returned from back injuries to play in Sunday's 3-1 win over a Rockies split squad and came out healthy.
Martin went 1-for-2 and caught two innings, his first game action since Feb. 26, when he went to the sidelines after overdoing it in the batting cage. Martin also struck out and scored a run.
"It's fun to be out there with my body feeling good," said Martin. "I just need more reps. I feel confident in my swing."
Kelly threw a perfect six-pitch inning in his first game action since March 3, after which his back tightened while helping prepare a team dinner.
Martin caught Julio Urias, who threw three hitless innings with two strikeouts and a walk. Urias continues to impress, although it's likely he won't break camp with the big league team because management wants to save his innings for later in the season. He escaped injury when Raimel Tapia's comebacker glanced off his right leg in the third inning.
"He executes pitches," said Martin. "He stays in his mechanics. Young pitchers tend to be a little bit more erratic, he's just got great mechanics and he trusts his delivery and repeats his delivery. He's not afraid to throw strike one, with the fastball or breaking ball. He just seems he's a perfectionist and wants to keep getting better. He's one of those kids with the combination of talent but also the attitude of a guy not scared and will never be scared. It's a good combination."
Urias' velocity increased through his outing to 97 mph.
"He's got a great power arm, and he's got the other pitches to go with it, that's what makes him tough," said Martin. "For the hitter, it's really uncomfortable to play that guessing game."
As for Martin's credibility as an evaluator, consider these comments Martin made about a certain Dodgers pitcher:
"He's got just a heavy, heavy fastball and an easy delivery. He's very deceptive. His curveball, it just drops off the table. I think it's the best curveball I've ever caught, to be honest. He keeps the ball down. You can see he's a tremendous competitor. … It's just how easy he throws. He's mechanically sound. I don't think he needs to learn anything mechanically. He looks polished. He wasn't holding anything back, he was just going after it. He's only 19. Man, that's impressive."
Those Martin quotes were issued in 2008 after the first time he caught a Minor League pitcher by the name of Clayton Kershaw.
Worth noting
• Dodgers 40-man roster relievers were dominant against the Rockies. Kelly, Tony Cingrani, JT Chargois and Dylan Floro pitched a scoreless inning each. Max Muncy drove in two runs and Justin Turner one, both with doubles.
• During the game, the Dodgers announced a handful of roster cuts. They optioned right-handed pitchers Yadier Alvarez and Josh Sborz, left-handed pitcher Donnie Hart, infielder Matt Beaty and catcher Rocky Gale and reassigned right-handed pitcher Mitchell White, infielders Omar Estevez, Gavin Lux and Jake Peter and outfielders DJ Peters and Cameron Perkins to Minor League camp. The Dodgers now have 45 players in big league camp, including 23 pitchers and five catchers.
Hart was just acquired off waivers and didn't pitch in a game for the club. Lux, a former first-round pick and ranked the fourth-best prospect in the organization by MLB Pipeline, has been plagued by throwing issues.
"Well, I think there's some things we're working on cleaning up with Gavin," said manager Dave Roberts. "It hasn't been a problem in the past. There's some footwork things and with the grip that our guys have detected. We're just going to keep working through it. For Gavin, he's very confident, very secure in who he is. Every player has challenges. The No. 1 thing for us, we're here for him and we'll support him. I'm not making too much of it. Gavin's going to be fine."
According to MLB Pipeline, Lux "has had issues with throwing accuracy, leading to 61 errors in 208 games at short in his first three seasons, so many scouts think he'll wind up at second base."
Reliever Josh Fields, designated for assignment on Thursday to make room for Hart, was released. Fields' velocity was down this spring and by releasing him the Dodgers trim roughly $2 million from the payroll.
Up next
Minor Leaguer Tony Gonsolin will start on Monday when the Dodgers host the Giants and Chris Stratton at 1:05 p.m. PT. Also listed to pitch for the Dodgers are Caleb Ferguson, Pedro Baez, Stetson Allie and Kevin Quackenbush.
Ken Gurnick has covered the Dodgers for MLB.com since 2001.