Buehler full-go in 1st ST bullpen session
Dodgers are 'slow-playing' right-hander this spring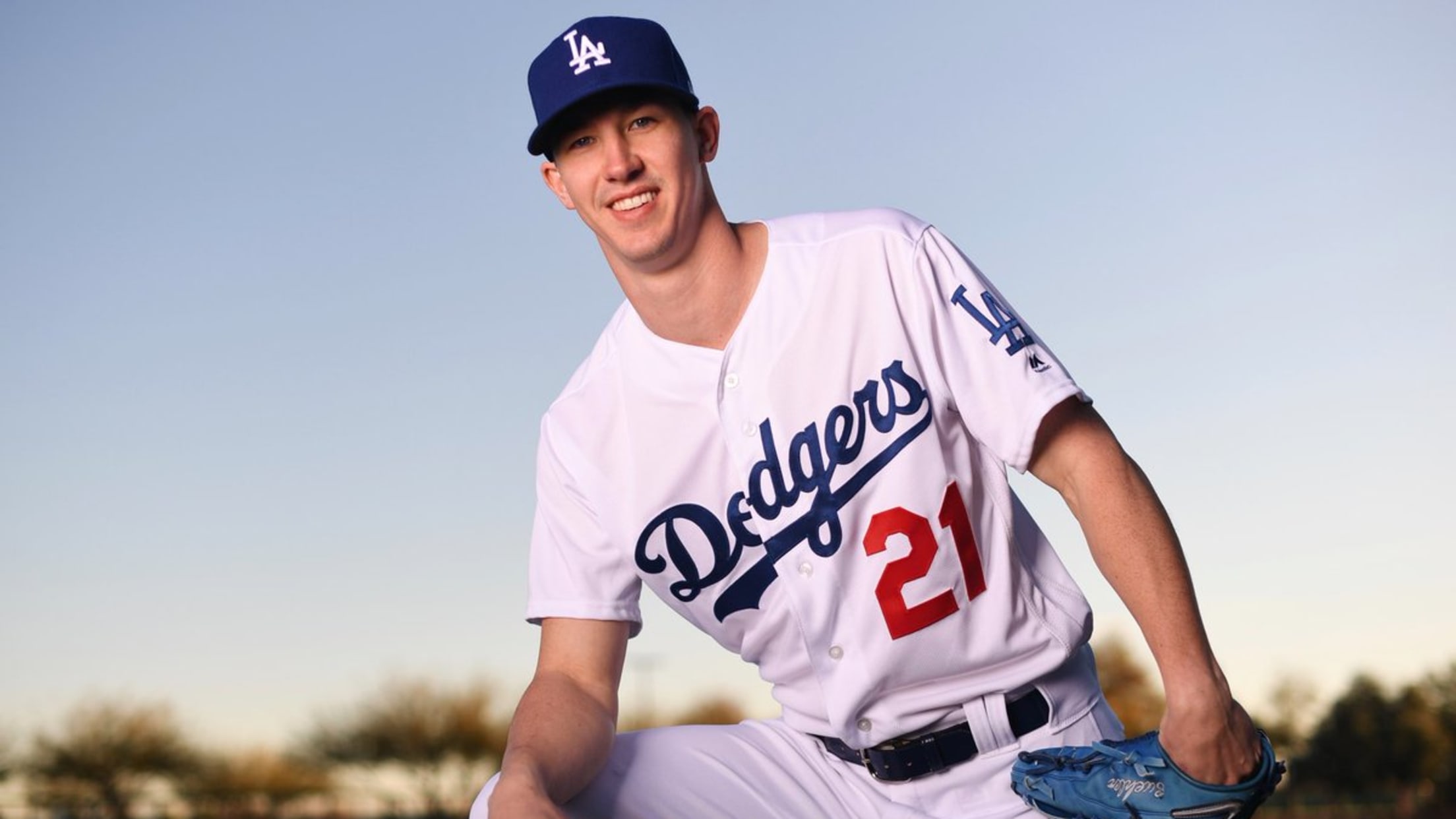 GLENDALE, Ariz. -- Catcher Josh Thole has almost six years of Major League service. He caught a young Matt Harvey with the Mets; he caught Aaron Sanchez and Marcus Stroman with the Blue Jays. On Wednesday, Thole caught the first bullpen session of the spring by Walker Buehler, who has
GLENDALE, Ariz. -- Catcher Josh Thole has almost six years of Major League service. He caught a young Matt Harvey with the Mets; he caught Aaron Sanchez and Marcus Stroman with the Blue Jays.
On Wednesday, Thole caught the first bullpen session of the spring by Walker Buehler, who has been "slow-played" after last year's spike in innings.
"Best arm I've ever seen," Thole said after Buehler's 30-pitch workout. "I used to think Aaron Sanchez had the best young arm, electric stuff. I left that bullpen today and told three of my counterparts that's the best stuff-wise from a young kid I've ever seen. Four, five pitches, all with great action on it. Just a heavy fastball."
Cody Bellinger stood in for the final 13 pitches.
"Belly was like, you could just read a guy -- I know he was just standing there taking pitches -- but it was like, pop-boom. There's something about it, the last five feet have a different gear on it."
This is Thole's first go with the Dodgers, a non-roster invitee. Turns out it wasn't the first time he caught Buehler.
"I think it was the offseason before his junior year at Vanderbilt, and I live in Denver and he was visiting family there and we have the same agent, and I was asked to catch him," Thole recalled. "So even then, I remember him being a kid with a really good arm.
"Today, his stuff was so good, the cutter moved like eight inches. Wiffle ball slider? 'Oh, I'm just working on it,' he said. He just found this grip? I can attest, from a stuff standpoint for a young kid, I was supposed to be working on catching stuff, but I threw that out the window. I had to. Just catch the ball, it was moving so much."
.@buehlersdayoff working in the 'pen. #DodgersST pic.twitter.com/HUU6AsijM4

— Los Angeles Dodgers (@Dodgers) February 20, 2019
Buehler wasn't quite as impressed with his performance.
"It was fine," he said. "I threw everything I had, about 30 pitches. We just took a couple-days breather and went back, knocked the cobwebs off and move forward."
Buehler agreed that his command improved when Bellinger stepped in, offering two reasons.
"It's the competitive aspect and the sightlines are a little better, you're more used to trying to execute with somebody in there," he said.
• Justin Turner, Corey Seager get scheduled day off
Buehler said he threw several bullpen sessions leading into Spring Training at the University of Kentucky. But management throttled him back when Spring Training started, so he's about a week behind the other starting pitchers, who already are throwing live batting practice in preparation for games that begin on Saturday.
"My schedule is probably right on last year, when I had that back [strain] early in spring," he said. "I think the way I throw the ball and the way my arm works, I don't need quite as many reps to get to the velocity and stuff like what I want to be at. I'm happy with it."
It appeared that Buehler wasn't holding back anything on velocity.
"It's hard for me to," he said. "If I'm going to be on a mound, it's difficult for me to command the ball if I'm not close to full effort."
Buehler said he expects to throw one or two more bullpens before throwing to hitters and pitching in a game.
"Just to make sure I know where the ball's going," he said.
Ken Gurnick has covered the Dodgers for MLB.com since 2001.