Tribe's all-time saves leader DFA'd by Angels
Allen had inked 1-year deal in Anaheim after spending past 7 years in Cleveland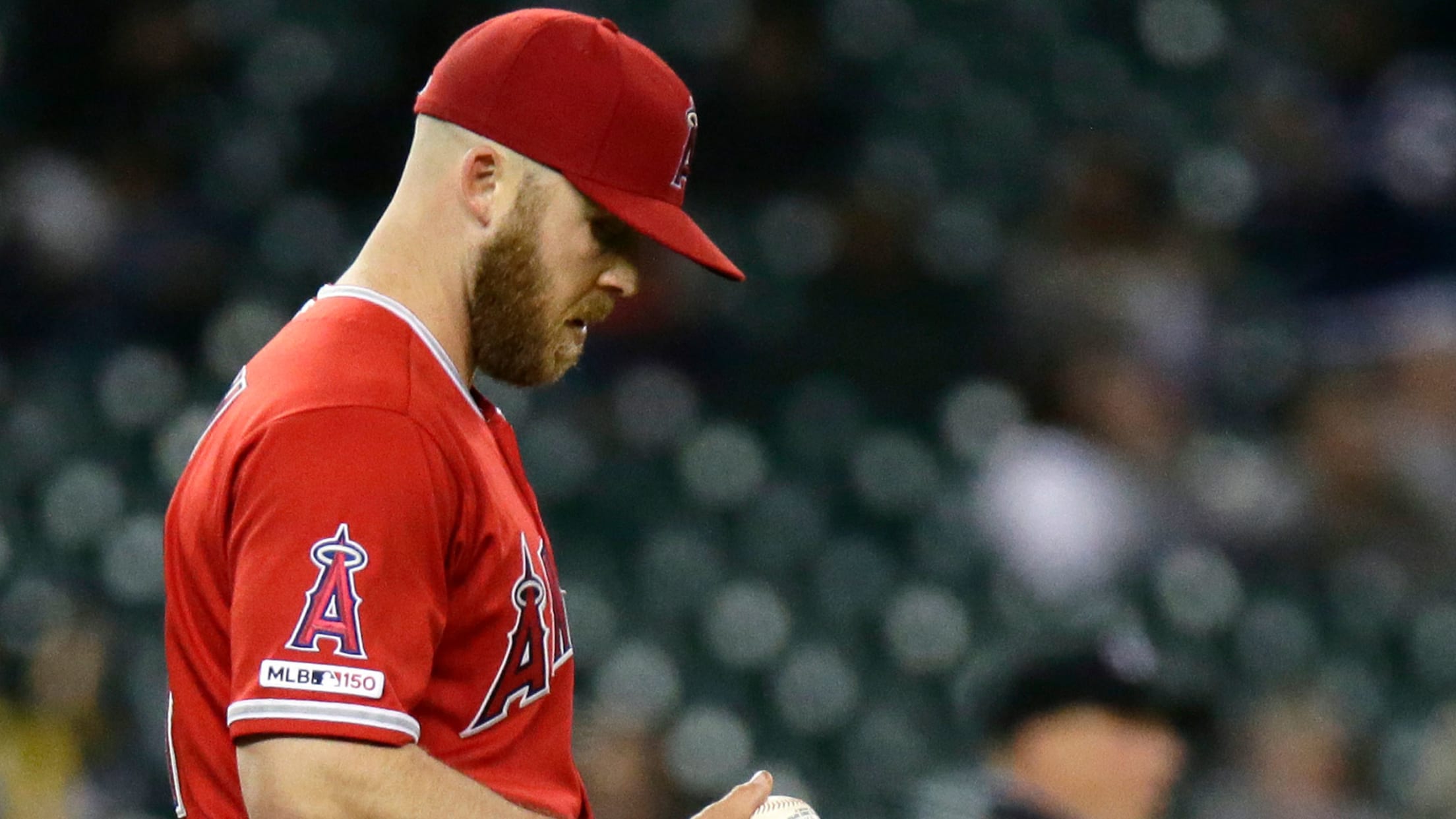 DETROIT -- Cody Allen was hoping to see better results with the Angels in 2019 than he saw for the Indians in '18. He elected free agency at the end of last season, then signed a one-year deal with Los Angeles for $8.5 million. But Saturday morning, he was designated
DETROIT -- Cody Allen was hoping to see better results with the Angels in 2019 than he saw for the Indians in '18. He elected free agency at the end of last season, then signed a one-year deal with Los Angeles for $8.5 million. But Saturday morning, he was designated for assignment.
The 30-year-old spent his first seven big league seasons with the Indians after getting drafted by Cleveland in the 23rd round of the 2011 MLB Draft (having previously also been chosen by the Tribe in the 16th round of the 2010 MLB Draft). And even though he posted a career-high 4.70 ERA for the Tribe last season, going 4-6 with 27 saves in 70 games, he left a big footprint in the organization, holding the club's franchise record with 149 career saves.
"Yeah, I was texting with him earlier today," Indians manager Terry Francona said. "Guys can go to other teams, you know, and you still care. You still worry about them. You could hear a lot of guys talking about that today here."
In 25 games (23 innings) for the Angels, Allen pitched to a 6.26 ERA. Through his first 10 appearances, he was the Angels' back-end man, closing out each game and recording all four of his saves and two losses in that span. But after that, his work became scattered across different innings as he struggled with his mechanics.
"Yeah, I mean his fastball's ticked down a little bit," Francona said. "He pitches a lot. He doesn't have the biggest frame. Last year, he lost the feel for his breaking ball at times, which didn't help. I haven't been around him this year. I know his back was hurting him for a while. So I don't know."
After his four-run outing in two-thirds of a frame in Friday's game against the Rays, Allen could see the writing on the wall.
"Either I'm going to get better, or they're going to find someone else who does," he added. "That's the reality of the game."
When a player's contract is designated for assignment -- often abbreviated "DFA" -- that player is immediately removed from his club's 40-man roster, and 25-man roster if he was on that as well. Within seven days of the transaction (it was previously 10 days), the player must either be traded, released or placed on irrevocable outright waivers.
"I hope he rediscovers something and pitches somewhere else," Angels manager Brad Ausmus said. "He's a good person, and I'd like to see him continue his career."
Indians transactions
Prior to Saturday's game against the Tigers, the Indians announced that they claimed right-hander Jordan Stephens from the White Sox and optioned him to Double-A Akron. He was placed on the 40-man roster, taking the spot of Bradley Zimmer, who was moved to the 60-day injured list.
Stephens was drafted by Chicago in the fifth round of the 2015 MLB Draft out of Rice University. He missed most of his 2014 collegiate season after having Tommy John surgery, but over his five seasons in the Minors, he's logged a combined 3.98 ERA in 92 games (79 starts). He's spent the majority of 2019 in Triple-A Charlotte, going 3-4 with an 8.39 ERA in nine games (six starts), including one start at Class A Advanced Winston-Salem.
The Indians also traded righty Brooks Pounders to the Mets for cash considerations. In 24 appearances for Triple-A Columbus this season, Pounders recorded a 2.31 ERA with 11 walks and 46 strikeouts in 35 innings.
This date in Indians history
2005: Aaron Boone hit a walk-off homer in the 11th inning to send the Indians to a 7-6 victory over the Rockies.