DeShields returns to Summer Camp with Tribe
Francona weighs options for switch-hitters; lefty Moss impresses Cleveland coaches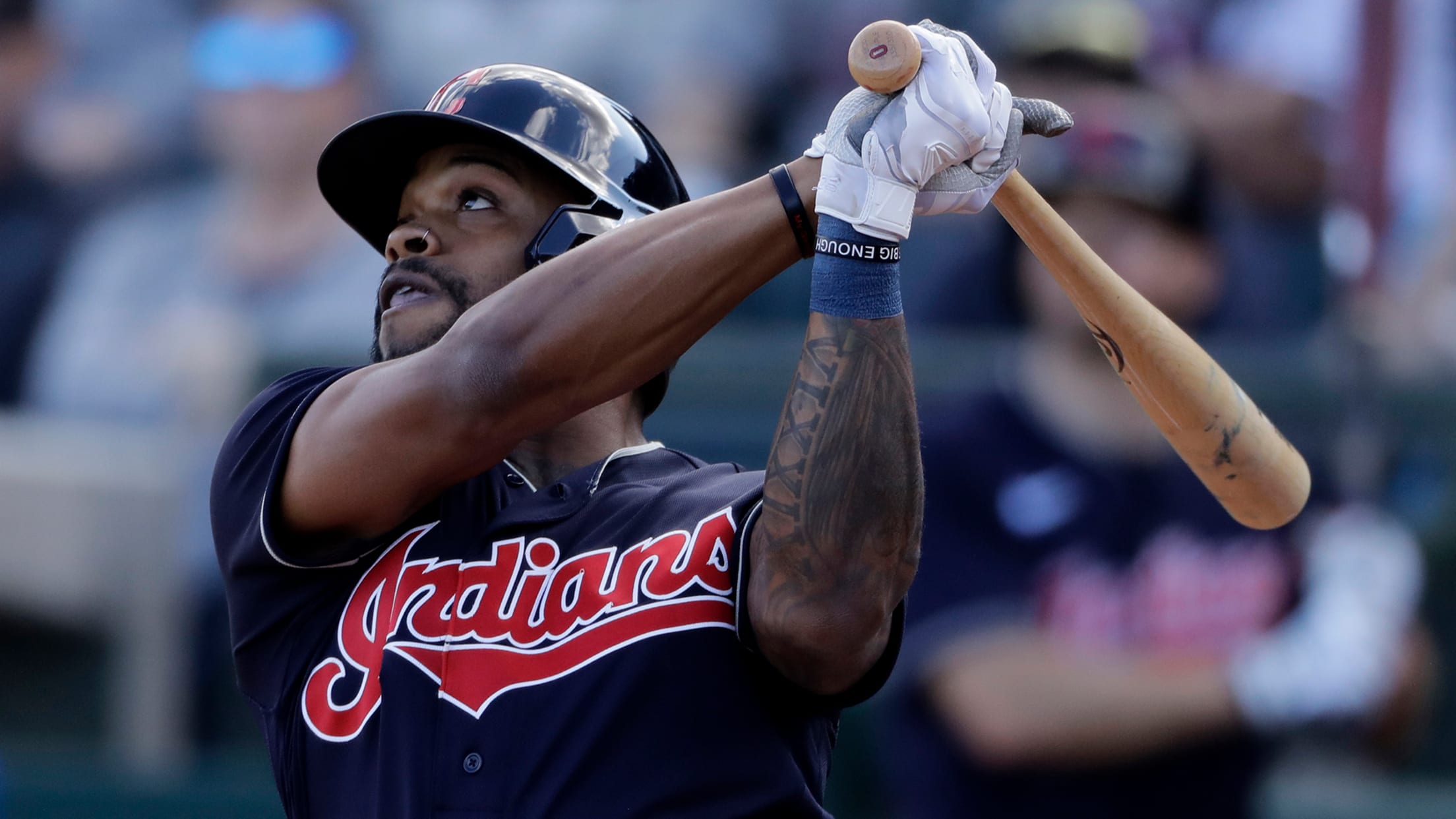 CLEVELAND -- All 58 players have officially reported to the Indians' Summer Camp. Outfielder Delino DeShields Jr. tested positive for COVID-19 prior to baseball's resumption on July 1, and he stayed at his home in Arizona until he tested negative. After 10 days, DeShields was able to work out with
CLEVELAND -- All 58 players have officially reported to the Indians' Summer Camp.
Outfielder Delino DeShields Jr. tested positive for COVID-19 prior to baseball's resumption on July 1, and he stayed at his home in Arizona until he tested negative. After 10 days, DeShields was able to work out with his teammates at Progressive Field on Saturday, partaking in batting practice and some running drills.
"He's been bottled up for I think close to three weeks," Indians manager Terry Francona said. "So it's going to take a little while to get him back rolling. But today was the first day of that back on the field. So that was good to see."
DeShields needed a negative COVID-19 test to be permitted to fly to Cleveland, and he had to test negatively a second time once he got to town. Now that he's been cleared to rejoin his teammates, he'll jump back into the heated outfield competition, trying to earn a spot on the 30-man roster.
The Tribe has 10 outfielders on its 40-man roster, and Oscar Mercado, Tyler Naquin, Jordan Luplow, Franmil Reyes and Domingo Santana appear to be locks to make the Opening Day roster. Depending on how many pitchers Cleveland goes with, it could easily carry two more outfielders; DeShields was at the top of that list entering the 2020 season. However, the team will have to make sure he's able to get himself back into game shape in just under two weeks before Opening Day. If DeShields needs extra time, that could open a door for players like Jake Bauers, Greg Allen, Daniel Johnson or Bradley Zimmer.
So many switch-hitters
The Indians' lineup has the chance to be in a unique spot with four switch-hitters in the batting order, including César Hernández, Carlos Santana, Francisco Lindor and José Ramírez. Although Francona noted it's not always a tremendous advantage for a club if the switch-hitter is much weaker on one side of the plate than the other, for the Tribe, it's something he sees playing in their favor.
• Lindor caps homer with somersault
"We may go for a series where a team may elect to turn Josey around," Francona said, "or Santana around or Lindor, and then the very next team will decide they want them to hit the other way. … When they have that ability to be good from both sides, you're creating a platoon advantage way more often than you normally would. That's the best way I could put it."
The switch-hitting quartet could easily make up the top four spots of the batting order on Opening Day, but Francona said that's something he'll need to think about over the next two weeks.
"I haven't looked at it real close," Francona said. "But there's a chance those guys hit first, second, third and fourth in the order. Is that the best use of switch-hitters? I don't know. But you want your guys hitting at the top of the order. But those are all things to think about."
Does anyone have more fun playing baseball than Francisco Lindor? pic.twitter.com/agGpblWzdo

— Cleveland Indians (@Indians) July 11, 2020
The future is bright for Moss
In Friday night's scrimmage, lefty Scott Moss took the mound in his longest outing in front of the Major League coaching staff. He allowed two runs on three hits in four innings with three walks, six strikeouts and two home runs (Yu Chang and Naquin). He may not be someone who will be cracking the Tribe's rotation this year -- assuming all remain healthy -- but the club is optimistic about his future.
"He's an interesting kid," Francona said. "He's a little like Logan Allen. From the left side, starter, not the finished product but like his skill set, his tools, his pitch mix, however you want to say that. Repetition for him is gonna be really good. That's not been the easiest thing this year for a lot of younger kids in baseball, so that's a challenge."