These were the Tribe's five best wins in '19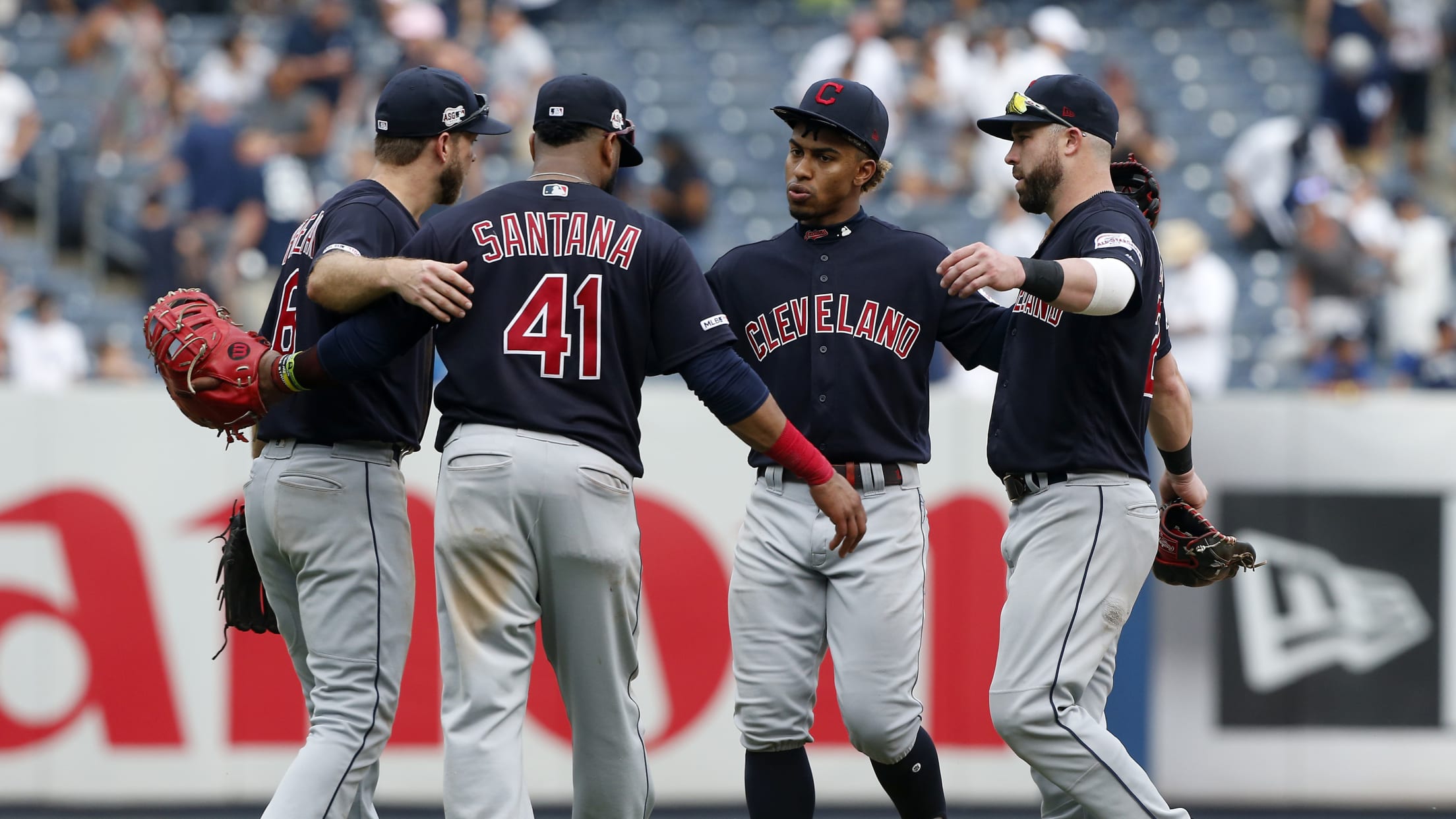 CLEVELAND -- The Indians' season came to a screeching halt at the end of September for the first time in four years. They may not have lived up to their expectations, but there was a handful of positive takeaways scattered throughout the year. Here's a look at five of the
CLEVELAND -- The Indians' season came to a screeching halt at the end of September for the first time in four years. They may not have lived up to their expectations, but there was a handful of positive takeaways scattered throughout the year.
Here's a look at five of the Tribe's best wins from 2019 and what they could mean for the club heading into next season:
1) Mercado preserves 8-6 victory with leaping grab
Sept. 4 vs. White Sox
The Indians had a two-run lead in the ninth inning, but they were on the verge of disaster for the second consecutive night when Chicago loaded the bases with one out. But Oscar Mercado was there to stop the bleeding. The center fielder lunged for a fly ball over his head, making a leaping snag before tumbling to the ground. The runner on third was so sure that the ball would drop in for extra bases that he didn't tag up, allowing Mercado to be even more of a hero by preventing all runs from scoring to help the Indians to an 8-6 win.
What does it tell us about 2020?
Mercado made his fair share of highlight reel plays in his rookie season, but that specific play in the middle of the American League Wild Card race makes it easy for the Indians to be even more excited about his future. The 24-year-old was shifted around the outfield at times throughout last season, but he never thrived the same way as he did in center. That play and win may be a peek into the future of just how valuable Mercado could mean to this team in the coming years.
2) Santana hits go-ahead grand slam in extra innings
Aug. 11 at Twins
Indians closer Brad Hand had just blown a two-run lead in the bottom of the ninth to send the game to extras, and the guys in the dugout all said the same thing: "We're not leaving here without a win." The Indians quickly loaded the bases in the top of the 10th without recording an out, setting up Carlos Santana, who had carried the Tribe offensively all year, to deliver a go-ahead gland slam that propelled the Indians to a 7-3 victory, which handed them a share of first place in the AL Central.
What does it tell us about 2020?
Through all the injuries the Indians endured in 2019, the team was able to erase an 11 1/2-game deficit behind the Twins in just over two months. Even with an inexperienced lineup that featured two pitchers in its starting rotation who began the year in Double-A, the Indians demonstrated how bright the future may be when they completely erased that deficit. Whether Santana can follow up his career year with another All-Star-caliber season is unknown. But the team has the foundation and the farm system that could be very successful if it's able to make some offseason moves.
3) Ramírez hits grand slam and 3-run homer in first game off IL for crucial win
Sept. 24 at White Sox
José Ramírez had been out for one month with a fractured hamate bone. The third baseman was supposed to be out until at least the postseason, but he returned early to try to help the Indians get there. Their playoff hopes may have ended earlier than expected, but it wasn't due to a lack of effort from Ramírez. In his first at-bat in four weeks, he launched a grand slam, and in his second, he hit a three-run homer, lifting the Tribe to an 11-0 victory in a must-win game as the AL Wild Card race was coming to an end.
What does it tell us about 2020?
Ramírez came off a tough ending to 2018 and ended that season on as cold of a note as possible. Although he expected his bat to heat back up at the start of this year, it took until mid-June before the results finally started to show. From there, it never stopped until he landed on the IL on Aug. 25. There was a concern when Ramírez was returning from his injury that he'd be rusty. Clearly, he had a much better ending to 2019 than '18. Maybe this time, he'll be able to carry that momentum into '20 and not have the idea of a slump lingering in his mind.
4) Plesac tosses first complete game in 8-0 win
Sept. 10 at Angels
Just when Zach Plesac seemed to be showing signs of fatigue, he answered with his first career complete game and shutout in his 19th big league start. He allowed just four hits and two walks and struck out five on a career-high 114 pitches. The 24-year-old became the first Indians rookie to throw a shutout since 2006, when Jeremy Sowers did it in back-to-back outings.
What does it tell us about 2020?
This isn't to rank one young hurler over another. Plesac and Aaron Civale allowed the Indians to find success without Corey Kluber, Trevor Bauer, Carlos Carrasco and Mike Clevinger at different points throughout the year. But this win just proved the grit that Plesac had to push through late-season fatigue after pitching deeper into the year than he was used to in the Minors. The Tribe quickly learned that its rotation has the potential to be dominant once again in '20 and beyond.
5) Lindor sparks Tribe to 5-2 victory that begins excellent 3-month stretch
June 4 vs. Twins
Before the game, the Indians gathered in the clubhouse to be told that Carrasco had been diagnosed with a medical condition that was later announced as leukemia and would have to step away from the game. It was that day that they sat a season-high 11 1/2 games behind the Twins and that series was going to make or break the rest of their year. That's when Francisco Lindor stepped up, rallied behind his friend and teammate going through the toughest battle he's ever faced and hit two homers that led the Tribe to the three-run victory.
What does it tell us about 2020?
The team didn't need this game to realize what Lindor means to its lineup, but he definitely made it clear. If the Indians hang on to their shortstop this offseason, they know that they can expect his attitude and leadership to return in '20. Lindor has said that he wants to play all 162 games next year, and Cleveland knows it will get a consistent, reliable bat in return. Lindor may have run out of gas during the last week of '19, but that can't erase moments like this game that remind everyone just how valuable he is and will continue to be.