Tribe's hitting coach: Ramirez 'getting closer'
Van Burkleo discusses Indians' early-season struggles at plate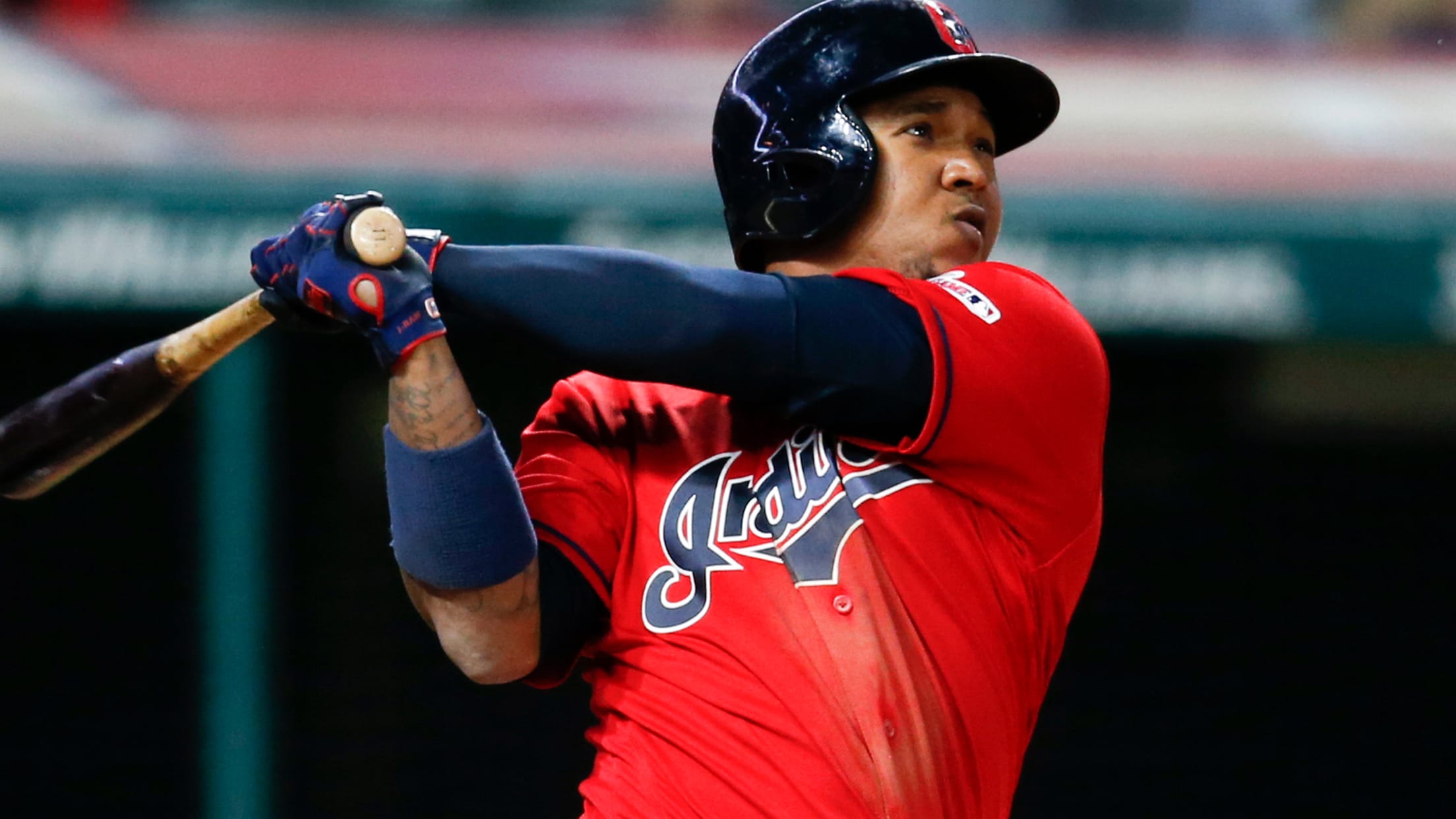 CHICAGO -- The Indians' bats have been quiet since the start of the season and have shown very little signs of waking up any time soon. The Tribe's offense was held to just two hits in Monday's 5-2 loss to the White Sox, matching a season-low. It was the 16th
CHICAGO -- The Indians' bats have been quiet since the start of the season and have shown very little signs of waking up any time soon.
The Tribe's offense was held to just two hits in Monday's 5-2 loss to the White Sox, matching a season-low. It was the 16th time this season that Cleveland had been held to two or fewer runs, and the Indians own a 4-12 record in those games.
After 40 games, the Indians have fallen to the bottom of the leader board in the following categories:
Hits (281): 30th
Homers (36): 28th
Batting Average (.219): tied for 28th
OPS (.643): tied for 28th
Doubles (52): tied for 28th
RBI (127): 29th
Will Ramirez find his stride?
Jose Ramirez's lack of production at the plate dates all the way back to last August. In 40 games (150 at-bats) this season, the Tribe's third baseman is hitting .193 with a .584 OPS. He's hit three homers, knocked in 11 runs and has drawn 19 walks. Through 40 games in 2018, Ramirez had hit .297/.387/.627 with 13 homers and 29 RBIs.
"It's a tough game," Indians hitting coach Ty Van Burkleo said after Monday's defeat. "It's a mental grind. Everybody presses, especially when we're struggling to score runs. Everybody's trying to knock the run in. Early in the season, we were struggling to set the table, but we were getting timely hits. That series in Oakland, we were setting the table, but guys were pressing to knock that run in."
Ramirez showed glimpses of his old self in his recent 20-game on-base streak that was snapped on Sunday in Oakland. But this year he's slugging just .291 and, entering Monday, was on pace for only 37 extra-base hits this season. Over the previous two years, he slugged .567 and averaged 86 extra-base hits.
"He's getting closer," Van Burkleo said. "Lower half is working better. Still a little late. Still a little anxious. He's a good hitter. He's going to come out of it. He's definitely getting close. His work today was really good."
What can the Indians do to break their slump?
With Carlos Santana cooling down after his red-hot start to the season, the offense it's struggling to find a consistently reliable bat on an everyday basis. While the times have become quite tough in the Cleveland dugout, the team is far from giving up hope.
"Just keep working," Van Burkleo said. "Guys are working hard in the cages. Hopefully hitting gets contagious."
Hitting can often become contagious, but it still requires the spark plug in the offense to send a domino effect throughout the lineup. And while Ramirez still searches for his rhythm and Francisco Lindor finds his timing, the Indians' hitting instructors are sticking with their same plan of attack.
"I haven't changed anything in seven years," Van Burkleo said. "We're doing the same thing, working hard and looking at video and showing video. So, no, if you're asking me if we second-guess ourselves, no.
"We are always constantly looking for things. We have a lot of resources and stuff available to us. We have great video guys who give us split-screens and are able to show a guy where he was when he was good and where he is now."
How do you stop the offense from pressing?
The biggest issue that comes with offensive slumps is each player wants to be the one who delivers the big hit or the spark the team needs to wake the bats up. But that often results in players gripping their bats a little too tightly and putting too much pressure on themselves in each plate appearance. Will they be able to prevent that trend from continuing? Outfielder Jake Bauers is anxious to find out.
"It's tough. It's the hardest part," Bauers said. "It's kind of like what comes first, the chicken or the egg? Do you relax and score more runs? Or do you score more runs and then relax? We'll see."