Clevinger to make much-awaited return Monday
Right-hander raring to go, ready for Rangers: 'I definitely think I'm ready'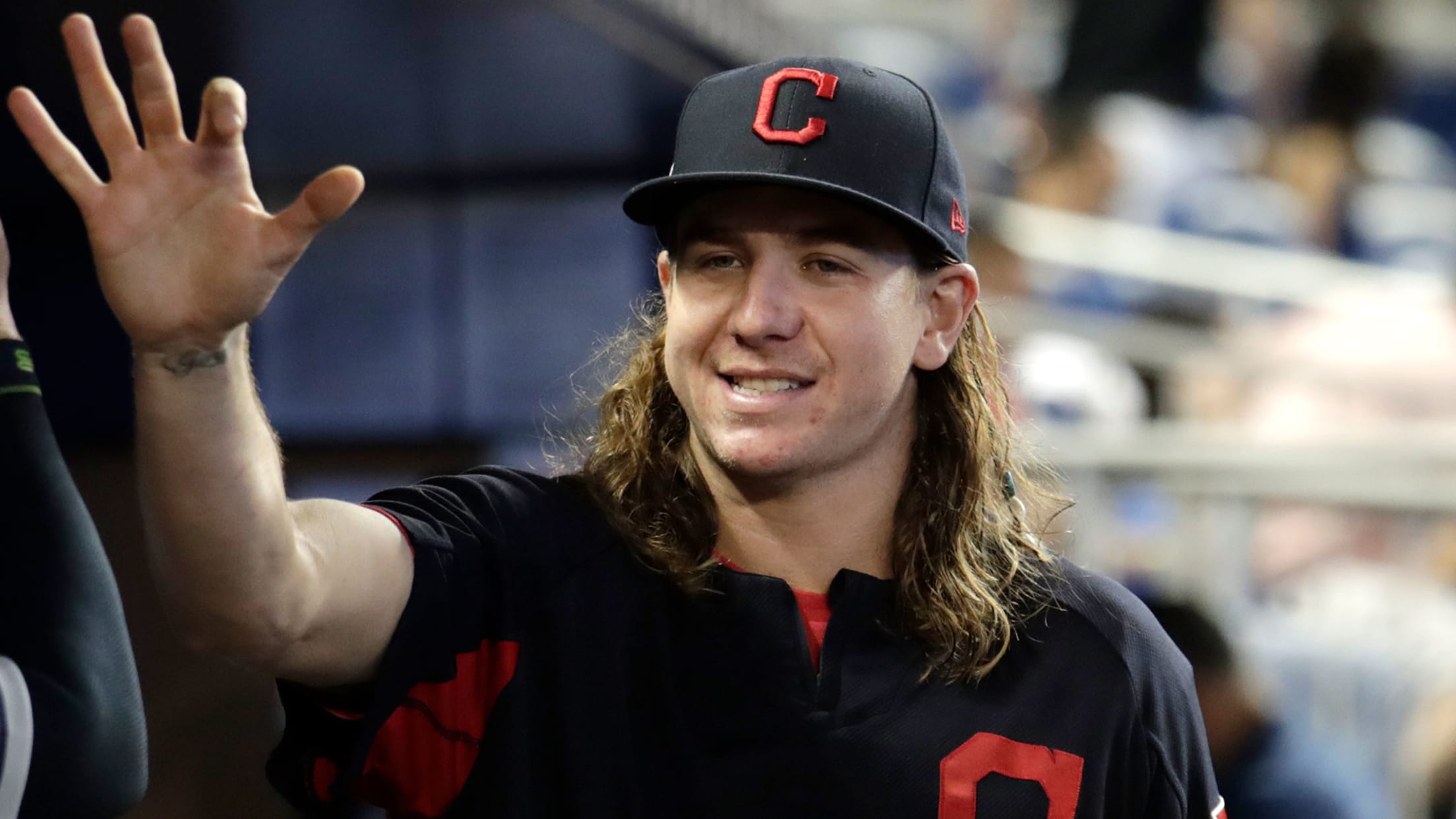 CLEVELAND -- The Indians are bringing Sunshine to Texas. Mike Clevinger is slated to start Monday against the Rangers at Globe Life Park, his first outing since straining his upper back, exactly 10 weeks after he received his initial diagnosis. "Every single injury to date in baseball, they didn't pick
CLEVELAND -- The Indians are bringing Sunshine to Texas.
Mike Clevinger is slated to start Monday against the Rangers at Globe Life Park, his first outing since straining his upper back, exactly 10 weeks after he received his initial diagnosis.
"Every single injury to date in baseball, they didn't pick up a ball for six-to-eight weeks," Clevinger said. "I got lucky, I guess you could say. It's hard to say after an injury you got lucky, but that was kind of the case here.
"I definitely think I'm ready. ... I think my pitch count's good enough to bridge me to that 90, 100 gap. So, we'll see."
While the original timetable given to him on April 8 suggested that the Indians' right-hander would be steering clear of all baseball activities for those six-to-eight weeks, he quickly proved he'd be able to return ahead of schedule, beginning to play catch before the end of April.
"I mean, I was trying to come back and throw the next day," Clevinger said. "I asked them every day even though I knew the timeline. I was like, 'I feel good, can I throw today?' I asked them every day to the point that they were just getting [angry] at me for asking. I'd ask, 'Can I throw today? It feels fine. It feels good. I could pitch today if you needed me,' and I'd keep saying it.
"But no, I just saw the timeline and I was like, if anything, I want to be back before the All-Star break. I always had that in my mind, that I wanted to be back before then."
And as his manager, Terry Francona, can attest, Clevinger was extremely hard to harness during his recovery.
"Yeah, I would say that is the understatement of the year," Francona said. "It's the reason he probably got better quick, too. The want to is so strong. I remember the first time he threw down in Miami, I thought [head athletic trainer] James [Quinlan] was going pull a hammy trying to slow him down, but you see where he is now."
So, where is he now? Clevinger flew through the rehab process, making a quick stop at the team's training facility in Goodyear, Ariz., before making just two rehab starts -- one at Triple-A and one at Double-A. In his most recent one in Akron on Tuesday, he tossed 5 1/3 scoreless frames, allowing three hits and striking out five batters on 67 pitches (51 strikes).
"Last night was really good," Francona said. "Will he be able to command all his pitches the way he did with six weeks in Spring Training with a couple starts? I don't know. You hope. But we'll keep an eye on him and try to build him up in a way that he can stay healthy and be healthy and productive, but it sure is exciting to see what he's doing."
In his first two starts with the Indians, Clevinger threw the fastest pitch of his career at 97.6 mph. But in Tuesday's rehab start, the ballpark radar gun flashed 99 mph.
"I mean, I think it's just getting warmer weather, and this is kind of what'd happen to my velocity regardless," Clevinger said. "First two starts back, it was still up, but it was a little bit down from what I had going at the end of the spring. I think with the warmer weather coming in, yeah, it's going to tick up a bit when I get back."
Kipnis gets another day
Jason Kipnis was pulled from Sunday's game against the Yankees with right hip tightness and did not play in Tuesday's contest. Francona thought the second baseman would be back Wednesday, but the team decided to give him another day on top of Thursday's off-day.
"He's actually pretty good," Francona said. "I kind of took it out of his hands today. I just thought with the day off tomorrow, that just seems to not make sense. And he didn't put up a ton of a fight, so I think it probably makes sense."
This date in Indians history
1995: The Indians began a sellout streak of 455 consecutive games with a crowd of 41,845 against Baltimore.