Marlins agree to deal with righty Vincent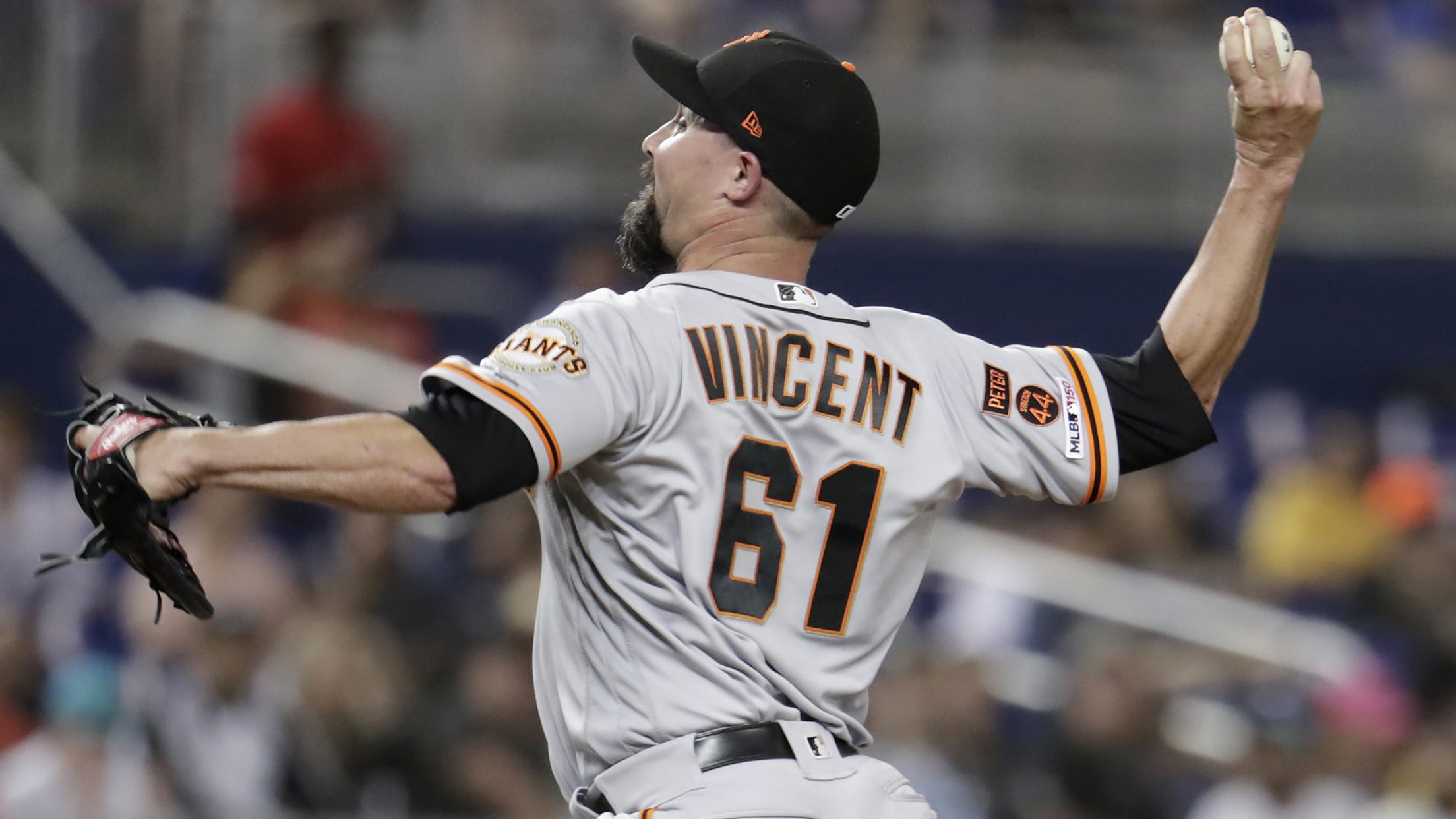 MIAMI -- The Marlins have moved closer to clearing up any remaining questions regarding their 60-man player pool. President of baseball operations Michael Hill said Monday during a Zoom call that right-handed reliever Nick Vincent has agreed to terms as a non-roster invitee with the Marlins, and he will be
MIAMI -- The Marlins have moved closer to clearing up any remaining questions regarding their 60-man player pool.
President of baseball operations Michael Hill said Monday during a Zoom call that right-handed reliever Nick Vincent has agreed to terms as a non-roster invitee with the Marlins, and he will be the final player added to the pool when summer camp opens on Wednesday.
Vincent, 33, was released by the Giants on Friday. The veteran reliever shares some previous history with Marlins pitching coach Mel Stottlemyre.
Stottlemyre spent three seasons as the Mariners' pitching coach before joining the Marlins in 2019, and Vincent pitched for Seattle from 2016-18.
"Mel Stottlemyre does have experience with Nick Vincent," Hill said. "We felt like it was a perfect opportunity to bring in an experienced Major League bullpen arm and put him in the mix to compete for one of our 30-man roster spots. Worst case, to know that if he didn't make the 30, that you could have an experienced veteran piece available to you when the need arose."
Vincent spent 2019 with the Giants and Phillies and had mixed results.
The right-hander struggled with San Francisco, hurt by the long ball. In 30 2/3 innings with the Giants, he yielded seven home runs and had a 5.58 ERA.
But Vincent fared much better after he joined the Phillies, posting a 1.93 ERA, with one home run allowed in 14 innings.
The Marlins will open camp Wednesday, with players being tested for COVID-19 and undergoing physicals. The first day of workouts will be Friday for more than 40 players at Marlins Park. The rest of the group will practice at the Roger Dean Chevrolet Stadium complex in Jupiter, Fla.
On Sunday, the Marlins announced they had submitted 57 players in the player pool to MLB, leaving three open spots.
Hill on Monday also confirmed that right-hander Max Meyer, the No. 3 overall pick in the MLB Draft earlier this month, is expected to sign this week. Then, if he passes all his tests, Meyer will be added to the player pool, and eventually so will infielder Sean Rodríguez, a non-roster invitee in Spring Training.
Rodríguez was one of the 47 players the Marlins still had when MLB cancelled Spring Training on March 12 due to the coronavirus outbreak.
On Monday, several MLB players officially opted out of playing in 2020 due to COVID-19 concerns.
Hill said no Marlins players are expected to opt out.
"You don't say anything is 100 percent until everybody has reported and is on the field," Hill said. "But from all of our communications, and we've stayed in constant communication with our players, our guys want to play.
"They're champing at the bit to get on the field and get after it and restart the season. I would be surprised if we had any players opt out."
Health-wise, the Marlins also are in good shape.
In Spring Training, catcher Jorge Alfaro (oblique) and right-handed relievers Ryne Stanek (back tightness) and Jeff Brigham (right biceps) were nursing injuries.
All three should be ready to get back on the field later this week.
Alfaro has been attending voluntary workouts, while Stanek and Brigham have been throwing off a mound.
"We're excited to get everybody back to Miami and get a feel for exactly what they're capable of doing when we resume," Hill said. "At this point, we're healthy and ready to get after it."