Marlins add top pick Meyer to player pool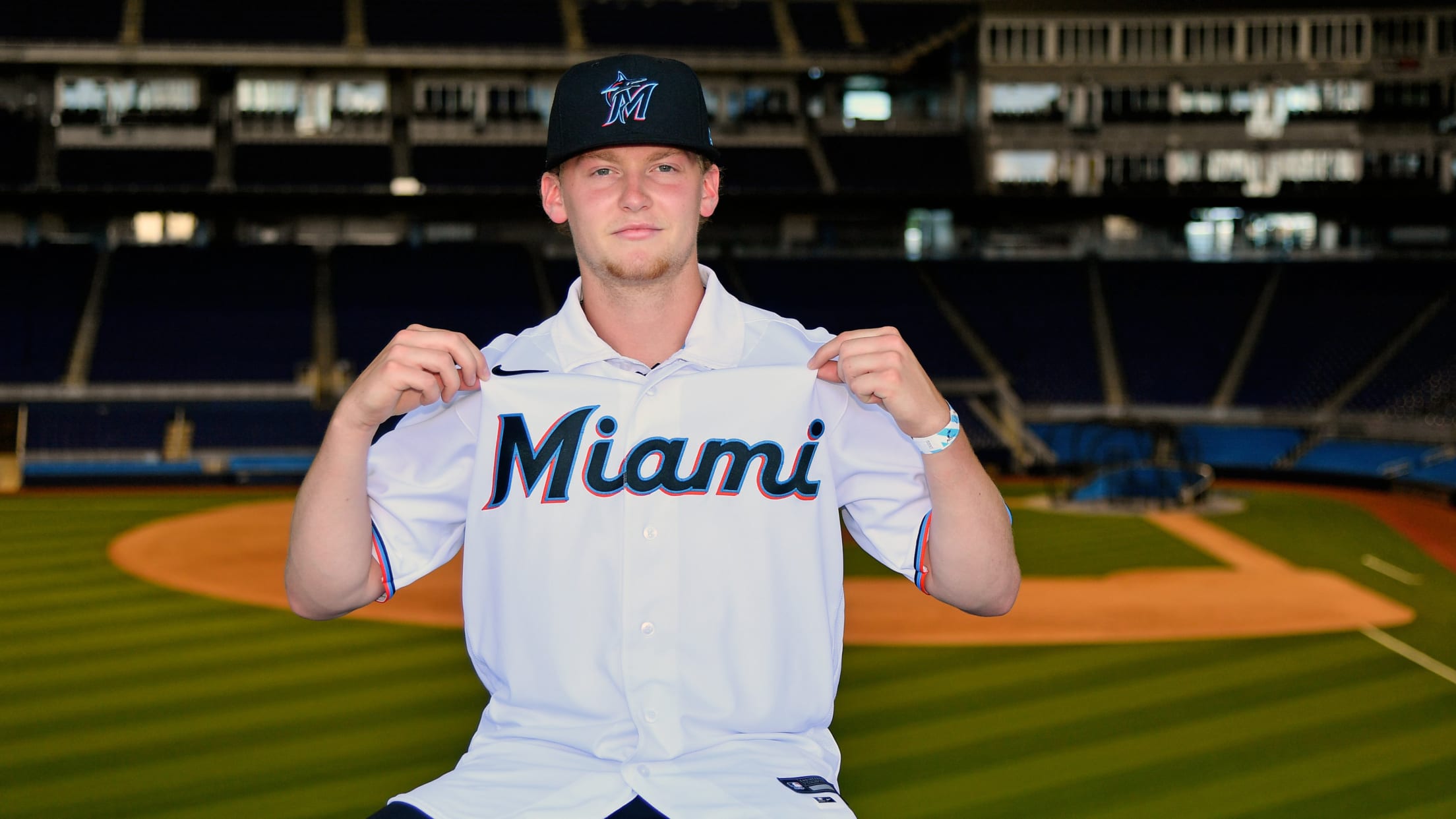 MIAMI -- The Marlins are gearing up to get back on the field, and they will have a 60-player pool set to work out when summer camp opens at Marlins Park and the Roger Dean Chevrolet Stadium complex in Jupiter, Fla. On Sunday, the Marlins revealed their initial list of
MIAMI -- The Marlins are gearing up to get back on the field, and they will have a 60-player pool set to work out when summer camp opens at Marlins Park and the Roger Dean Chevrolet Stadium complex in Jupiter, Fla.
On Sunday, the Marlins revealed their initial list of players who will be part of it, and they agreed to a deal with right-hander Nick Vincent on Monday.
Right-hander Max Meyer, the No. 3 overall Draft pick from the University of Minnesota, completed a deal with the Marlins on Thursday and was added to the player pool. He will report to Jupiter.
According to MLB's Operating Manual, all players on a 40-man roster "that the Club anticipates participating" during the season will be part of the player pool, while the rest will be made up of non-40-man roster players under contract. Any 40-man-roster players who are not included in a player pool (for example, maybe a prospect who isn't deemed ready for the Majors) will still be paid during the season.
• FAQ: Roster and transaction rules for 2020
MLB hasn't officially announced its entire schedule, but the season is scheduled to begin either on July 23 or July 24. Initially, MLB rosters will start off at 30, and after two weeks reduced to 28. Two weeks after that, they will settle at 26.
A majority of Miami's players will be at Marlins Park. Those set to start in Jupiter are prospects who may not fit into the organization's big league picture this season. Should there be no Minor League season, they can continue their development.
Non-roster invitee and veteran infielder Sean Rodríguez also should join the pool at some point.
• FAQ: All you need to know about 2020 season
Rodríguez was one of 47 players still in Marlins camp when MLB cancelled Spring Training on March 12 due to the coronavirus pandemic.
A notable player who will not be with the club is veteran slugger Matt Kemp, a non-roster invitee who was with the club in Spring Training. Kemp was not announced as part of the player pool.
Once the season starts, players in the pool will receive MLB service time only if they are added to the active roster.
The Marlins reported to camp on Wednesday, with the first workouts set for Friday.
Catchers (6): Jorge Alfaro, Will Banfield, Francisco Cervelli, Ryan Lavarnway, Brian Navarreto, Chad Wallach
Alfaro and Cervelli project to be on the active roster, with Wallach as the third option on the 40-man roster. Alfaro missed time in Spring Training due to an oblique injury. Banfield, the club's No. 25 prospect, will get a chance to work with some of the top pitching prospects at the Jupiter complex. Navarreto also will be based in Jupiter.
Infielders (10): 1B Jesús Aguilar, INF Eddy Alvarez, 3B Brian Anderson, INF Jon Berti, SS Jazz Chisholm, INF José Devers, 2B Isan Díaz, 1B Lewin Díaz, SS Miguel Rojas, INF Jonathan Villar
Of note: The Marlins list Villar as an infielder, where he has played mostly second and shortstop in his big league career. During Spring Training, Villar was seeing time in center field. Have those plans changed? Aguilar has locked down first base, Isan Díaz is at second base and Anderson third base. Rojas is the starting shortstop. Chisholm, the team's No. 3 prospect, will work out at Marlins Park, while prospects Devers and Lewin Díaz will be at Jupiter.
Outfielders (10): RF JJ Bleday, CF Lewis Brinson, LF/RF Garrett Cooper, LF Corey Dickerson, RF Jerar Encarnacion, CF Monte Harrison, RF Matt Joyce, CF/RF Harold Ramirez, RF Jesús Sánchez, CF Magneuris Sierra
Dickerson should start in left field, and if Villar is now an infield or designated hitter candidate, that leaves center field open. Brinson, Harrison and Ramirez are candidates to start in that spot. Joyce could see more time in right field. So could Cooper, if he isn't the DH. Sánchez and Encarnacion are scheduled to be at Jupiter.
Starting pitchers (16): RHP Sandy Alcantara, RHP Edward Cabrera, RHP Robert Dugger, LHP Braxton Garrett, RHP Jorge Guzman, RHP Elieser Hernandez, RHP Jordan Holloway, RHP Pablo López, RHP Humberto Mejia, RHP Nick Neidert, LHP Trevor Rogers, RHP Sixto Sanchez, LHP Caleb Smith, RHP José Ureña, RHP Jordan Yamamoto, RHP Max Meyer
The rotation was close to being set in mid-March, with Alcantara, Ureña, Smith, López and Yamamoto as the frontrunners. Hernandez and Dugger could fill in as starters/long relievers. Neidert will be in the mix to crack the rotation. Prospects Cabrera, Garrett, Guzman, Holloway, Mejia, Rogers and Sanchez will be working out in Jupiter.
Relief pitchers (17): RHP Brad Boxberger, RHP Jeff Brigham, LHP Daniel Castano, LHP Adam Conley, RHP Ryan Cook, RHP Tommy Eveld, RHP Yimi García, RHP Brandon Kintzler, RHP Aaron Northcraft, RHP Johan Quezada, RHP Sterling Sharp, RHP Josh A. Smith, RHP Ryne Stanek, RHP Drew Steckenrider, LHP Stephen Tarpley, LHP Alex Vesia, RHP Nick Vincent
The bullpen has the most uncertainty. Kintzler is the projected closer. Stanek should be recovered from a tight lower back he dealt with during Spring Training. Brigham (right biceps) missed almost all of spring. Vesia, Miami's No. 27 prospect, has a chance to make his way onto the Opening Day roster.