Top prospects some of Marlins' latest cuts
Harrison, Diaz head to Triple-A; five others sent to Minor League camp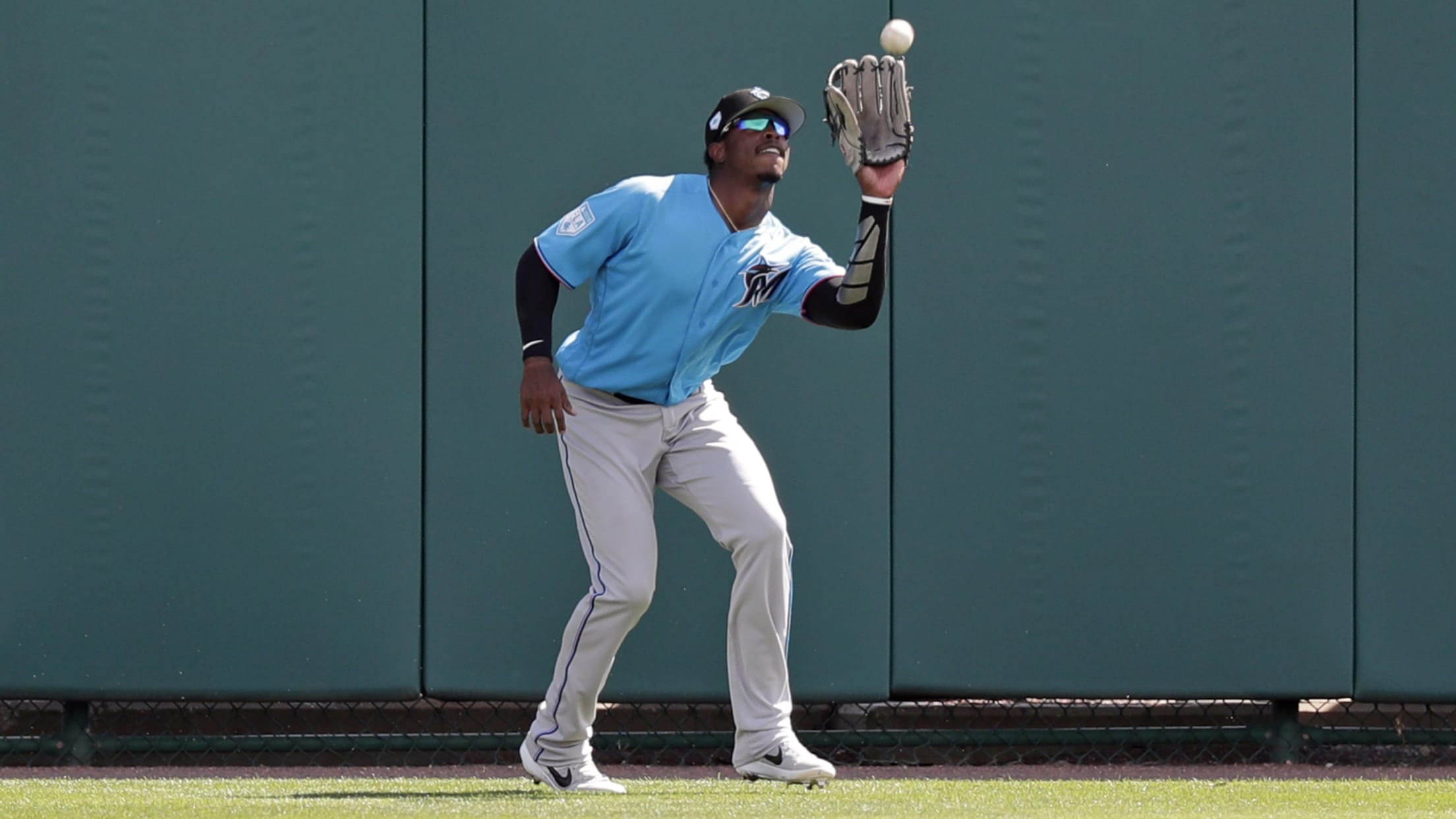 JUPITER, Fla. -- The Marlins made several roster moves Tuesday morning, including the reassignment of outfielder Monte Harrison -- their No. 3 prospect according to MLB Pipeline -- to Triple-A New Orleans. Infielder Isan Diaz, the team's No. 7 prospect, left-handed pitcher Jose Quijada and right-hander Jeff Brigham were also
JUPITER, Fla. -- The Marlins made several roster moves Tuesday morning, including the reassignment of outfielder Monte Harrison -- their No. 3 prospect according to MLB Pipeline -- to Triple-A New Orleans. Infielder Isan Diaz, the team's No. 7 prospect, left-handed pitcher Jose Quijada and right-hander Jeff Brigham were also optioned to New Orleans.
In addition, right-handed pitchers Tommy Eveld, Zac Gallen and Brett Graves, lefty Dylan Lee and catcher Nick Fortes were reassigned to Minor League camp.
Harrison made great strides from last year's camp to this one.
"That's what you want to see from your young kids," Marlins manager Don Mattingly said. "It's kind of like your kids growing up."
Cutting down his swing and generally becoming more comfortable at the plate are among Harrison's biggest improvements from last season.
"We're happy with Monte," Mattingly said. "He has to continued to improve. Obviously, putting the ball in play is one of the things that we talk about with him."
Mattingly said Harrison may have put a little too much pressure on himself.
"It's understandable," Mattingly said, "and a learning lesson for me also. But the most important thing for is basically getting him ready for a season, make sure he's ready to go when that bell rings for him."
Anderson continues torrid spring
Back at third base, Brian Anderson is in his comfort zone in the field and also at the plate. Anderson went 2-for-3, including his second homer of the spring, a two-run blast off Jacob deGrom in the third inning of the Marlins' 8-1 win vs. the Mets on Tuesday. Anderson is now hitting .357 in Grapefruit League play.
"Just trying to feel some barrels," Anderson said of his successful preseason. "You're facing some of the guys you're going to face during the season. They may or may not be pitching like they do during the season, but just spraying the ball all over the field, that's something I try to do and maintain my approach."
Anderson sent deGrom's 1-0 pitch the opposite way and over the right-field fence.
"For me, he's a guy you just can't sit back and let him take over the game," Anderson said. "You've got to try to take the game to him and try to get something early over the plate. The mistakes he makes, he doesn't make them with two strikes usually."
"He gets himself good pitches to hit, he uses the whole field, he's a tough out," said Mattingly.
MLBPA director Clark visits with Marlins on spring tour
Making his way through spring camps, Tony Clark, executive director of the Major League Baseball Players Association, stopped by the Marlins' clubhouse on Tuesday. He said meetings have gone well so far.
"The engagement has been tremendous across the board and very encouraging," said Clark, who added that concerns this year are mostly the same as last year. "We still have guys that can help teams win that are sitting at home. Concerns about that and concerns about how that's manifesting itself on the field across the league, those are all concerns that the guys have, had last year and continue to have."
Clark said the resolution continued conversation.
"A conversation on issues that go and extend much broader than some of the things that have been bantered about publicly," Clark said. "So we look forward to having those broader conversations, industry economic conversations that we think are invariably in the best interest of the industry moving forward."
Up next
Opening Day starter Jose Urena will make his fourth Grapefruit League appearance when the Marlins host the Cardinals at 1:05 p.m. ET on Wednesday at Roger Dean Chevrolet Stadium. The right-hander is 0-1 with a 4.05 ERA in his three previous outings, striking out six in 6 2/3 innings. The Cards will counter with right-hander Dakota Hudson.