Who is Brett Phillips, unexpected Rays hero? 
Only the most important facts
The postseason hero is always who you least expect. Travis Ishikawa was that person for the 2014 Giants, Geoff Blum now has a White Sox statue for his big day with the team in the 2005 World Series, and should the Rays go on to defeat the Dodgers, Brett Phillips
The postseason hero is always who you least expect. Travis Ishikawa was that person for the 2014 Giants, Geoff Blum now has a White Sox statue for his big day with the team in the 2005 World Series, and should the Rays go on to defeat the Dodgers, Brett Phillips will be that guy for them.
But unless you've been following extremely closely, you may not know that much about the fun-loving outfielder. Sure, you could probably look up some facts like Phillips was a sixth-round Draft pick by the Astros in 2012 or that he was the No. 32-ranked prospect by MLB Pipeline heading into the '16 season. But those are just, like, dry facts you could find in the encyclopedia, man. We wanted to tell you what you really need to know. So here are 10 Brett Phillips facts that will greatly improve the quality of your life:
1. His laugh is terrifying
Yeah, that's right: The most notable thing about the player who just walked off one of the greatest games in World Series is his genuinely unique laugh. Back when he was just a Minor Leaguer in camp with the Brewers in 2016, Phillips couldn't escape attention for his giggle.
When he laughs, one eye closes, his mouth is pulled wide open, and he looks like he's gasping for oxygen.
"If you see me like that," Phillips said at the time, "don't worry. I'm really not having a seizure."
I wish it didn't have to be this way... But the Internet was gonna find out about it sooner or later! #MediaDayFail https://t.co/89acQsPIHI

— Maverick Phillips (@Brett_Phillips8) February 26, 2016
2. He's quite the dancer
When Phillips' career is over, perhaps he'll pull a David Ross and join up with "Dancing with the Stars." He certainly has the moves for it.
At the Brewers' Fan Fest in 2018, Phillips and teammate Jeremy Jeffress won the team's dance-off competition as Phillips let loose with a backflip for the first time in his life. Yeah -- a public dance-off is just the place for you to be trying out moves like that.
Phillips got back at it this fall with the Rays. He and Randy Arozarena have been celebrating big victories by going head-to-head and toe-to-toe. Phillips took the first dance-off, but Arozarena tied it up after they defeated the Yankees in the American League Division Series:
Randy Arozarena posts the dance battle against Brett Phillips on his Instagram. He said: "Today I took home the crown. I won my rematch."

Phillips and Arozarena are now tied. pic.twitter.com/OvteU49zQd

— Juan Toribio (@juanctoribio) October 10, 2020
3. He was part of a trade that changed history
Right before the 2015 Trade Deadline, Phillips was part of a package sent to the Brewers along with Josh Hader, Domingo Santana and Adrian Houser in exchange for Mike Fiers and Carlos Gómez.
Now, Phillips has obviously had his moments, and where would the Brewers be without the dominant Hader in their bullpen? But the biggest name in all of this is Fiers.
That's because it was Fiers who was the whistleblower in Houston's sign-stealing scheme. Had the pitcher not been on the Astros, he never would have known about it. This is the butterfly effect in action.
4. He joined the Rays in exchange for Batman's friend
Ah, but how did Phillips join the Rays? He got a little help from DC Comics in that one.
Phillips started this season with the Royals, but they traded him to Tampa Bay on Aug. 27 in exchange for Lucius Fox. Now, there are two reasons you might know that name: 1) You're a prospect hound and you know more about Minor League players than you do your family; or 2) You know that Lucius Fox was Morgan Freeman's character in Christopher Nolan's Batman films.
Happy Birthday to the one and only Morgan Freeman who played Lucius Fox in the Dark Knight series. pic.twitter.com/1uwlfs6wb3

— Legendary (@Legendary) June 1, 2017
5. He spent the American League Championship Series 'coaching'
With no days off in the ALCS, the Rays needed to add an extra pitcher to the roster. That meant Phillips was the odd man out. But rather than sulk, the outfielder got creative. He decided to become the club's "keep it simple" coach, offering his teammates such important hitting tips like, "See ball, hit ball."
This evening's advice pic.twitter.com/EqBlTI2ENs

— Tampa Bay Rays (@RaysBaseball) October 14, 2020
"I'm looking around and I'm like, We got the manager and the bench coach, and the analytical guy, but we don't have the keep-it-simple guy," Phillips said about is his role in the series. "So I call myself the keep-it-simple guy. I consider myself a player-coach for the ALCS."
Hitting tips weren't the only thing Phillips did. No, the extra time on the bench allowed him to write acrostic poems for the Rays' breakout star, Randy Arozarena: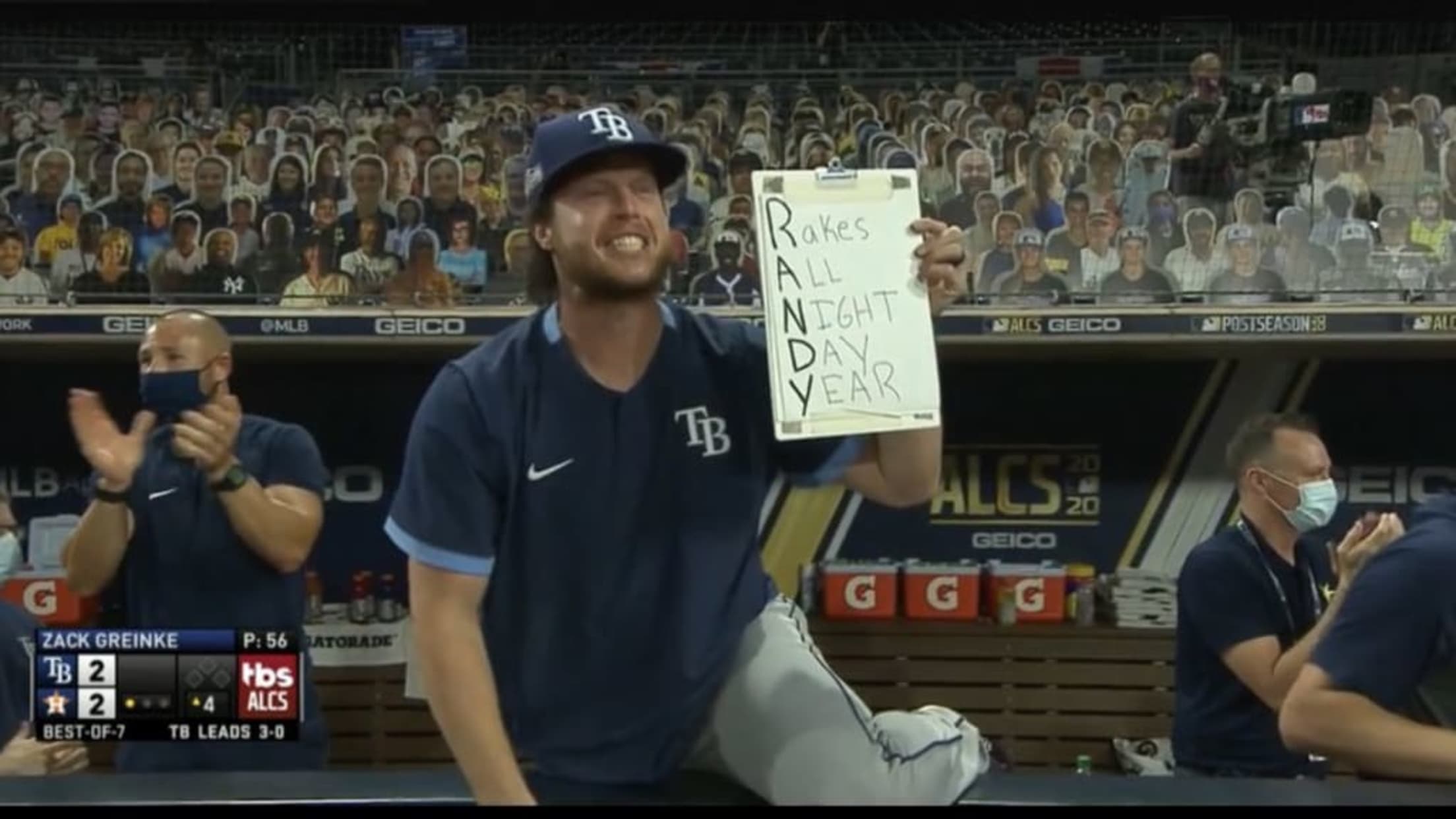 6. He's a big video game player
Most Major Leaguers love video games. Combine a bunch of young adults with weird work schedules who are frequently on the road where they have nothing better to do than hang out playing games in their hotel room, and it makes sense.
Phillips is probably a little better at them than most people. He took part in an MLB players' Fortnite tournament in 2018. Though he didn't win, he did get to go on MLB Network to show off his dance moves.
Then, this spring, Phillips took part in the MLB: The Show Players League, which pitted a representative from each Major League team against each other in a 29-game season. Phillips didn't reach the postseason, but he put up a respectable 15-14 record that ranked him in the middle of the pack.
7. He may have a future in media
Phillips certainly doesn't avoid the spotlight. Perhaps when his career is over, we'll see him make the move to another position in front of the camera. He was pretty at ease doing a "Wayne's World" sketch with Hader in 2017:
And Phillips was a total natural in his role as a fake sportscaster for the Players League Awards show he co-hosted with Hunter Pence:
8. He used to shoot hoops with "Macho Man" Randy Savage
In a life already filled with moments that could fill an entire biopic, this one may be the strangest. Phillips was neighbors with the professional wrestler (who was also a pro baseball player earlier in his life).
So what did Savage want to play every time he saw Phillips? Why, H-O-R-S-E, of course.
"It's a funny story," Phillips said. "Macho Man was my neighbor from seventh until 11th grade before he passed away. Every day, he'd see me riding my bike home from school and he'd call me over to play basketball. You would think one of the days, one of the games, he would let up on me, but that was not the case. I got beat every time. You know how kids are always like 'one more game, one more game'? No, he was the one saying 'one more game, we're going again' and I'd be exhausted."
9. He's got a middle name made for 'Top Gun'
Phillips' middle name is "Maverick." Now, I know what you're thinking: "Oh, wow, his parents are probably huge 'Top Gun' fans. What are his siblings' middle names? Goose and Iceman?"
Well, his parents probably are big "Top Gun" fans, but that's just because the movie is great and everyone should love it. But that has nothing to do with the reason for his middle name. Phillips explained it to MLB.com's Jeffrey Flanagan in 2018:
"When my dad was younger, his dad used to call him Brett Maverick and then when my dad came of age to have a family, he wanted to name a child 'Brett Maverick Phillips," Phillips said. "So I was named that."
10. If he had to be one type of machine instead of a person, he'd probably be an airplane
Just look at Phillips' celebration and tell me otherwise:
definitely making airplane noises all over the field pic.twitter.com/7TeKAozJEs

— Michael Clair (@michaelsclair) October 25, 2020
His explanation for the moment is pretty great, too:
is your head still spinning from the last play of that game too? @Brett_Phillips8 has you covered. pic.twitter.com/rcMNDkc1HJ

— Cut4 (@Cut4) October 25, 2020
Michael Clair writes for MLB.com. He spends a lot of time thinking about walk-up music and believes stirrup socks are an integral part of every formal outfit.