Hot Stove draft: 2 writers pick free agents
What if, right now, you were offered one of two expansion teams for 2020, meaning you had no existing players and had to fill out a roster from scratch? That makes executing trades difficult -- what do you have to offer, really -- but in exchange, you get free reign
What if, right now, you were offered one of two expansion teams for 2020, meaning you had no existing players and had to fill out a roster from scratch? That makes executing trades difficult -- what do you have to offer, really -- but in exchange, you get free reign over every free agent, at least until you both fill out your Opening Day rosters. How would you approach it?
That's exactly what MLB.com's Will Leitch and Mike Petriello did as free agency dawned, trying to come up with the best 25-man rosters they could comprise entirely of this year's free agents.
The draft was for 2020 only, not for years down the road, and we're not worried about salaries or qualifying offers. These were the rules:
• 25-man rosters
• Four bench players, one must be a catcher
• 12 pitchers (Five starters, seven relievers)
• Position players must have had at least one game at that position in 2019
• Mike got the first pick, Will the next two, and then one-by-one after that
Here's what we learned: This is a really, really good and deep free agent pool for starting pitchers. There's also a few superstar third basemen, a stud catcher and some assorted corner outfielders worth going after. But if you're looking for a shortstop or a reliever, good luck. The talent falls off quickly.
1) Gerrit Cole, SP
Petriello: Cole may or may not win the American League Cy Young Award, but he was 2019's best pitcher, and with the initial 2020 projections out, he's expected to be next year's best pitcher, too. It's true that this is a relatively deep pitching free-agent class, but if I can start off my 25-man roster with baseball's best pitcher, how do I not do that? I'm not blind to what happened when I picked Cole in our World Series draft, Will, but I couldn't help myself. He's that good, and we have full five-man rotations to build out this time. I just picked up 210 innings of ace-quality pitching.
2) Anthony Rendon, 3B
Leitch: Rendon's defense appears to have fallen off a little and will likely continue to do so as he gets deeper into his 30s. I'd be a tiny bit worried about the back-third of a six- or seven-year deal. But this is for 2020 only. And for '20, I'll put Rendon at third base and in the middle of my lineup and feel like I have as solid a foundation to build from as any team in baseball west of Anaheim.
3) Stephen Strasburg, SP
Leitch: So far, I'm basically just trying to get the band back together. We saw in the postseason Strasburg fully unleashed, and he didn't just meet the promise of his youth, he surpassed it. I could say I'm a little nervous about durability, but jeez, he's a starting pitcher: Those warnings come with the packaging. I've got my ace. And I have a guy who, on the other four days, can sit around and tell us Tony Gwynn stories.
4) Yasmani Grandal, C
Petriello: I don't know if Grandal is the fourth-best free agent available, but I do know this: 1) He's an incredibly valuable catcher, both because he can hit (.380 OBP/.468 SLG, four straight 20-homer seasons) at a position where it seems no one can, and because his pitch framing value (+17 runs) is truly elite, helping my pitching staff, and 2) this leaves you with *gestures wildly* at catcher.
5) Hyun-Jin Ryu, SP
Leitch: Oh, well, look who's getting mean. I deserve that after the Rendon-Alex Bregman debacle of our World Series draft. Since apparently my pitchers will be throwing to a satchel made of meat all year, I'll make sure I have the best ones. Ryu is obviously a massive injury risk, and I wouldn't dare push him past one year. But this is just a one-year draft. And he may mess around and have an ERA under 2.50 again.
6) Zack Wheeler, SP
Petriello: Wheeler just put up two back-to-back solid seasons for the Mets, his 96.7-mph fastball is one of baseball's fastest from a starter, and … hang on, MLB.com's Andrew Simon has some thoughts:
"On a scale from zero up to one, no starting pitcher rated more similarly to Wheeler than Cole (0.94), who was a bit ahead of Nathan Eovaldi (0.92) and Brandon Woodruff (0.90). Similarly, no pitcher rated more similarly to Cole than Wheeler."
Ooh. Everyone seems to assume they can help Wheeler get more out of that undeniable talent. Plus, I haven't even drafted a defense yet and I'm saying that I'll be able to give Wheeler more support than the Mets did. Ace No. 2, here we come.
7) Didi Gregorius, SS
Leitch: This market has tons of good players, but boy is it light up the middle. Whether this is an overpick depends on how much you think what percentage of last year's falloff was injury related. I mean, obviously, some of it is injury related -- Tommy John surgery is no joke -- but I'm willing to bet that Gregorius will be closer to his 2018 form than '19 form in 2020. And again: There are no other shortstops.
8) Josh Donaldson, 3B
Petriello: I am very tempted to go off in some other direction and say, "Well, Will already has a third baseman, he couldn't possibly …" and then watch you put Donaldson at DH. Not today, Leitch. Donaldson just posted a 5-WAR season with 37 homers and solid defense, looking a whole lot more like the MVP-caliber Blue Jay of the glory years than the injury-plagued 2018 version. Do I trust him to stay healthy as he gets into his mid-to-late 30s? I do not. But I only have to care about 2020, and he's more than worth the risk.
9) Mike Moustakas, 2B
Leitch: I never considered him a second baseman until the Brewers shoehorned him there, but it turns out he can sort of hang, if you need him to. Which is great, because he remains almost criminally underappreciated. I wish he walked a little more, but he's getting better as he ages, not worse. I had totally forgotten he was once a second-overall Draft pick (in 2007), by the way.
10) Nicholas Castellanos, RF
Petriello: Castellanos is neither as good as he was with the Cubs (151 OPS+) nor as average as he was with the Tigers (105 OPS+). I'm buying him for what he's been over the last four years -- an above-average (120 OPS+) bat with the capability for red-hot stretches, and a below-average glove. That he's not even 28 until next March gives me small hope for a mini-breakout still, especially if his Chicago run was about leaving the 100-loss malaise of Detroit for a pennant race. My team expects to contend. It had better; there's only two of us.
11) Madison Bumgarner, SP
Leitch: Bumgarner has slowed a little bit over the last couple of years, but this is around the time Justin Verlander started to slow in Detroit … and you might have noticed he had a bit of a finishing kick. Get Bumgarner with the right organization (in this case, my personal organization), I bet you get a second-decade Verlander-style boost. And even if we don't, he's still good, and he's only my third starter.
12) Marcell Ozuna, LF
Petriello: I am not exactly leaning into good outfield defense here, which will probably come back to bite me at some point, but the outfield class is weak, and I've always liked Ozuna's bat more than most. His .241/.328/.472 (107 OPS+) is admittedly "just OK," but it always feels like there's more there. We saw that in his outstanding 37-homer, 149 OPS+ 2017 with Miami and the Statcast expected metrics have him as a Top-20 hitter, similar to Pete Alonso or Alex Bregman. (There also appeared to be something weird happening at Busch Stadium, as it played like a big pitcher's park for righty batters.) He's only just turning 29 this month, anyway.
13) Yasiel Puig, OF
Leitch: First off, I just want him on my team. Baseball is so much more interesting with Puig -- let us never forget that he was involved in a fight for his team after he was traded. But I think people got too caught up in his lousy start for Cincinnati last year. He was a monster in June and July and obviously he still has that cannon for an arm. Plus, I want him and Bumgarner to be teammates.
14) Jake Odorizzi, SP
Petriello: I am never quite sure what to make of Odorizzi. For years, you could rely on him for 160 or so innings that, if you were to rank them from "good innings" to "bad innings," would definitely have … made the list. And then in 2019, he had something of a breakout, throwing his cutter more than ever while adding nearly 2 mph to his four-seamer, helping him set a career high in strikeout rate. Is that sustainable? I don't really know, but he'll only be 30 next year and as my third starter, I'll take it.
15) Brett Gardner, OF
Leitch: There aren't really any center fielders on the market that I trust at all, so I might make Gardner do it. It is amazing that Gardner, who hit three homers for the 2009 World Series champs, was the cleanup hitter in the postseason for a team that had Aaron Judge, Gleyber Torres, Giancarlo Stanton and Edwin Encarnación. Isn't he the most unlikely career Yankee ever?
16) Avisaíl García, OF
Petriello: You have forced my hand in center. This does not bring me joy. I have successfully created the worst defensive outfield in Major League history, or at least up there with the 2010 Dodgers. Yet the rules of our little game require that a player have at least appeared in a position to qualify for us to choose him there, and García did get into 12 games for the Rays in center in 2019. This undersells his skills a little, because he's a better player than people think -- that 111 OPS+ with 20 homers will certainly play, and he offered +3 Outs Above Average on defense thanks in part to a shockingly good 90th percentile Sprint Speed. He doesn't look fast, but he is fast.
17) Edwin Encarnación, DH
Leitch: Nelson Cruz sure has set the example for aging sluggers in their mid-to-late 30s, no? He now has me convinced there's going to be an endless cycle of them. Can't you see Yordan Álvarez being this guy in 2035?
18) Rich Hill, SP
Petriello: I am going into this one with eyes wide open -- Hill turns 40 in March, and he will get injured. I absolutely cannot rely upon more than 100 innings at most. Yet when he's on the mound, he's really, really good. Even in 2019, where he threw just 58 2/3 innings, he struck out 72 hitters and walked only 18. I'd rather have a limited amount of high-quality innings than a guaranteed amount of mediocre innings. I better invest heavily in my medical staff.
19) Howie Kendrick, 1B
Leitch: Anyone who thinks this is just a response to the postseason didn't watch him all season. The Nationals were smart with how they used Kendrick this year -- judiciously -- and I'm hoping deploying him primarily at first eases the strain on that 36-year-old body. Also, I'm going to make him do the driving-in-the-dugout celebration after every homer no matter how sick of it he gets.
20) Will Smith, RP
Petriello: Time to attack a relatively thin reliever market, and in this hypothetical, I don't have to worry about the qualifying offer that Smith carries. That he has one ought to tell you a little about how dominant he's been -- in two years since returning from Tommy John surgery, Smith has a 2.66 ERA and a 167/36 K/BB, which, according to our top scientists, is more than four whiffs for every walk. This also frees me up to make as many "which Will Smith" jokes as I possibly can; I am, of course, talking about "Wild Wild West."
21) Michael Pineda, SP
Leitch: I do not know how suspensions work in our theoretical: He has 39 games to sit out now (rather than 60), and it is not outside the realm of possibility that he comes back and is a top-shelf starter. And if not, I'll convert him to a closer, because I bet he'd be an incredible one.
22) José Abreu, 1B/DH
Petriello: I don't have much of an infield yet, so I guess it's time to start working on that, though it's possible that Abreu ends up as my DH, though I guess it's also doubly possible that Castellanos ends up as my DH. I don't care that much that Abreu drove in 123 runs in 2019, and his defense isn't strong -- this appears to be a running theme for me -- but I appreciate that he's still got a 94th percentile hard-hit rate, and a .503 slugging percentage and a 119 OPS+ isn't nothing.
23) Will Harris, RP
Leitch: He'll never live down that Game 7, but so many people have pointed out that Harris wasn't really all that bad that inning and that pitch to Howie Kendrick was just fine that I'm feeling repetitive just bringing it up. He was still fantastic this season, just like he's been fantastic pretty much his entire career. Maybe his teammate Kendrick can do the "vroom, vroom" thing in the dugout with him and all will be forgiven and forgotten.
24) Cole Hamels, SP
Petriello: Even at 35, Hamels put together a 3-WAR season, making him a slightly above-average player, and he was much better before a midseason oblique strain (2.98 ERA) than he was after (5.79), allowing me to bank on an offseason for a potential bounce back. This is #wishcasting at its best; I am choosing to hope that I am getting the best version of him, not the "36-year-old coming off a bad second half" version.
25) Cameron Maybin, OF
Leitch: How fitting that the team that finally unlocks what Maybin was capable of was … the Yankees, when he's in his 30s. I'll roll the dice this late and see if he's a decade-post-hype sleeper.
26) Dallas Keuchel, SP
Petriello: Wait, I've totally changed my mind here. I've never been the high man on Keuchel -- soft-tossing groundballers who don't miss bats aren't exactly in style right now -- but even if he's nowhere near an ace, I can live with 180 solid enough back-of-my-rotation innings. This also lets me push Hill out of the rotation into a hybrid 6th-starter/fireman role where I can try to apply the 80-100 high-quality innings I expect from him more precisely.
27) Ben Zobrist, UT
Leitch: I thought about getting Eric Sogard as a Zobrist-type player, but hey, the original article hasn't actually retired yet, so I'll grab him. He was actually one of the few Cubs who wasn't hurt and played well in September, though not having played from April to August might have had something to do with that. My manager -- who I presume is also me -- will enjoy mixing and matching him and Kendrick all around the diamond.
28) José Iglesias, SS
Petriello: My defense is impressively bad so far. I just drafted Dallas Keuchel. You better believe I am happy to add one of baseball's best defensive shortstops.
29) Robinson Chirinos, C
Leitch: As you've noted, there is very slim pickings at catcher this offseason. Though I'd like to note that both David Ross and Mike Matheny have been hired as managers, so whoever ends up backing Chirinos up will be managing my team in six years.
30) Drew Pomeranz, RP
Petriello: I just realized how many lefty pitchers I've drafted. Hmm. Anyway, Pomeranz has had an up-and-down career as a starter -- he was an All-Star in 2016 with the Padres, which you don't remember, because why would you; he also had a 6.08 ERA for Boston in '18 and then a 5.68 for the Giants this year -- but when he was moved into the bullpen this summer, it was magical. As a reliever, Pomeranz faced 106 hitters … and he whiffed 50 of them. That's a 47.2 percent strikeout rate, and that was second only to Josh Hader among relievers this year.
I don't know if that makes him "the next Andrew Miller," but that will be his Players' Weekend name on my team.
31) Daniel Hudson, RP
Leitch: In a pinch, I will take the guy who just closed out a World Series. I like Hudson a lot, and he seemed to find his true self in the postseason. And hey: Any club that has Chris Sale and Charlie Morton as its most recent members will work for me.
32) Eric Thames, 1B/OF/DH
Petriello: I have an all-righty outfield and a righty at first base, so why not get a left-handed righty-masher in Thames, who slugged .529 against righties in 2019 and .500 against them over his career? He might just be my DH too, but either way, when he hits dingers, you will know about them. My team just got 1000x cooler.
33) Chris Martin, RP
Leitch: Ask the Braves how much they wish they could have had him in the playoffs: His oblique issue was the moment that series started to get away from them. His K/BB is really good, actually, and since we're not going to have a closer -- because what is this, 1989? Or 2005? Or 2018? -- I'll enjoy mixing and matching with him all year. I bet he's a terrific value bullpen buy, assuming the oblique is OK.
34) Dellin Betances, RP
Petriello: I know. He pitched to exactly two batters last year, missing nearly the entire season with a shoulder injury, then partially tearing his Achilles in his first game back. I get it. And yet: For five years, from 2014 to 2018, Betances was basically a Top-5 reliever in the game. He's supposedly going to have "a normal offseason by December," and if he comes back in 2020 looking anything like the pitcher he'd been, I've just added a 6-foot-8 righty monster to what had been an all-lefty bullpen.
35) Kyle Gibson, SP
Leitch: 2019 was obviously a disaster, though it probably should be pointed out that it was essentially caused by E.coli. But before last year, he was basically your textbook definition of a reliable, above-average innings eater. If he's even close to his 2018 season -- the year he did not have E.coli -- he's basically the platonic ideal fifth starter. I'm not alone on Gibson, by the way. ESPN's Keith Law has him as the 16th best free agent on the board.
36) Corey Dickerson, OF
Petriello: That Gibson pick is a strong one, because I was going to pop him here if you didn't. Instead, I'll load up on another platoon guy -- Dickerson slugged .587 against righties this past year, and .533 over his career. Would you believe he actually won a Gold Glove in 2018? I'm not sure I do, either.
37) Starlin Castro, MI
Leitch: Remember back when Castro felt like the only prospect the Cubs had? How in the world is he only 29 years old? He's two years younger than Tommy Pham! Anyway, he's not going to play 162 games for me like he usually does, which is probably going to mess with his oddly not-impossible quest for 3,000 hits (really!), but I suspect I'll find plenty of uses for him.
38) Hunter Pence, DH/OF
Petriello: Pence's 2019 rebound -- .297/.358/.552 and an All-Star game selection -- was one of the most fun stories of the season, which befits a man who may be the most fun person in baseball. (Here is a story about Pence liking pumpkin cold brew. Here's one about him opening a coffee and game shop in Texas. Here he is talking about shirtless Bruce Bochy. Here he is just this week hurling. No, the good kind of hurling.) He may be 36, and he probably can't play the field much these days, but he can rake, and he can keep us all caffeinated.
39) Tony Sipp, RP
Leitch: It sort of breaks my heart that you picked Pence. I had been saving him for my big dramatic finish. Alas! The market for lefty relievers is terrifyingly thin, so I'll grab the one I actually think could have a little bit of a comeback. He was outstanding in 2018 … and '15 … and I am very desperate. (I'll probably just call up some anonymous lefty from Triple-A who throws 100 anyway.)
40) Joe Smith, RP
Petriello: If you're going to insist on taking a 36-year-old reliever who has spent most of the last decade with the Indians and Astros, I'll do the same. Hey, did you see how effective he was in the World Series? No, he's not "1.80 ERA" good as he was in 2019. I do enjoy a good sidearmer, though. Though his significant platoon splits will be put to the test by the new three-batter minimum rule coming in 2020.
41) Matt Adams, 1B
Leitch: I don't have a true first baseman, and Adams is handy enough to back up there and be a big bat off the bench. I'm glad there's still a place in baseball for guys like Adams. I'm still a little disoriented from that one offseason when he came in about 40 pounds lighter. I'm happy to have him mostly looking like Matt Adams again.
42) Brock Holt, 2B/UT
Petriello: I guess I'm obligated to choose a second baseman at some point. This could have been Sogard, or Brian Dozier, or Jonathan Schoop, or Asdrúbal Cabrera, and the answer is, "it doesn't matter, because really nothing matters," but I'll go with Holt because A) he's been a league-average hitter over the last two years (105 OPS+) and B) he can play a bunch of positions, which, looking at my roster, suddenly feels very important. How did I end up with Pence, Thames and Castellanos?
43) Brett Anderson, RP/SP
Leitch: If you can put Rich Hill in the "Older, amusing left-hander who won't give you very many innings but will be really good when he's out there" category, I can put Anderson there. Also, when he's not pitching, I'm gonna make him live-tweet every game.
44) Shogo Akiyama, OF
Petriello: Let's go to the other side of the world for this one. Akiyama has expressed his interest in coming to the Majors this winter, and he's hit 69 homers over the last three years while playing capable outfield defense. (One comp given: Adam Eaton.) He's been a center fielder in Japan, though he's likely better suited to a corner in the States. I will have room for that.
45) Brandon Kintzler, RP
Leitch: I'm basically just juggling relief options right now and picking whoever falls, but … there are many Cubs fans who would have rather seen Kinztler in those big September spots rather than Craig Kimbrel.
46) Travis d'Arnaud, C
Petriello: We each need a backup catcher, and d'Arnaud is definitely that. That undersells him a little, because he had some big hits for the Rays and was hitting in the middle of their lineup for a while. If he can give me league-average hitting and not-terrible defense, which is basically what he did in 2019, that's more than good enough for me in the backup spot. It's not like I'm sitting Grandal often, anyway. Hey, how many games are in our hypothetical season?
47) Trevor Rosenthal, RP
Leitch: I assume we play 365 games. There should never be days off for baseball. I'm so sad without any baseball right now. For as terrible as he was last year, and wow was he terrible, teams kept picking Rosenthal up. They see what's still in that arm. I'll dream on the arm for a month or so and push the eject button immediately if it's not working.
48) Sergio Romo, RP
Petriello: Me, 40 picks ago: I can't wait to get to some under-the-radar relievers late.
Me, now: Literally the Twitter thinking face emoji.
Let's throw a dart at the remaining group and it lands on … Romo. Sure, why not? He's a lot of fun to watch, and he's still good against righty hitters, who had just a .248 OBP against him in 2019.
49) Matt Wieters, C
Leitch: Wieters was a perfectly acceptable backup catcher for the Cardinals last year. And because he's not backing up Yadier Molina on my team, he'll actually get to play.
50) Alex Wood, P
Petriello: I picked Betances, who didn't really pitch this year. I picked Hill, who can't be relied upon to pitch at any given time. So it's only appropriate to finish with Wood, who pitched only 35 2/3 unimpressive innings this year. So what in the world am I doing? I am making him a full-time reliever, because I see a guy with a career 2.70 ERA and a 54/14 K/BB as a reliever. (Dig that 90.5-mph fastball velo as a starter jumping to 92.8 as a reliever.) I don't know if this is a good idea. It is definitely _an_ idea.
* * * * *
So: How'd we do?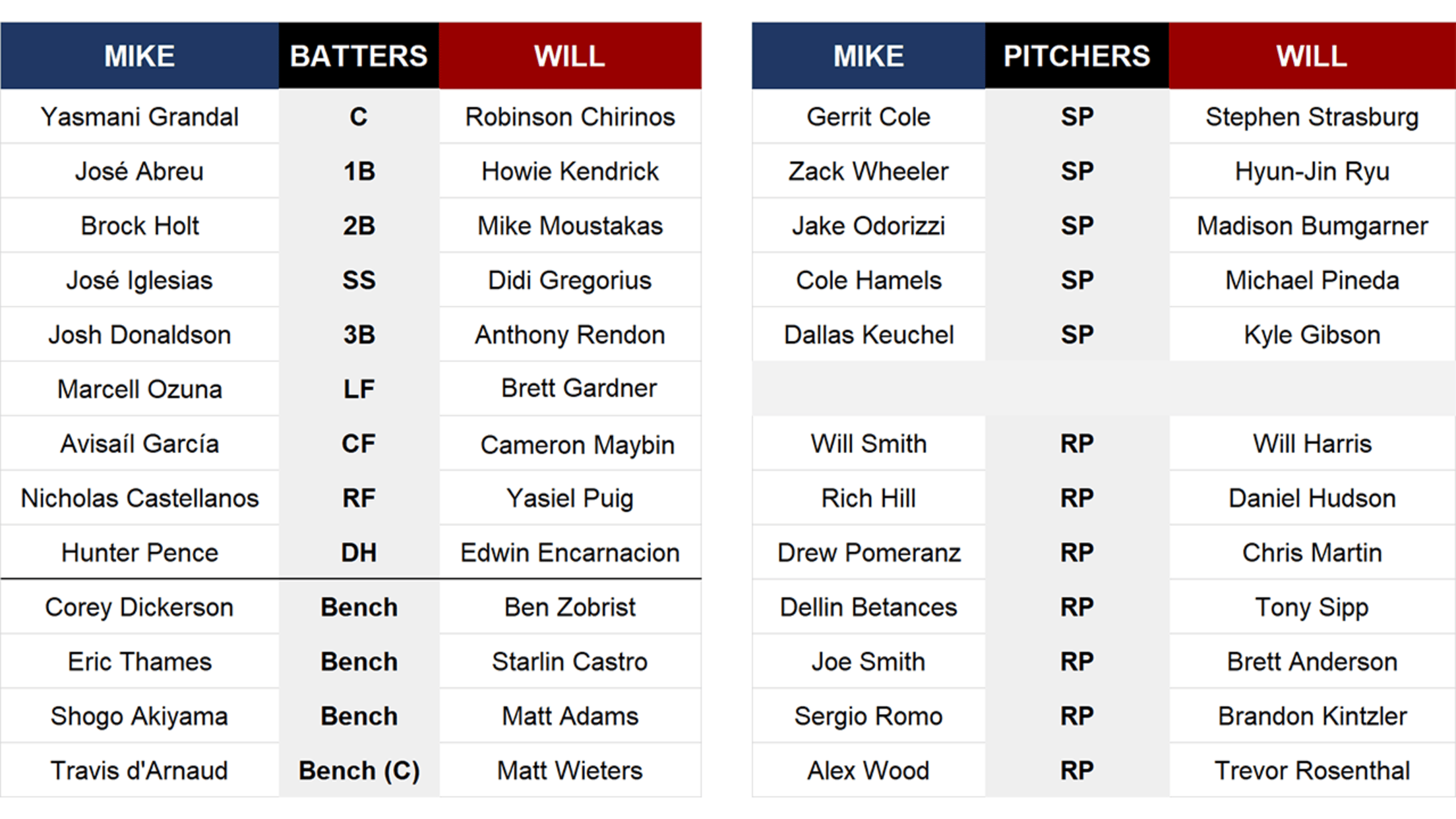 Notable players not selected: P Rick Porcello, P Homer Bailey, P Tanner Roark, P Adam Wainwright, P Wade Miley, P Iván Nova, P Martín Pérez, P Julio Teheran, P Gio Gonzalez, IF Eric Sogard, OF Kole Calhoun, 3B Todd Frazier, C Tyler Flowers, OF Nick Markakis, 2B Brian Dozier, OF Alex Gordon, C Stephen Vogt, C Yan Gomes
Will's lineup
LF Brett Gardner
3B Anthony Rendon
2B Mike Moustakas
DH Edwin Encarnacion
SS Didi Gregorius
RF Yasiel Puig
1B Howie Kendrick
C Robinson Chirinos
CF Cameron Maybin
Will: I love the middle of that order, and my defense isn't too bad, or it's at least better than yours. I have to say, the weakness of both of our bullpens does not make me think every team looking for bullpen help this offseason is going to find it. Mostly, the main thing I think I love about my team is that it has Bumgarner and Puig as teammates.
Mike's lineup
2B Brock Holt
C Yasmani Grandal
3B Josh Donaldson
RF Nicholas Castellanos
LF Marcell Ozuna
DH Hunter Pence
1B José Abreu
CF Avisaíl García
SS José Iglesias
Mike: My outfield defense is impressively, aggressively poor, but I'm pretty happy with my rotation, catcher, power and the names in my bullpen. So long as no one hits a dangerous ball to the outfield, I'll be fine. That doesn't happen too often, right?
2019 offense stats:
Will: .266/.336/.489 113 wRC+ 26.0 WAR
Mike: .272/.345/.485 115 wRC+ 28.4 WAR (not including Akiyama)
2019 pitching stats:
Will: 1,363 1/3 innings, 3.58 ERA, 24.9 WAR
Mike: 1,170 2/3 innings, 3.51 ERA 23.8 WAR
2020 projections via Steamer / 600:
Will: 21 WAR pitchers / 21.1 WAR hitters / 41.1 WAR total
Mike: 27 WAR pitchers / 21.6 WAR hitters / 48.6 WAR total (not including Akiyama)
Mike Petriello is an analyst for MLB.com and the host of the Statcast podcast.