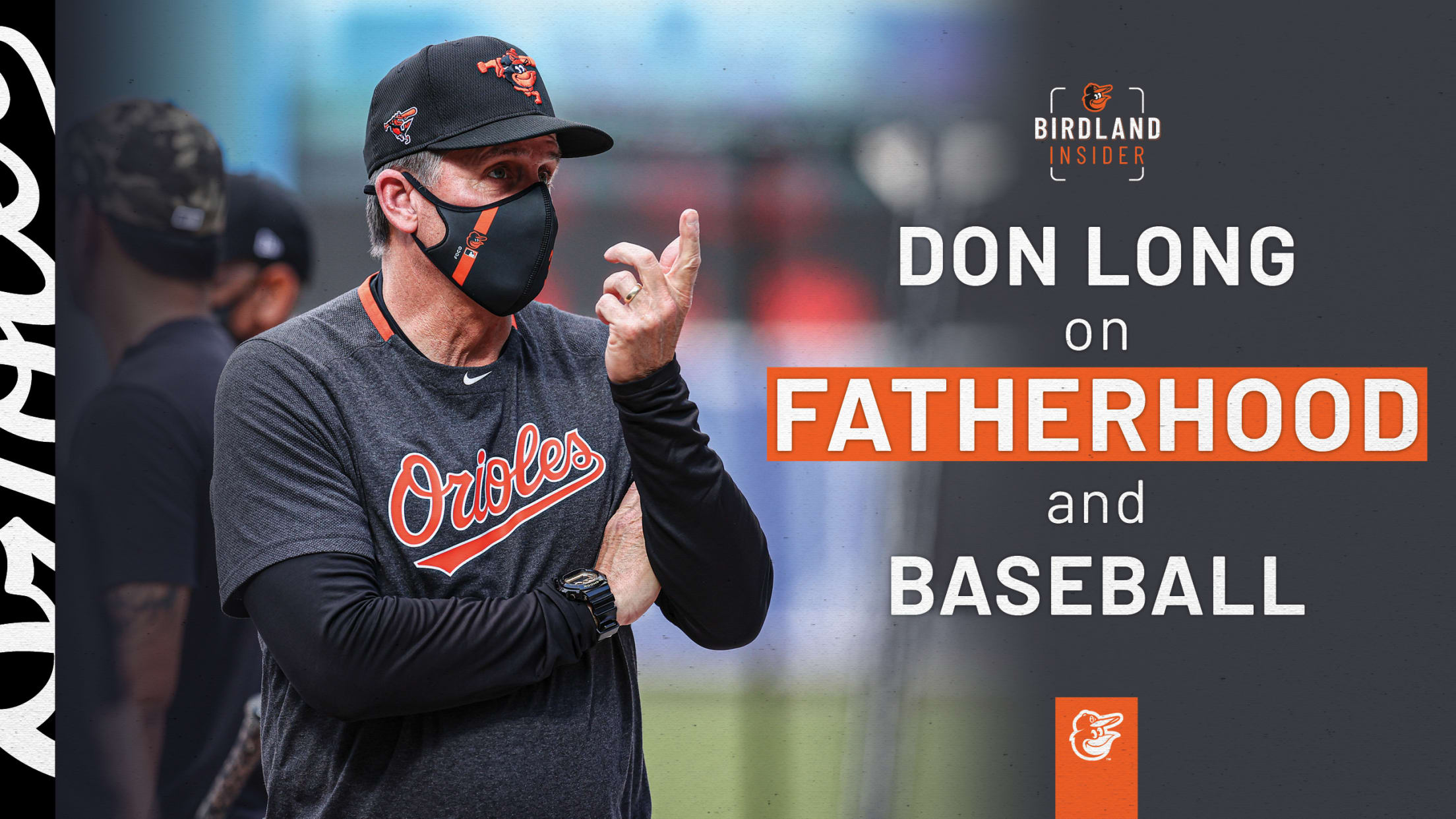 Scroll
Always Available: Don Long on Fatherhood and Baseball
Don Long loves being a dad. And while being a father to three boys: Stewart, 26; Preston, 23; and Tyler, 17, and managing his job as the Orioles hitting coach is not always easy, Long and his family make it work by calling home frequently and always being available for one another.
Long credits his own dad with showing him the characteristics he believes are the most important when it comes to being a father. Growing up, Long's dad was "Steady Eddy." He would call Long's mother a couple times a day from work, come home, walk through their door, and give her a kiss.
"He was there for us. He was always available," said Long. "So he set a really good example for me of what being a husband and a father should look like. I am very thankful for that, having had that model growing up for myself. Although being a parent at times can be stressful, it's just modeling that consistency I think is super important and I think being there for them at any time is what really matters."
Even when he is in the batting cages, Long makes sure to have his phone with him, only answering it for his family. He may pick up the call and ask if he can call them back later, but Long always makes sure his sons know he is there and available.
When it comes to talking on the phone, Long and his youngest, Tyler, FaceTime the most. It's important for Tyler to be able to see his dad, and they enjoy laughing together. He and his older sons tend to talk more though phone calls, whether it is them reaching out to him to check-in, or vice versa. But it does not matter to Long who makes the phone call or how it is made, he just enjoys the conversations.
"We've made it work for our family and I'm thankful for that and I'm thankful for the support of my wife and my children," said Long. "I think it's given us a great life and it's given us great experiences."
Even in the difficult moments, baseball has given Long some of his favorite memories of his boys. There is Stewart, who he remembers coming to games when he managed in Vancouver. Dian would wear a big coat to the games and during the break in action, Long would look down the third base line and see Stewart zipped in the jacket, with just his head poking out.
And Preston, who Long remembers at a family day in Cincinnati. He was older than the little kids, but went out of his way to take them under his wing, playing catch and encouraging them.
Finally, there is Tyler. Who Long remembers at a family day in Pittsburgh.
"He was probably four or five," said Long. "It was a hot day and we were out on the field after the game and Tyler had a water gun, running around, sweating, having a ball, and he actually squirted the GM at the time."
The impact baseball has had on his family is evident. But as much as baseball has impacted his family, his family has impacted who he is as a coach even more. Before having Stewart, Long had a coaching strategy he would describe as "firm but fair." After having children of his own, that all changed.
"I started to look at the players in a much different way," said Long. "I think it gave me a bit of a better understanding about what was really important and that's trying to take care of the person first and then the rest can come after that. Having our own kids really shows you that because you love them unconditionally. You laugh with them when something good happens and you feel for them when they struggle with them and that's really no different than what you're doing in coaching. You're celebrating their victories and trying to be there for them when they fall short and they need you to give them hope and try to lift them up."
Knowing he has the opportunity to help his players and have an impact on their lives is what keeps Long motivated. Because at the end of the day, Long wants the same thing for both his players and his sons. He wants to take care of them and help them see themselves for what they can become, lifting them up no matter what.
"We really want our boys to get out there and live life and whatever it is that they think they want to do, we want them to go for it," said Long. "If they get knocked down, we want them to get back up and keep moving forward because I think that's how you end up living your best life with no regrets. If you treat people well and pursue your dreams and happiness, whether you get knocked down along the way or not, I think that's what makes life worth living."