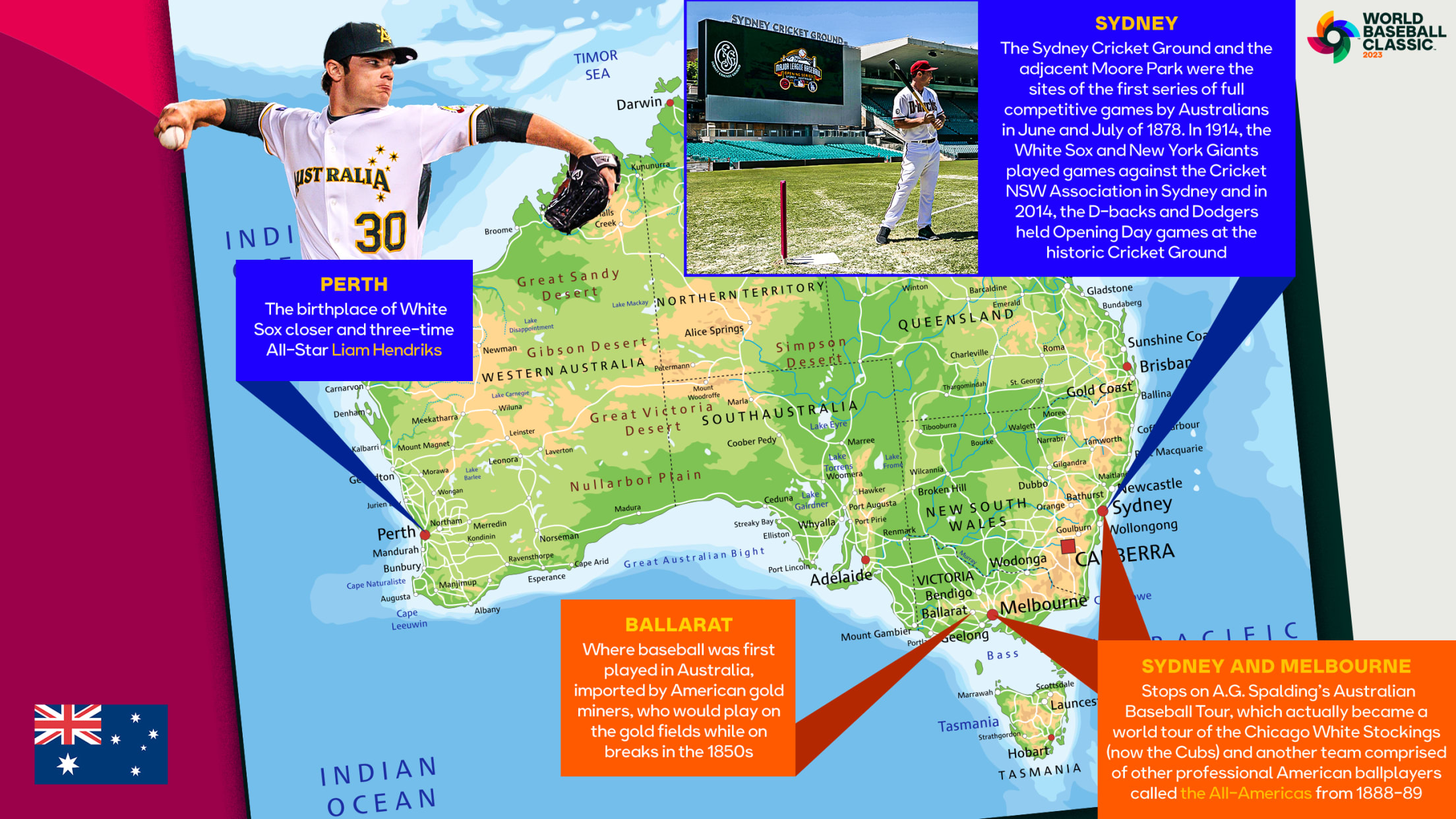 Scroll
The history of baseball in Australia 
Baseball was first played Down Under not long after the game rose to prominence in the United States. America's national pastime was brought to Australia by American gold miners, who would play on the gold fields of Ballarat while on breaks in the 1850s.
Thus began Australia's love of baseball, which has flourished for nearly 200 years now.
The Sydney Cricket Ground and the adjacent Moore Park were the sites of the first series of full competitive games by Australians in June and July of 1878. The games were played by the Surry Baseball Club and the NSW Cricket Association.
A decade later, A.G. Spalding set sail from the U.S. on his famous Australian Baseball Tour, which actually became a world tour of the Chicago White Stockings (now the Cubs) and another team consisting of other professional American ballplayers called the All-Americas. It was a tour that spanned from 1888-89, and it was the country's first taste of Major League Baseball.
It would certainly not be the last. In 1914, the Chicago White Sox and New York Giants played games against NSW in Sydney, and since then, Australia has participated in many international tournaments -- including the World Baseball Classic -- and produced many Major League players.
WBSC Rank: 10th
Last WBC appearance: 2017
Best WBC finish: 2017, 9th place
Country's top current Major Leaguers
Liam Hendriks
Hendriks has been one of the elite closers in baseball over the past several seasons, owning a 2.26 ERA over the past four years -- two of which were spent with the A's and two with the White Sox. He has 114 saves and a 39 percent strikeout rate. The three-time All-Star is already among the best Australian-born pitchers in MLB history.
Unfortunately, earlier this offseason, Hendriks announced that he is battling non-Hodgkin's lymphoma. There was an immediate outpouring of support from the baseball world, and as White Sox senior vice president and general manager Rick Hahn said in a statement following Hendriks' announcement: "Knowing everyone involved, especially Liam, we are optimistic he will pitch again for the White Sox as soon as viable. In the meantime, we all will do everything in our power to support our teammate and his family as they face this challenge, while also respecting their privacy."
Famous Players
Joe Quinn
Quinn, who made his Major League debut with the St. Louis Maroons in 1884, was born in Ipswich. The Maroons only lasted until 1887 but spent two of their three years of existence in the National League.
Quinn played all around the infield, but mostly second base, as well as in the outfield. He was a career .262/.303/.328 hitter in a 17-year big league career during which he also played for the Boston Beaneaters, St. Louis Browns, Baltimore Orioles, Cleveland Spiders, Cincinnati Reds and Washington Senators.
It would be more than 100 years before another Australian-born player would reach the Major Leagues -- that was Craig Shipley, an infielder who played for the Dodgers, Mets, Padres, Astros and Angels from 1986-98.
Dave Nilsson
Born in Brisbane, Nilsson is widely regarded as the most prominent baseball player in Australia's history. He was a player, coach and even an owner of the Australian Baseball League at one point.
Nilsson was signed by the Brewers in 1987. He reached the Majors in '92, and went on to become a productive catcher/first baseman/outfielder for Milwaukee over the next eight seasons, though he was often limited by injuries. Overall, he posted an .817 OPS with 105 home runs from 1992-99, earning an All-Star selection in his final big-league campaign, when he produced career highs in homers (21) and OPS (.954).
That All-Star selection was the first for an Australian-born player, and when he entered the 1999 All-Star Game at Fenway Park in the eighth inning, Nilsson became the first Australian-born player to appear in the MLB Midsummer Classic. Nilsson was also part of the first all-Australian battery in a Major League game when he was behind the plate to catch left-hander Graeme Lloyd on April 14, 1993.
After his Major League career ended, Nilsson continued his playing career in Australia. He was the MVP of the 1999 Intercontinental Cup, leading his country to its first gold medal in any major international competition. Nilsson holds several Australian baseball records, including career batting average (.358) and slugging percentage (.661). He competed in Australian baseball from 1989-2004, with the Australian league playing during the MLB offseason. He also hit 52 homers and drove in 196 runs in 247 games over that span.
Peter Moylan
Moylan, born in Attadale, pitched for the Braves, Dodgers and Royals over 12 seasons in the Major Leagues from 2006-18. The right-hander had a career 3.10 ERA and has one of the more remarkable stories of perseverance in the game over the past 30 years.
Originally signed as an amateur free agent by the Twins in 1996, Moylan spent two years in Minnesota's farm system before being released. He returned to Australia and worked as a pharmaceutical salesman while continuing to play baseball on the side. He gained significant fastball velocity by changing his arm slot, and after he played in the Claxton Shield championships, he was added to Australia's 2006 World Baseball Classic team.
It was Moylan's performance in that WBC that led to the Braves signing him, beginning what would become a very productive Major League career. His finest season came in 2007, when he posted a 1.80 ERA in 80 appearances (90 innings) for Atlanta. He also pitched for Australia in the 2017 WBC, tossing two scoreless innings.
Biggest moments in history
Team Australia beat Team USA in the 2019 WBSC Premier12 tournament, defeating a United States club featuring future MLB players Jake Cronenworth, Andrew Vaughn, Alec Bohm, Jo Adell, Bobby Dalbec and Drew Waters.
Australia edged the U.S., 2-1, thanks to Aaron Whitefield's two-run single in the first, 5 1/3 scoreless innings from starter Tim Atherton and 3 2/3 strong frames from relievers Moylan (2/3), Ryan Searle (2 1/3) and Jon Kennedy (2/3).
Local league setup and teams: Australian Baseball League
The ABL was founded as a joint venture between Baseball Australia and Major League Baseball in 2010. Another Australian league with the same name operated in the 1990s, but was no longer in operation by this time. The season takes place during the summer in the Southern Hemisphere, which is from November to February.
Each year, the season concludes with the best-of-three Championship Series and the winner receives the Claxton Shield, which has been presented to the winners of interstate baseball competitions dating back to 1934.
Famous/Notable ballparks: The Sydney Cricket Ground
While not technically a baseball stadium, the historic pitch in Sydney hosted the first ballgames on the continent back in the late 19th century and, in 2014, featured the earliest Opening Day game in MLB history. The Dodgers beat the D-backs, 3-1.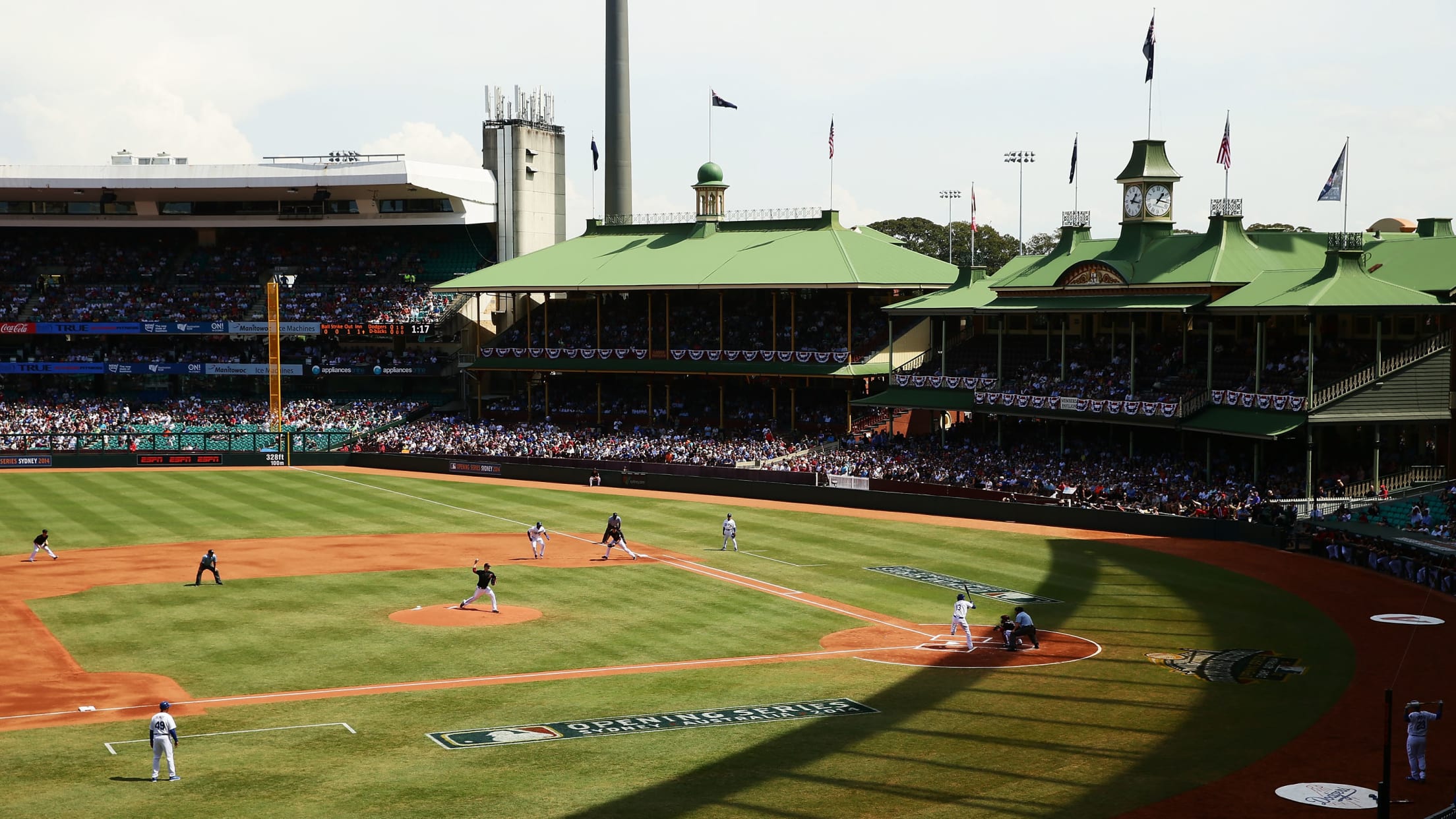 Unique food/activities at games
Chiko Rolls, Australian snacks that are loosely based on a spring roll, are popular in-stadium items in the ABL.