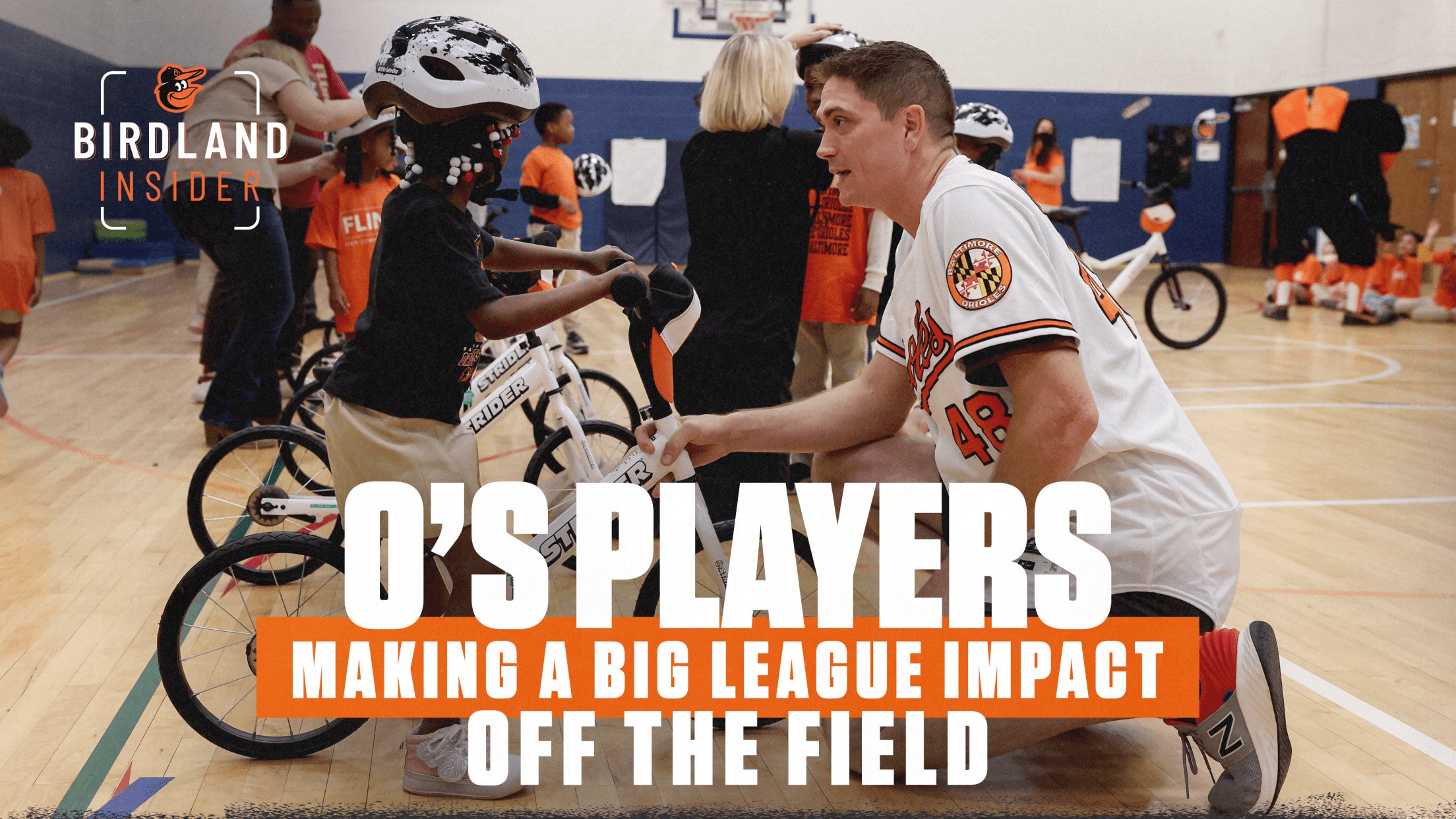 Scroll
O's Players Making a Big League Impact off the Field
Giving back to the community has always been a priority for Orioles pitcher Kyle Gibson. Now he is bringing that passion to the Baltimore community with his contributions to Big League Impact's #ALLWIN Baltimore campaign.
Gibson is also getting his teammates involved. Orioles pitcher Tyler Wells and outfielders Austin Hays and Cedric Mullins are joining Gibson in this season-long campaign.
"We've got four of us here that wanted to get involved and wanted to do something and there's more people that are doing a lot of work as well," said Gibson. "I think it's fun for these guys also to do something with the fans and hopefully it's fun for the fans as well to come alongside and realize what's special to each one of us."
It was during Spring Training that Gibson introduced Big League Impact to his teammates and explained what the organization does.
Big League Impact, a nonprofit organization that works to improve the lives of those in need both locally and globally, was founded in 2013 by St. Louis Cardinals pitcher Adam Wainwright. Since its founding, Big League Impact has raised more than $8 million for charitable causes, helping more than 140 Major League players from teams across the country rally their fans to raise money for causes close to their hearts.
This year, the Orioles' goal is to raise a total of $55,000 by the end of the 2023 regular season. Together, Gibson, Hays, Mullins, and Wells have pledged to donate a combined $425 for every Orioles' win this season. The proceeds will be divided among the charities that are most important to each player.
Gibson will also donate $100 to the Maryland Food Bank for every strikeout he records this season. Supporting food banks has always been a priority for Gibson because of the amount of food they can provide to local families with just a small monetary donation. Gibson said most people don't realize that the Maryland Food Bank can feed a family for a week with just a $10 donation.
In addition, a portion of the proceeds from this season's campaign will be donated to the House of Ruth Maryland on behalf of Gibson.
"House of Ruth does great work with single mothers and kids in general," said Gibson. "They do a great job of lifting families up, whether it's job assistance or providing them with a new wardrobe to go to an interview."
Hays will support the MedStar Franklin Square Medical Center NICU, a Level 3 facility that provides expert, life-saving care in a comforting space designed for infants and families to heal together. Supporting a hospital NICU is a cause close to Hays and his wife, Sam, as their oldest son, Levi, was born prematurely and spent time in the NICU before going home. Hays will also donate $200 for every home run he hits this year to the NICU.
Wells will donate money to Vs. Cancer, a campaign that funds child-life programs in local hospitals, as well as life-saving pediatric brain tumor research. Supporting cancer research organizations hits close to home for Wells as he lost his biological mom to cancer when he was just five years old. Wells' support of pediatric cancer causes goes back to September 2021 when he launched a fundraiser for the Pediatric Brain Tumor Foundation during Childhood Cancer Awareness Month. Wells will also donate $5 per strikeout to the Lighthouse Family Retreat, a non-profit that exists to strengthen every family living through childhood cancer.
Mullins will support the Crohn's & Colitis Foundation, an organization that improves the quality of life of children and adults affected by digestive diseases. Mullins announced in February of 2022 that he was diagnosed with Chron's disease months before the 2021 season. Since announcing his diagnosis, Mullins has shared his story, using it as an opportunity to encourage others to get checked out if they feel something is wrong.
Orioles players are making it easy for fans to get involved. On Sunday, August 6, Kyle Gibson will host a "Swinging for Impact" Topgolf Challenge to benefit City of Refuge Baltimore. Tickets, which start as low as $250 for an individual and $400 for a pair, include the opportunity to golf alongside an Orioles player, food, and three drink tickets. For more information, visit BigLeagueImpact.org/TopGolfBaltimore.
Fans can also join the Orioles in their efforts to support the community by donating at BigLeagueImpact.org/AllWinBaltimore. Fans who donate $5 or more will be entered to win fun prizes, including autographed items from Big League Impact athletes.