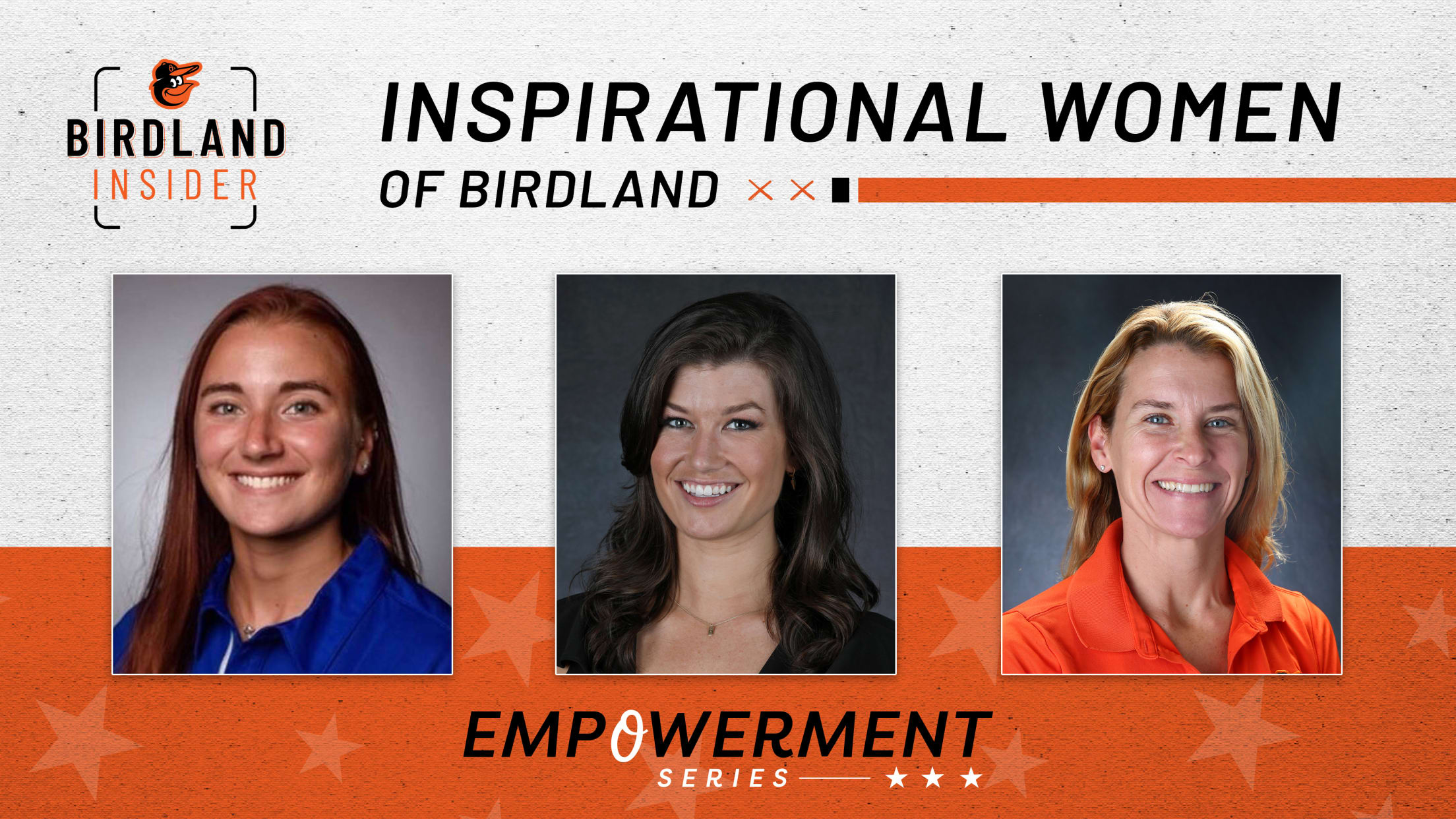 Scroll
Inspirational Women of Birdland
"Women can do it all, we just have to believe we can."
One hundred years ago, a constitutional amendment was enacted that prohibited the states and federal government from denying American citizens the right to vote on the basis of sex.
While the 19th Amendment wasn't officially ratified until 1920, women across the country have been standing up for their rights, fighting for equality and demanding change since as early as the 1820's.
The movement toward equality that began more than 100 years ago continues to this day.
Sexism has gripped the nation for centuries, and the collective effort of strong women uniting for change has allowed for increasing female representation in leadership roles.
A fire has been lit inside every woman who has ever been told, "That's a man's job," or, "Just sit there and look pretty." Hearing these words now serves as motivation. One more reason to work even harder, to be even stronger, to make it better for the next generation of women.
Empowering women throughout our sport and our communities is at the forefront of the Orioles' organizational priorities. Our Birdland family would not be as lively, welcoming or prosperous without the hard work of the powerful women that contribute to leading our organization at all levels.
As part of this year's celebration of the centennial anniversary of the ratification of the 19th Amendment, three inspiring women who have broken barriers within the Orioles organization participated in a special Q&A with Birdland Insider.
Liz Pardo joined the Orioles Class A Advanced affiliate, the Aberdeen Ironbirds, as the team's strength and conditioning coach prior to the 2020 season. Since accepting this role, Liz has become the first female coach within the Orioles' system.
As the Orioles Director of Field Operations, Nicole Sherry is the first female head groundskeeper in Orioles history, and only the second female head groundskeeper in Major League Baseball. She began her Orioles career as an intern in 2001, has since climbed the ranks and is now seen as a role model for many girls and women throughout the Birdland and baseball community.
Orioles broadcaster Melanie Newman recently called her first regular-season Major League Baseball game as a play-by-play announcer on Aug. 4, becoming the first female broadcaster in club history. Melanie joins Jenny Cavnar of the Rockies, Suzyn Waldman of the Yankees and Jessica Mendoza of ESPN as one of four active female broadcasters in MLB.
These three inspiring women have all broken barriers in their respective fields and hope to pave the way for generations to come. We invite you to read their responses, which reflect on the importance of representation, the challenges they have overcome, and the words of encouragement they wish to share.
How did you get started in the sports industry and what steps did you take to advance to your current role?
Liz: Nothing crazy, I just applied. My career started to lay out its path when my mentor pushed me to get my personal training certification the summer after my freshman year of college. Every summer after that, he challenged me to get another certification, and when I was training with him, he would stop my workouts to teach me different lessons; why he was doing a certain exercise with a specific athlete, or what I thought another athlete should be doing. He was constantly pushing me to get better. That continues to this day. He believed in me before I believed in myself, and he saw something I never knew I had.
Nicole: I loved learning the science behind how plants grew. I had a class in college under my agriculture major called Turfgrass Management. I also had an irrigation class, and one day we took a field trip to view the state-of-the-art irrigation system at OPACY. I started my career in golf, but would often reminisce about the field trip, so I contacted the head groundskeeper and asked if there were any internships available. Two weeks later, I moved to Baltimore and started an internship with the Orioles in July 2001.
Melanie: I started in college at Troy University, and between the Sports Information Department, hands-on classes and the student TV station, it eventually led to my first paid broadcasts with the ASUN Conference while I was still in school. It was about a year after graduation before I landed with the Padres' Double-A affiliate, the Mobile BayBears, as an on-field host, pre- and postgame host, sales representative, social media and graphics contributor, community host and occasionally the mascot. Justin Baker, the then-director of broadcasting, ultimately chose to bring me into the booth to begin contributing in play-by-play.
Nicole, how important is it for young girls to participate in STEM (Science, Technology, Engineering, and Mathematics) activities?
Nicole: STEM is so important for young girls. The opportunities that studying STEM can provide women is astounding. So many women are doing amazing things in STEM careers, and it's important that young girls see that those individuals look like them. Representation matters.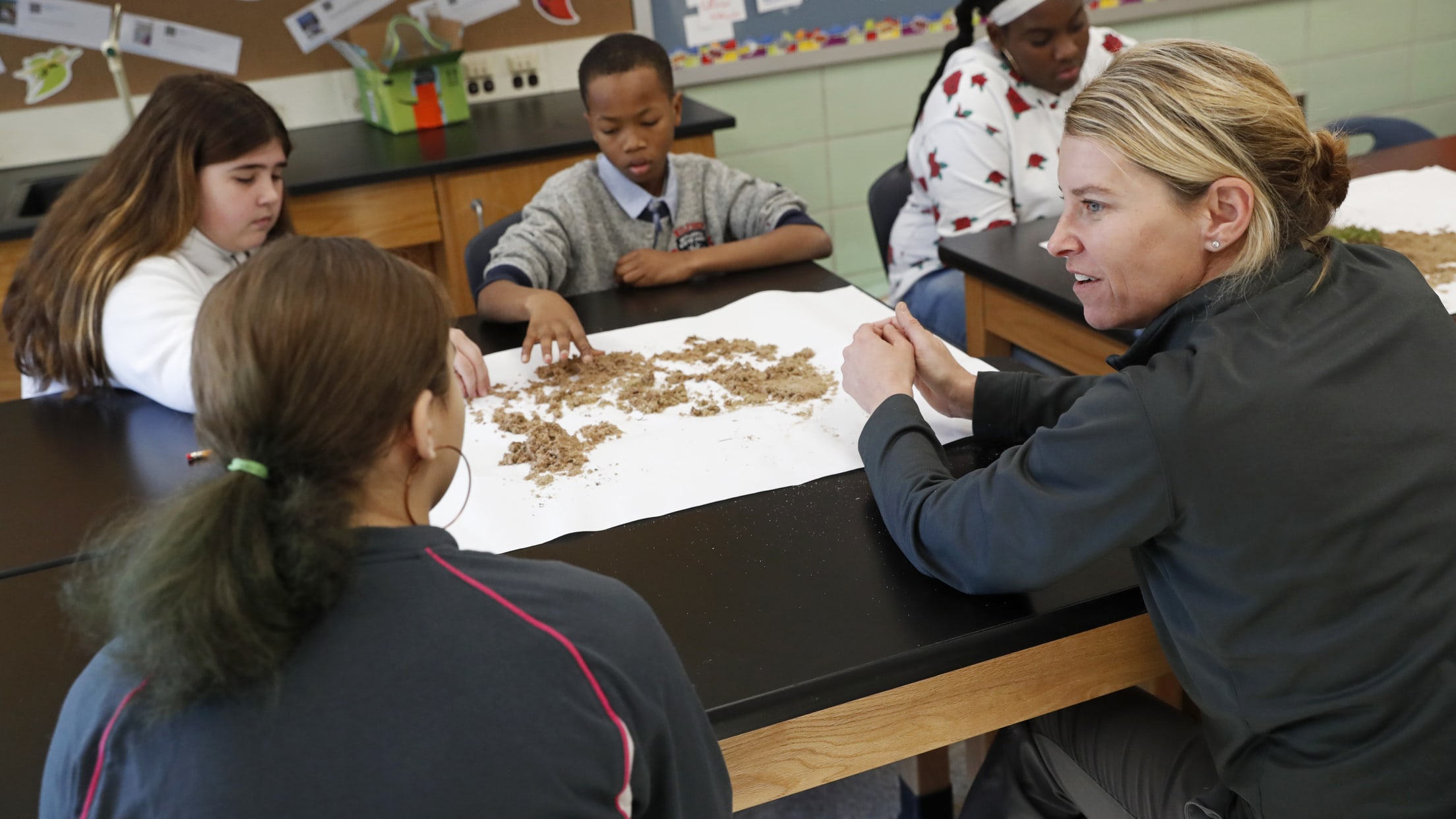 How far has baseball come in embracing and celebrating women? And what does it mean to you to have played a role in that change?
Liz: I think baseball has come a long way in embracing women, especially in the last couple of years. But at the same time, I believe more women are gaining confidence to apply. It really does mean the world to me to play a role in this change, because all I truly want is to be an inspiration to that little girl that doesn't think she can, or gets told, "A lady isn't supposed to do that."
Nicole: I feel like it's finally waking up after a tremendously long slumber and we have a very long way to go. In my 18 years working in professional baseball, only in the last few have I seen an uptick of women, on and off the field, in important roles. I think I am most proud to work for the Orioles because we have a lot of women in leadership positions. I'm very thankful that the Orioles chose me in 2006 to be the head groundskeeper. A role that in the 150-plus years in the history of Major League Baseball, only two women hold that title today: Heather Nabozny, from 1999-present, and me, from 2006-present. Read that again.
Melanie: The atmosphere towards women in baseball has changed dramatically in just five years. I think we're at a turning point of realizing gender, race and sexual orientation have ZERO impact on one's ability to do a job. It's not perfect yet, but it's changing. Especially in the face of social media, which used to be so negative, now you're hard-pressed to find the downers.
It's crazy to think that the Orioles hiring me creates change; I hope it does. For me, it was a matter of pursuing my goals and the fact that an absolutely perfect fit presented itself. The letters from little kids are what impact me the most. Those are the moments of recognizing they may still be living in a space where their interests differ from their same-gendered peers. It's up to us to remove the stigmas that certain interests are only acceptable to certain genders.
Who are some strong women who have inspired you?
Liz: I would have to say that my Nana and my great aunt Katie are the two women who inspired me to be a strong woman. My Nana taught me how to power walk in 8-inch heels when I was seven and always told me, "Ellie, don't you ever think you need a man. You be strong and take care of yourself… then have a man because you want one." And then my great aunt Katie was the one person who never let me get down on myself. She was one of the first people to really instill confidence in me and I looked up to her. She was the matriarch of our family and whatever she said went. But it was a power she never abused; she was always fair, gentle and kind, but put you in your place when you needed it. Both of them showed me that being a strong, powerful woman had nothing to do with "being masculine." It had everything to do with believing in yourself and knowing your worth.
Then as I got older, one of the people who inspired me the most was not a woman. My mentor, Shannon Wallace, instilled confidence in me that I did not think was possible. He pushed me to always work hard and be the best no matter what. He taught me what it meant to be a mentor and then put me with female athletes that needed inspiration. I was a role model for young girls, and I found that they inspired me more than anyone. Knowing that young girls could think they were not good enough pushed me to break barriers and show them anything is possible.
Nicole: My mother; she is the one that made sure I knew I could do anything and that gender shouldn't matter. Also, Monica Pence Barlow, since she and I were on the field a lot together, usually as the only women. We had great conversations about our roles, which will always be truly special to me. And finally, standing across the field on Opening Day last season against the Toronto Blue Jays and seeing Nikki [Huffman] as the head athletic trainer standing across from me. Inspiring.
Melanie: My mom, Susan, and my dad's mom, Eva, will always be at the top of my list. Within the industry, Suzyn Waldman has been absolutely stellar in her no-holds-barred approach to life and baseball. I would have probably given up without Jessica Kleinschnidt, she really gave me a backbone and the courage to speak up at all. Rachel Baribeau changed the trajectory of why I do this job; she further developed my purpose and sense of meaning that has been wholly embodied by her 'I'm Changing the Narrative' movement. Cindy Brunson, Emily Jones, Julia Morales, Jenny Cavnar, Alex Chappell, Kelly Saco and Jess Blaylock have all been exceedingly uplifting and wonderful women to get to know and learn from.
Liz, Have you connected with any other female coaches within baseball or in other sports?
Liz: Yes. When starting to pursue a career in pro baseball, I reached out to Andrea Hayden with the Twins and Rachel Balkovec with the Yankees. Both of them were extremely helpful in preparing me for what to expect and just giving me that extra boost of confidence.
Where do you see opportunities for improvement for women in the sports world? What do you think is the next barrier to be broken?
Liz: I do not really believe there are barriers. Women can do it all, we just have to believe we can. I think more opportunities will arise as women start to push themselves and go out on a limb. You keep fighting until you reach your goal. The only "barrier" I see is normalizing women in these positions. It should not be about me being a woman and being in this profession. It should only matter how good I am at my job. No one says, "Wow, he is so great at his job and he's a man!" It should be the same when it comes to women.
Nicole: Qualified women should be hired as head coaches and managers for both male and female sports teams. I believe the next barrier to be broken will be a female GM, and the next one after that will be a female athlete on a male professional sports team.
Melanie: At end of the day, everyone should be treated the same, no better or worse than the other. Creating a neutral environment should be the goal. Women have had decades of setbacks in this industry, but we aren't looking for free passes as atonement. Hiring a more diverse base is fantastic and bridges you to even more fans who may now find these different faces more relatable. It will come down to analyzing how the world continues to evolve and what audiences you may not be fully connecting with, then who stands forward as not only the most qualified, but now also relatable on a humanized level.
What challenges have you been faced with in your career and how did you overcome them?
Liz: It's still really early in my career, but I think throughout life and getting to where I am, the only real challenge I have faced has been my own mind. Yes, you could say that it's having to earn respect from the all-male teams I have been lucky to be a part of, but honestly, I have found that many times male athletes respond so much better to women. Also, you could say that men often make comments about my strength, but I have always been fueled by these comments. One time at the beginning of my freshman year of college, all of the fall athletes helped the freshmen move into the dorms. I had grabbed a tub, and one of the male professors took it from me and said, "Here sweetie, let the football players take this. Why don't you go grab those pillows?" Usually, someone would just get annoyed by this, but instead, I went and carried a refrigerator up two flights of stairs by myself. Every year after that I made it a point to carry a refrigerator.
But anyway, my own mental game has been my challenge. The questions of "How does it feel to work in a male-dominated profession?" or "Do you feel you are at a disadvantage because you are a woman?" just prime the mind into believing those things. I am not at a disadvantage; I am just in a profession that women have not taken over yet. My own insecurities are my only battle.
Nicole: Many painful challenges of sexism. I won't say I overcame them, instead I will say it fuels my fire to keep pushing through those challenges. I want the next generation of young males and females to see my role as normal and know that a woman belongs here.
Melanie: In many ways, I've faced the same challenges as everyone else in this industry -- I've heard hundreds of "No's" for whatever reason the prospective employer felt at the time. It's also a challenge when you first begin to weigh the personal sacrifices that the game demands. You adjust as you get older, but missing family and friends' milestone events can be tough. I've also dealt with plenty of discrimination towards me because of my gender, generally from outsiders and sometimes from fellow office workers, but it is all the more critical to lean on your inner circle in those times and succeed in spite of these people.
What advice would you give to young females with aspirations of working in the sports industry?
Liz: Believe in yourself, you are just as good as anyone and everyone else, and no you do not look like a man. And when in doubt, carry the fridge.
Nicole: Be open. Speak up. Learn everything you can, be the squeaky wheel and don't give up. Never ever give up.
Melanie: Be flexible in your path. There are a thousand ways to climb upward, and you could miss some amazing opportunities because they don't match what you had imagined. Always be the rookie no matter where you go or how much experience you have; it allows you to not only learn more but creates a much more conducive environment for everyone.
This is the first of a new monthly feature on Birdland Insider, titled Inspirational Women of Birdland. Each post will highlight some of the many women throughout the Orioles organization and in the Baltimore community that are breaking barriers and inspiring others with their work.