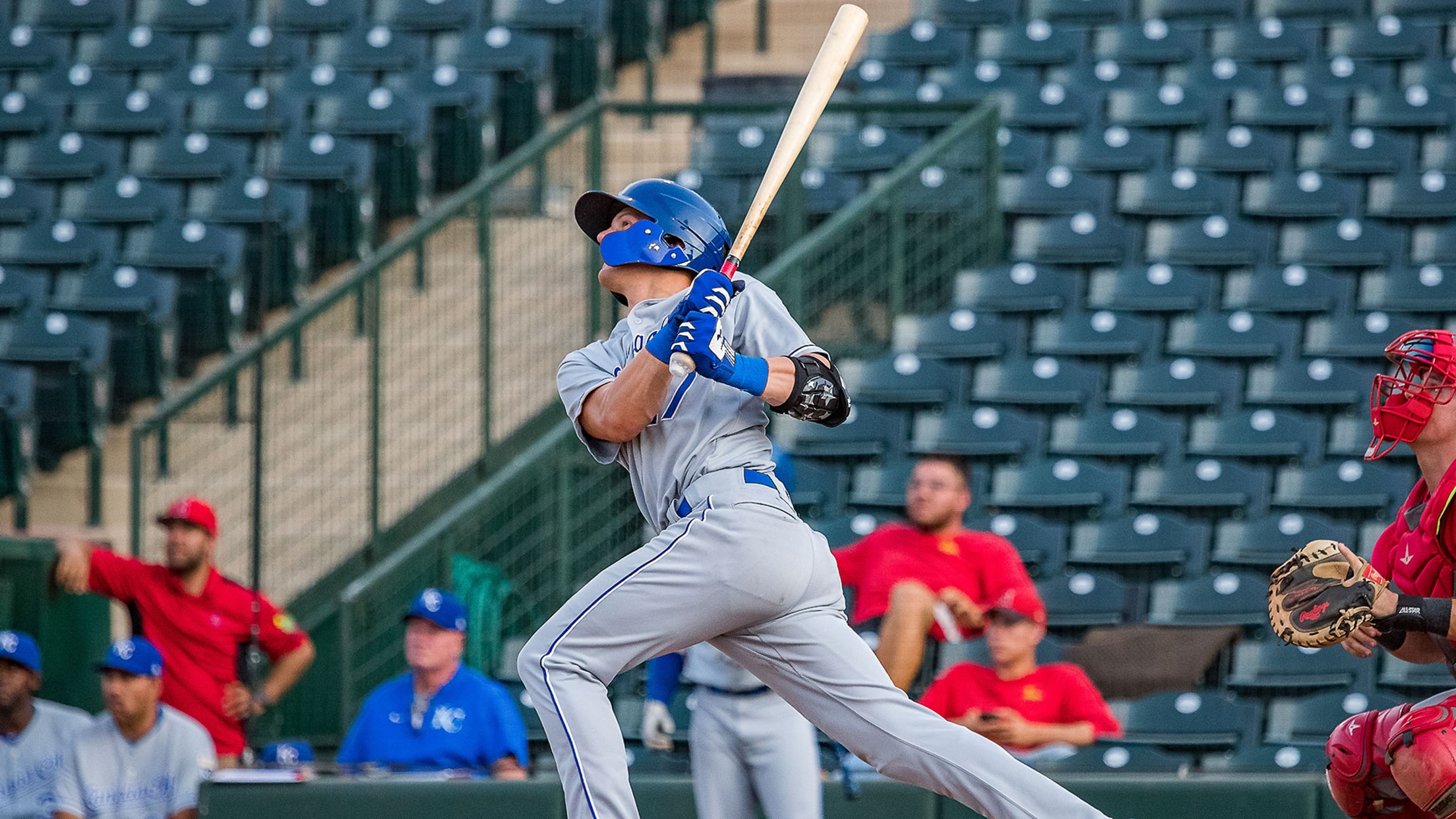 Scroll
For Witt Jr., the diamond is his classroom
Bobby Witt Jr. remembers sitting in classroom after classroom at Colleyville Heritage High School, listening intently to the question being asked while he racked his brain for an answer.
"What do you want to major in," teachers and administrators would ask, "when you go to college?"
Witt Jr. didn't have an answer. Most of the time, he'd make one up off the top of his head. There was only one major he was focused on, and it wasn't a degree. It's a league.
"It's always been this," Witt Jr. said last summer, gesturing to the field he played on every day for Double-A Northwest Arkansas. "It's a different feeling when I'm out there. I am so incredibly blessed. I keep saying that over and over again, but there's no truer words to describe how it is and how lucky I am."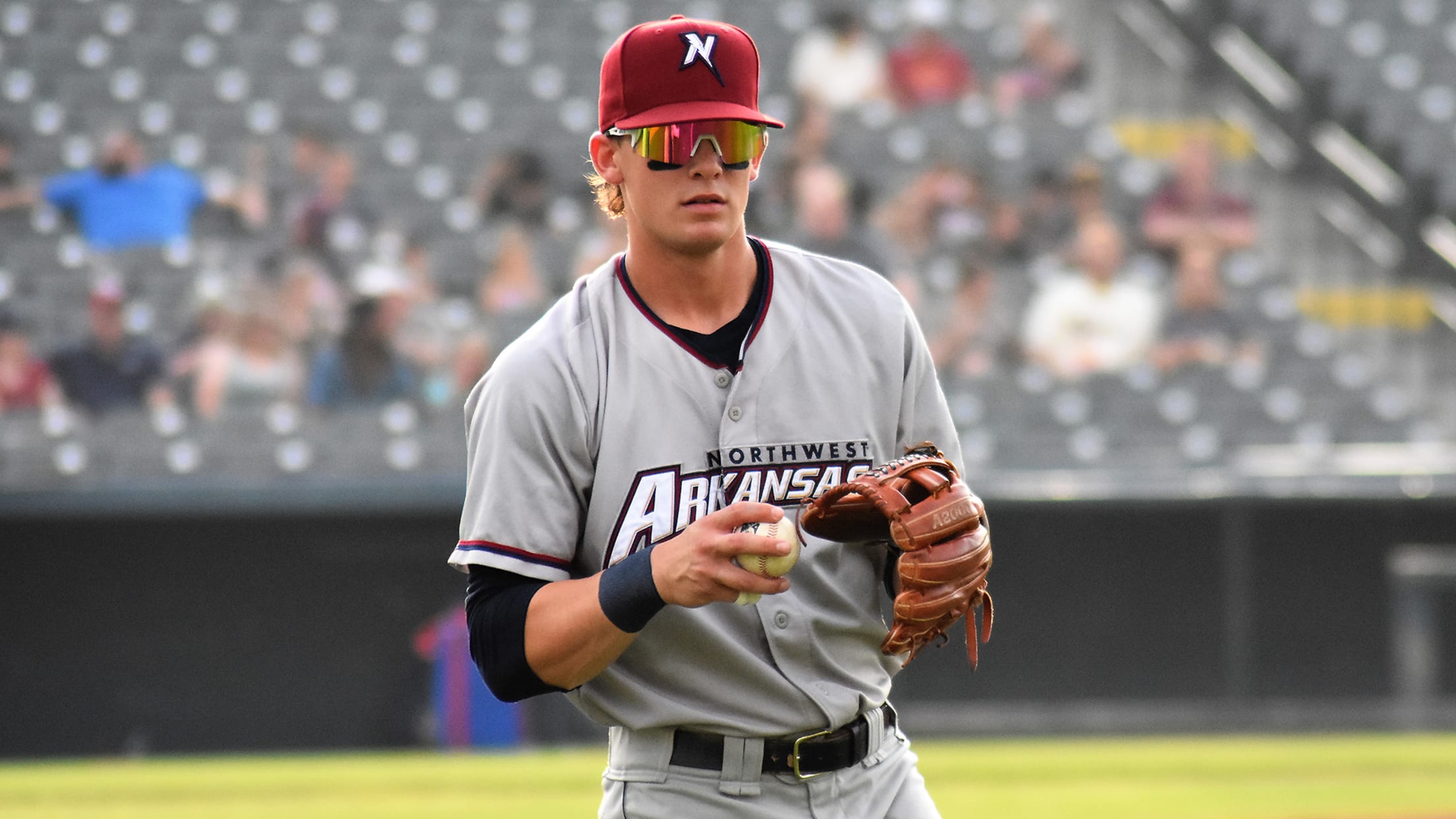 Witt Jr. feels different when he takes the field, and it's a different feeling watching him do so. At 21 years old, he's one of the youngest players at the upper levels of the Minors, but as baseball's new No. 1 prospect, he's one of the best.
The sweet-swinging, smooth-fielding, mad-dashing shortstop has the potential to become the next face of the Royals franchise. And he could make his debut as early as Opening Day on April 7. If not then, Kansas City should expect to see him at some point in 2022.
The son of Bobby Witt, who pitched in the Majors for 16 years, Witt Jr. was picked one spot higher than his dad in the MLB Draft, at No. 2 in 2019. He signed for $7,789,900, which was the second-highest Draft bonus since Gerrit Cole got $8 million from the Pirates in 2011. In his first full season of professional ball, Witt Jr. slashed .290/.361/.575 with 33 home runs and 29 stolen bases between Double-A and Triple-A.
As his second big-league Spring Training begins, he has earned more press than most baseball prospects have, yet he has stayed as consistent as ever, even as he takes batting practice with the Royals' everyday players and is spotted taking reps at third base with what the Royals' hope their Opening Day infield is -- shortstop Adalberto Mondesi, second baseman Nicky Lopez and first baseman Carlos Santana.
Witt Jr.'s name comes with great hype. And a lot of expectations.
Does that faze him? He smiles.
"I just try to keep it day by day," Witt Jr. said. "Try to be Bobby Witt Jr. Don't try to be someone you're not. Try to keep my success steadily going up and up and up, but try not make it go up and down, up and down. Just try to be the same person. Try to be me."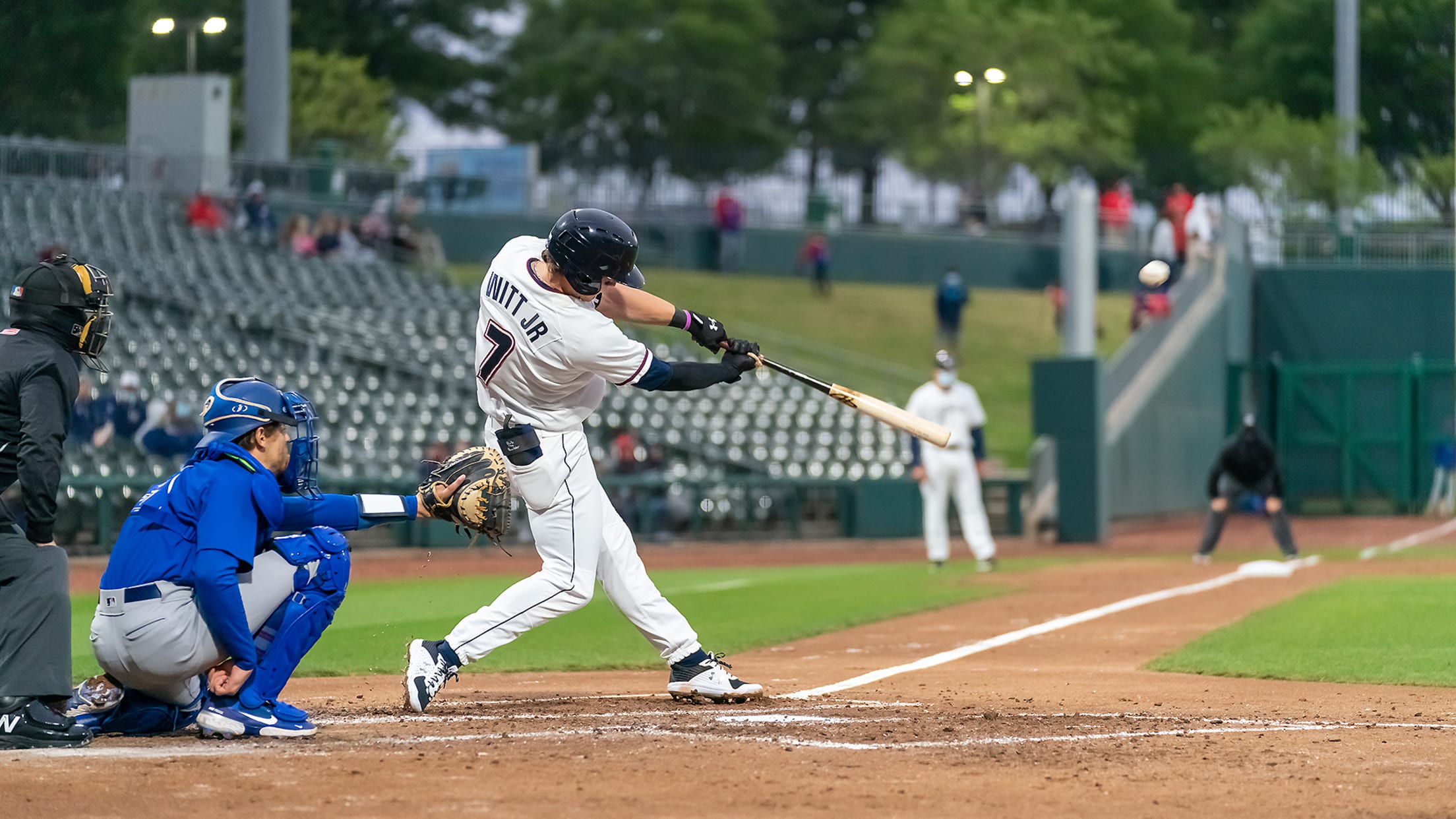 Witt Jr. says it a lot, that he has to "be Bobby Witt Jr." He says it to reporters, to his teammates, to Royals coaches and officials, to his dad. It's a cliché heard often around baseball but is a genuine answer coming from Witt Jr. because he knows who he is, the kind of talent he has and what it takes to succeed.
"At the end of the day, he trusts his talent," Royals director of hitting performance Alec Zumwalt said. "A lot of players, when they get themselves into trouble, they're not trusting their talent. They're trying to do more. What they have, they think is not good enough. That's where, with Bobby, it's different."
What makes Witt Jr. one of the best prospects in baseball? There's the athleticism pocketed in a 6-foot-1, 200-pound body, passed down from his father. Witt Jr.'s talent is obvious when he steps on the field -- the effortless grace of a shortstop, the jaw-dropping power of a middle-of-the-order bat. His bat speed allows him to stay on the plane so well that even if his timing is off, there's still a high chance he makes contact. The simplicity of his hitting approach and rhythm, how his mechanics don't often get out of whack and if they do, they won't be for long. Defensively, he's elite. With quick hands and a long range, he often makes plays that those watching don't think are possible.
He's the type of player people love to watch because they never know what they're going to get to see.
"You're looking at a player that doesn't have a weakness in his toolset on the field," Royals scouting director Lonnie Goldberg said. "But he's able to turn it up to different gears even when you think you've got his tools graded out. He can sniff the extra base, he can sniff when he needs to start running faster to make sure he's safe. I just equate all that to a unique athlete, a player that has the ability to raise that explosiveness based on the situation. And make you go, 'Wow.'"
"I think that's going to be the most exciting things for fans," Zumwalt added. "He's going to do something every night to help the team win."
Zumwalt has years of scouting in his background. There are tons of "five-tool" players out there, but Zumwalt said it's rare to come across one whose skills play out every night on the field.
Witt Jr. is one of them. He might even have 11 tools, Royals starter Brady Singer joked in Spring Training.
"I don't like comparing, I really don't," Zumwalt said. "But from a scouting sense, unfortunately, we have to compare. And Bobby is on his own. His talent is in its own category."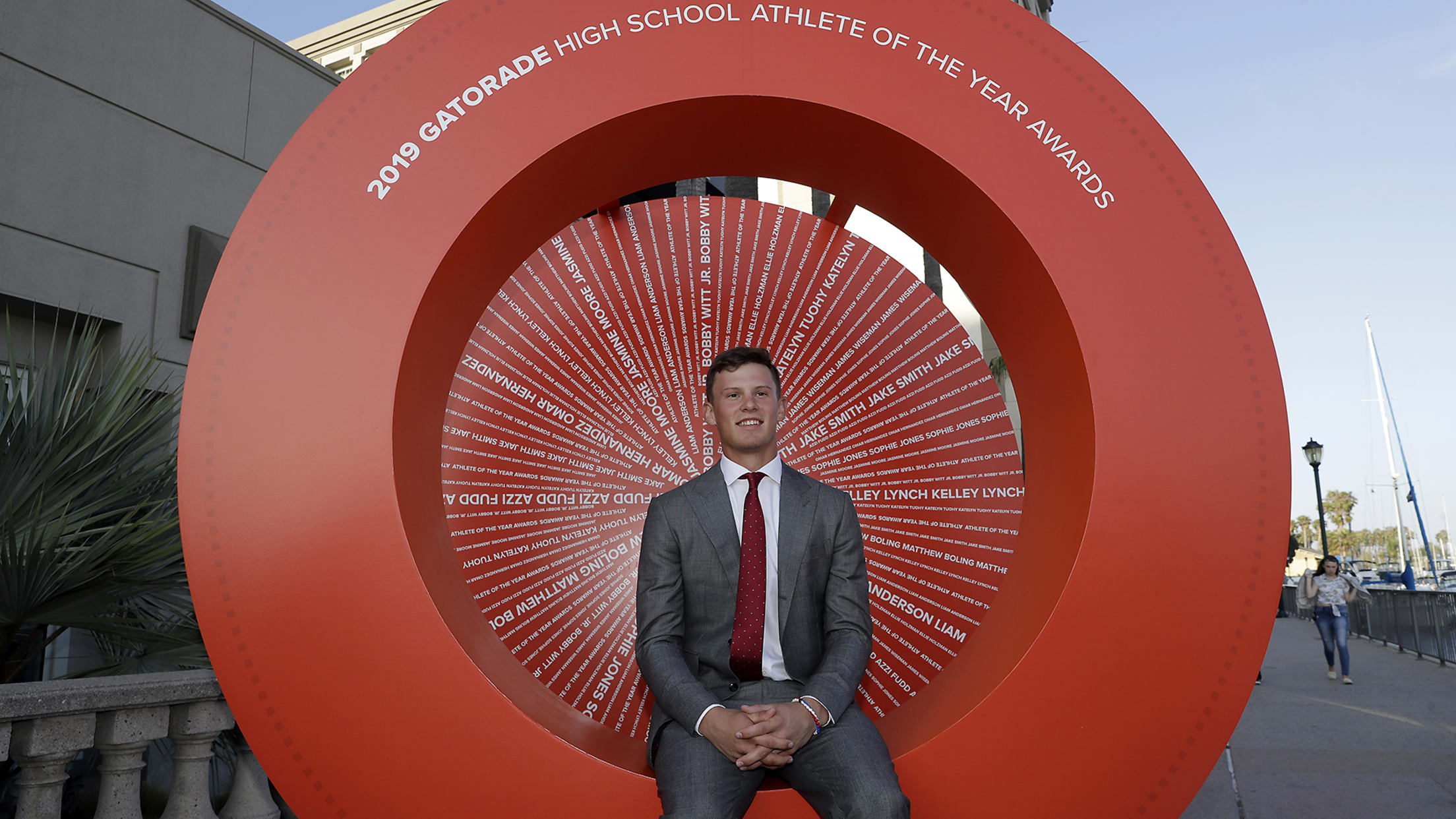 From when he was 4 or 5 years old, Witt Jr. was swinging a bat. There was a big hole in the wall of the Witt living room to prove it, his dad said, laughing, assuring there was no intention behind it. From when that hole was patched to now, Witt Jr. has loved baseball. It's not just his talent making him love the game; he lives and breathes it. Scouts often bring this up when evaluating him, saying his talent will get him to the Majors but his passion will allow him to go even further.
"Ever since he was young, he just absolutely wanted to hit more, wanted to take more ground balls," Witt said. "It was always, 'Let's take some more.' It's not an act. This is who he is. He just loves playing the game of baseball. That's his place. When he gets out there, that's his comfort level. He likes being in the locker room, he likes being with the guys in the dugout, it doesn't matter. As long as it has to do with playing the game of baseball."
When he was in elementary school, Witt Jr. went to summer baseball camps in Colleyville, Texas, run by the high school baseball program and head coach Alan McDougal.
"He was a kid dressed to the nines," McDougal said. "Buttoned up with his belt on and high socks and sweatbands. He was dressed like a pro as a 7-year-old. And then when he came on the field, whenever Bobby Witt Jr. would come up to bat or start playing, [the] camp would shut down and just watch. He would start doing things that normal 7-year-old kids don't normally do."
In the summer between his eighth grade and freshman year, Witt Jr. went to Oklahoma to play in a summer league. And during a wood bat game, he crushed a home run down the left-field line.
"I never envisioned him at that point of his life, where he was physically, I just didn't think it could happen," Witt said. "And he hit a home run, and then after that there was a lot of momentum. He goes and plays, and you just start to see things where you go, 'You know what, maybe he might be able to do this.'"
In 2015, Witt Jr. walked into his first high school baseball practice at Colleyville Heritage as a freshman already committed to the University of Oklahoma. McDougal knew him from those summer camps but wanted to see what he had in Witt Jr. before making any bold statements.
"I'm going, 'I'm probably going to start him on the JV and let him work his way up,'" McDougal said. "After practice one, I'm going, 'This guy's the best guy in our program right now.' So he played shortstop from the absolute get-go. Could I ever have forecast that this guy was going to be the best high school player in the country for a year? Not probably until his junior year was I really thinking that. That's when he just started doing things that were completely different than everybody else."
The Royals have watched Witt Jr. play since he was 14. They kept tabs on him throughout his high school career, but after the 2018 Draft was over and Witt officially became one of the top prospects for the '19 Draft, the Royals zeroed in, knowing they had the No. 2 pick.
In July 2018, Witt Jr. went to Wrigley Field to participate in the Under Armour All-America Game. When Witt Jr. stepped up to the plate in the ninth inning, he was hitless, walking twice and getting hit by a pitch in his previous plate appearances.
Witt Jr. fouled off a number of pitches from right-hander Derek Diamond, who now pitches for Mississippi, before lifting a 3-2 curveball for a home run to left field that came a few feet shy of landing on Waveland Avenue.
"I just remember going, 'Wow, big stage, big time, that was a tough at-bat, he fouled off a ton of pitches, and he drove it out of the ballpark,'" Goldberg said.
Witt Jr.'s senior year at Colleyville High School was a whirlwind. Draft talk reached an all-time high. Scouts flocked to his games; the Royals went to every single one. Witt Jr. remembers playing early games in February in less-than-ideal conditions -- rainy, windy, a mix of rain and snow -- and seeing a Royals representative in the stands. Their interest was clear. And it was clear why, although when Royals officials share stories of the 2019 Draft process, Witt Jr.'s talent isn't the first thing that they mention. It's his family, the way Witt Jr. carries himself on and off the field, by himself and around teammates, that made him the right fit for the organization.
What separates Witt Jr. from others is the mental side of the game. The way he handles pressure from his namesake, top prospect status, offensive slumps, defensive lapses or anything else that's thrown his way is his separator, and it's been apparent to the Royals from the time they drafted him to now. His family plays a large part in it. His dad retired a year after Witt Jr. was born, but Witt's career and reputation followed him. Then Witt Jr.'s sisters dated baseball players, two of which have become his brothers-in-law and one who's about to in December. They've been through the professional baseball experience and taken Witt Jr. along with them.
"He's done some different things that he's been able to do in his life, and they've seen to have taken that deer-in-the-headlights look away," Witt said.
Witt Jr.'s experience and charisma drew the Royals' attention as much as his talent.
"At the end of the day, you can bring a position player in high school in outstanding makeup," Goldberg said. "And he comes from a family that's been around baseball, so there's an understanding of what it takes to be a Minor League and Major League player."
There's a story Royals manager Mike Matheny likes to tell about the way Witt Jr. plays the game. It was 2019, when Matheny was a special advisor to general manager Dayton Moore. Ahead of the Draft that year, Matheny and Moore went to watch a Colleyville Heritage game in April against district rival Grapevine. The Draft was only a few months away, so any team that was picking high was there to watch the best high school player in the country.
And the Grapevine student section pounced on all of it. "Overrated" chants filled the air as Witt Jr. took the field. It was loud and overwhelming, but as Matheny watched, he noticed Witt Jr. focusing solely on his team and not making the crowd noise about him.
In one of his first at-bats, Witt Jr. struck out on an elevated fastball.
"That student section blew up," Matheny said. "Relentless. So this was a good opportunity. Dayton and I aren't even talking, just watching. I'm paying close attention as he goes back to the dugout. And he goes back, comes right back out and plays bat boy for the next guy. Instead of sitting over there sulking, knowing he's got multiple GMs, let alone scouting directors, all there.
"He crouches on the top step, goes and gets the bat for his teammates. He's just inviting them, every time he gets out of the dugout. And we're watching this all."
Witt Jr.'s next at-bat brings even more chanting. It's unabating, trying to get in Witt Jr.'s head and wear him down.
But the pitcher makes a mistake.
And Witt Jr. makes him pay.
"Behind the left-field wall, there's a net, about 30 feet, that's supposed to protect the highway," Matheny said. "It did not protect the highway. The place went crickets. He goes around third, and these kids were all [along the third-base line]. We're like, 'He's at least going to give them the death stare.'
"Put his head down, touched home plate, high-fived his team, goes back to being bat boy. At that point, I'm not sure you can fake that. The raw emotion, his buddies, you take in all the distraction, this is real. And at that point, I said, 'What I just witnessed is special.'"
Matheny remembers Witt Jr.'s talent on display that game. But the way he handled the crowd, the pressure, the failure and the success -- that's what made Matheny smile as he recounted the story.
"How he handled it showed a lot about who he is," Matheny said. "It was something I won't forget."
Witt Jr. has been used to this spotlight for years. When he hears noise from the crowd, it doesn't bother him. Especially if it's about how he'll never compare to his dad.
"I embrace it," Witt Jr. said. "And I love it. He's my rock. He's the reason I play the game. He's always been my No. 1 role model. And it makes it even more special to follow in his footsteps."
Still, as young as Witt Jr. is, it's somewhat mind-boggling he's able to shut out all the noise about following in his dad's footsteps and about being a top prospect. Those around him say that's how he's always been, and he puts as much time in his mental game as his physical game to be able to do this. At Colleyville Heritage, Witt Jr. was introduced to Brian Cain, a mental performance coach who works with athletes at all levels, and immediately caught on to what Cain talked about in his sessions.
"After our first team meeting, a player came up, shook my hand, said thank you and told me what he got out of the seminar, which was about routines, competing one pitch at a time, confidence being a choice," Cain said. "And when he walked out of the room, he was one of the last players to leave. I said, 'Alan, is that one of your senior captains?' And he said, 'No, that's a freshman. His name is Bobby Witt Jr.'
"The way he carried himself, how engaged and focused he was, how he presented himself, he had superstar written all over him, even at that age."
Cain works with athletes -- Milwaukee starter Corbin Burnes, for example -- on developing mental skills to help them on the field. Witt Jr. said that work is a big reason why he's able to stay so even-keeled through slumps or high points, whether he's 1-for-10 or 10-for-10.
That's what makes him stand out among his teammates and coaches, perhaps more than any skill on the field.
"You don't have kids with this type of maturity," Zumwalt said. "This is a Major League veteran presence. He doesn't panic. He's the same every single day. When I walk in that clubhouse to catch up with him, I'm not going to know if he's 0 for his last 10 or 10 for his last 10. You don't know what he's done for the last week because he's always the same."
Moore has a philosophy about constructing teams that's not uncommon in baseball: If a club's best player is its best teammate and hardest worker, it makes the entire roster better. There seems to be no better person to exemplify this than Witt Jr.
"The best thing is to just try to be the best teammate possible," Witt Jr. said. "That helps take it off of me and try to help others as well as trying to win. The pressure is off. You've seen those guys that are out there like, 'It's me, it's me, look at me.' And I just never want to be that guy. I try to stay away from that as much as possible. I try to be the best teammate, the best brother, the best boyfriend, the best son, the best person I can possibly be."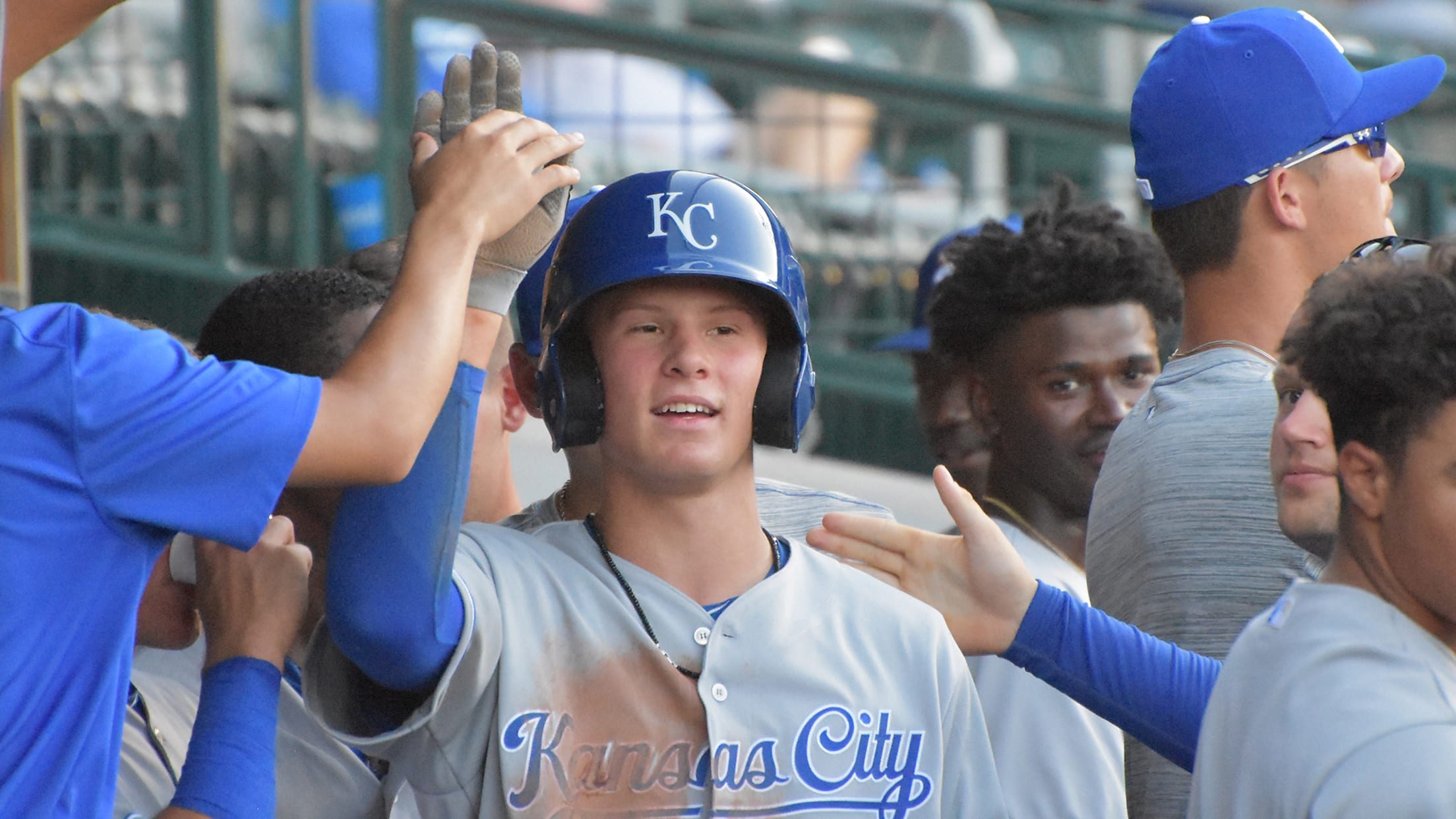 In Spring Training this year, Witt Jr. got his first full experience of being in big league camp and showing what he could do on a big stage. The Royals put him in every situation they could to see how he handled it, from starting games in the infield with the regulars to hitting leadoff against big league pitching. He aced nearly all of it, so much so that he was considered for the Opening Day roster in 2021.
Witt Jr. will make plenty of Opening Day rosters in his future, as well as Opening Day starting lineups and likely many All-Star Games, too. For now, he plies his craft on the backfields of the Royals' Spring Training complex. Everything will come fast, but Witt Jr. takes it in stride.
"You just keep checking boxes, and the intangibles keep piling up for long-term success," Goldberg said. "And it should happen for him, and it will happen for him. When that is and how big it is, I don't know. I know his ceiling is endless."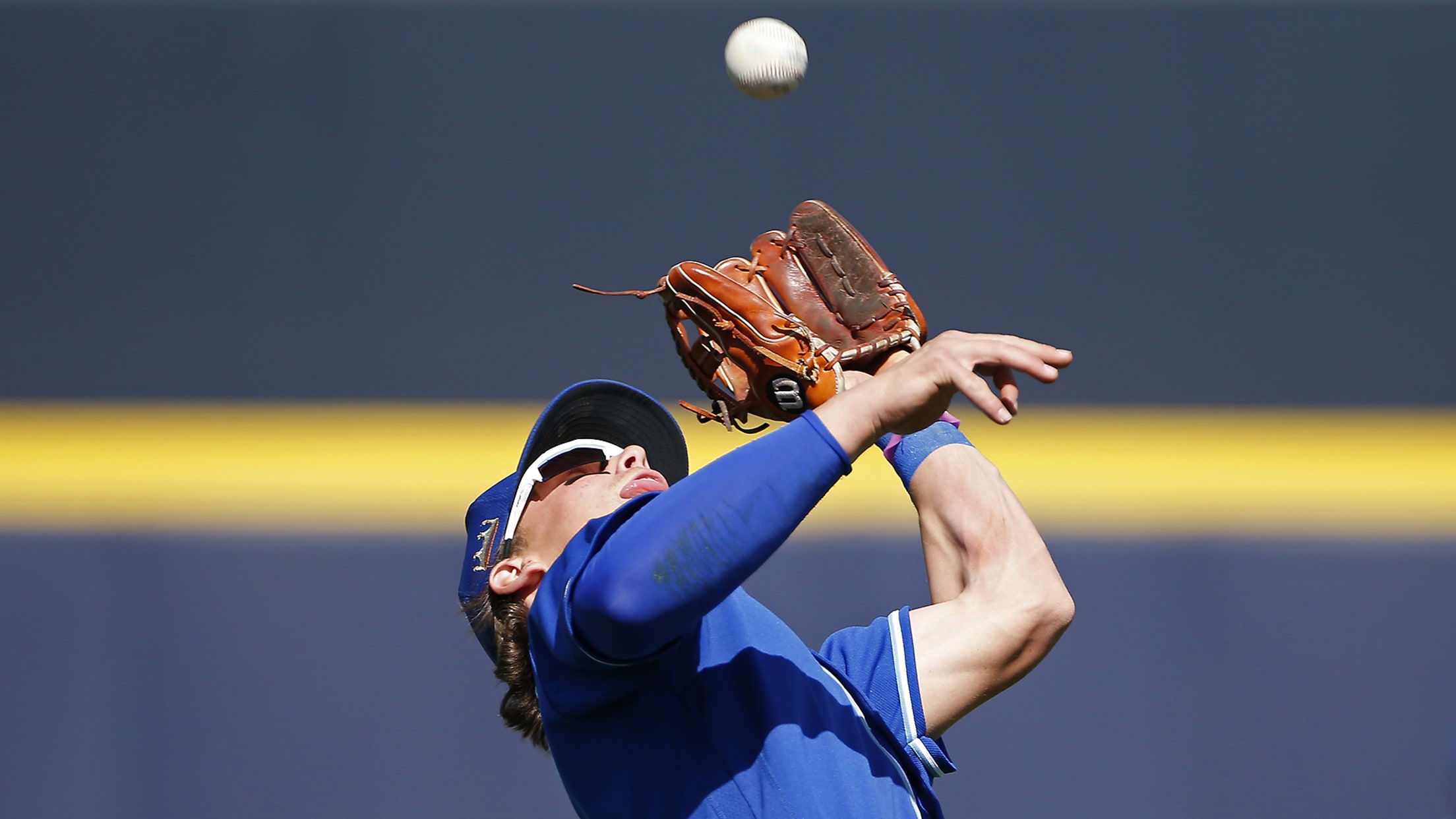 Witt Jr. always finishes up his interviews with a firm handshake and a smile. He'll stay and talk to you as long as you'd like, but there is either a game or workout to prepare for. There are millions of ground balls to field, and even more swings to take.
He has one eye on the Majors but two feet planted on the dirt. This is the best classroom he's ever had.
credits:
Anne Rogers covers the Royals for MLB.com. Follow her on Twitter @anne__rogers and on Facebook.