Explore Fort Wayne's Parkview Field
Welcome to Parkview Field, the crown jewel of downtown Fort Wayne. Johnny Appleseed once called the city home, and today apples are at the core of the home team's identity.
Fort Wayne TinCaps (Affiliate of the San Diego Padres since 1999)
Established: 1993, as the Fort Wayne Wizards
League: Midwest League
Ballpark: Parkview Field (opened 2009)
Championships: 2009
Notable Alumni: Torii Hunter, Jake Peavy, LaTroy Hawkins, Trea Turner, Max Fried, A.J. Pierzynski, Corey Kluber, Fernando Tatis, Jr.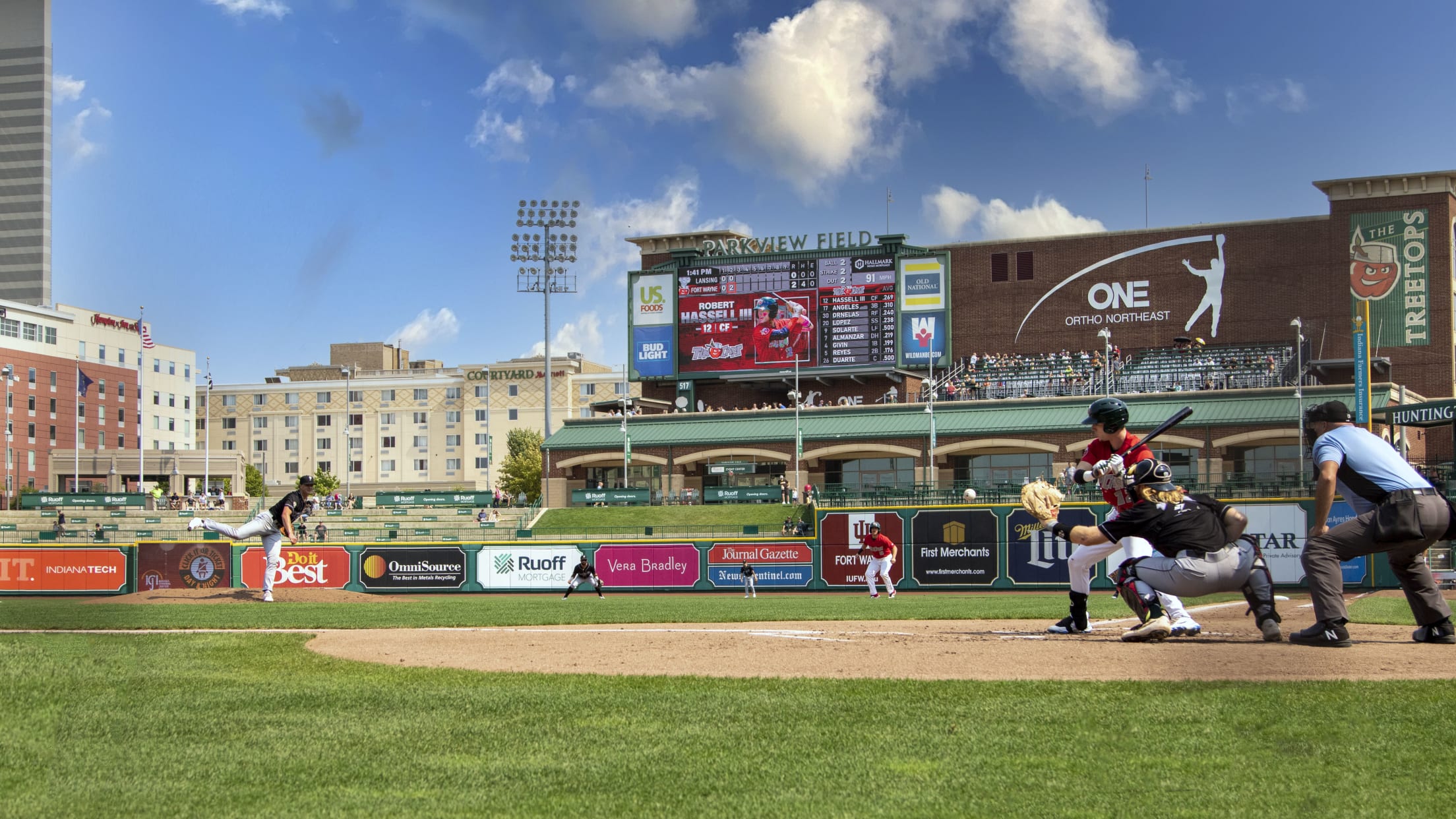 Did you know? The first professional league game in baseball history took place in Fort Wayne on May 4, 1871, with the hometown Kekiongas triumphing over the Cleveland Forest Citys. Thus began the Indiana city's long, albeit sporadic, professional baseball history. The Fort Wayne Daisies of the All-American Girls Professional Baseball League represented the locale from 1945 until 1954, when the circuit dissolved. Nearly 40 years later, baseball finally returned in the form of the Class A Fort Wayne Wizards. This spellbinding entity, a member of the Midwest League, played at Memorial Stadium from its inaugural 1993 season through 2008. The Wizards were a Minnesota Twins affiliate from their inception through 1998. The following season Fort Wayne became a San Diego Padres affiliate, marking the start of a relationship that continues to this day.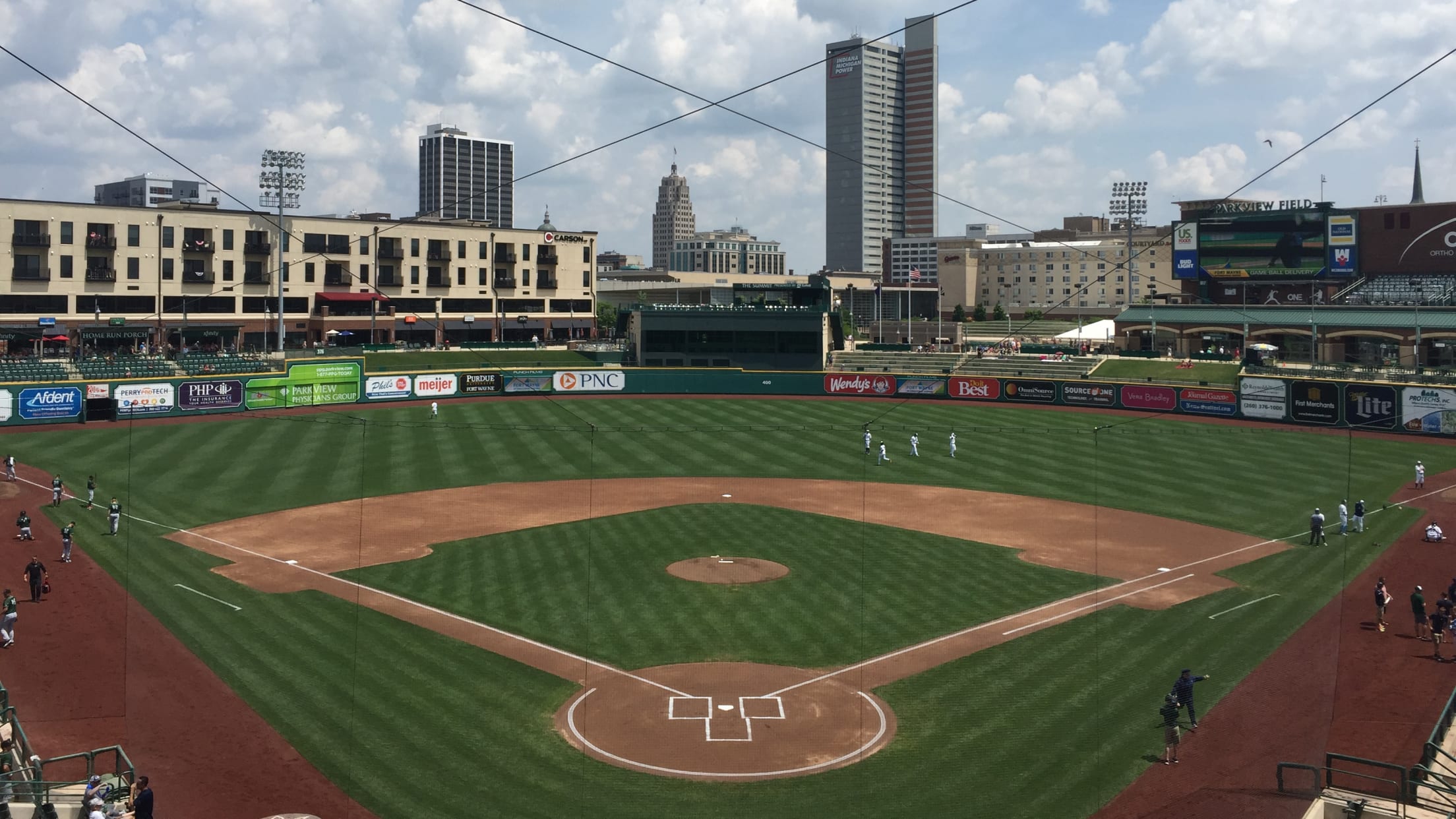 Parkview Field, located in the heart of downtown Fort Wayne, opened in 2009. In conjunction with the move to the new ballpark, the Wizards changed their name to the TinCaps. This moniker is a reference to Johnny Appleseed's apocryphal headwear. (Appleseed lived in the Fort Wayne area from 1834 until his death in 1845.) In 2021, as part of a larger reorganization of Minor League Baseball, the TinCaps shifted to the High-A Central League along with nearly all of their Midwest League brethren before the circuit was rechristened the Midwest League in 2022.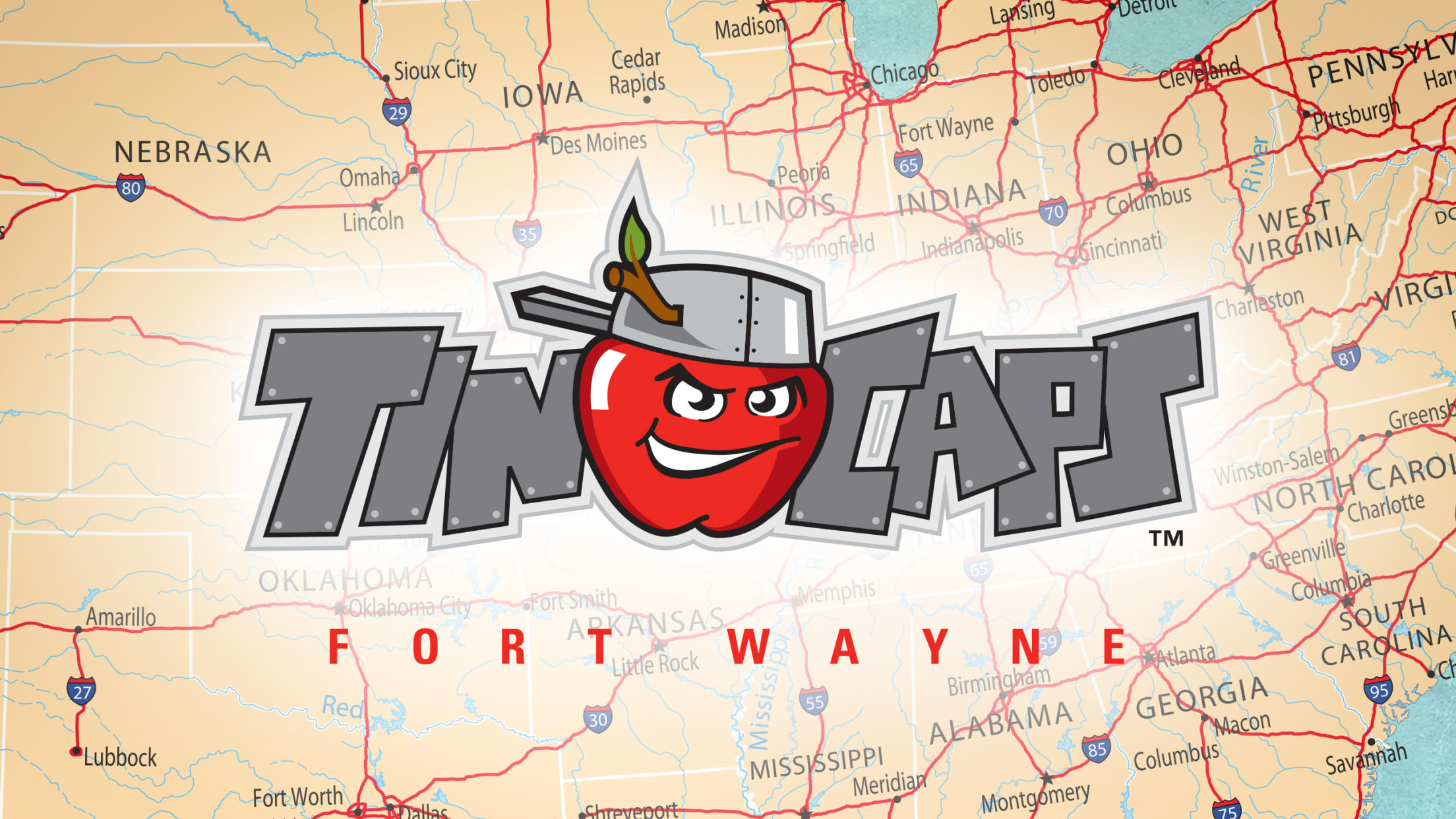 Parkview Field
Ballpark Location (via Google Maps)
Fort Wayne TinCaps Schedule
Fort Wayne TinCaps Roster
1301 Ewing Street
Fort Wayne, Ind., 46802
(260) 482-6400
Capacity: 8,100
Dimensions: left field, 336 feet; center field, 400 feet; right field, 318 feet
Park Factors (2021-22)
100 = league average
Runs: 92 | Homers: 85 | Hits: 98
Midwest League environment: 4.78 runs per team per game (eighth-highest among 11 full-season leagues)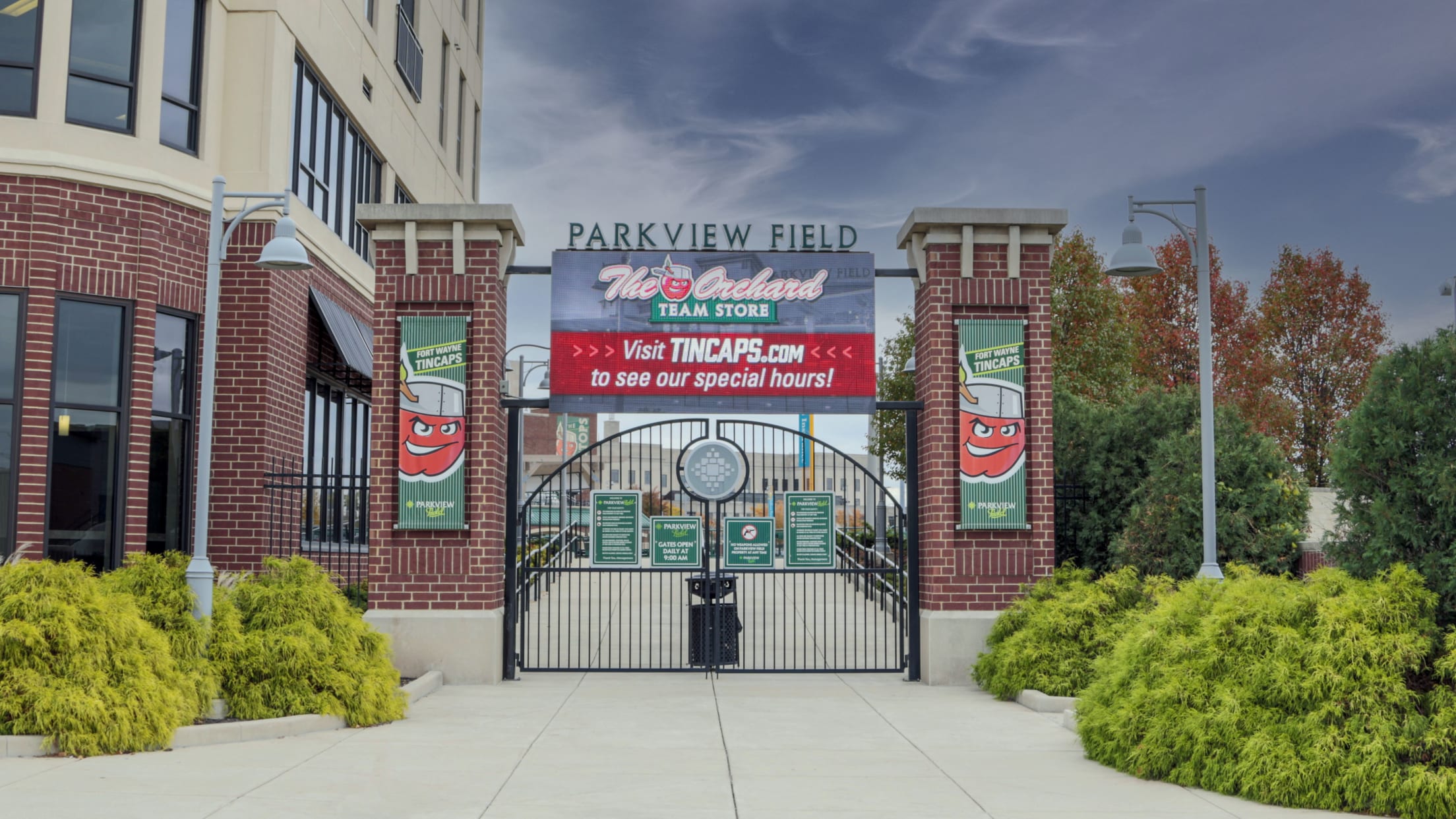 Parkview Field boasts a central location, skyline views, brick archways, a spacious concourse, copious concessions and creatively-designed group areas. As such it is often packed with fans, with the TinCaps regularly outdrawing Minor League teams playing in larger markets and at higher levels. Parkview Field is the centerpiece of the Harrison Square mixed-use development project, which also includes apartments, retail and office space, as well as a parking garage and the Courtyard Marriott hotel that looms beyond the left-field wall. The project, approved by the Fort Wayne City Council in 2007, provided $25 million of the publicly owned ballpark's $31.5 million cost. And not only is the ballpark publicly owned -- it's a public park. From 7 a.m. until sunset, the concourse is available to use as a walking path. The outfield concourse opens out into Robert E. Meyers Park, featuring a splash pad, amphitheater and concert stage.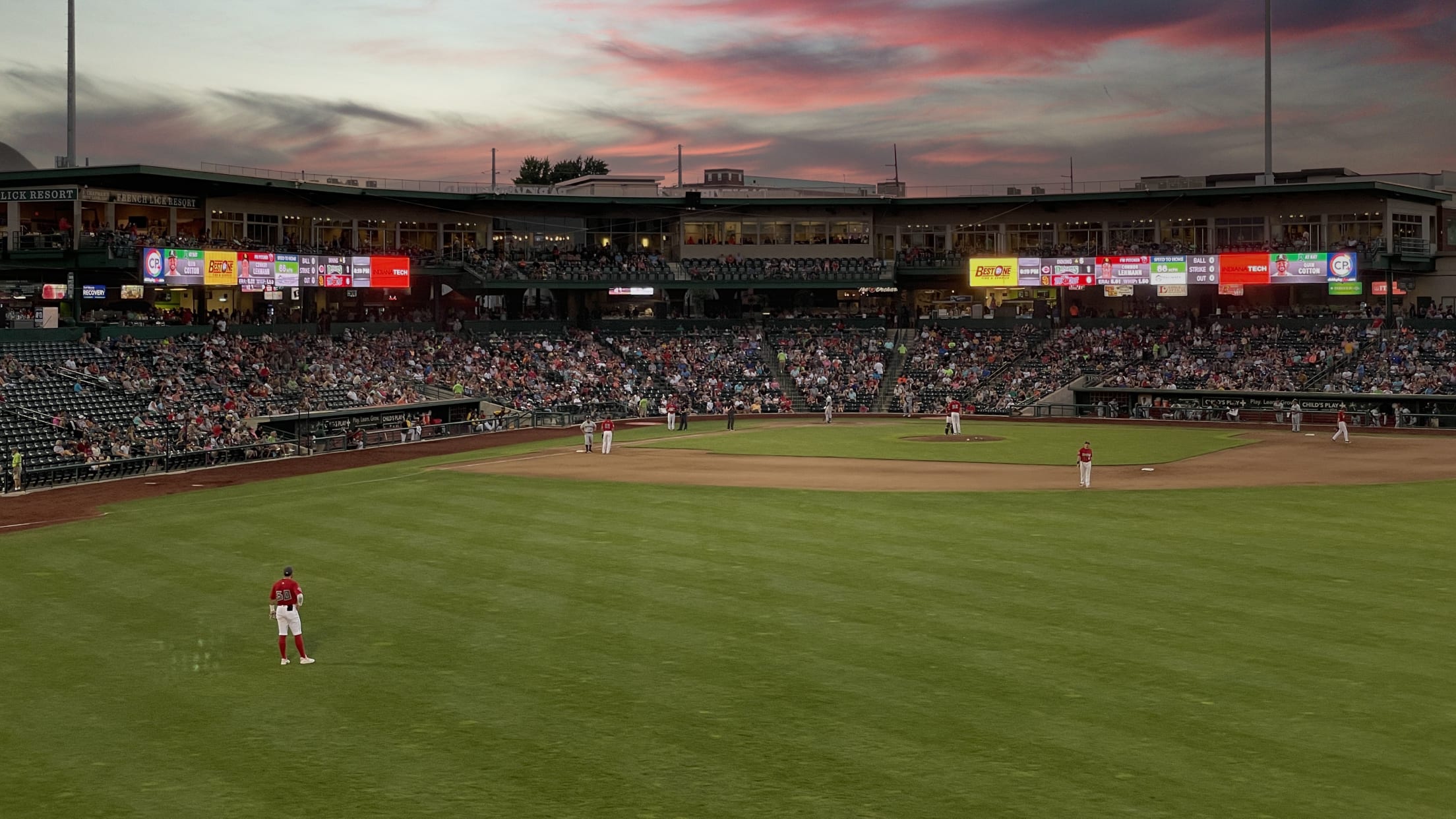 Parkview Field's seating bowl envelops the majority of the playing field, stretching from the left-field foul pole to shallow right field. (A large picnic pavilion occupies the right-field corner.) Group areas include elevated right-field "Treetops" seating, which is the TinCaps' version of Wrigley Field rooftop seats. The 400 Club is unique in that it replaced the ballpark's existing batter's eye with a 75-foot-long wall of windows placed directly above the center-field wall. The roof of the 400 Club is comprised of The Summit, which offers a view of the Fort Wayne skyline as it exists behind the home plate-side of the ballpark.
One of the Parkview Field's more recent improvements is a 53-by-25-foot videoboard, placed next to the Treetops in right field. This combined with ribbon boards and displays, has resulted in over 3,000 square feet of video screens located within the ballpark.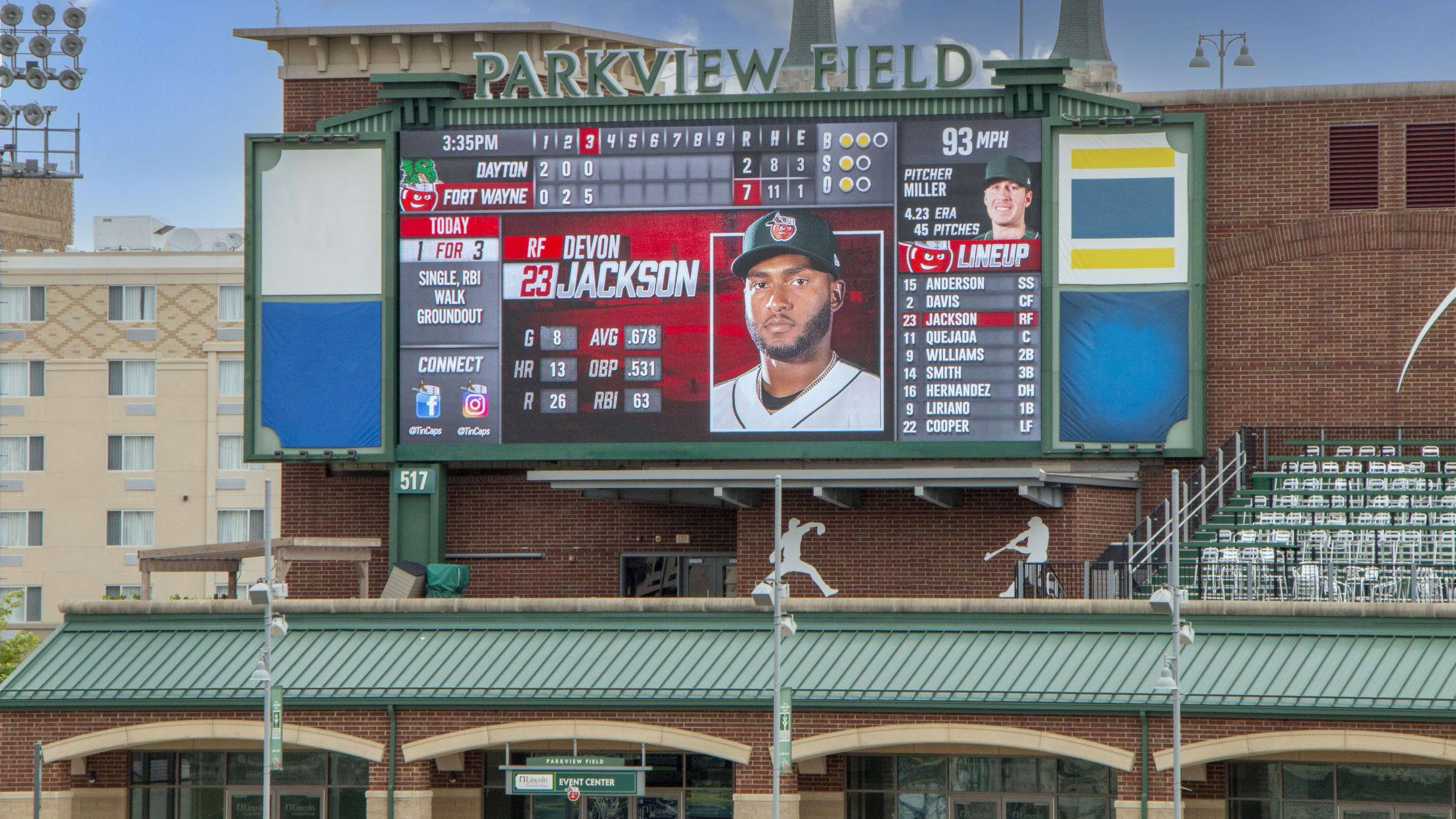 Concessions
Parkview Field has four main concession stands on the concourse, two close to home plate and one further down each baseline. Additional carts and bars ring the entirety of the facility. Cart options include brisket and pulled pork sandwiches (Bases Loaded BBQ) stir fry plates (Intentional Walk) and "Philly-style" nachos and cheesesteaks (Hot Corner).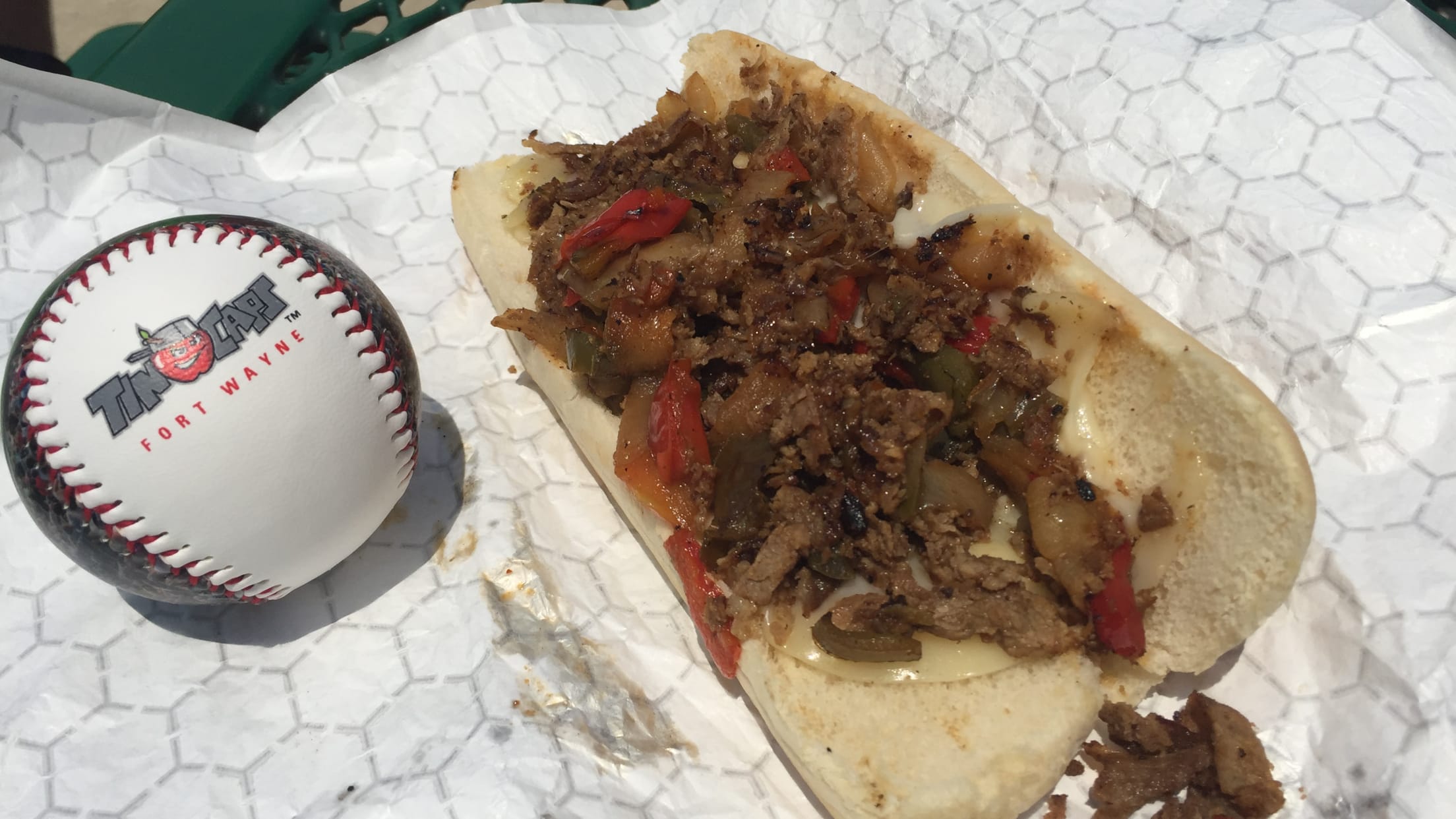 For dessert, how do you like them apples? If the answer to that question is "yes," then hit up the Apple Cart behind home plate for apple crisp, apple dumplings, apple pie bites and caramel apples. Johnny Appleseed would approve.
Mascot
Fort Wayne's affable mascot goes by the name of Johnny TinCap. It is unclear if Johnny TinCap is a direct descendent of Johnny Appleseed, but regardless the resemblance is uncanny. Johnny TinCap's surname also describes his unorthodox headwear, which is always firmly ensconced atop his oversized noggin.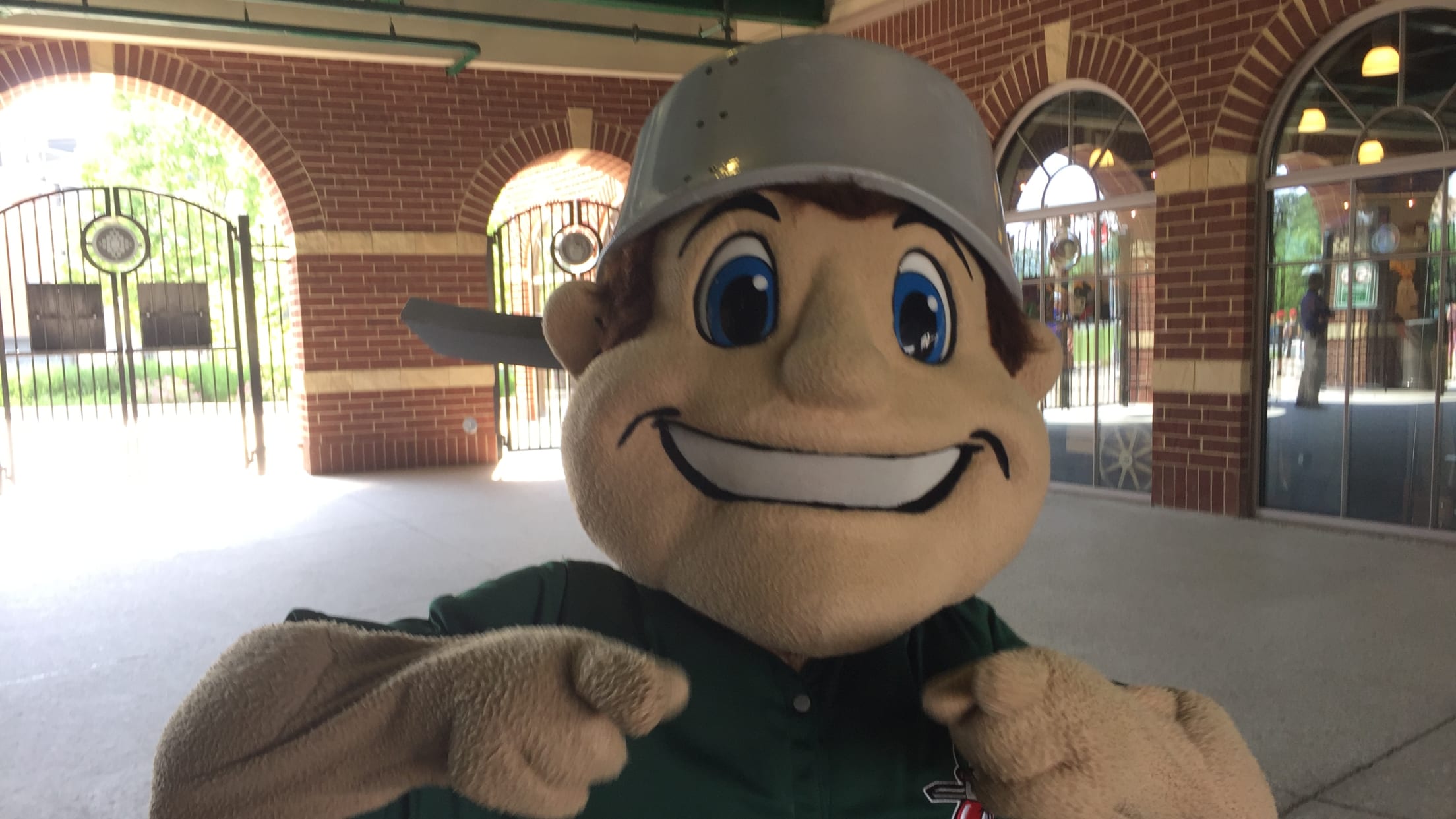 Where to Stay
Headed to the stadium and looking for a hotel nearby? Your Wyndham is waiting. As the Official Hotel of Minor League Baseball, Wyndham Hotels & Resorts welcomes baseball fans with a portfolio of 24 trusted brands. Find Hotels by Wyndham closest to the ballpark below and book now at wyndhamhotels.com.
• Baymont by Wyndham Auburn
• Days Inn by Wyndham Fort Wayne
• Travelodge by Wyndham Fort Wayne North
• Super 8 by Wyndham Columbia City
• Wyndham Garden Fort Wayne
Local Attractions
Promenade Park, part of Fort Wayne's ongoing Riverfront Fort Wayne project, is located downtown along the St. Marys River. The park has trails, play areas, an interactive Kids' Canal and, for those who want to be on the water instead of near it, kayak rentals. Further outdoor explorations can be had via Fort Wayne Trails, a non-profit organization creating an interconnected trail system throughout the county. Or visit nearby Pokagon State Park, where lakes (and, subsequently, fishing) abound.
The Fort Wayne Children's Zoo is a great destination for families, while the Auburn Cord Duesenberg Automobile Museum is a great destination for motorheads. It features nine themed galleries of vintage automobiles, spread out over three floors. You might not know where you're going, but if you want to know where you came from then visit The Genealogy Center. It's the second-largest such center in the country, behind only the Family History Library in Salt Lake City, Utah.
Food and Drink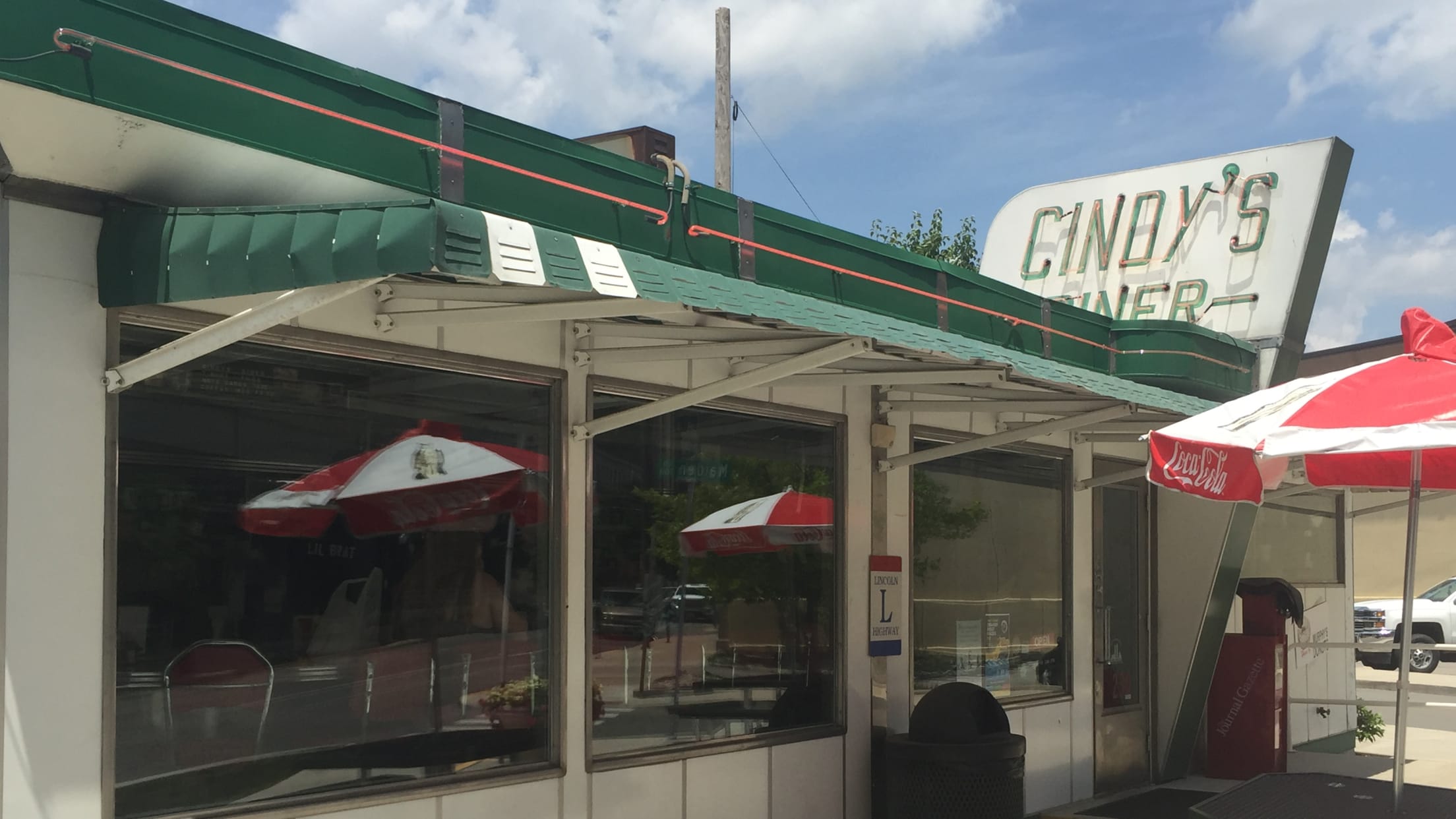 Cindy's Diner is a Fort Wayne institution, one that is proud to "serve the world, 15 at a time." It's worth squeezing onto a counter school for an order of Garbage (eggs, potatoes, onions, cheese and bits of ham). Similarly nostalgic vibes can be found at Power's Hamburgers, an old-school corner joint that's been slinging patties since the FDR administration. Cindy's and Power's are downright newcomers when compared to Fort Wayne's Famous Coney Island Wiener Stand, which has been serving chili and onion-topped steamed-bun franks since 1914.
Wayne Street, near Parkview Field, has a variety of options. TinCaps broadcaster John Nolan reports that J K O'Donnell's "is authentic to the point where you get a bartender with a brogue and TVs only showing Gaelic football and soccer." Several blocks away is The Landing, a refurbished commercial area near Promenade Park. Options there include Mercado, an upscale Mexican restaurant. There are numerous breweries in the area as well. One standout is Hop River, located north of downtown. Finally, Nick's Kitchen in Huntington, Ind. is definitely worth the 25-mile drive from Fort Wayne. Nick's, which opened in 1908, claims to be the home of the Midwest staple that is a breaded pork tenderloin sandwich.
Moving On
The TinCaps are located in-between Indiana's two other Minor League teams, with the Indianapolis Indians to the south and the South Bend Cubs to the north. South Bend and Fort Wayne are both part of the Midwest League, along with three teams from Michigan (Lansing Lugnuts, West Michigan Whitecaps, Great Lakes Loons) and two from Ohio (Dayton Dragons, Lake County Captains). All of these teams are options when it comes to road trips that include Parkview Field.
The Road to San Diego
San Diego prospects log a multitude of miles before making it to the parent club. The Padres' system begins with the Storm in Lake Elsinore, Calif. and then moves on to Fort Wayne. From there it's upward and onward to a pair of Texas-based clubs, the San Antonio Missions and El Paso Chihuahuas.
Single-A: Lake Elsinore Storm
High-A: Fort Wayne TinCaps
Double-A: San Antonio Missions
Triple-A: El Paso Chihuahuas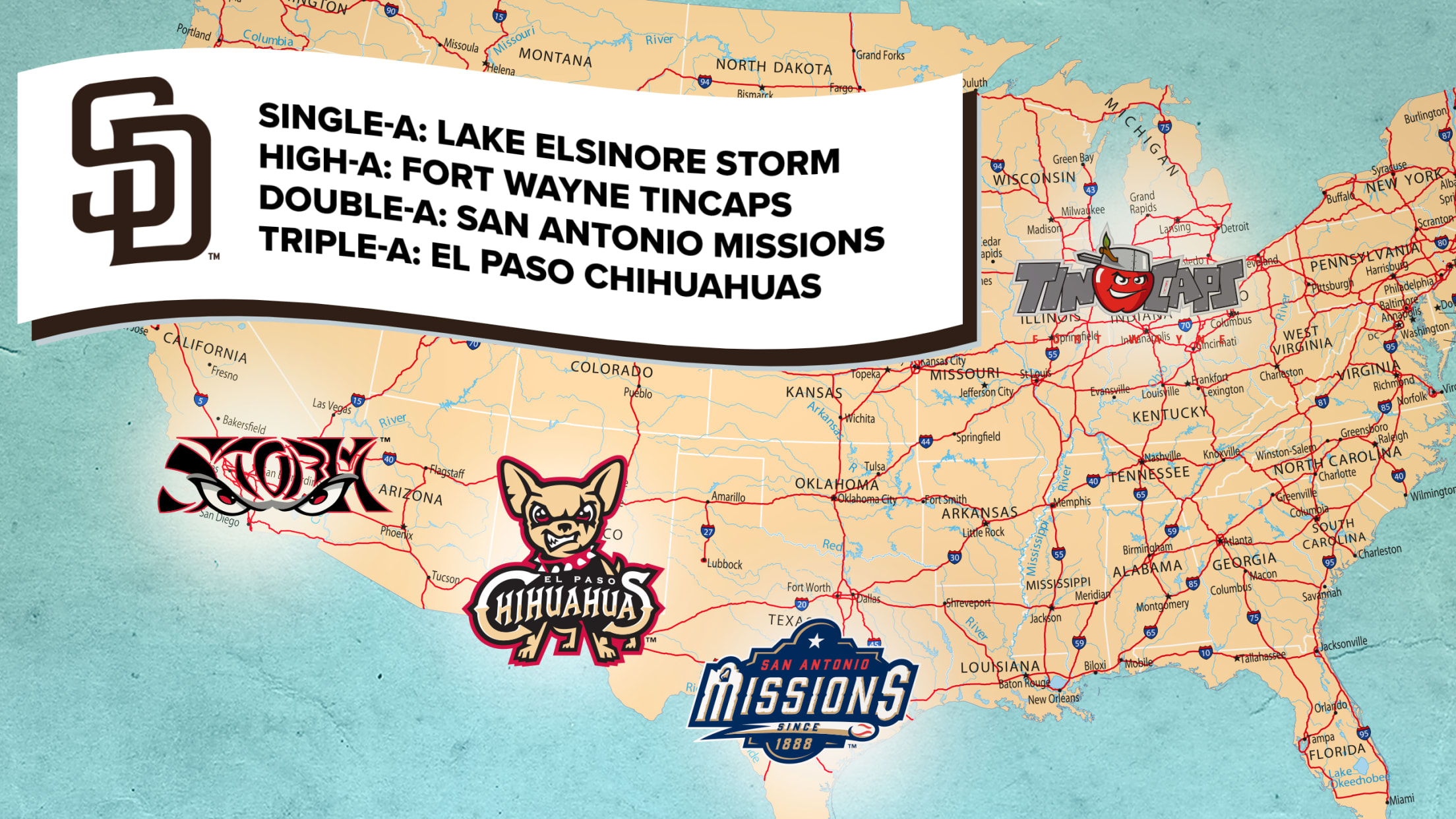 credits:
Benjamin Hill, who covers the business and culture of Minor League Baseball, has visited 186 Minor League ballparks.