Scroll
Armed with hope, Appel finds new path to MLB debut in 'pen
In the summer of 2013, Mark Appel graduated from Stanford with an engineering degree, was selected No. 1 overall in the Draft and signed with his hometown Astros.
"It's been quite the road to get there," Appel said during his introductory press conference.
And while Appel knew it was the beginning of a new journey, nothing could have prepared him for the road leading to his eventual Major League debut, which is expected to come after he was called up by the Phillies on Saturday.
"I've experienced quite a lot in my career, from being a high Draft pick to really struggling to having all the thoughts, all the doubts, physical injuries," Appel said, reflecting on his nine-plus years since the Draft.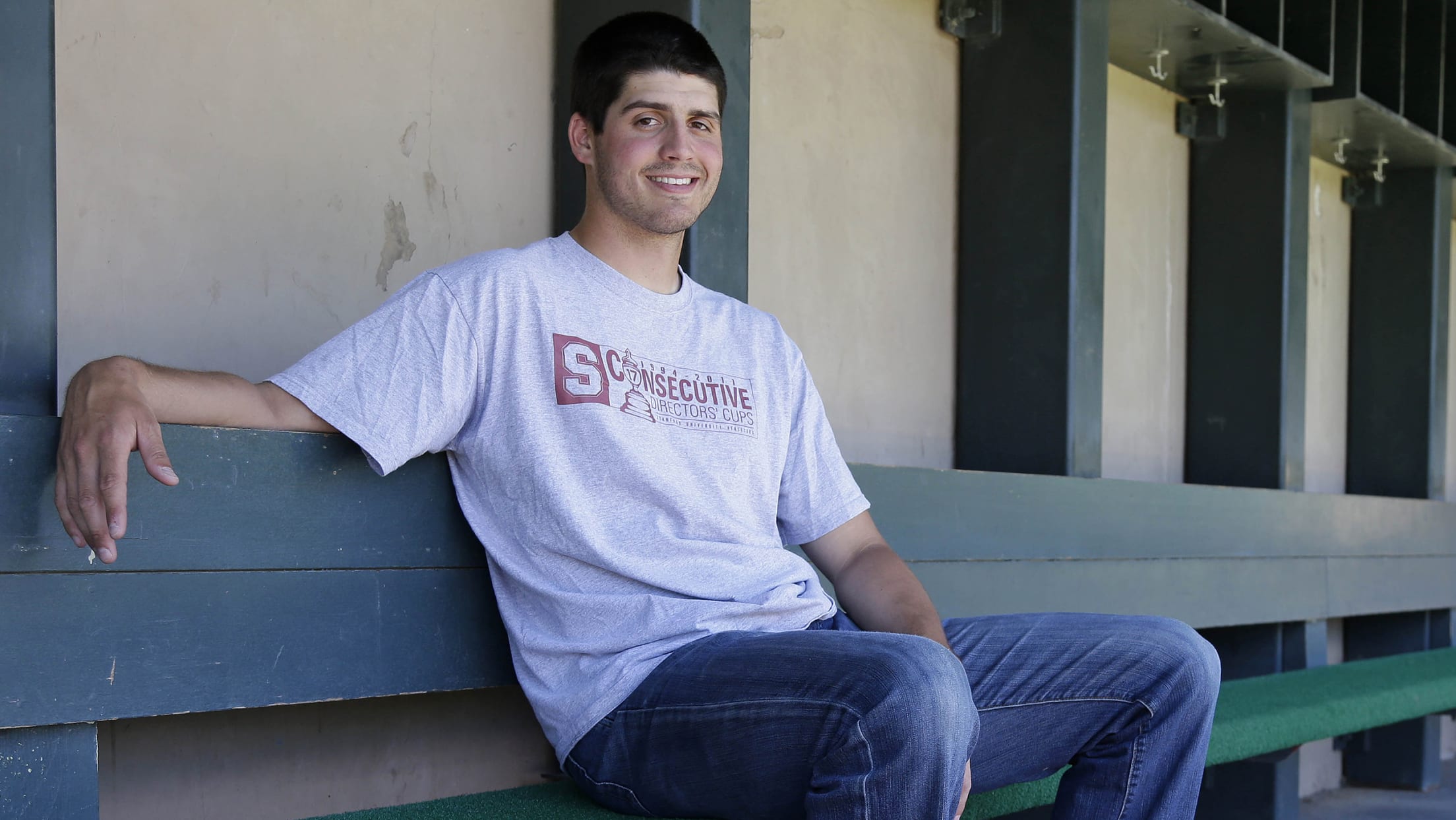 Even before he was drafted, Appel was preparing for the wear and tear of being a professional pitcher. The Pirates selected the Houston native with the No. 8 overall pick in the 2012 Draft, but Appel opted to return to Stanford. That fall, the right-hander started mentally and physically preparing to pitch in the Minor Leagues after a full college season.
Feeling "very healthy," Appel turned in a strong debut campaign as he advanced from Class A Short Season Tri-City to Class A Quad Cities. But before he made his first appearance at Spring Training in 2014, MLB Pipeline's No. 17 overall prospect had to undergo an appendectomy, shortening his runup to the season.
Adjusting to new routines -- like piggybacking and pitching every four days -- while playing in the hitter-friendly California League "humbled" Appel. A fierce competitor who was a first-round Draft pick in back-to-back years, he was frustrated by his struggles. After posting a 9.74 ERA in 44 1/3 innings for Class A Advanced Lancaster, the Astros' top pitching prospect finally escaped to the Double-A Texas League. With Corpus Christi, he was able to pitch deeper into games, posting a 3.68 ERA in 39 frames.
In 2015, Appel was finding his rhythm. He'd show flashes of brilliance one start, then not get out of the fourth the next outing. Appel earned a trip to the All-Star Futures Game and eventually racked up a career-high 131 2/3 innings. It remains the only time he has surpassed 85 frames in a season.
That offseason, Appel was traded to the Phillies as part of the Ken Giles deal and slipped out of MLB Pipeline's Top 100 Prospects list. Less than two months into his organizational debut, he went on the injured list with a shoulder strain. What Appel thought would be three weeks of rehabbing in Florida turned into season-ending elbow surgery.
"I think there was a little fear that the surgery wouldn't work out, just that there would be issues, even after surgery and stuff like that," Appel said the following spring. "But in those moments of either doubt or fear, you just have to remind yourself, 'We have the images, we have second opinions and it's something that needs to be done.'"
Then came another shoulder strain and another IL stint. Appel totaled 122 1/3 innings across his first two seasons in the Phillies' farm system. After the 2017 season, he took the offseason to reflect on his career.
"I was pretty beat up physically, obviously," Appel said. "But I think like just mentally and emotionally and spiritually, just feeling kind of drained and realizing that as much as I love baseball, I wasn't playing. I wasn't able to."
Appel thought about the 2018 season ahead. About another rehab stint.
"It would have been another year that would have been pretty draining for me," Appel said. "So I decided to take a break."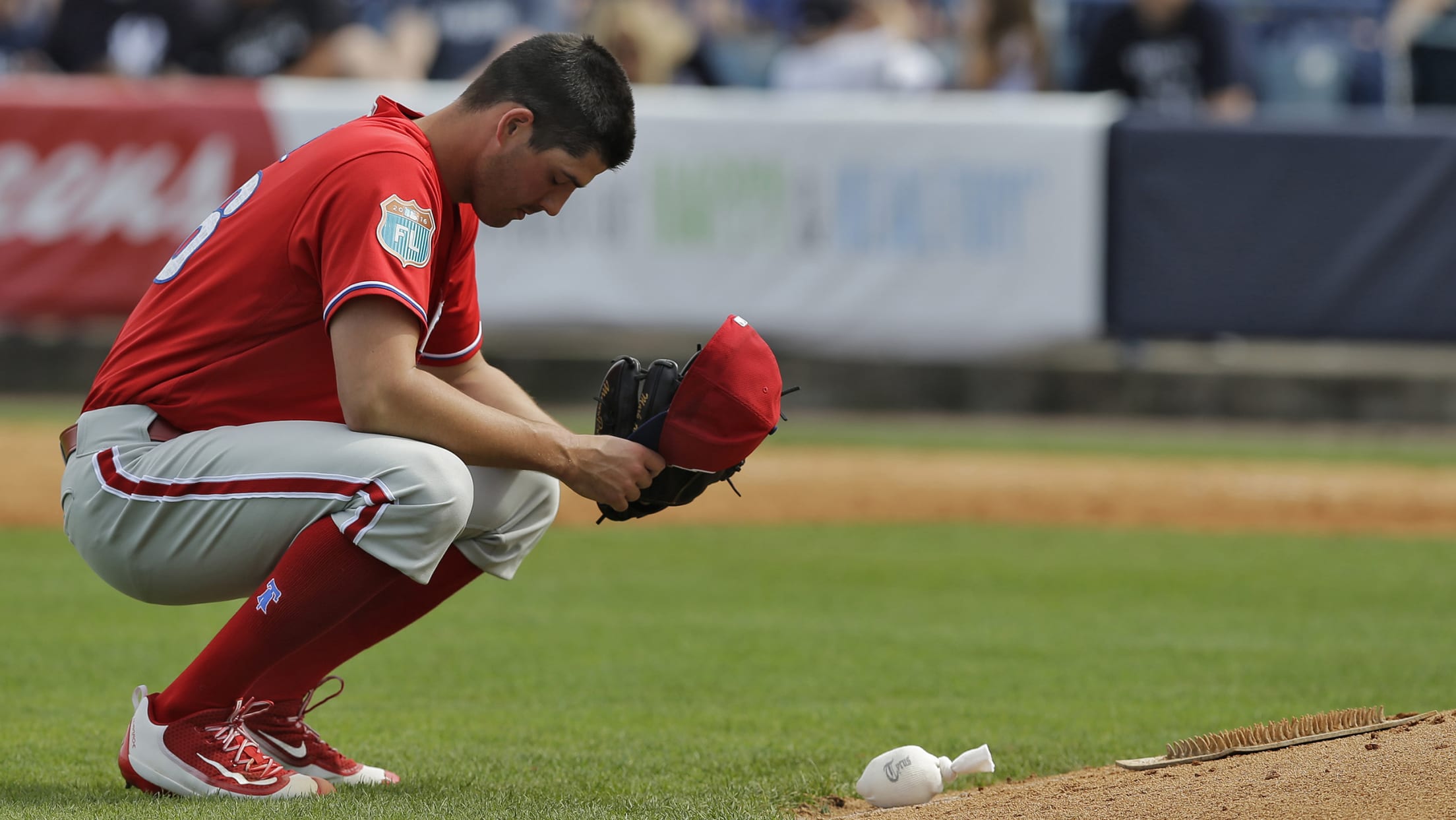 Away from the game, Appel explored several career paths. He worked an office job at a finance company. He brought his favorite college sandwich shop -- Ike's Love & Sandwiches -- to Texas. He traveled, worked at his church and spent time with his family.
"I approached that first year as if I would never play again," Appel said.
When Oakland came to Houston, Appel would go and support his college roommate, Stephen Piscotty, wearing an A's hat. And he cheered him on at the 2018 American League Wild Card game in New York.
Sitting in the family section, watching a game he spent most of his life playing, Appel -- who was on the Phillies' restricted list -- remembered everything he loved about the game.
"When I think about myself playing, I think that's something that's really fun. I feel a lot of passion and excitement about it," Appel said. "I was able to be reminded as to why I love playing the game. And it's playing the game. It's not the rehab and all that stuff."
Appel started looking for doctors and getting opinions on what his arm and shoulder needed. Before he could wrap his head around the mental part of it, he needed to know if his body could take it. Seeing a doctor Piscotty knew in St. Louis, Appel underwent shoulder surgery to repair a partial tear in his labrum and rotator cuff in October 2018.
It was time for another rehab.
"I think he was doing it for the love of the game and wanting to be part of the guys again," Piscotty said. "Which I think is all for the right reasons, rather than trying to think about money or other factors."
Eighteen months after pitching in a rehab game for the Rookie-level Phillies in 2017, Appel picked up a baseball again. It was weird, but eventually like riding a bike, as the 6-foot-5 hurler worked to get his mechanics back on track to be ready to pitch an entire season.
"On the low days, I'm like, 'What am I doing? My arm feels terrible, I'm not making any progress,' like all that negative, self-talk," Appel said. "And then the good days keep you going for a while."
But after all the rehabbing, Appel finally put on a Phillies jersey at Spring Training 2021, and then a Double-A Reading uniform in May. Appel's return campaign may not seem like a success from the outside -- a 6.06 ERA with 60 strikeouts and 49 walks in 71 1/3 innings between Reading and Triple-A Lehigh Valley -- but the Houston native holds onto the fact that he was healthy and didn't miss any time.
"I think I knew when I came back, I would need to give it at least two full seasons to feel like I gave it a fair shot," Appel said. "Now, not saying that this is my last season or anything, but saying it could be, we'll see how it goes.
"I'd like to keep playing, but in some ways in my mind, it's like my make or break year. It's like, getting to the big leagues would be really special. And I think this is the year to do it."
Heading into this season, the Phillies weren't sure what their usage for Appel would be until the lockout ended. So he prepared to pitch in whatever inning they needed him.
After baseball resumed, Philadelphia moved Appel to the bullpen full time, and he was able to fully tap into the competitive nature he has carried with him his whole career. Appel has enjoyed the challenge of transitioning to relief and taking a lesson from each appearance.
"It feels like you're thrown right to the fire," Appel said. "As opposed to trying to get out the fire you've created."
Appel was stingy this season with Lehigh Valley, notching a 1.61 ERA with 24 strikeouts and eight walks in 28 innings. The right-hander converted all five save situations.
"Watching him pitch, you can see the competitiveness that comes out," said Preston Mattingly, the Phillies' director of player development. "You can tell he's not scared of the big moment. He's a guy who wants the ball in those situations."
Mattingly and Appel credit the success with a simplified mix, as well as mechanical adjustments that improved his command and movement on his fastball. After finding "leakage of energy" in the disconnect between his upper and lower half, Appel improved the efficiency of his delivery.
But for Appel, like many pitchers, it's never just about the physical aspect. He also had to train his mind to trust his surgery and his new mechanics, trust that his shoulder and elbow will handle every pitch he throws. Any discomfort that has come up is safe. It's OK to push through.
When he's not pitching, Appel is enjoying helping teammates with their own struggles or roadblocks. Having experienced some of the biggest peaks and pits this game can throw at you, Appel wants to share what he has learned and how he always returns to optimism.
"I know I came into this year knowing that this might be my last year. It might not," Appel said. "But I think the mindset still remains the same -- it's like each day very well could be my last, there's no guarantees, and so if today is the last day, I'm gonna work the hardest and have the most fun regardless of what happens.
"I show up every day, just with hope. And I think it's a lot easier to be excited and to have fun and to be really positive when you have something that you are confidently hoping for."