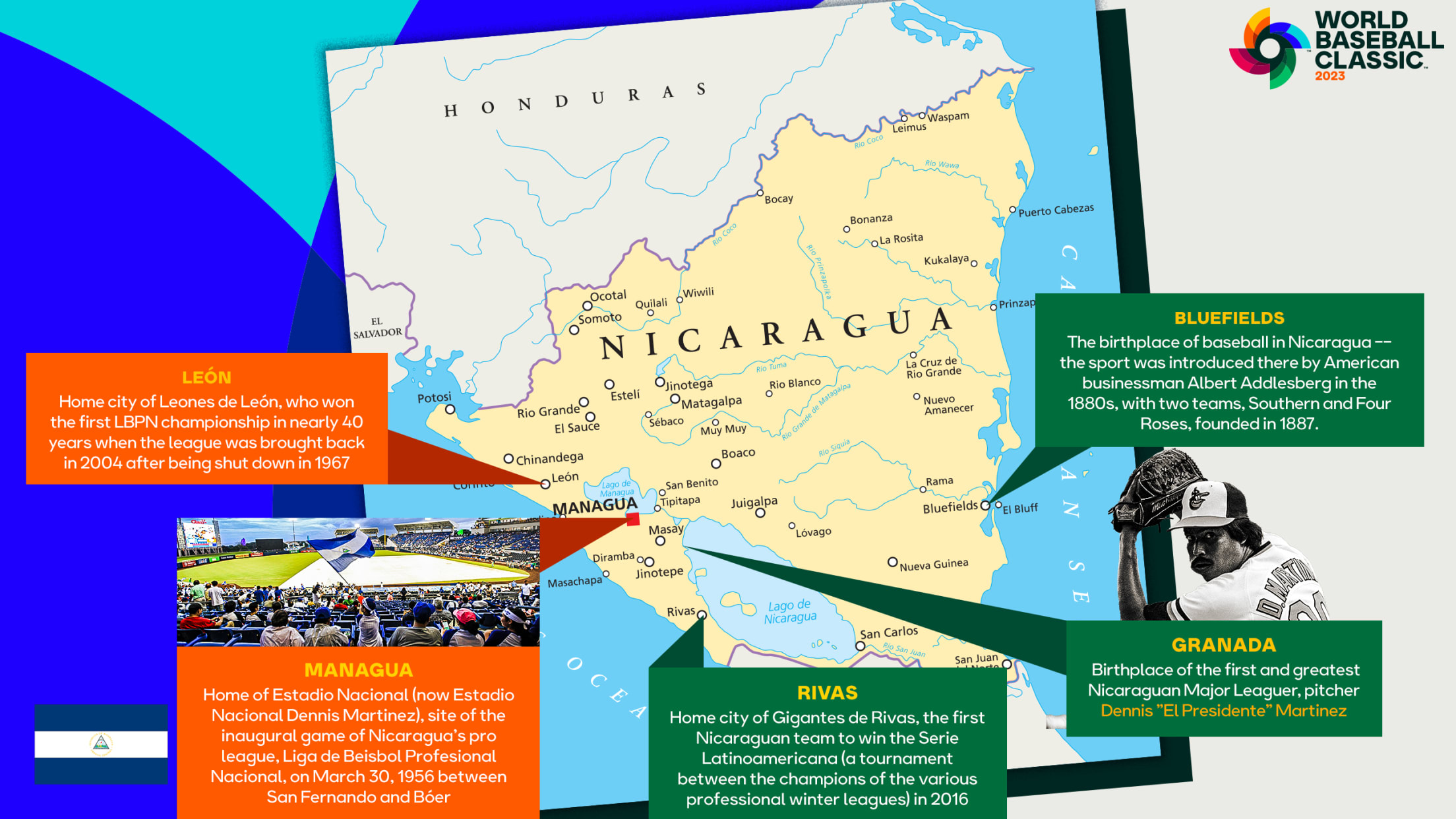 Scroll
The history of baseball in Nicaragua
For Nicaragua, the 2023 World Baseball Classic marks a moment that's been a long time coming.
Baseball is the national sport of Nicaragua, in a region of the world where soccer dominates. Its history goes back to the 1880s, when it was introduced by American businessman Albert Addlesberg in Bluefields on the country's Caribbean coast. In 1887, two teams were founded: Southern and Four Roses.
The country's professional league -- the Liga de Beisbol Profesional Nacional, or LBPN -- was established in 1956. The inaugural game held on March 3 at Estadio Nacional between the Fieras del San Fernando and the Indios del Bóer, and the first league champions were the Leones de León. Though the league shuttered in 1967, it was re-established in 2004, and has been playing ever since. Many Major League greats played winter ball in the Nicaraguan League, including Hall of Famers Fergie Jenkins and Jim Kaat, Bert Campaneris and Mike Cuellar.
In 1976, Dennis Martinez became Nicaragua's first Major Leaguer. He is still its greatest. Nicaragua's national stadium is now named after him.
Here's a guide to Nicaraguan baseball as WBC '23 begins.
Nicaragua's WBSC Rank: 17
Last WBC appearance: None
Best WBC finish: None
Top current Major Leaguers
Jonathan Loáisiga, RHP, Yankees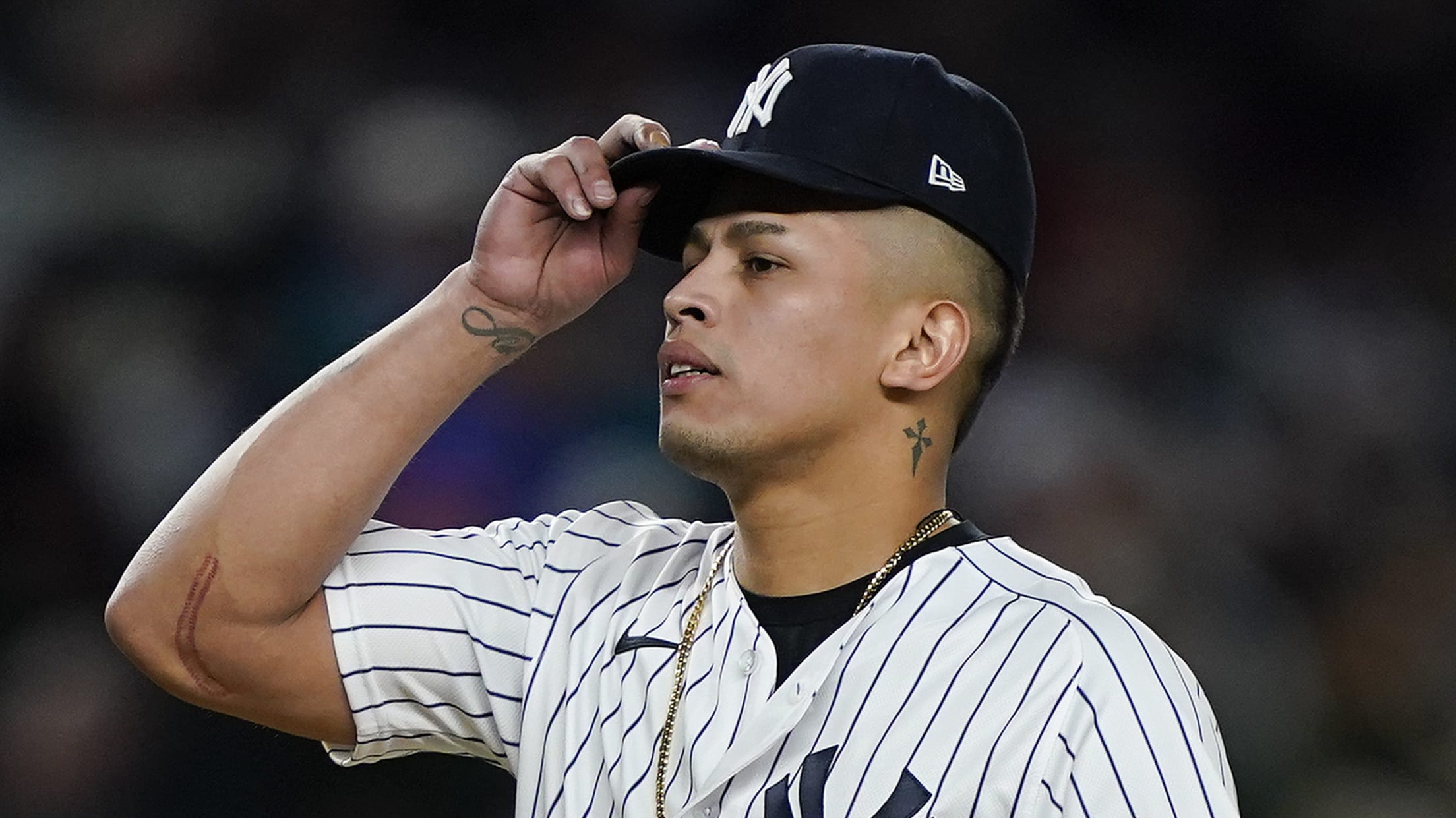 The Yankees reliever has great stuff, starting with a fastball that can reach triple digits. He's consistently among the Major Leagues' best pitchers at inducing weak contact. The 28-year-old Managua native has a 3.55 career ERA and 198 strikeouts in 198 innings over five big league seasons. He's the headliner of Team Nicaragua's WBC pitching staff.
Erasmo Ramírez, RHP, Nationals
Ramírez is an 11-year MLB veteran, but the 2022 season was arguably the best of the 32-year-old's career. Ramírez, who hails from Rivas and has pitched for the Mariners, Rays, Red Sox, Mets, Tigers and Nationals, posted a career-best 2.92 ERA in 60 games. He's pitching in the Classic, too.
Famous players
Dennis Martinez, RHP
Nicknamed "El Presidente," Martinez made his MLB debut on Sept. 14, 1976 and went on to pitch 23 seasons in the Majors for the Orioles, Expos, Guardians, Braves and Mariners. He was a four-time All-Star, won the 1991 MLB ERA title with Montreal and was a 1983 World Series champion with Baltimore. He even pitched a perfect game.
Marvin Benard, CF
Benard was drafted in the 50th round of the 1992 Draft by the Giants and worked his way to the Majors, eventually establishing himself as the leadoff hitter of the late-'90s Giants lineups anchored by Barry Bonds and Jeff Kent. His son, Isaac, is on Nicaragua's WBC '23 roster.
Vicente Padilla, RHP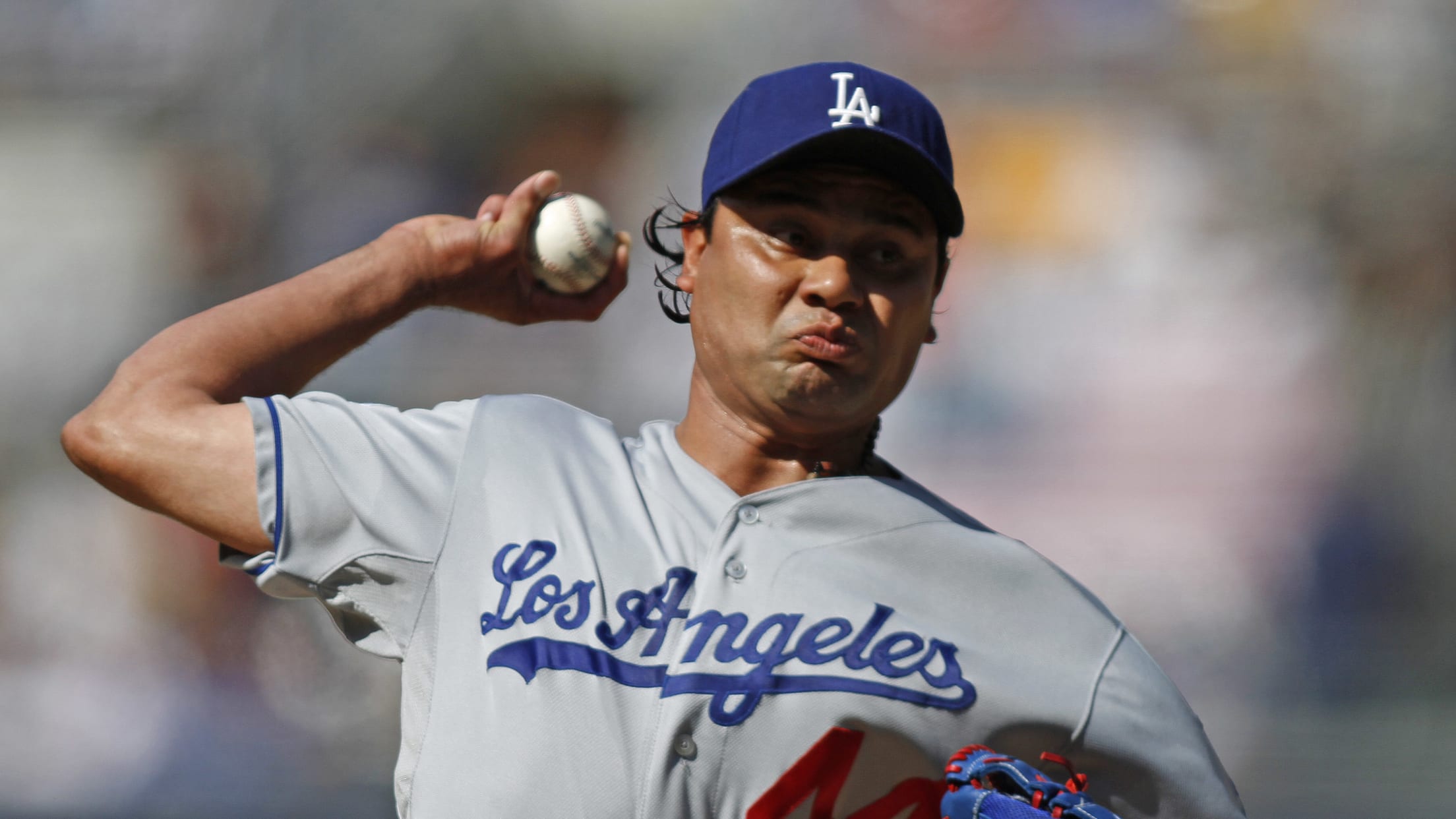 Padilla enjoyed a 14-year career in the big leagues and was an All-Star for the Phillies in 2002, when he went 14-11 with a 3.28 ERA and 128 strikeouts in 206 innings. He helped Nicaragua win bronze at the 1998 Baseball World Cup.
Biggest moments in Nicaraguan baseball history
1972: Hosts of the Amateur World Series
The 20th Amateur World Series was held in Managua in 1972, featuring 16 teams, including Japan and Chinese Taipei participating for the first time. The host Nicaraguans won bronze, finishing behind gold medalists Cuba and silver medalists USA.
1991: Dennis Martinez's perfect game
Pitching for the Expos, Martinez threw the 13th of the 23 perfect games in MLB history on July 28, 1991, against the Dodgers at Dodger Stadium. He was the first pitcher born outside the U.S. to pitch a perfect game; he and Félix Hernández are still the only ones.
2022: Making the World Baseball Classic
Nicaragua finally qualified for its first World Baseball Classic after misses in 2013 and '17. They defeated Pakistan, Argentina and ultimately Brazil at Rod Carew National Stadium in Panama to clinch a spot in the 20-team field. At manager Sandor Guido's press conference following Nicaragua's clinching victory, he slammed the table and yelled, "Viva Nicaragua!"
Nicaragua's professional league: Liga de Beisbol Profesional Nacional
Current teams: Indios del Bóer, Tigres del Chinandega, Gigantes de Rivas, Leones de León, Tren del Norte
Former teams: Orientales de Granada, Fieras del San Fernando
The LBPN plays a 30-game regular-season schedule from November through December. The playoffs start with a four-team round robin, with the two top teams advancing to a best-of-seven championship series.
National team history
Nicaragua was a participant in the Amateur World Series/Baseball World Cup from the 1930s through the 2000s. They were five-time silver medalists and five-time bronze medalists, and hosted the event five times. Nicaragua also regularly competed at tournaments like the Pan American Games, Central American Games and Intercontinental Cup.
Nicaragua participated in baseball at the Olympics in 1984, when baseball was a demonstration sport, and again in 1996, when baseball was a medal sport at the Summer Olympics in Atlanta. Nicaragua finished fourth, falling to the U.S. in the bronze medal game.
As far as the World Baseball Classic, Nicaragua competed in the qualifiers in 2013 and '17 but did not qualify, before their successful run to the 2023 Classic.
Famous ballparks
Dennis Martinez National Stadium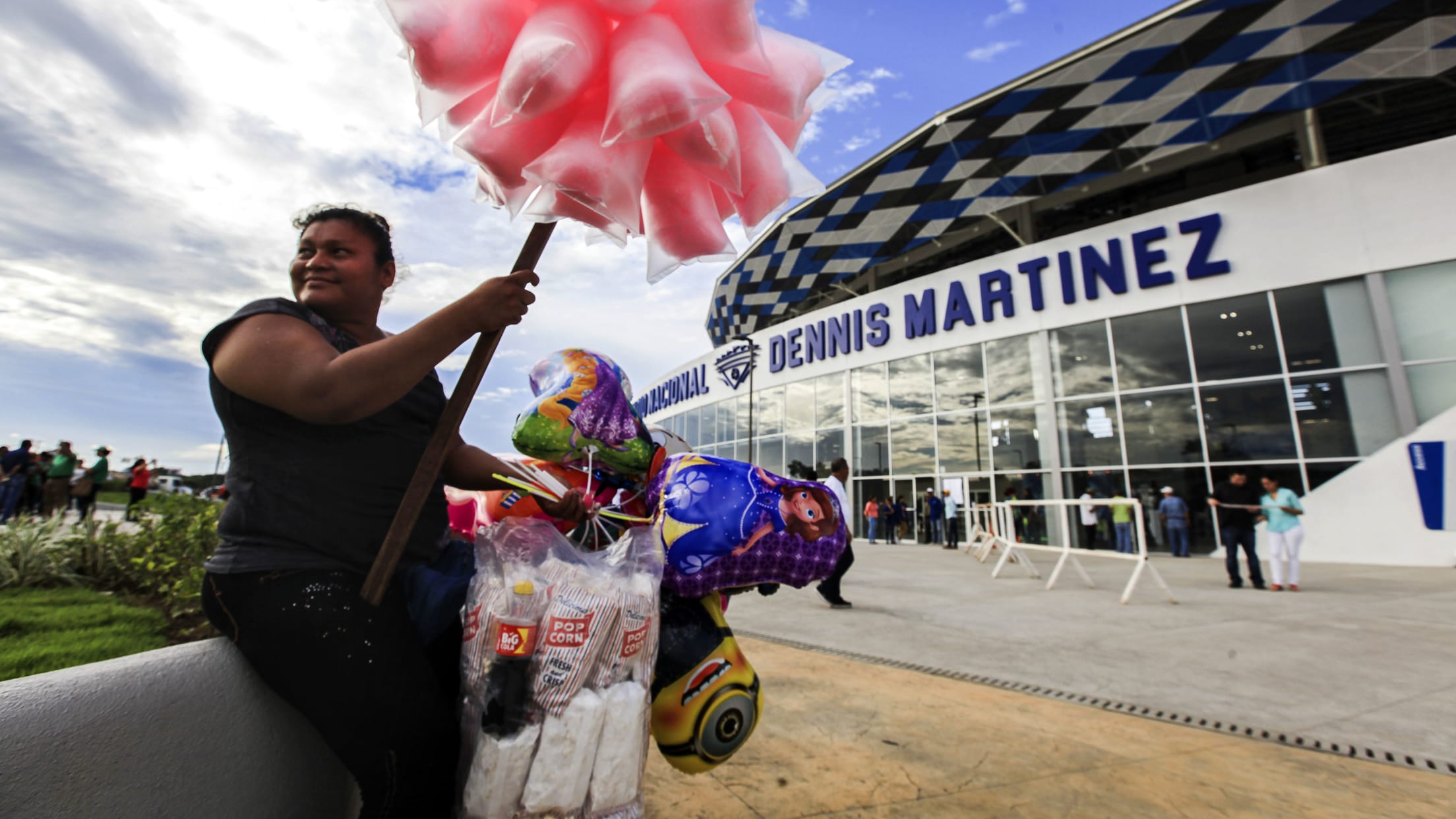 Nicaragua's national stadium is located in Managua and was renamed after the great pitcher Martinez on the 50th anniversary of its founding on Nov. 28, 1998. It is currently the home ballpark of the Indios del Bóer in the LBPN.
Unique activities at LBPN games
Nicaraguan League games are known for featuring marching bands, cheerleaders and more.