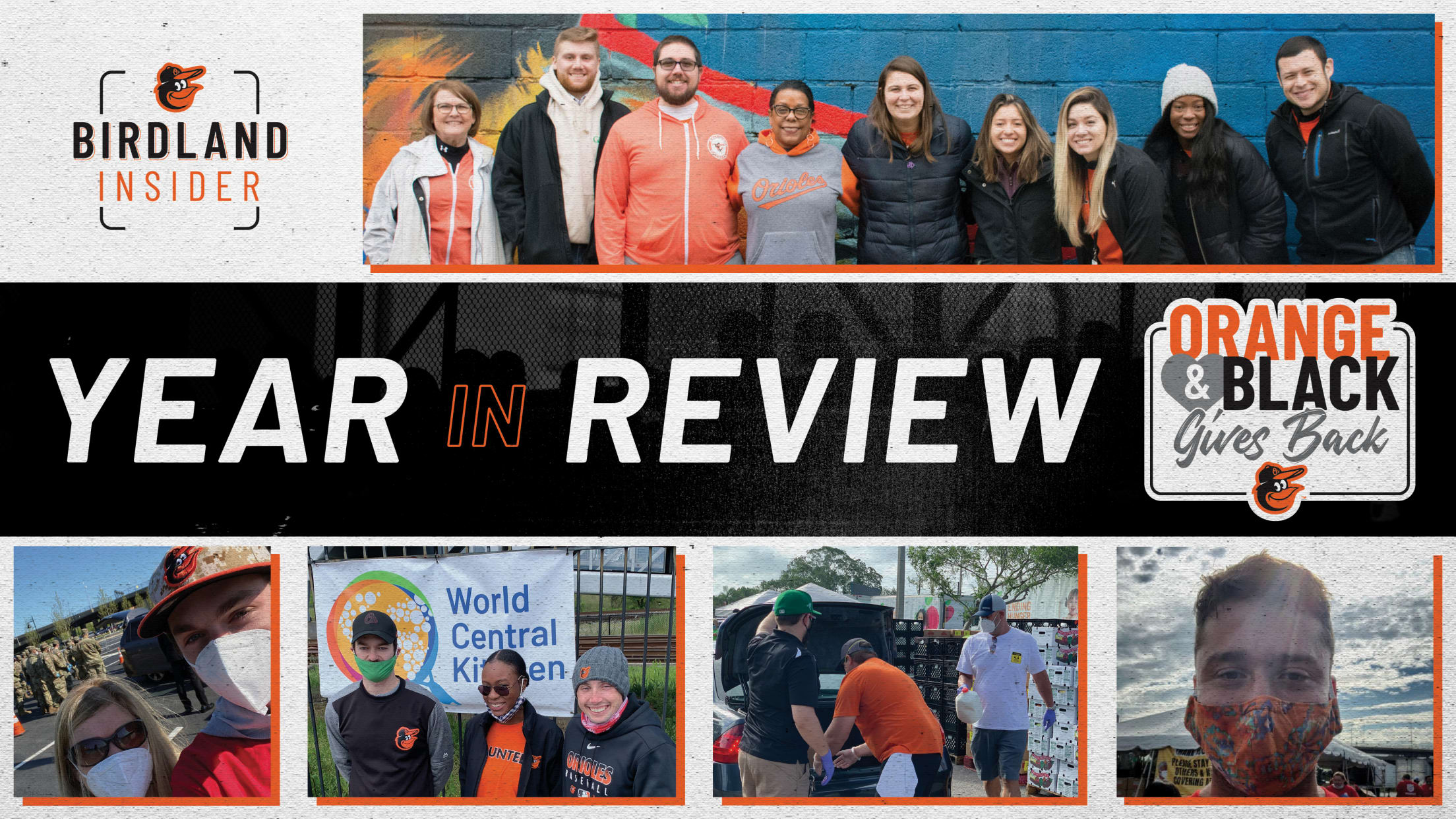 Scroll
Orange and Black Gives Back: Year in Review
Each year, the Orioles employee volunteer program, Orange and Black Gives Back, completes monthly service projects in the Birdland community. These efforts are focused on organizations that support holistic development for youth, as well as nonprofits that strengthen our community by addressing food insecurity and other economic and environmental obstacles. The program also encourages employees to pursue their own interests and share those opportunities with members of the Orioles staff.
Despite the many challenges of 2020, members of Orange and Black Gives Back were able to complete in-person and virtual volunteer service hours throughout the entire year.
In January, they joined Civic Works to volunteer at Second Chance, Inc. Second Chance is a nonprofit that provides people, materials, and the environment with a second chance. They deconstruct buildings and homes, salvage usable materials, and make those and other donated items available to the public for reuse at their more than 200,000 square foot retail center. With the revenue generated, they provide job training and workforce development for those with various employment obstacles in the Baltimore region. The Orange and Black Gives Back volunteers helped to remove nails from donated lumber so the wood could be resold in the Second Chance store front.
In February, volunteers visited the Baltimore Community Toolbank, a nonprofit that serves community-based organizations by providing tools, equipment, and expertise to empower their most ambitious goals. Orioles employees helped build chairs and sharpen axes to help keep the Toolbank's warehouse fully stocked, further empowering our community members to complete their volunteer projects.
The program's reach extends beyond the Baltimore community. In March, volunteers joined the Orioles Family Program in visiting Mothers Helping Mothers located in Sarasota, Fla. Mothers Helping Mothers provides necessities such as clothing, baby items, household items, and services free of charge to families in need. Volunteers helped collect and sort donations and helped to clean and organize the show room where local families can "shop."
As the needs of our communities shifted and opportunities became almost exclusively virtual due to the COVID-19 pandemic, the Orioles put top importance on connecting staff with local organizations in need. Orange and Black Gives Back shared volunteer opportunities with staff ranging from national virtual opportunities to local nonprofits in need of support.
Over the course of several months, members from the Orange and Black Gives Back program sewed masks and wrote thank you cards for first responders. Individually, they held virtual food drives and promoted organizations in need on their personal social media platforms. And when the call to action was made to help distribute meals and other necessary items to residents in need, they were among the first to respond. Orioles staff were on-site to help the World Central Kitchen and Salvation Army distributions at Oriole Park.
In October, the Orioles launched the Voter Up campaign to help promote voter registration throughout Birdland. Employees were encouraged to serve as poll workers and volunteer at voter registration events leading up to the election. When early voting began, Orange and Black Gives Back partnered with Baltimore Votes to staff the Oriole Park voting center. The volunteers spent the morning greeting voters, handing out water and snacks, and entertaining residents who waited in line while abiding by CDC recommendations for public health and safety.
Most recently, Orange and Black Gives Back joined The Players Alliance for their Baltimore stop of the Pull Up Neighbors Tour. Employees and the Oriole Bird helped hand out giveaways, baseball equipment, and food to neighbors in need.
In total, more than 50 employees and 25 players, plus their family members, completed a service project in 2020. This resulted in nearly 250 hours completed and 27 organizations supported.
As we continue to navigate the pandemic and look ahead to 2021, Orange and Black Gives Back remains focused on supporting our community members in need through virtual volunteering and in-person service projects.