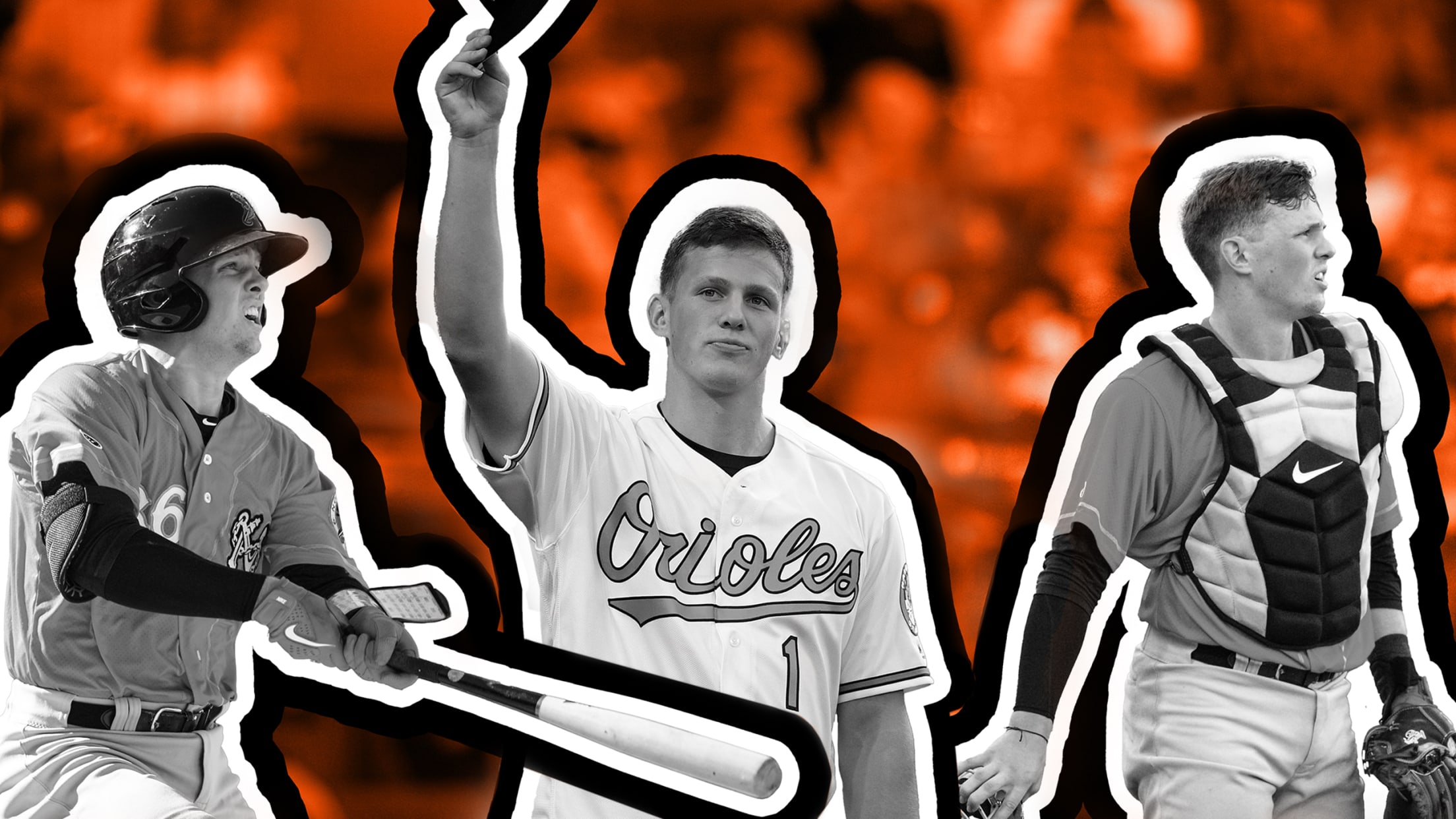 Scroll
Adley Rutschman won't let up
BALTIMORE -- Adley Rutschman might not text you back. Right away, anyway. Eventually, he will. It just might take a while. It doesn't matter if you're his best friend, worst enemy, the pizza delivery guy or even his mom or dad. It's not because he's on the field all day, or logging long hours in the gym, or because he's not on his phone. He is doing all of those things, of course. And of course he's on his phone. Despite all the obvious examples in which he is not, Adley Rutschman is still more or less, in those fundamental ways, like everybody else.
Which is to say despite his outsized skills and immense promise, yes, Adley Rutschman is human, which means has fears and he has flaws, as everyone does. The biggest is texting. It's not about his phone, and it's not about you. It's about him. He knows how it looks, and he wants so much to be better at it that chances are, given his track record, one day soon he will be. But it's a weak spot, admittedly. A growth area. Not a major issue by any means -- just not his medium.
"I'm a terrible texter," Rutschman says. "It's the thing all my friends notice the most, because it ticks them off more than anything. … And then I look back and I'm like, 'Oh, shoot! I look awful for this!' And then I get upset and it's just a bad, bad sequence of events for anyone who texted."
It's not the only thing Rutschman isn't great at -- there is bowling, tennis, Pictionary -- but of that short list, texting is the most reliable source of palpable tension in his current life. He knows people notice, knows it leaves them on the other end of the phone wondering, waiting. And it eats at him. Which is why after starring in the 2018 College World Series, Rutschman returned to his family home in Sherwood, Ore., a national champion, plopped on the couch, cleared an entire afternoon and announced to the house: "Sorry, I need three hours here. I need to get back to people."
So consider the following a sort of playbook. If you know him, or are just starting to, the best ways to reach baseball's top overall prospect are, in this order:
FaceTime: "I'm all about FaceTime," Rutschman says. "I'll answer everybody's FaceTimes. If they FaceTime me, I might be like, 'Hey, give me a second. I'll FaceTime you back in a sec.' But if I just get a text, I may not respond for like a week."
Snapchat: "Snapchat call?" he said. "I'm on it!"
And of course, in person, on the field or off. You know, the old fashioned way.
"He's kind of a throwback," Double-A Bowie manager Buck Britton said.
"I don't know what it is about texting," Rutschman says.
"There is some subconscious connotation that comes with texting for me, something about the conversation or the etiquette of texting that I just hate. I'll see it and be like: 'OK, how do I want to respond?' Then 15 minutes later, I haven't, and it just gets pushed back further and further. Then, after the game, I don't see it. Then I look back two days later and say, 'Oh, shoot, I should definitely respond. I'll put that on the list.' And then a week goes by and I realize now it looks terrible. So then what? Do I even respond? Is it worse to respond or not to respond? I don't know what it is. It's texting anxiety or something. It's something that needs to be diagnosed."
Anything he wants to do, I believe, he could be very, very successful at it. I think he could've been an NFL kicker. There is no doubt [in] my mind he will be a Major League All-Star.

Oregon State Beavers coach Pat Casey
For the simplest illustration of what Adley Rutschman looks like on a baseball field, of what makes the Orioles backstop the game's most decorated catching prospect in a generation, just picture the antithesis of that self-description. Another main distinction being that Rutschman is basically great at just about everything else, certainly at anything he puts his mind to. Before committing to catching at Oregon State, Rutschman was clocked in high school at 97 mph -- from the pitcher's mound. He kicked a 63-yard field goal as a senior at Sherwood High to set an Oregon state record. He's effectively ambidextrous: writing and kicking left-handed, throwing right-handed and swinging with both. Even at the Rutschman family's summer retreat down on the Oregon coast, Rutschman is known on the scenic, sleepy riverfront for what he does with his feet: his ability to mine the mud for mollusks.
"We call him the Clam Whisperer," his mother, Carol Rutschman, said.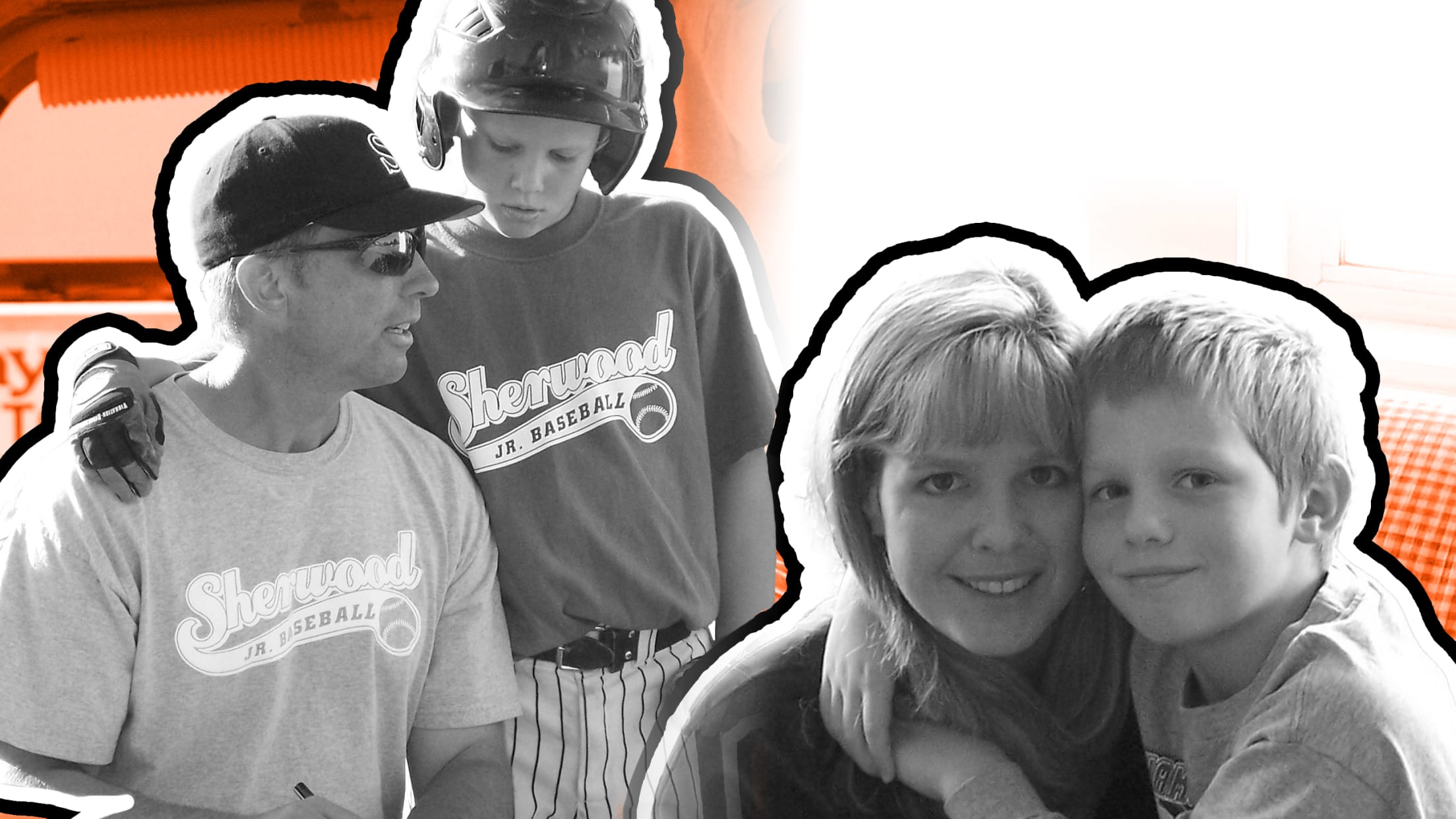 On the diamond, he is a switch-hitting catcher with light-tower power, advanced plate discipline and defensive skills so polished that some evaluators believe he could've caught in the big leagues two years ago. In baseball terms, that's a unicorn. But unicorns don't really exist, and Adley Rutschman does. On the field, he's more akin to a lynx: rare and stealthy, with lightning-quick feet, a killer instinct and constantly in control. The face of the Orioles' rebuild also hugs puppies, tapes TikToks with his little sister and used part of his record $8.1 million signing bonus to buy his mom a car for Christmas.
Now that he has arrived in Baltimore, he's likely still driving the same beat-up old Honda Civic, and as the franchise's most hyped prospect in at least a decade -- the jewel of and the prize for sticking out its long, difficult rebuild.
"It all just looks easy for him," said Britton. "It just looks easy for the kid. That's the best compliment I think I can give him."
'GENUINELY A SUPERSTAR'
On Feb. 6, 1895, Babe Ruth was born in Baltimore. Adley Rutschman was born on the same day 103 years later, 2,800 miles west in Portland, the first child of a family of career educators with notable local lineage. His grandfather, Ad Rutschman, is local sports royalty, a member of the national college football Hall of Fame and the only collegiate coach at any level to win national championships in both baseball (once) and football (thrice, all at Linfield University).
"Being a baseball person, I knew about the family all through growing up," said Brandon Verley, a native Oregonian and the Orioles scout who signed Rutschman. "My dad said he only has a few regrets in life, and one of those is not playing for Ad Rutschman."
Adley's father, Randy, is a retired teacher who played college baseball, spent his entire adult life coaching football and baseball and is considered one of the country's leading catching instructors. His mother, Carol, taught math and psychology while they raised Adley and his younger sister, Josie, in Sherwood, a town of about 20,000 tucked 20 miles southeast of Portland. The Rutschmans discouraged early electronic use with their children, and their verdant suburb provided ample space to run around. Adley took advantage.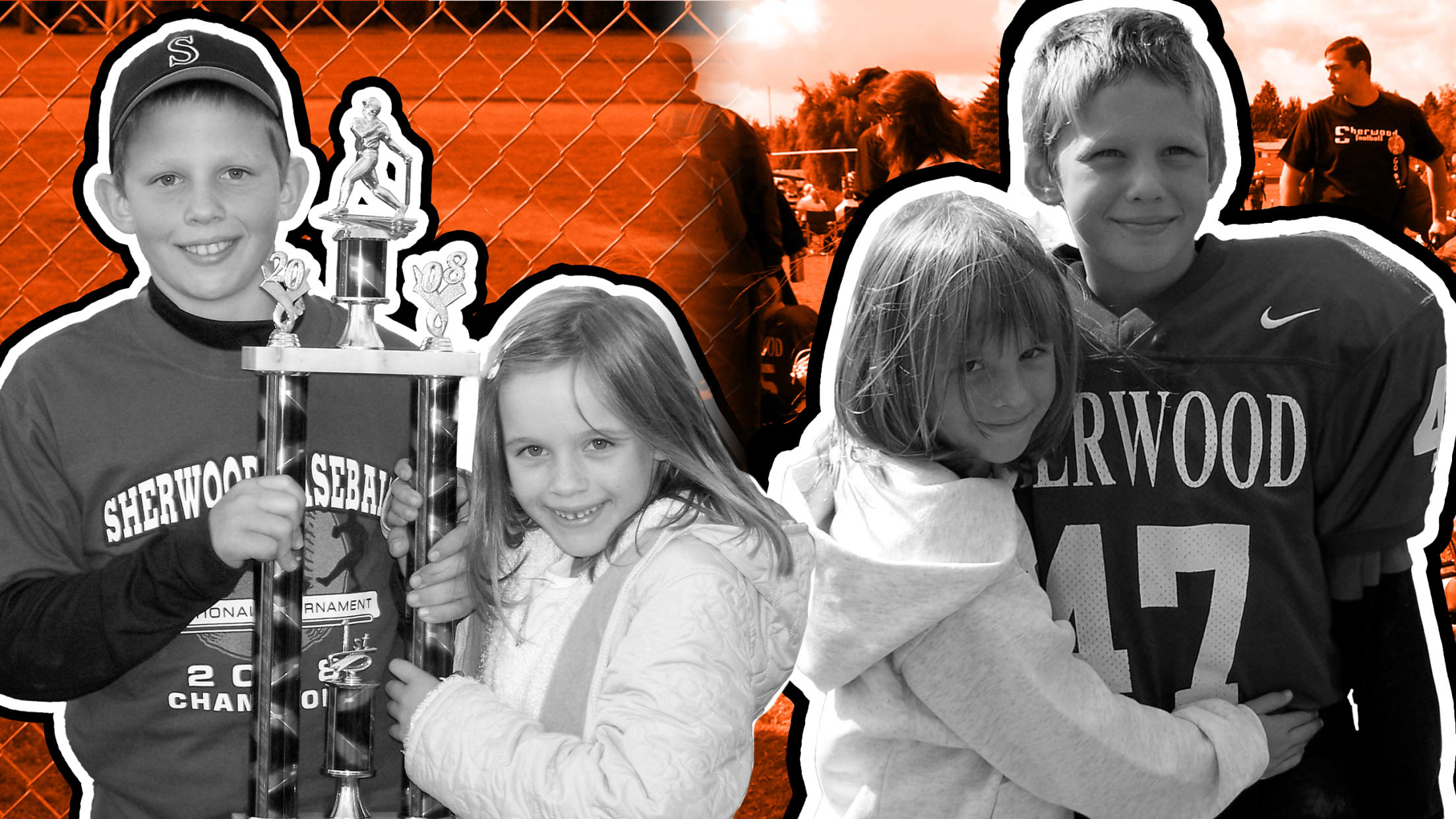 "Growing up, he liked to play, and he would go hard," Randy Rutschman said. "I mean, it was play, play, play, and he would go hard. It didn't have to be baseball. It could be anything."
Adley turned the tiniest, lowest-stakes activities into competitions: neighborhood games of kick-the-can, snake-catching in the woods -- anything he could. The baseball itch came early, at age 4, swinging a bam-bam Flintstones bat. At 8, he won a Pitch, Hit and Run competition in Seattle at then-Safeco Field. At 10, he was hitting so well that Randy began using an L-screen for his own safety. When father and son went hitting, Adley competed with himself to empty Randy's bucket of balls, then competed with dad to see who could toss more into the bucket upon pickup. Large swaths of time went to Wiffle ball, even when other kids weren't around.
As Adley got good from both sides of the plate, he took to constructing games against himself: left vs. right.
You want to be the greatest player ever. But more suited to me is: I just want to reach my potential.

Adley Rutschman
"That way, somehow," Randy said, "he would always win."
During his early years at Sherwood High, more than once Adley was riding home from practice when he spotted kids on a local field and begged Randy to stop the car, drop him off. Why not? His bag was already in the backseat.
"I know what his tombstone is going to read," said Carol Rutschman. "'Just one more.'"
"It was always 'one more,'" said Randy. "And 'one more' usually meant somewhere between 30 and 150 more."
On family vacations to the coast, Adley invented a beach game called "Dive." The premise was simple: Randy threw balls off toward the horizon, and his young son dove onto the sand and into the sea, hour after hour, to catch them. These were marathon sessions. Adley rarely ran out of energy, stopping often only to leave the beach for the batting cage, and then afterward, to practice kicking on the same field.
He poured the same relentlessness into his schedule. Rutschman began kicking around the fifth grade; he played both football and baseball through his freshman year at Oregon State, during which -- as a kicker -- he tackled future Carolina Panthers star Christian McCaffrey. The Rutschmans take pride in having never paid for Adley to attend an elite prospect camp, that he never played on a travel summer team. Besides a run in the Area Code Games, Rutschman always played club, played local, because that's where his friends played, because that was what was fun. By time scouts came calling, he was already committed to Oregon State (the Mariners also drafted him in the 40th round in 2016), where Randy worked camps for legendary Beavers coach Pat Casey.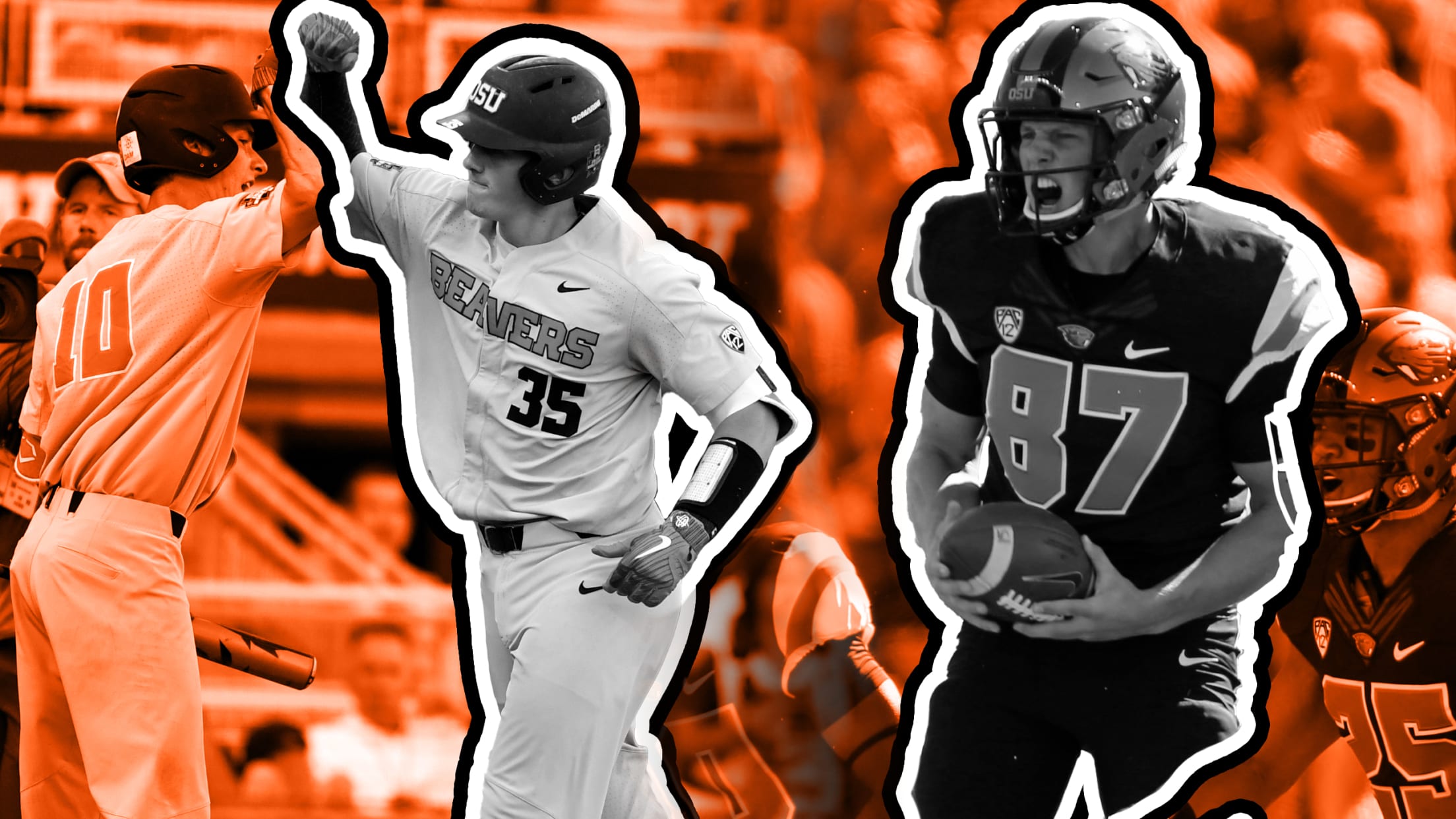 "By the time Adley Rutschman was in high school, there was no question this guy was going to be anything he wanted to be," Casey said. "Anything he wants to do, I believe, he could be very, very successful at it. I think he could've been an NFL kicker. There is no doubt [in] my mind he will be a Major League All-Star."
Casey originally recruited Rutschman as a pitcher -- he sat in the mid-90s with what some scouts rated 70-grade breaking ball -- but it soon became clear that his higher ceiling was behind the plate. Things didn't come easy that first year in Corvallis. Rutschman missed most of fall instruction playing football, then hit .234 without much power for a Beavers team that won the Pac-12 but lost in the College World Series semifinals. Still, Rutschman collected his share of big hits and made national highlight reels that series with a pair of diving catches on bunt attempts in fair ground, one against Cal State Fullerton and another -- almost a carbon copy of the first -- against LSU.
"As soon as he made one of those, we said, 'That's "dive" on the beach!'" Randy remembered.
Rutschman didn't hit in the Cape Cod League that summer. Then, everything changed. He quit football, dove headfirst into improving his left-handed swing and, to hear Casey describe it, "broke every record imaginable." He hit .408 with nine homers, a 1.133 OPS and more walks than strikeouts as a sophomore, leading the Beavers to their third national title. Rutschman set a CWS record with 17 hits in the 2018 tournament, then hit .411/.575/.751 with 17 homers and twice as many walks than strikeouts as a junior. The walk-to-strikeout ratio was as good an indication as any of his dominance: teams essentially treated Rutschman as college baseball's 2001 Barry Bonds, someone too good to pitch to, and hands down the country's best player.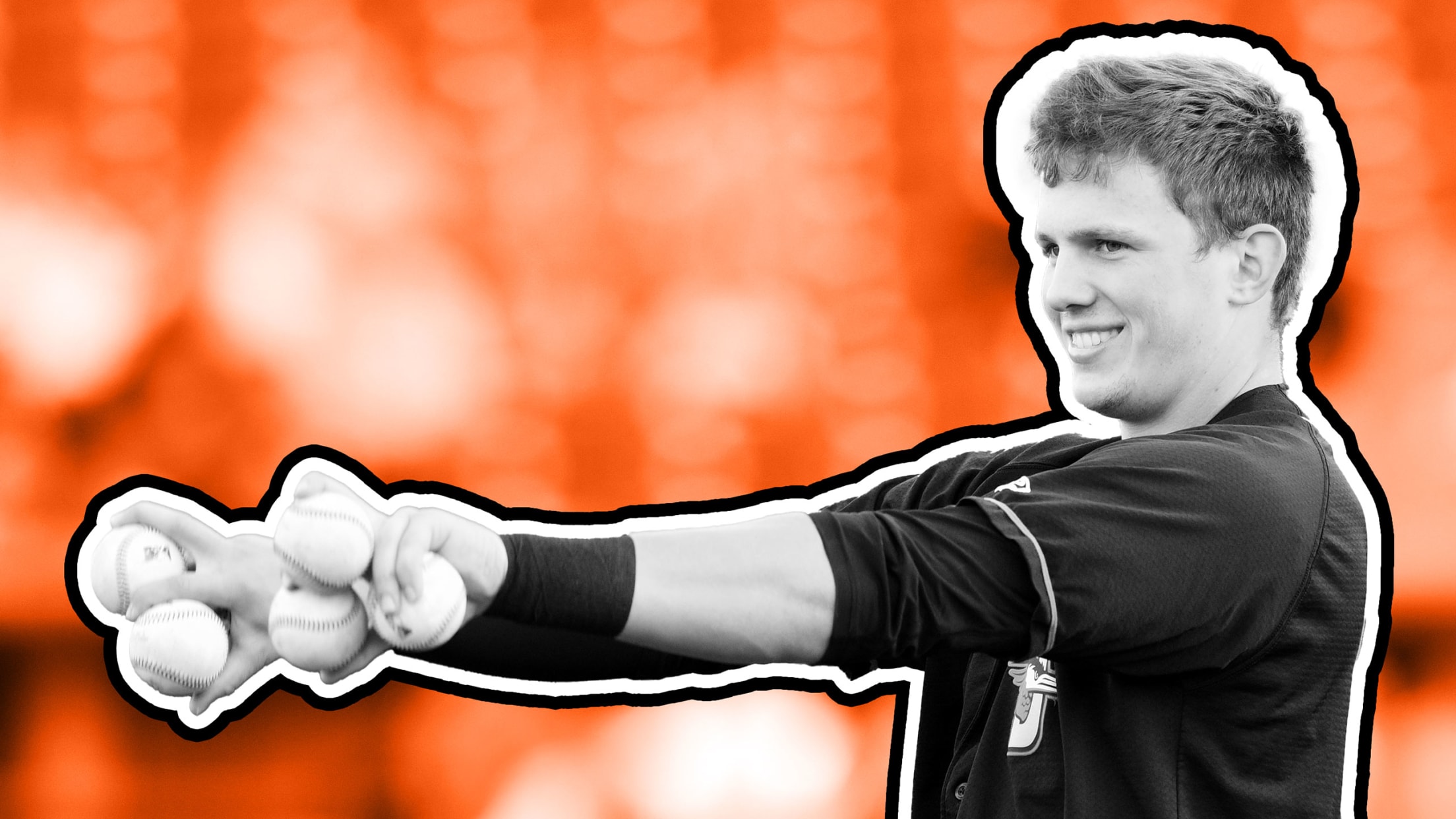 "And he's doing this all while being a frontline defender at a premier defensive position," Casey said. "He made catching look like he was playing the infield. I see him differently than any other guy I've seen at the position. It's that special."
He earned the prestigious Golden Spikes, Dick Howser and Buster Posey awards, a postseason award sweep so comprehensive few in the industry felt the Orioles would even consider anyone else with the top pick in that year's Draft. They did, but in the end the choice was easy. From the moment Rutschman became the franchise's second ever top overall pick, the countdown to his arrival began. A little more than two years later, it's nearly here.
"I think if they'd have flown him into Baltimore the day after the College World Series and said he was catching the next night, within 10 days people would think he'd been there for years," Casey said. "This guy has everything in the game of baseball to make him a superstar. In addition, he's got the intangibles that are off the chart, and it is genuine. This guy is genuinely a superstar."
100 MILES PER HOUR
There is an incongruence to Adley Rutschman that, while not unpleasant, takes a minute to compute. It's in the quarterback face on the linebacker body. It's in his measured manner of speaking, how ferociously he attacks the baseball, in the wholesomeness with which he hugs puppies. It's in his composure, in the mature-beyond-his-years awareness of the space his body is occupying at all times, of the words he says and how he knows, if he's not careful, they might ripple in unintended ways across the internet. There is an Eastern flair to his perspective, a conservatism to his style. In conversation with a reporter he comes across significantly older than he actually is. He's also polite, engaging, both open and sensibly guarded, and genuinely, intensely present despite clearly needing to be somewhere else.
"He'll look you in the eye, good handshake, big smile, not afraid to speak his mind and be precise with his words," said Verley. "He was like that as a 17-, 18-year-old as well."
Says Rutschman: "It takes a while for me to open up. I'm pretty goofy once I get in the right mindset, but until then I'm a little more shy, more quiet. At least, that's how I think people perceive me."
He's also just busy. There is always somewhere for Adley Rutschman to be, something to attend to: another advance meeting, another bullpen session, another mound visit, another turn in the cage, another rep in the gym, another interview to do, another fan's day to make. It would all be burdensome if he didn't take it in stride. During his first semester of his freshman year of college he created a schedule for himself with zero off-days between football camp, practice and games, fall baseball and a full slate of online classes. Baseball season took up the next semester, after which Rutschman took two days off before heading to the Cape Cod League.
"This guy acts like he was a 44th-round pick and he's getting his last shot. That's just how he plays. That's just who he is," said Casey. "Morning, night. Every time I went in [to the facility] I saw Rutsch there. I wish I could remember a time he stayed late, but that would undermine the amount of time he actually spent there. If I picked one specific time, it would undermine the other 99 times. He was always there."
These days, he's learned the importance of squeezing in occasional down time ("Sometimes," he says, "You just need to decompress"). In those moments, he checks in with Josie. He puts his feet up, hits up Netflix. And yes, he catches up on texts. But these slivers of R&R are really more the exception than the rule.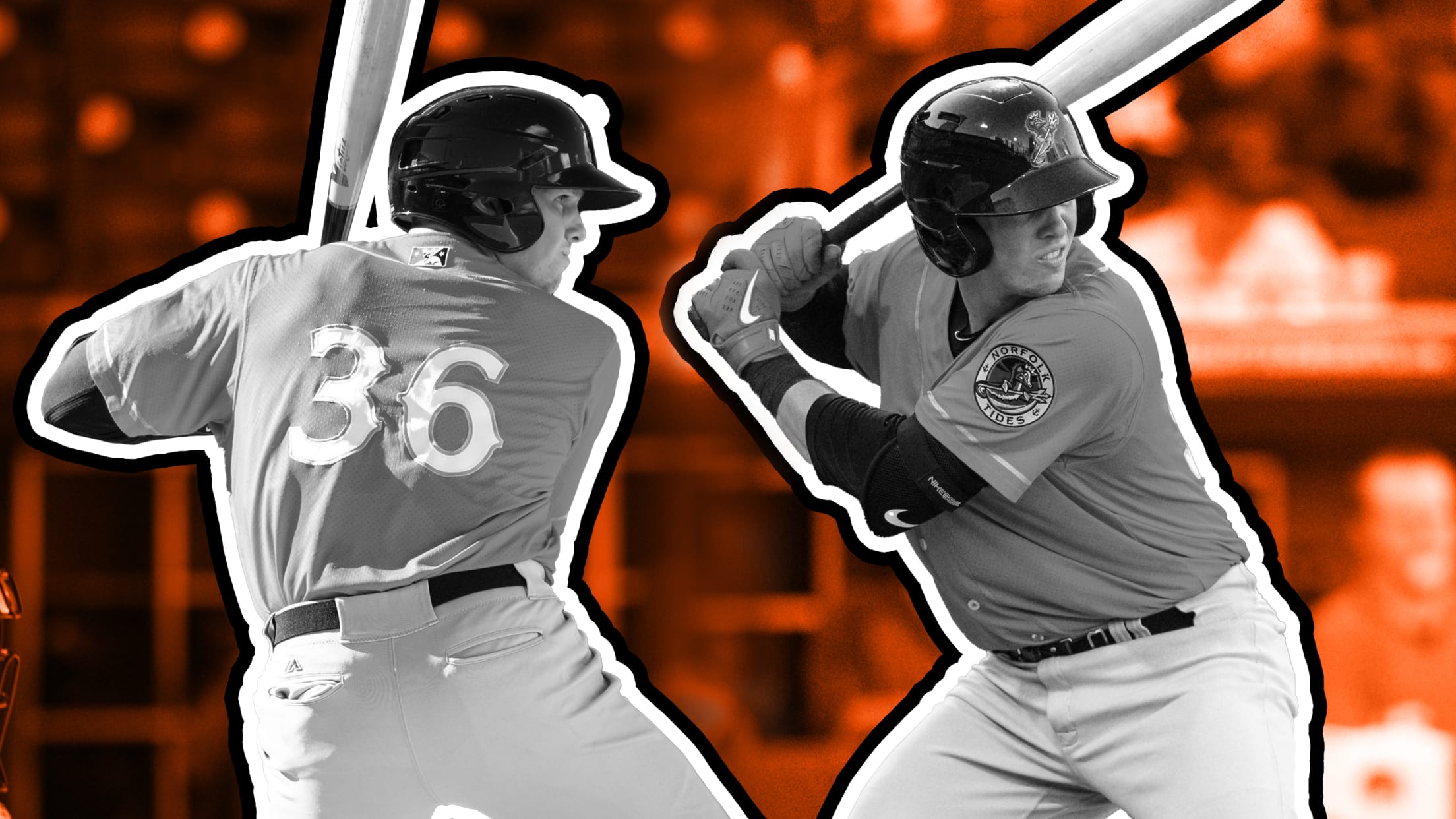 "He's a little kid at heart, with just a lot, a lot of athletic ability," Britton said. "This guy is 100 percent, 100 miles per hour, all the time, which is impressive for a 1-1 pick. You don't have to kick them in the ass. In fact, you have to pull him back sometimes."
Most of all, Rutschman exudes responsibility: to his team, to his family and, most acutely, to himself. He remembers being called a "try-hard" by classmates in high school, recounting with a whiff of satisfaction how trying, for him, seems to have worked out pretty well. He's long made a point to meet his pitcher in front of the mound between innings, a gesture meant to encourage camaraderie but rarely seen in pro ball. He coordinates off-the-field events and dinners with teammates for the same purpose, and generally makes it a point to surround himself only with motivated people with high goals and aspirations.
"Now, that's kind of the cool thing to do: work hard and be yourself," Rutschman said. "If that's the kind of person that you are, that's the kind of person you attract."
Two photos to reach the internet this year encapsulate both Rutschman's affable-teammate side and relentless-worker side, together offering an image of the whole package. The first is of Orioles top pitching prospect Grayson Rodriguez wearing pieces from four separate sets of Rutschman's catching gear: evidence of the fun clubhouse atmosphere the O's prospects created this summer at Double-A Bowie.
"He's goofy," No. 3 Baltimore prospect D.L. Hall says. "He's definitely a little more locked in on the field, and off the field he's, like, sneaky funny. You have to understand his humor."
"He's one of us -- he's goofy but he can also take care of himself and be an adult as well," said longtime teammate Cadyn Grenier. "He wants to be the guy who makes people feel they have someone who has their back, and someone they can trust."
The second photo is of Rutschman, solo, powering through blocking drills one afternoon in the midsummer heat, drenched in sweat. The drill required him to drop from his squat to block balls thrown on one hop by a coach standing close by. Typically, these drills are done with a chest protector. He'd gotten his back from Rodriguez at this point, but no bother. Rutschman isn't wearing one in the photo. He isn't even wearing a shirt.
"He's 6-foot-2, 210 pounds, cut out of steel, a very handsome young man and a 3.8 GPA business guy. He's everything you can imagine and more, and he's just like a kid. He's never wavered from who he was," Casey said. "He's like a guy playing Little League every game. He loves this thing. He loves his teammates. He was so excited to play. Guys loved it, and he loved it. And he's the best guy on the planet. He's Captain America."
'I DON'T KNOW IF I'LL EVER BE THERE.'
As aware as Rutschman is of the outside expectations placed on him, they are dwarfed by the expectations he puts on himself.
"My goal is to be the best player that ever played the game," he says. "That's the ultimate goal. You want to be the greatest player ever. But more suited to me is: I just want to reach my potential. I feel like that's changed for me, in a sense. When I was younger it was all about wanting to be the greatest. And now it's kind of, I just want to be the best Adley Rutschman that I can be. I think that player is very good and very successful."
So far, that's precisely what he's been. The only real hiccup in his Minor League career was the one that affected everyone -- the cancellation of the 2020 season due to COVID-19. Rutschman reached Class A during his Draft summer and cameoed at big league Spring Training in what would have been his first full pro season, then spent the shutdown home in Sherwood, golfing, cooking, creating TikToks and hitting at local fields whenever safety allowed. At that point, though, his sessions with Randy had a different feel.
"Next thing you know, there are three kids in the outfield shagging," Randy remembered. "[Strangers] would bring their lawn chairs out on their front porch behind the field."
Many, many more unfamiliar faces await his debut in Baltimore. By all accounts, Rutschman made the most of his summer at the Orioles' alternate site in 2020, when he first bonded with Rodriguez, Hall and several of the organization's other top prospects. Then he waltzed through Double-A Bowie, hitting .271/.392/.508 with 18 home runs and nearly as many walks (55) as strikeouts (57) in 80 games. The production was steady, workmanlike, and in the aggregate, elite. Then he earned a promotion to Triple-A Norfolk in August and caught fire, hitting .359 with a .933 OPS over his first 22 games.
"You look up at the board [at his numbers] and try to think, 'When did he have a big game?'" Britton said in June. "Is this is just what you come to expect? He's at .290 with 10 homers and we're a month and a half into the year, and you're thinking, 'I can't wait for Adley to get hot.'"
And still, he did things that inspired both awe and hyperbole. There was a five-week stretch through May and June when Rutschman homered every Sunday (and twice on other days), fueling deistic chatter. He homered from each side of the plate during a doubleheader in May, and again in a single game, seven-RBI performance in July. Said one rival scout: "It's as complete a package of physical tools, accompanying skill to enact those tools and makeup traits that you're going to find, particularly at that position."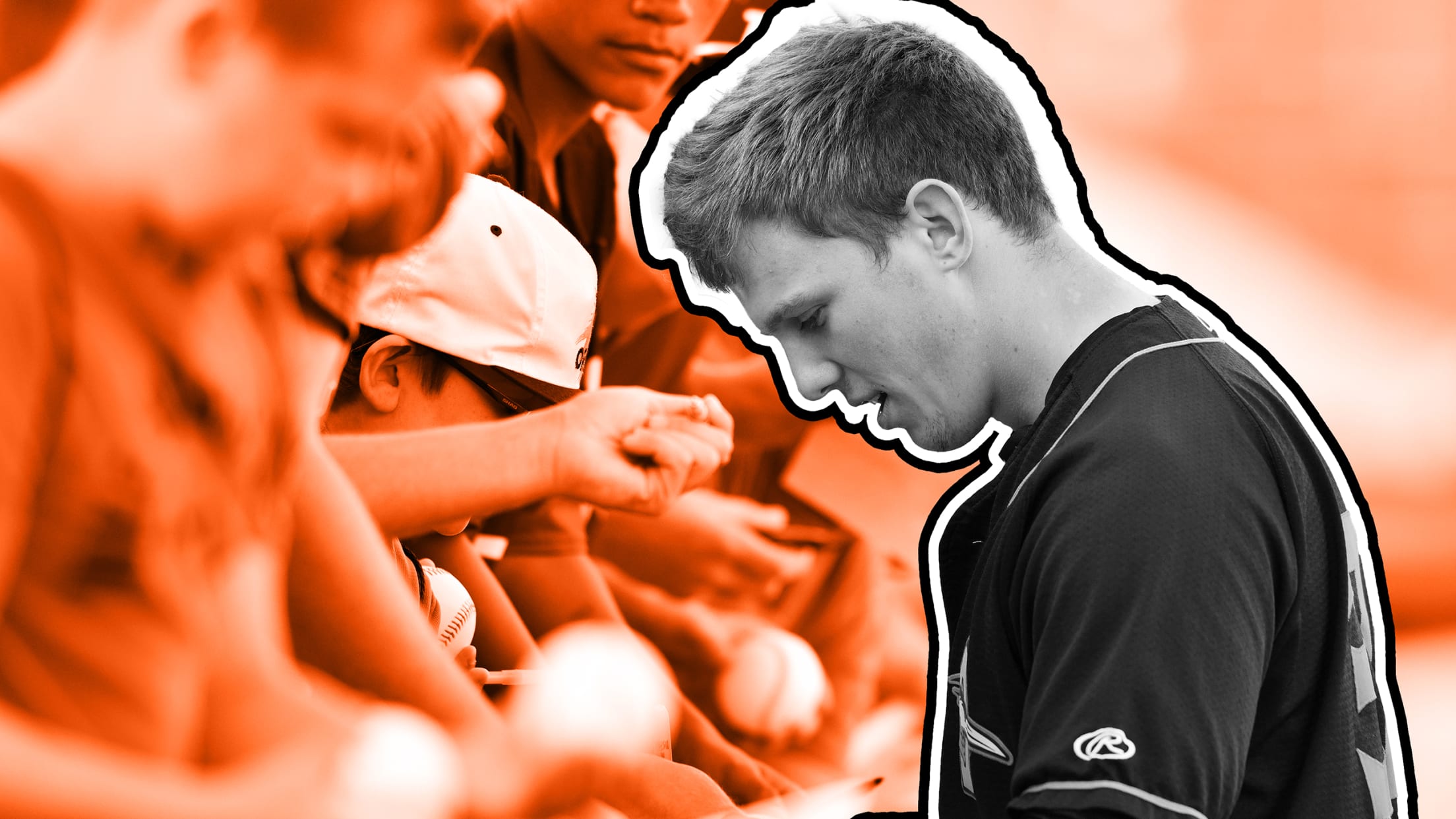 As parents, the Rutschmans tried to reinforce process in their kids: conversations during postgame car rides between Randy and Adley rarely focused on results (which for Adley, were always pretty good). The lessons were broader, the takeaways intentional: Can you control your attitude? Control your effort? Your focus? How you treat people? What's more, Rutschman was a sports-obsessed kid at the time rebuilds were coming into vogue across professional sports, notably with the Astros and Philadelphia 76ers in the early 2010s.
All of which makes him akin to a natural fit in the Orioles' system, where process is preached for issues both large and small, goals short-term and long. When will the big league team start winning? Trust the process. Impatient with a prospect's timeline? Trust the process. Want to walk more, grow into more power? Trust the process.
Rutschman's stats are what they are, but the fact is Orioles hitters up and down the system are judged internally more by intricacies like swing decisions than by counting numbers, and defensively by proprietary analytics. Sometimes this approach even rewards on-field failures like called strikeouts, if the third strike in question registered off the plate by the O's internal metrics. Swing decisions, exit velocity, framing: Rutschman rates highly in all these softer, process-based categories. But the larger point is how the overall approach jibes with his natural disposition, and what that might mean for the challenges that lay ahead.
"My process is staying within myself and making sure I'm focused on what I want to achieve, and not what other people want me to achieve," Rutschman said. "I definitely put a lot of pressure on myself, more so than anyone else really puts on me. So whenever I feel pressure on my shoulders, I like to try and keep perspective, take a step back, look at how fortunate I am to be in that position and look at everything as an opportunity."
"I just want him to keep doing what he's been doing," said Orioles GM Mike Elias. "He's got more spotlight and pressure on him. He's shown he can handle that, and he's going to have to continue to handle that."
The attention, the intrigue, the expectations: they'll only grow once Rutschman reaches where he wants to reach. Adversity, too, is bound to greet him there. But it's difficult finding a baseball person who believes he won't be able to handle it all, given his blend of physical tools, maturity and makeup. All rate as off the charts.
"Success is one of those things that's subject to everyone's opinion," Rutschman said. "But for me, if I get better every single day, and I feel like I'm making the most out every day, then that's success for me. I think the results that come because of that are going to be very good. So I think that will lead, for me, to a life that I can be proud of, and I can look back on and have no regrets."
How close does he think he is to that version of himself?
"I don't know if I'll ever be there," Rutschman said. "And that's kind of the the idea: you're never going to reach a point of achievement, or a point of 'I made it.' That's the cool part about baseball, too, and about life in general. You're never going to reach that point of, 'Wow, this is the person who I want to be.' You're always chasing a better version of yourself."
credits:
Joe Trezza covers the Orioles for MLB.com. Follow him on Twitter at @JoeTrezz. Design by Benjamin Marra.