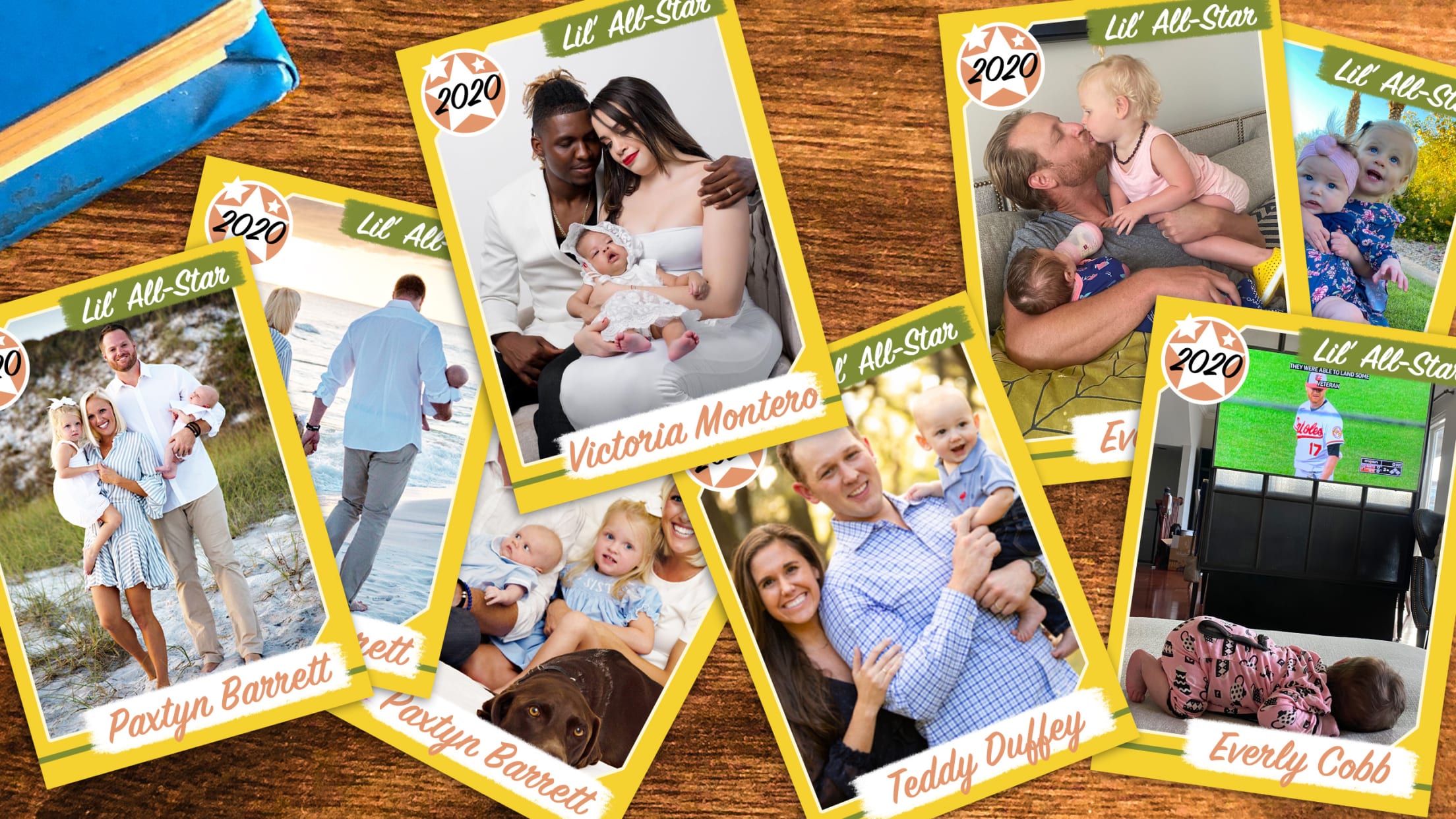 Scroll
Here's the delivery: MLB newborns of 2020
A version of this story was first published in December 2020.
As the gestational period reached its 37th week, Orioles pitcher Alex Cobb and his wife, Kelly, had a decision to make.
Kelly was at the point of her pregnancy when doctors and airlines advise against getting on a flight. And as of that June day, Alex did not know when -- or even if -- his baseball schedule would resume in Baltimore.
If Kelly remained at the couple's Scottsdale home, Alex might not be there for the birth of their second child. But for Kelly, Alex and their 1-year-old daughter, Chloe, to get on a flight at this late stage would increase the risk of in-air labor -- all for a Major League season that was, at that moment, not yet certain due to the coronavirus shutdown and protracted negotiations about a restart.
"We were on pins and needles," Kelly said. "Alex has a lot of baseball friends here who were talking about how they're going to prepare and get their body ready. And the only thing on my mind was, 'Where is this baby going to be born?'"
Everything worked out for the Cobbs -- frantically, but wonderfully. Mere hours after they made the decision to travel, MLB finalized a return-to-play plan. And mere days after they arrived safely in Baltimore, the Cobbs welcomed Everly Pauline, a beautiful baby girl who arrived two weeks early but, thankfully, not on a plane.
"It was an adventure," Alex said with a laugh. "It was as hectic as can be."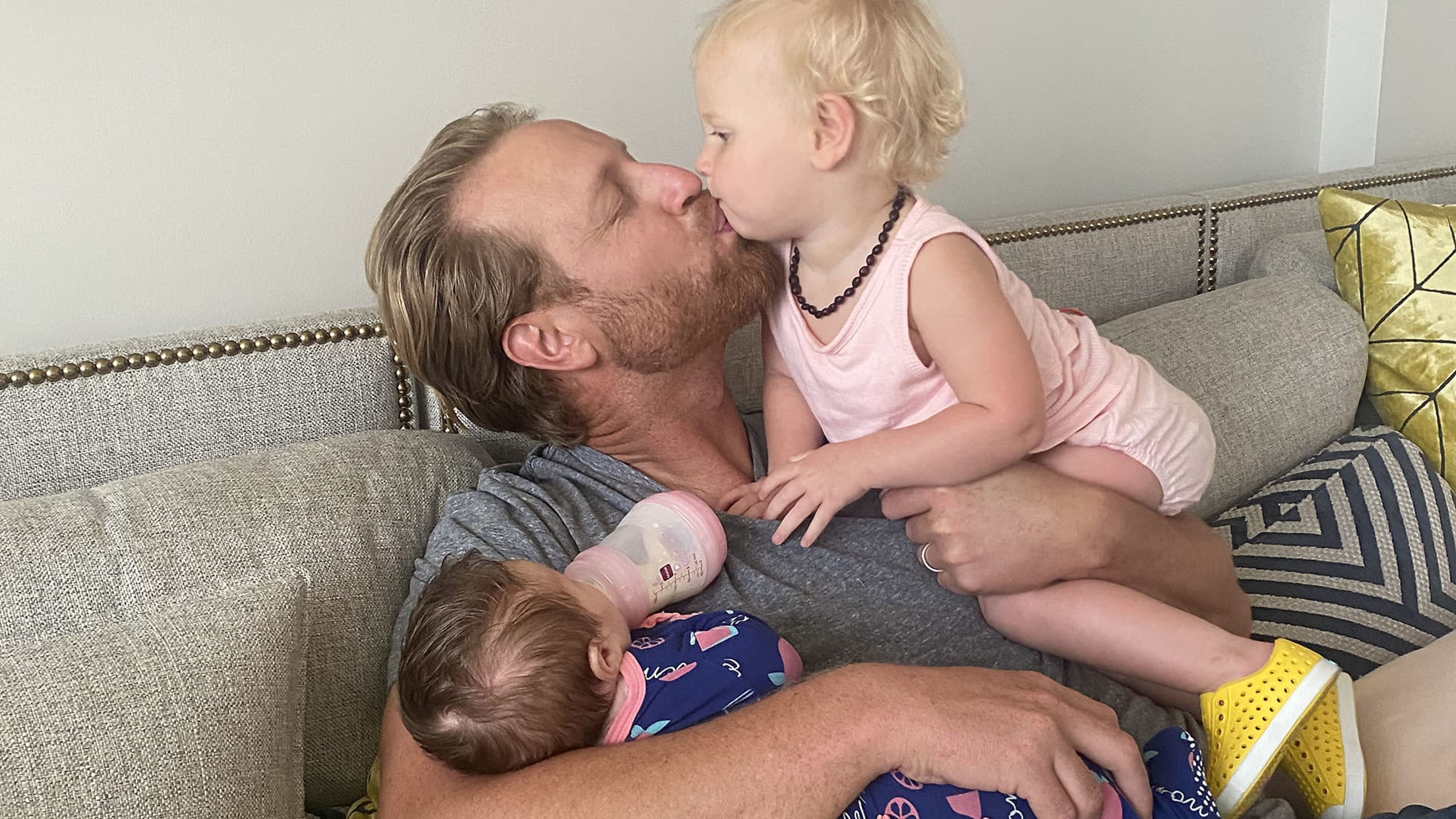 It was a hectic, heartbreaking, high-anxiety, unsettling, upsetting, demanding, divisive and overall unusual 2020. It challenged us all. And to welcome new life into this rapidly altered world meant added uncertainty about the well-being of both mother and child.
For the baseball families that expanded in the year of a pandemic-shortened season, an added obstacle was the unusual nature of the schedule itself -- the sudden shutdown of Spring Training, the scramble to Summer Camp, the health and safety protocols and the postseason "bubbles."
But with so much loss going on across the globe, those who left that year with a new bundle of joy have even more appreciation for the blessing of a healthy birth and gratitude for the grace that children grant us.
* * * * * *
Baseball people romanticize the notion of "Dad Power" -- how becoming a parent (and toting around an infant in his expanding arms) can propel a player to previously unreached levels of extra-base authority.
We saw in the summer of 2020 how the widely recognized greatest player in the game, Mike Trout, snapped out of what was, for him, a pedestrian start to the season (one homer, four RBIs through six games) when he returned to the field after the July 30 birth of his son, Beckham.
Trout went deep nine times in his first 13 games as a proud pop.
"People ask me about this Dad Power, and I guess it's a thing," Trout said in the middle of his parental power burst. "But there's no better feeling than being a father."
Trout is among a group of high-profile players who welcomed a child during the pandemic, a group that includes -- but is not limited to -- Gerrit Cole, Zack Wheeler, Kris Bryant, Ryan Braun, Brandon Woodruff, Mike Moustakas, Eugenio Suárez, Mike Minor and Byron Buxton.
For Dodgers outfielder AJ Pollock, parenthood summoned strength of a different sort. No couple in MLB was tested more by the difficulty of 2020 and rewarded more for perseverance than Pollock and his wife, Kate.
Kate went into labor one week after COVID-19 was declared a global pandemic and three months before the baby's due date. Maddi Mae Pollock weighed just one pound and six ounces at birth, requiring extensive care in a neonatal intensive care unit. And Maddi was three months old -- and still hospitalized -- when Pollock contracted COVID-19. (He believes he caught it at the hospital.) Pollock had to go 14 days without seeing his newborn daughter while in quarantine.
• Wife's couch query gets Pollock in camp
"It's been a wild ride," Pollock told reporters at the start of Summer Camp. "It's been very emotional, it's been very frustrating, it's been scary. But [Maddi] is in a very good place now."
People ask me about this Dad Power, and I guess it's a thing. But there's no better feeling than being a father.

Mike Trout
Maddi was cleared to leave her Scottsdale hospital just as the Dodgers were beginning the 2020 season, 128 days after her birth. And it turned out to be a special season for Pollock, who tied a team high with 16 homers.
Dad Power, indeed.
As fate (and protocols) would have it, Pollock got to introduce his daughter to his parents in the most memorable of ways -- during the Dodgers' World Series championship celebration on the field in Arlington, Texas. He held her in his arms near the netting in foul territory, as his mother, Karen, and father, Al, stood beaming from the front row of the stands.
Though not every player who experienced a pandemic pregnancy encountered as extreme circumstances as the Pollocks, all shared the same, uneasy feeling of vulnerability to the unprecedented and unknown.
When COVID-19 forced an abrupt stoppage in Spring Training, Mariners reliever Rafael Montero -- then with the Rangers -- decided it best to ride out the delay and continue training in Arizona rather than travel back to his native Dominican Republic. But that meant continued distance from his wife, Yasmina, who was pregnant with the couple's first child and remained in the D.R.
The situation weighed on Montero heavily.
"It was all I could think about," he said. "Fortunately, we had a woman helping her. Our friend, Milagro Florentino, cooked and took care of her. She made it so much easier on all of us. Milagro made a huge difference."
"Milagro" is the Spanish word for "miracle." And for the Monteros, yet another miracle arrived in the form of their daughter, Victoria. Victoria was born on June 30, just as baseball resumed.
As his teammates were rushing to report to camp, Montero was rushing from Phoenix to the D.R., with a layover in Newark, all in an effort to meet his baby girl. But his first flight was delayed, and he missed his connection.
"I was stuck at the airport all night," he said. "I didn't sleep at all. But it's not as bad as it sounds. I was just so happy that I was going to meet my baby. I was so excited. Thoughts of seeing the baby made it so much better for me."
Nationals reliever Aaron Barrett had a similar sprint to be there for the birth of his second child. Barrett was pitching at the Nationals' alternate training site in Fredericksburg, Va., in early September when his wife, Kendyl, called to tell him she was scheduled to be induced the following day at a hospital near the couple's home in Santa Rosa Beach, Fla.
With that, Barrett put a secret plan into action. Unable to fly commercially due to coronavirus protocol, he rented a car for the 13-hour trek to Florida to surprise his wife shortly before she left for the hospital. The Nats and MLB arranged for Barrett to bring COVID-19 tests with him so he could stay on the league's strict testing schedule.
• Barrett makes 26-hr. odyssey for son's birth
Barrett -- pounding Red Bulls to stay awake -- had to make a pit stop during the drive so that his wife and 3-year-old daughter, Kollyns, would not be tipped off to his whereabouts during their nightly FaceTime call.
"We always FaceTime before bed," Barrett says. "So I'm thinking, 'How am I going to pull this off where she thinks I'm at the [team] hotel?' So I pull over at a random Holiday Inn and say, 'I need a favor, I just need to borrow your lobby for a second.'"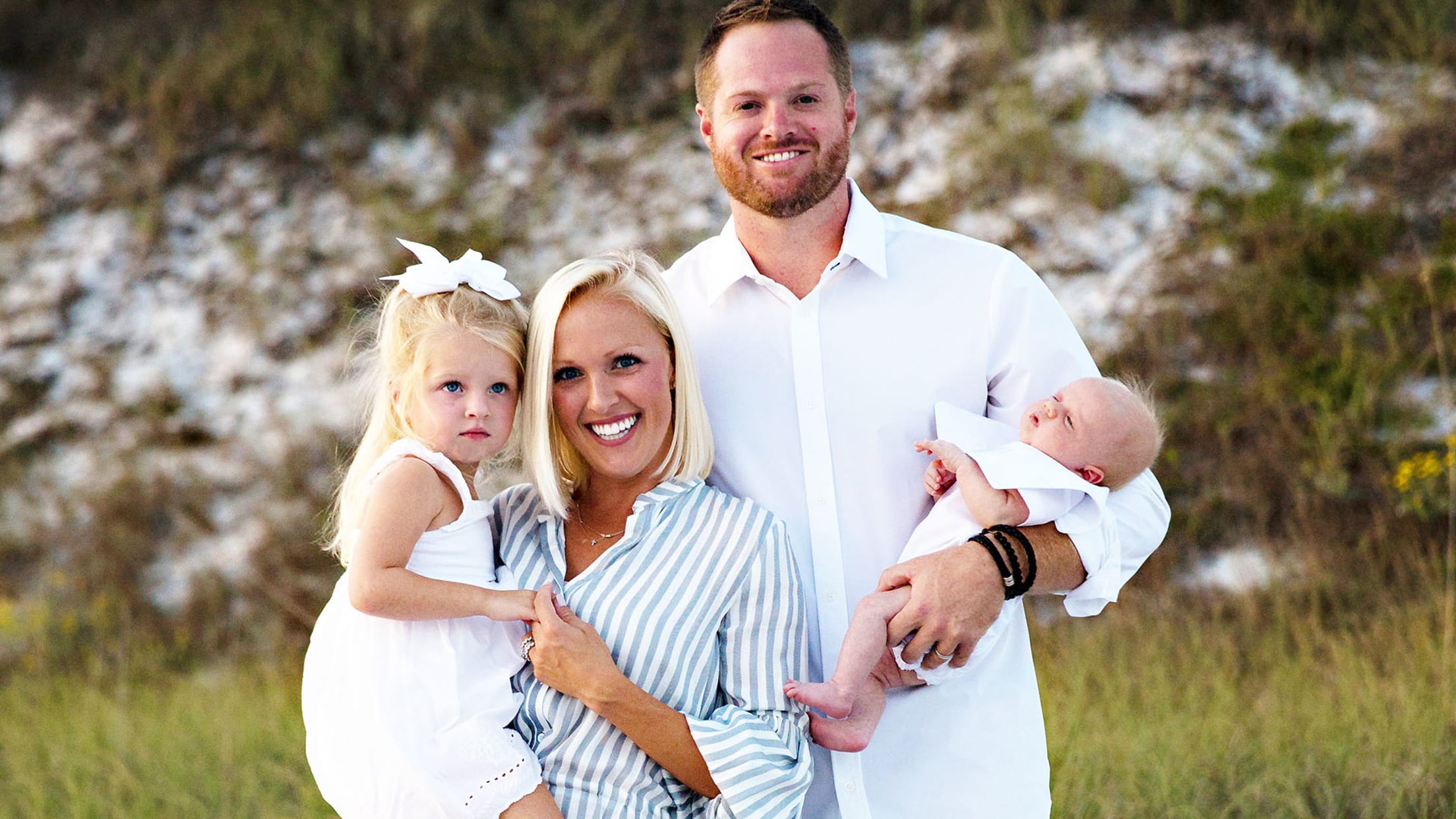 All the strategy and trickery were worth it when Barrett strode through the door and surprised Kendyl mere hours before she was due to head to the hospital.
"I was crying," Kendyl says. "I was so happy. It was so nice to have him here."
The next morning, there was another arrival: a baby boy named Paxtyn.
* * * * * *
In playing the 2020 season, Barrett had run the risk of not being there for Paxtyn's birth. But not playing would have meant taking a risk of a different sort with his pitching career.
Due to Tommy John surgery and an awful fracture of his humerus bone, Barrett had gone four years between Major League appearances before stepping on the mound in September 2019. At the end of that season, he was just one day of service time shy of qualifying for salary arbitration -- a system that could earn him a substantial salary bump.
"I don't want you to miss this," Kendyl told her husband. "In a shortened season, you could get called up any day, any time. You worked so hard for this."
Because of his 26 hours of driving to Florida and back, Barrett wound up experiencing the best of both worlds. He didn't miss Paxtyn's arrival, and he wound up getting promoted to the big league team within a week of the birth. As fate would have it, he made his 2020 debut and earned that needed day of service in the Sunshine State, against Tampa Bay.
This time, no rental car or energy drinks were necessary. Barrett had flown with the team.
I don't want you to miss this. In a shortened season, you could get called up any day, any time. You worked so hard for this.

Kendyl Barrett, to husband Aaron
But Barrett was one of many players who ventured into the strange 2020 season without their pregnant partners, newborn babies or other immediate family members in tow, adding to the challenges of an exacting year.
Having teams travel during a pandemic was an uncharted experiment by MLB that stood at the mercy of players and staff adhering to protocols. Outbreaks on the Marlins and Cardinals threatened to scuttle the season shortly after it started. Some players waited to see how the season unfolded before having their families join them and only saw their wives and kids for brief visits, if that.
Given the complicated nature of the pandemic-shortened season and the protests in the Minneapolis-St. Paul area following the death of George Floyd that summer, Twins reliever Tyler Duffey felt it best to go solo at first when Summer Camp started. And that meant leaving his wife, Sarah, and newborn son, Teddy (who arrived in early April), back home in Houston.
"It was tough leaving them," Duffey said. "[Because of the pandemic], we had so much quality time that we never would have had [during a normal baseball schedule]. At that point, flying was so up in the air, so I drove from Houston to Minneapolis. You're sitting in the car going, 'I don't know if I want to leave. Do I even need to go at this point?'"
Some of the players who declined to play that season made their decision with newborn children in mind. Buster Posey and his wife, Kristen, who already had 8-year-old twins (son Lee and daughter Addison), had just finalized the adoption of twin girls Ada and Livvi, who were born prematurely at 32 weeks. Not wanting to put his babies at risk, the Giants' star catcher walked away from the season and his $8 million prorated salary.
"From a baseball standpoint, it was a tough decision," Posey said at the time. "From a family standpoint and feeling like making a decision to protect our children, I think it was relatively easy."
It was not easy for Montero to say goodbye to his wife and son after his brief return to the Dominican Republic after the birth. But Summer Camp was starting, and he had a job to do.
From a baseball standpoint, it was a tough decision. From a family standpoint and feeling like making a decision to protect our children, I think it was relatively easy.

Buster Posey, on not playing in 2020
"I cried when I had to leave my wife and baby behind, I won't lie," he said. "That was one of the most difficult things I have ever had to do. I left my wife and new baby at home during a pandemic. That's hard, because I know the baby had lots of checkups and needs. My wife would have to Uber to the doctor, and I worried about the virus and exposure. It helped that we have a big support team, but it was not easy.
"As I'm boarding the plane back to the United States, I'm thinking, 'I'm doing this for my baby. I'm doing this for my wife. I'm going to work for them.'"
* * * * * *
The Cobb family had decided that Alex would not go to work alone. He had missed virtually the entire 2019 season with a hip injury that required surgery, so 2020 was vital for him, but staying together was vital for the Cobbs -- even if it meant Kelly flying at 37 weeks pregnant.
Kelly visited her obstetrician in Arizona the morning of the cross-country flight to Baltimore to get what was rather reluctant approval.
"She wasn't thrilled about it," Kelly said, "but she trusted that in the next 12 hours, I wouldn't be giving birth. She definitely said I was cutting it as close as she'll allow it."
Kelly's due date was still more than two weeks away, but she's convinced that the stress of the move is what compelled Everly's early arrival, four days after the Cobbs landed in Maryland. Kelly had only met her new Baltimore-based obstetrician two days before the birth.
"We're taking like a ninth-inning, third-out closer coming in," she said with a laugh.
As I'm boarding the plane back to the United States, I'm thinking, 'I'm doing this for my baby. I'm doing this for my wife. I'm going to work for them.'

Rafael Montero
Baseball families are accustomed to adjustment, to constant movement. They often have three home bases -- their offseason domain, their Spring Training pad and their in-season residence. And, of course, any of those can be uprooted by the vagaries of trades or free agency.
Still, even for baseball families, 2020 required an unusual amount of adaptation.
The Duffeys were separated for about six weeks before Sarah and newborn Teddy joined Tyler in Minnesota in August. As the Twins neared the playoffs in late September, the family joined the MLB-imposed bubble at a downtown Minneapolis hotel. When the Twins were knocked out of the playoffs in the first round, Duffey was sad to see the season end, but happy to escape the hotel room.
"After 10 days, we were ready to get out of there," he said. "We were pinned up in a room with a child who wanted out. [The Dodgers] were [in their bubble] upwards of a month. There are definitely going to be some stories to be told, for sure."
Ultimately, though, these are happy stories. Given so much wreckage in the world at large, family-building and family bonding carried an additional emotional heft in 2020.
"This year is hard for the entire world," Montero said. "You have to reflect and push forward when times are hard. I am just very grateful people stepped up to help us in our time of need. There are a lot of good people that help when a baby is born. That gives me hope that, God-willing, things will get better."
credits:
Anthony Castrovince has been a reporter for MLB.com since 2004. Read his columns and follow him on Twitter @Castrovince. MLB.com reporter Jesse Sanchez contributed to this story.