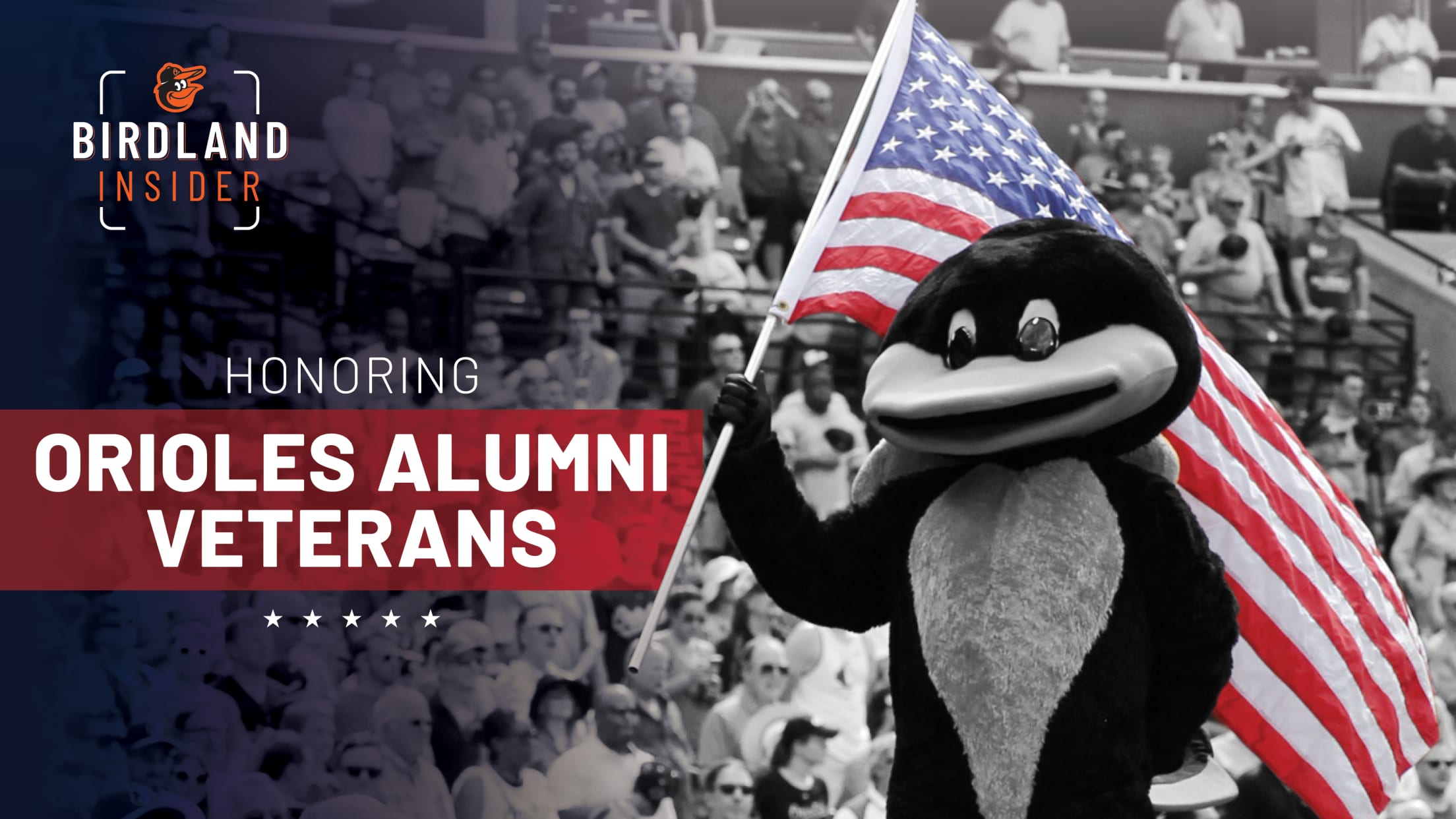 Scroll
Veterans Day Special: Lessons Learned in Vietnam Helped Make Al Bumbry a Major Leaguer  
Al Bumbry signed with the Orioles in 1968 and was in the majors four years later. But it was not a smooth nor a regular assent through the minors that got him there, nor what kept him there for 14 big league seasons.
Bumbry spent his first 13 years in the majors with the Orioles, winning American League Rookie of the Year Award in 1973, becoming the first Oriole to record 200 hits in a season, ranking among the club's leaders in numerous offensive categories, and helping win two American League pennants and a World Series championship.
But Bumbry's ascent to becoming an Orioles Hall of Fame member did not grow out of what he learned in college or the minors. It came from the duty and responsibility he learned during the Vietnam War -- serving in the U.S. Army.
Bumbry was an ROTC student and basketball player at Virginia State and didn't play baseball until his senior year, when he batted .578 and was drafted by the Orioles. He played just 35 games for the Orioles' Class A Stockton farm team in 1969, batting just .171, before being called to active duty in the U.S. Army.
As a second lieutenant, he spent a year at Fort Meade, near Baltimore, before being sent to Vietnam, as a tank platoon leader. He spent 11 months in Vietnam, in charge of the safety of nine vehicles and 45 men.
"As the platoon leader, I was responsible not only for my life, but for the men in my platoon," Bumbry said. "We had to go out in the jungle [in Vietnam] and I remember my commander telling me, 'This war was going on before you got here and it will be going on after you leave. Your main objective is to see that you and your men get home safely.' You can't neglect your responsibilities, but your main objective was to get yourself and your men home safely.
"I always kept that in the back of my mind"
Once, his platoon intercepted a large shipment of supplies heading for Viet Cong military. For that, he was awarded a Bronze Star.
After his tour was up, between his dismal batting average in his brief stint in the minors and his nearly two years in the service, Bumbry wasn't sure what would become of his baseball career. But he knew one thing: his time in the military, and particularly in Vietnam, had taught him invaluable life lessons.
"Being responsible for other lives, I think it made me focus more. I'm sure it changed me," he said.
When he returned in 1971, he batted .336 for the Orioles' farm team in Aberdeen, S.D. The next season, he batted .345 between Double-A Asheville and Triple-A Rochester before earning a September call-up to the Orioles. He earned the AL Rookie of the Year Award in 1973 and finished out his 14-year career in 1985 with a .281 batting average, with 1,422 hits and 254 stolen bases.
"People ask how did I do so poorly in the minors that first year, not play for two more years, and then come back and make it to the big leagues so quickly. The answer I gave then and I give now is the changes I went through going to Vietnam and the maturity factor," Bumbry said. "I think I realized that I had been in a do-or-die situation, that I was responsible not just for my life but for other men as well. It must have made me focus more on what I had to do and what my responsibilities were.
"After that, baseball just didn't seem as hard as it was before."
Bumbry is one of 10 major league players to have served in Vietnam, and the only former Oriole. He is one of numerous Orioles players to have served in the military -- either before they became Oriole players or after -- and one of a number to serve in combat. He is one of the many people we celebrate on Veterans Day for having served in the Armed Forces.
Orioles players who served during World War II
Cal Abrams, George Bamberger, Neil Berry, Vern Bickford, Mike Blyzka, Bob Boyd, Harry Byrd, Joe Coleman, Clint Courtney, Billy Cox, Harry Dorish, Walt Dropo, Jim Dyck, Hoot Evers, Joe Frazier, Jim Fridley, Joe Ginsberg, Billy Goodman, Ted Gray, Jack Harshman, Grady Hatton, Jehosie Heard, Connie Johnson, Ernie Johnson, Bob Kennedy, Lou Kretlow, Dick Kryhoski, Bob Kuzava, Don Lenhardt, Whitey Lockman, Hank Majeski, Fred Marsh, Morrie Martin, Sam Mele, Eddie Miksis, Ray Moore, Les Moss, Ray Murray, Buddy Peterson, Dave Philley, Dave Pope, Robin Roberts, Eddie Robinson, Art Schallock, Lou Sleater, Bobby Thomson, Eddie Waitkus, Vic Wertz, Wally Westlake, Bill Wight, Hoyt Wilhelm, Gene Woodling and George Zuverink.
Managers and coaches who served during World War II
Luke Appling, Hank Bauer, Cal Ermer, Luman Harris, Billy Hitchcock, Vern Hoscheit and George Staller.
Orioles players who served during the Korean War
Mike Blyzka, Jackie Brandt, Pete Burnside, Foster Castleman, Art Ceccarelli, Joe Durham, Don Ferrarese, Jim Finigan. Tito Francona, Lenny Green, Harvey Haddix, Whitey Herzog, Art Houtteman, Dick Hyde, Godron Jones, Bob Kennedy, Dick Kokos, Don Larsen, Charley Lau, Ken Lehman, Billy Loes, Billy O'Dell, Chuck Oertel, Erv Palica, Al Pilarcik, Arnie Portocarrero, Carl Powis, Norm Siebern, Gus Triandos, Bob Turley and Ozzie Virgil.
Orioles players who served during the Vietnam War
Frank Baker, Mark Belanger, Gene Brabender, Al Bumbry, Rick Dempsey, Dan Ford, Dave Leonhard, John Lowenstein, Curt Motton, Mickey Scott and Earl Stephenson.
EDDIE ROBINSON: FORMER ORIOLE, WW II VETERAN, OLDEST LIVING MLB PLAYER
Eddie Robinson enlisted in the Navy after the 1942 baseball season and was sent to the Naval Training Station in Norfolk, Va., where he served until the fall of 1945. Prior to his time in the service, Robinson had spent the 1942 season with the International League Baltimore Orioles before being called up in September by the Cleveland Indians.
At Norfolk, he played on the base's baseball team, helping the Naval Training Station Bluejackets win the All-Navy championship in 1943. When he returned to professional baseball in 1946, he again spent the season with the minor league Orioles before a September recall by the Indians, and went on to play 13 seasons in the majors. He spent the month of September 1957 with the big league Orioles, finishing his playing career, and stayed on for two more seasons as an Orioles coach.
Robinson, who will turn 100 years old on Dec. 15, is oldest living former major league player and the last surviving member of the 1948 Cleveland Indians World Series championship team. He lives in Fort Worth, Texas.
The Orioles are proud partners with Fort George G. Meade and strive to enrich the lives of their servicemen, women, and their families through events, youth clinics, and days at the ballpark.
Earlier this year, the Orioles embarked on their first-ever Birdland Caravan, three-day winter tour, where Orioles players, coaches, alumni, prospects, and announcers participated in a number of community service projects with local organizations, including Fort Meade Military Base. Orioles Executive Vice President and General Manager Mike Elias and infielder Hanser Alberto had the opportunity to play board games with members of Better Opportunities for Single Service Members (BOSS), an organization comprised of multiple Fort Meade military sector personnel who live on the base.
In addition, the Orioles conducted an MLB "Play Ball" Activation clinic in 2019 for over 100 Fort Meade youth baseball and softball players. Orioles infielder/outfielder Stevie Wilkerson, as well as Orioles alumni Larry Bigbie, Ken Dixon, and Larry Sheets taught baseball fundamentals with a focus on base running, fielding, hitting, and throwing. This annual clinic has been a staple in the partnership between the Orioles and Fort Meade but was cancelled in 2020 due to COVID-19.