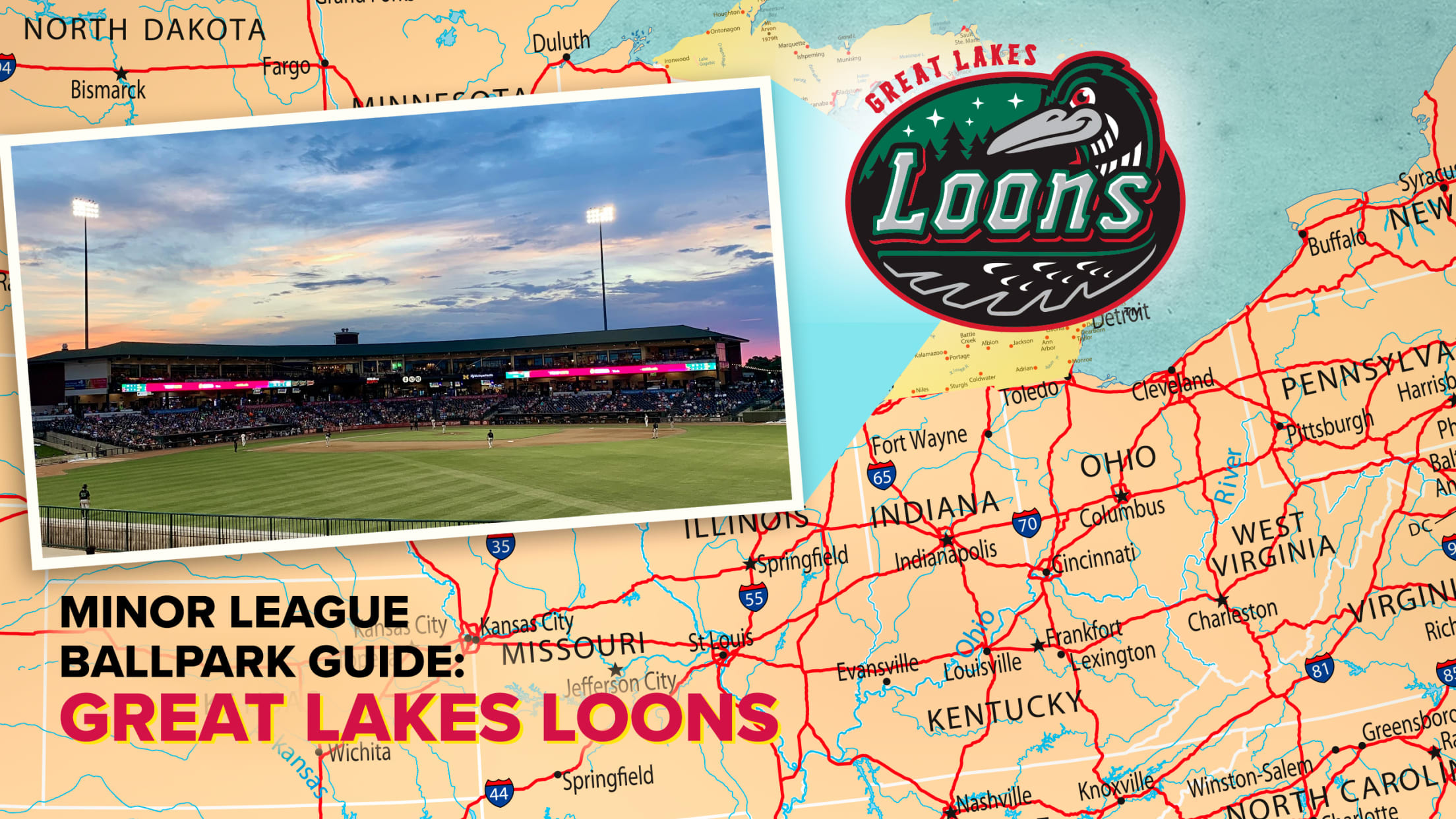 Scroll
Explore Great Lakes' Dow Diamond
Welcome to Dow Diamond, where the stadium is state-of-the-art, the hometown crowd does the Funky Feather and the Great Lakes Loons, High-A affiliate of the Los Angeles Dodgers, encourage visitors to dive into the fun of an immersive Minor League Baseball experience.
Great Lakes Loons (High-A affiliate of the Los Angeles Dodgers since 2007)
Established: 2007
Ballpark: Dow Diamond (opened April 13, 2007)
League: Midwest League, East Division
Championships: 2016
Alumni: Clayton Kershaw, Carlos Santana, Dee Strange-Gordon, Julio Urías, Corey Seager, Alex Verdugo, Walker Buehler, Gavin Lux, Dustin May
With the Blue Jays, Cardinals and Orioles representing the feathered set in the Majors, the Midwest League's Great Lakes Loons are among the finest franchises to carry the tradition of baseball's ornithophilia to the Minors.
The Loons, with roots dating the Michigan Battle Cats franchise of Battle Creek in 1995, were established in 2007 as a Dodgers affiliate and, with a relationship noteworthy for its stability, have remained one since.
All the while, the Great Lakes club has carved out a unique identity and earned a devoted fan base. One visit to Dow Diamond makes it clear the Loons are not just for the birds.
Dow Diamond sits just inside the thumb of the mitten that is Michigan, not 20 miles from the shores of Lake Huron on the banks of the Tittabawassee River. The Loons' home park was named Ballpark Digest's best new park when it opened in 2007, and it's still a widely recognized gem.
It doubles as a well-rounded community center (hosting concerts, catered events, expos and festivals) for Midland -- a friendly and outdoorsy town of some 42,000 -- and all of Central Michigan.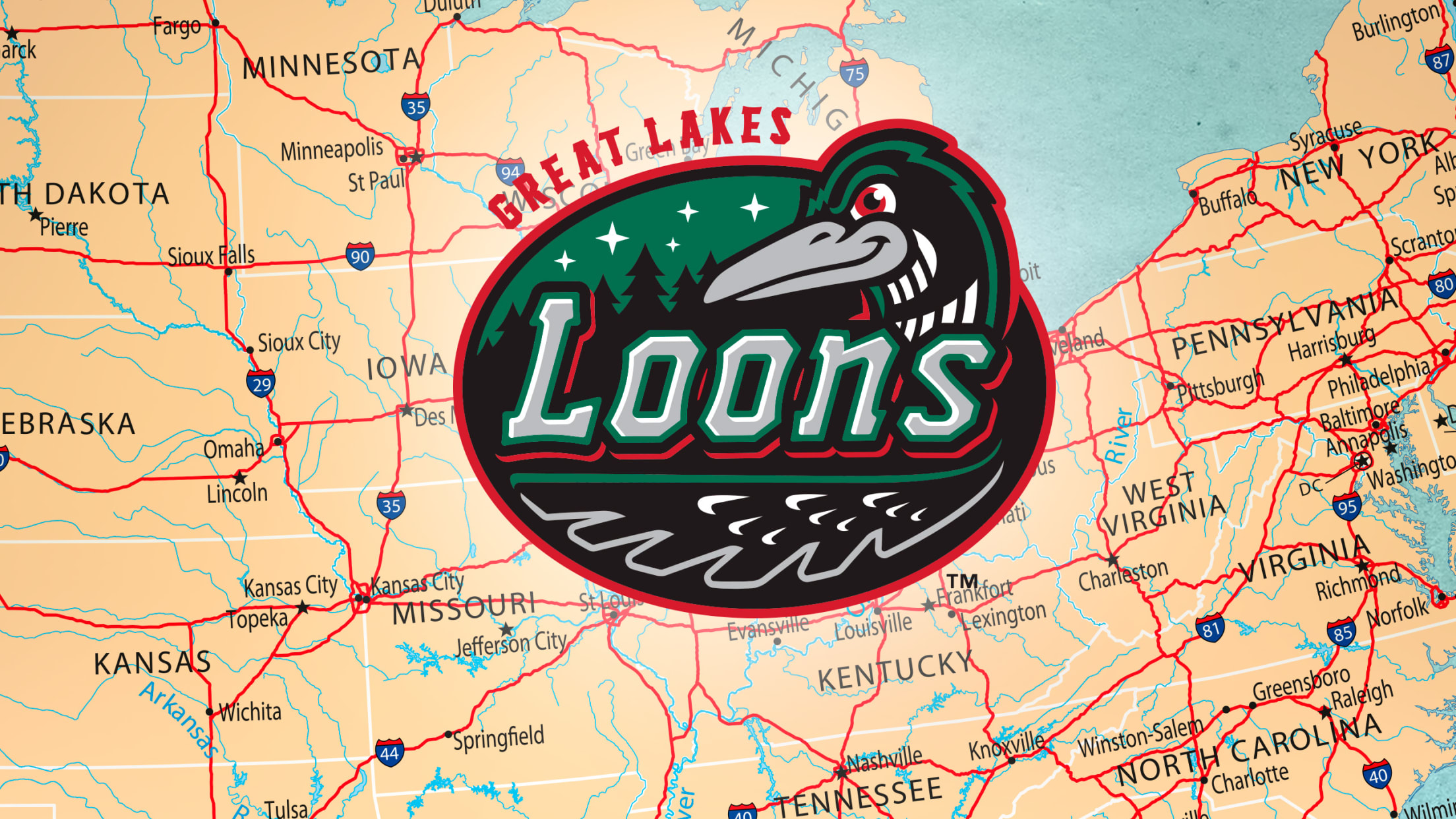 While the Minors have a long history in Michigan, the Loons are a relatively new arrival. If you're looking for a site where hordes of Hall of Famers played in their youth and multiple generations have grown old, you can find it elsewhere on this trip (Saginaw, 30 miles from Midland, had a team as early as 1883), but Dow Diamond isn't the spot.
What that translates to, though, is a venue with that "new ballpark smell," so to speak, still sparkling with state-of-the-art features throughout. The Loons are a franchise born and bred in an era when a wonderful, family-friendly fan experience at a Minor League park was the main priority for any team interested in putting rear ends in seats. Having prospects from the perennially intriguing Dodgers system ensures a quality product on the field, and the Great Lakes front office does all it can to foster an equivalent atmosphere in the stands. There's plenty to see, do and eat.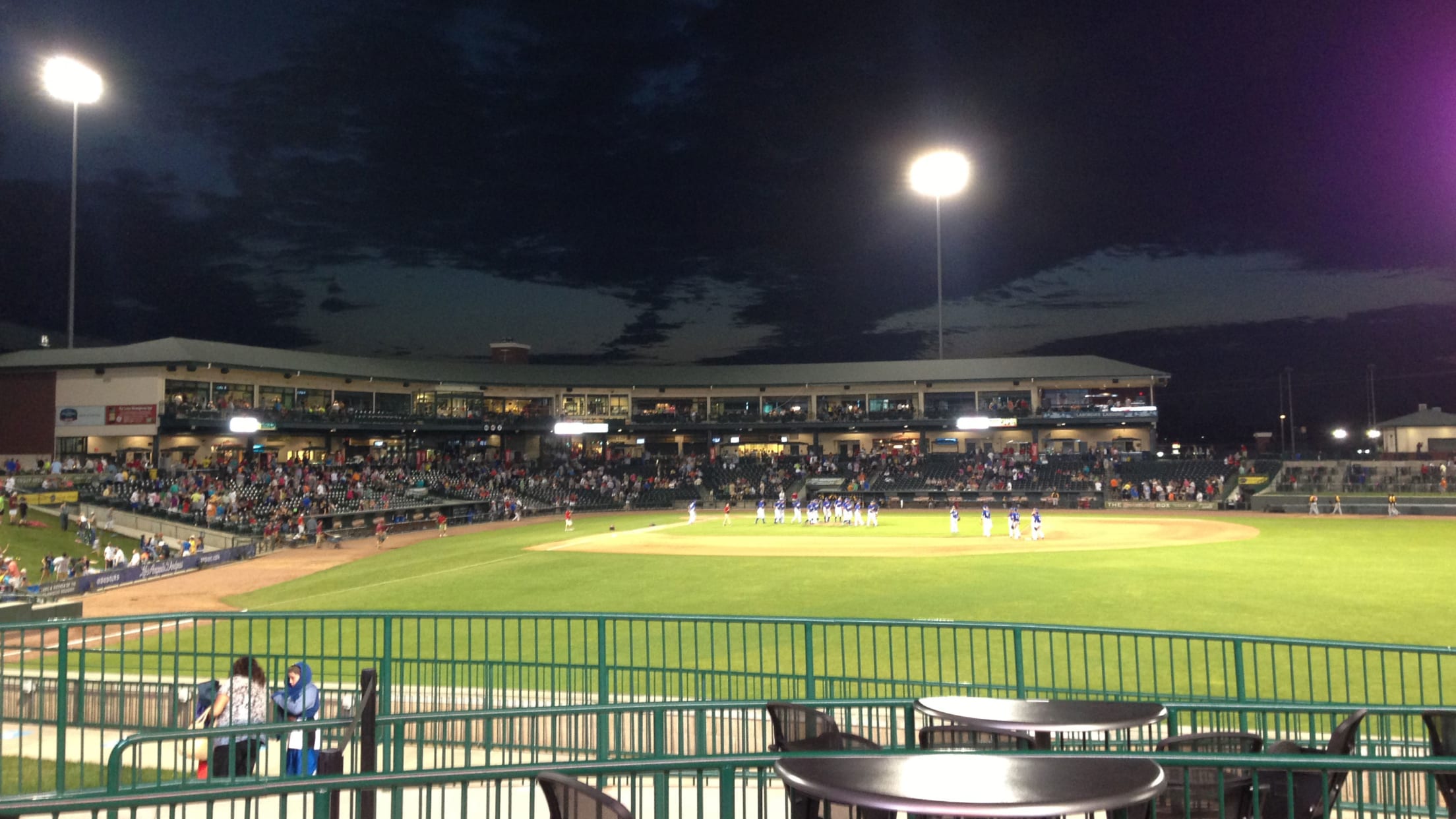 But that doesn't mean that the ballpark is easily mistakeable for an amusement park where a ballgame happens to be going on. Great Lakes fans are passionate about baseball, and they have their own unique rooting culture.
Take, for example, the Funky Feather. Through this loony, arm-pumping dance, the Midland faithful express encouragement, excitement and ecstasy.
In a reasonable world, the Loons' rallying call would be the stirring avian cry beloved (or be-hated) by lakeshore sleepers in tents and cabins across America's northern forests. But the world of Minor League Baseball defies reason, and so when the Loons are down and nearly out, they unleash the rally camel. Specifically, they unleash Rall E. Camel, a first-class secondary mascot.
This tradition has inspired the Loons to play some games as the Great Lakes Camels. You can catch them thusly monikered and bedecked on a Wednesday, naturally -- it is Hump Day.
The Loons also suit up as Los Pepinillos Picante del Norte for Copa de la Diversión games, with "del Norte" paying homage to both the Tejano influence on Hispanic communities in Michigan and to the phrase long-used by migrant farmers traveling to the region to harvest, among other crops, one of the area's signature products: the pickle, or pepinillo.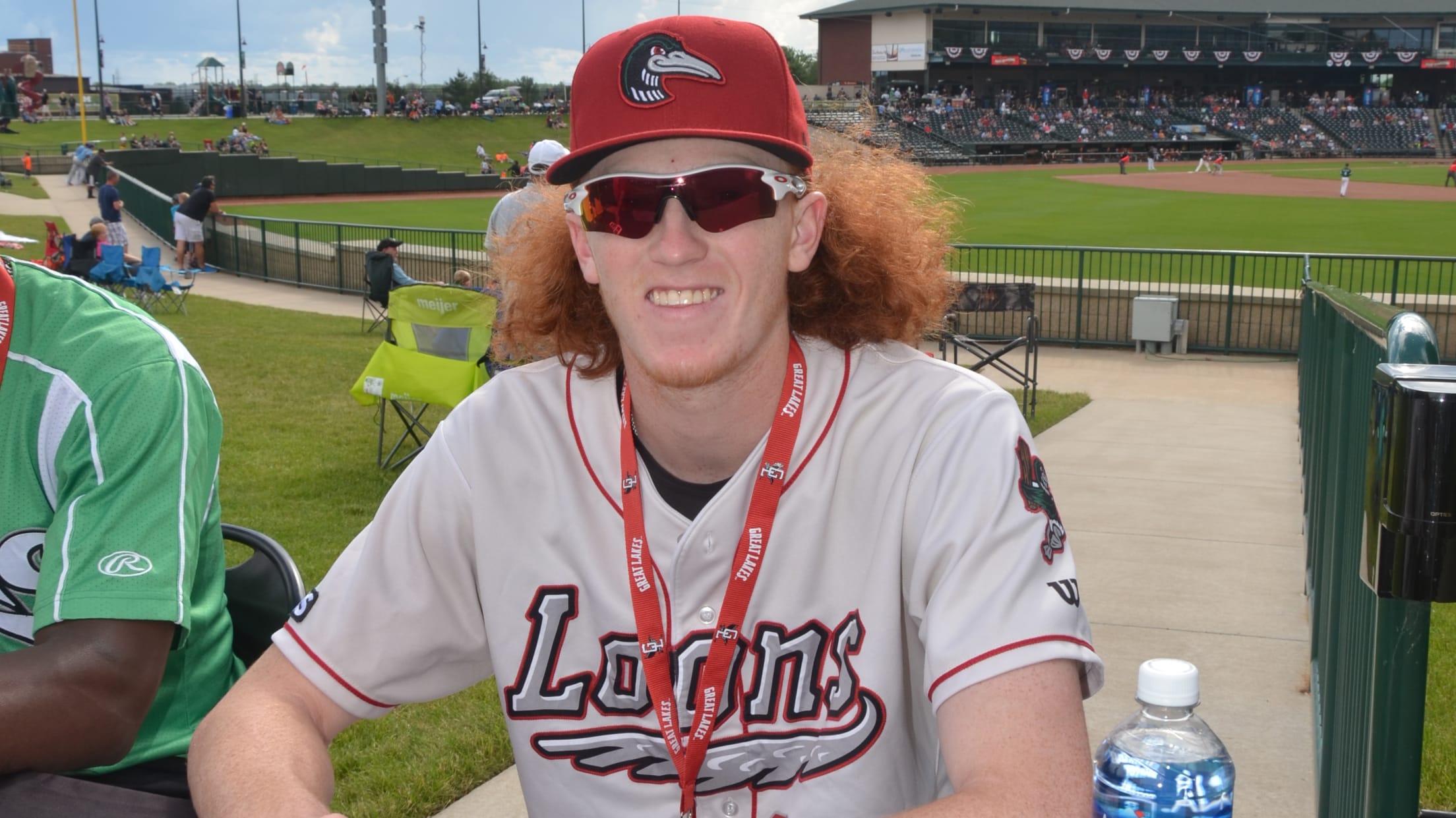 And the relatively recent advent of the team should not suggest Midland itself is lacking a deep and complex history.
Dow Diamond's very name provides a hint at Midland's cultural significance. Herbert Henry Dow, who discovered in the 1880s that Midland was rich in bromine and went on to become a pioneer of bromine extraction, founded his company there in 1897, and Dow Chemical is headquartered in Midland to this day.
The philanthropic and civic-mindedness of both the Dow family and the corporation are much in evidence around town, and the connection to the team is as deep as any loon can dive.
In addition to having purchased the naming rights to the park, Dow Chemical donated the land upon which Dow Diamond is built. The Loons were founded by former Dow Chemical CEO and chairman William Stavropoulos, who, after a 39-year career at Dow (where his desk featured a bowl of baseballs signed by the likes of Brooks Robinson and Roger Clemens), transitioned to focusing his business acumen on baseball as the Loons' CEO, and the president and CEO of the Michigan Baseball Foundation, a non-profit organization which owns the Loons and Dow Diamond and holds as its mission promoting investment and vibrancy in Midland's downtown.
Features
Before you get into the stadium, Dow Diamond feels like a different kind of park -- a municipal green, for example. Tidy walkways surround the structure, encouraging a carefree pregame constitutional past manicured lawns and stately gates, along the ivy-covered exterior walls of the outfield. You'll likely note an array of solar panels in the area beyond right field.
On your way in, take a look at the Midland County Sports Hall of Fame, with plaques and memorabilia honoring local luminaries.
On the inside, Dow Diamond immediately offers a sense of open expanse. The medium-deep corners have something to do with that, but the real credit belongs to the berm seating down the right-field line and the open pocket of greenery out in left.
Up above the berm down the line is right is Lou E.'s Lookout, an impressive play area named after the Loons' mascot. Opposite Lou E.'s Lookout across the park is a pavilion for group seating, and behind that an outdoor drink area situated along the third-base line, known as The Cove.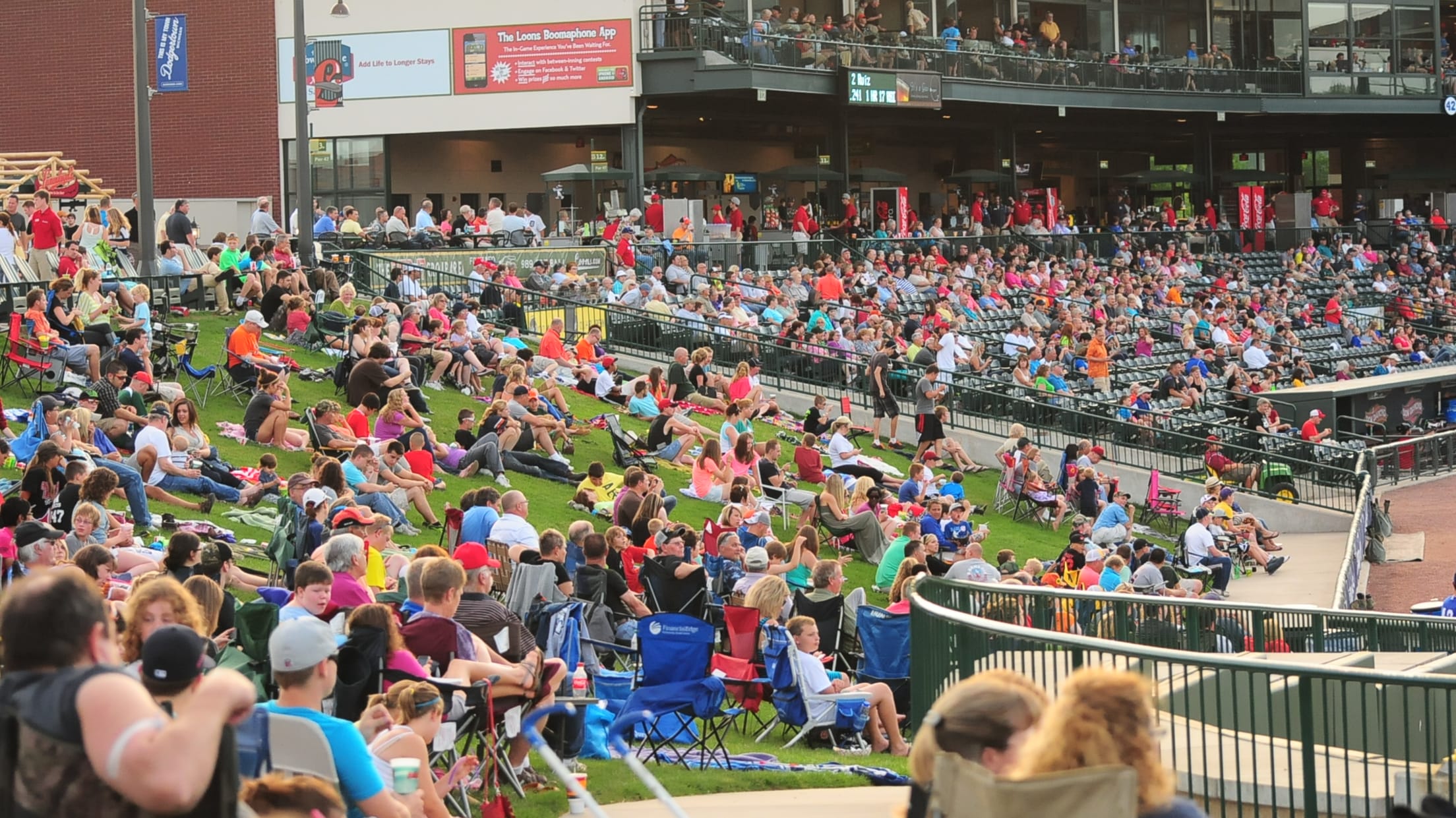 While those elements make the biggest part of the yard feel welcoming and intimate, Dow Diamond has another amenity that makes the place downright cozy on an April's night: fireplaces.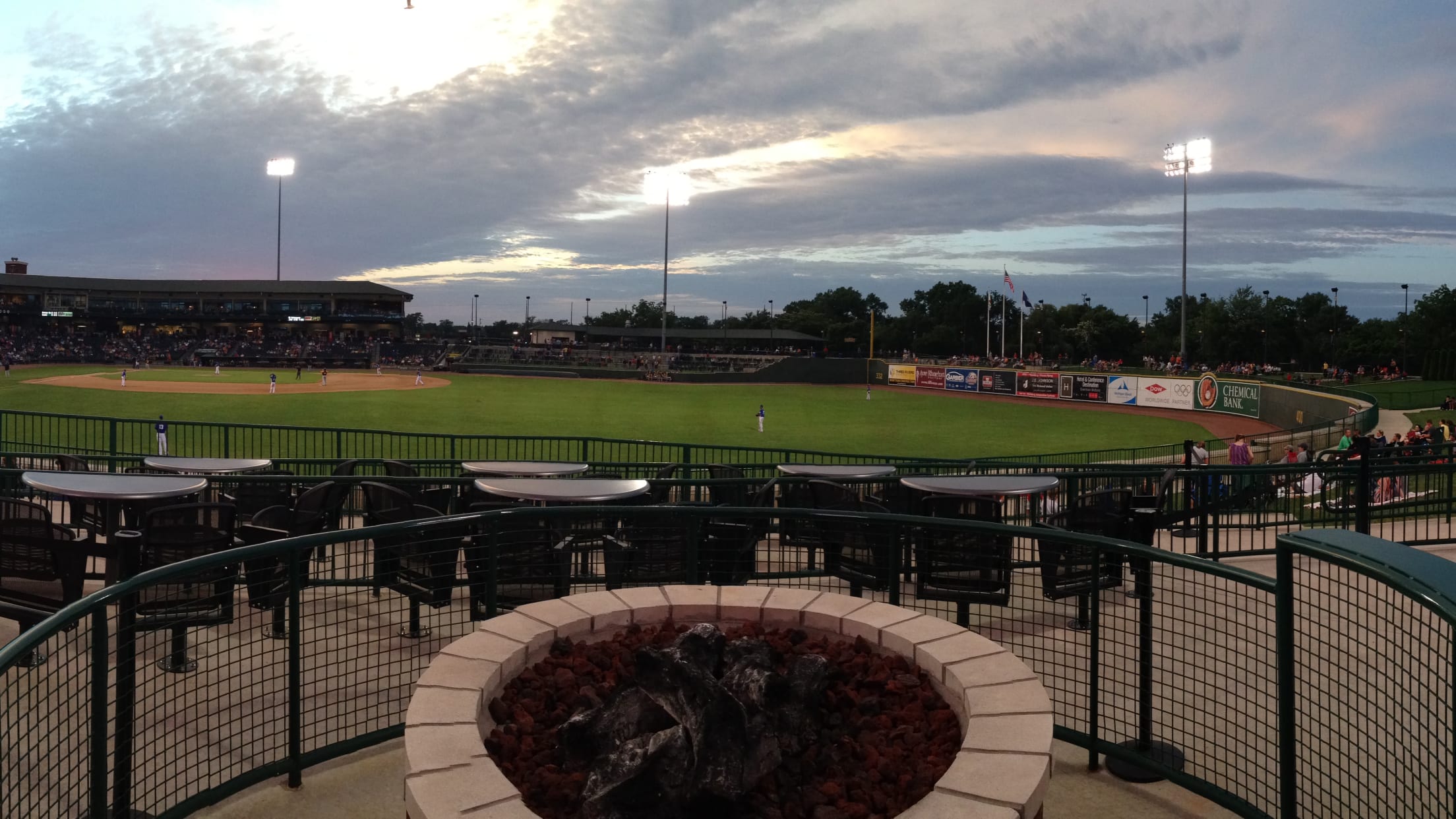 When you're scoping out the ticket situation, you might notice that Dow Diamond is without bleachers. That means every fan -- princess and pauper alike -- sits in a seat like a king.
Concessions
On top of any standard ballpark fare you'd expect to find at a Minor League game, the Loons have long served up premium (but baseball appropriate) grilled and barbecued dishes like bratwurst, pulled pork, Philly cheesesteak and brisket. Looking for something lighter? Fear not. The team has often partnered with local healthcare providers and networks to feature a variety of nutritious choices.
Also be sure to look for special Latin-influenced flavors when Great Lakes is playing as Los Pepinillos Picante del Norte.
Mascot
A native of the Tawas Point area on Lake Huron, avid baseball fan Lou E. Loon moved to town when he heard Midland was getting a team. The big bird -- he's listed at 6-foot-5 and 320 pounds -- represents big fun to Loons fans, who've come to love him for his loony and sometimes mischievous sense of humor.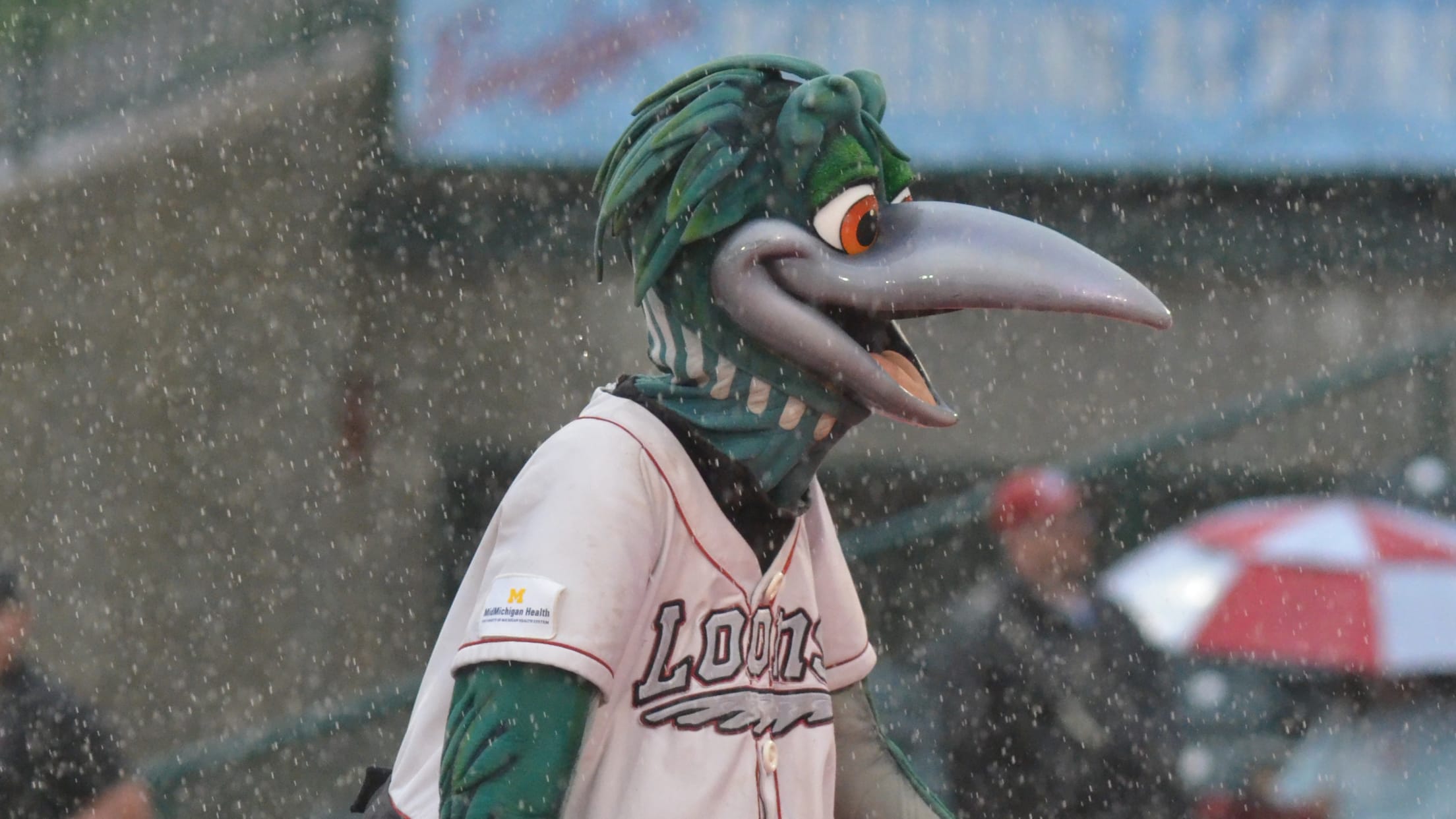 When he's not at Dow Diamond, Lou E. Loon is likely to be spotted at community events throughout Central Michigan.
And, of course, don't forget the aforementioned Rall E. Camel, because he won't forget you. Famously, camels never forget.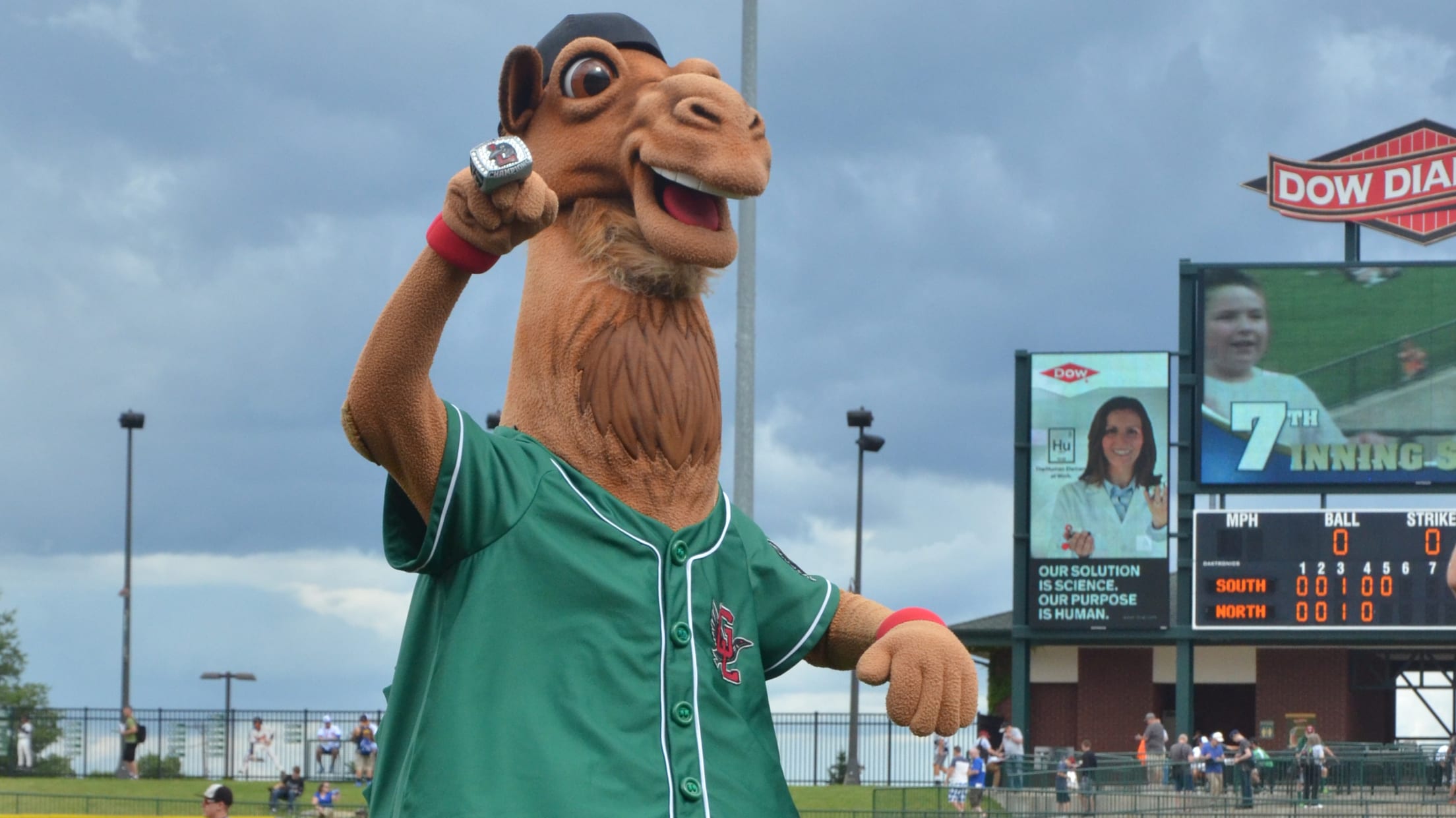 Right? Anyway... meet this one even once, and his dry wit is sure to stick in your memory.
Local attractions
Of the many things to see in the area, the Dow Gardens -- right in Midland -- rates the highest recommendations. That makes sense, as it's a single destination that checks off a lot of boxes and covers a lot of ground -- literally. A botanical garden spread out over more than 100 acres, Dow Gardens was originally the family estate of the aforementioned Herbert Henry Dow and the home -- called The Pines of Dow Gardens, dating to 1899 -- is designated a National Historic Landmark. But The Pines is only a part of the vast grounds and one of numerous worthwhile things to see there.
And why call it quits after one historic Dow family house?
Alden B. Dow, son of chemist Herbert Henry Dow, grew up to become a renowned architect. After apprenticing with Frank Lloyd Wright in Wisconsin, the younger Dow returned home to Midland and began an illustrious 50-year career that put his imprint on buildings of all kinds all over the United States, but especially in Midland. The Alden B. Dow Home & Studio is one of many buildings he designed in town, and the best place to learn about his work.
He also designed the Grace A. Dow Memorial Library, which serves as the public library for Midland and a few surrounding townships and is worth a visit.
After checking out the stacks and assorted Dow dwellings, you'll probably want get into nature. This is a great place for outdoor adventures. In addition to the Dow Gardens and the beautiful Dahlia Hill garden, there are thousands of acres of parks offering opportunities you won't find anywhere else.
For example, you can cross a bridge in dozens of Minor League towns, but here is your chance to cross a tridge. Not just a tridge, but The Tridge.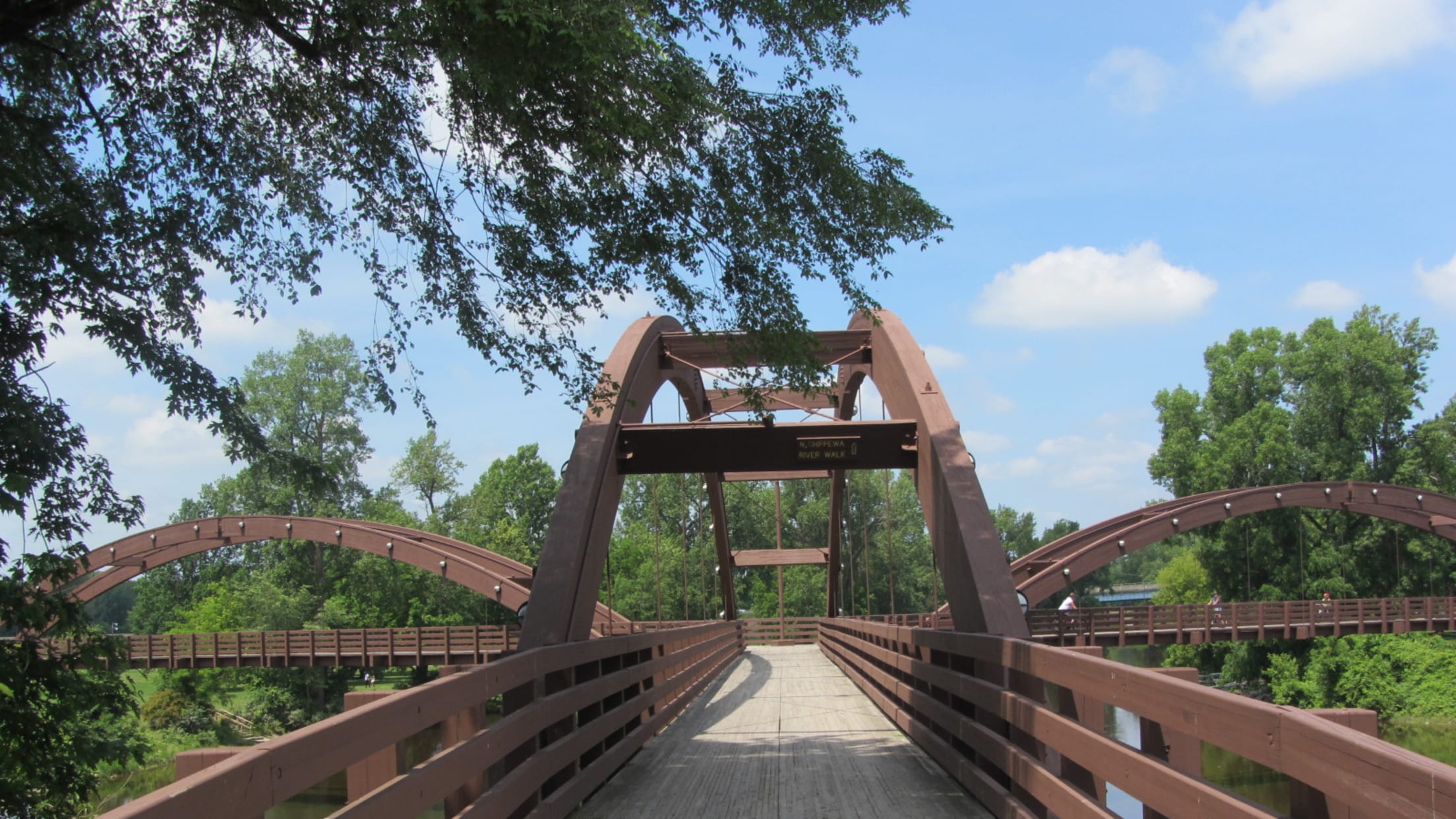 Built in 1981, The Tridge spans the confluence of the Tittabawassee River and the Chippewa River, providing a three-way connection to the central, southern and western parts of town via a handsome wooden footbridge (er, foot-tridge).
You might use it as a launching point for the Pere Marquette Rail-Trail (which can take you clear to Isabella County -- 28 miles) or a number of other trails, byways or bikeways through or in the vicinity of the Chippewa Nature Center.
Food and drink
Aster, just a 10-minute walk from the ballpark, earns praise far and wide for its farm-to-table dining experience. With a menu focused on local and seasonal ingredients, it's the product of Midland native Lisa Kuznicki and her husband, Evan Sumrell. The couple -- both veterans of the restaurant industry -- met in Chicago and dreamed of opening a restaurant of their own. Aster is it.
Within a few blocks, you'll find food options for any mood, palate or dietary preference. Get barbecue at Molasses Smokehouse, Italian at Gratzi, Parisian at Crepes et Amis or a proper taco at Proper Taco.
The Midland Brewing Company, proudly noting that Michigan was the first state to ratify the 21st amendment (which repealed Prohibition), picks up the mantle of a brewery that opened two years later, in 1935. Reintroducing the world to the moniker, it opened in 2010 to kickstart a craft beverage renaissance.
Whichcraft Taproom, Larken Beer Garden and Three Bridges Distillery and Taproom have all become vibrant spots on the scene.
There are many Michigan-specific culinary delights to be enjoyed throughout the state (cherries over in Traverse City, fudge up in Mackinaw City, pasties in the Upper Peninsula, smoked whitefish in Charlevoix, everything at Zingerman's Deli down in Ann Arbor, to name a few examples), and one of the most beloved is a 40-minute drive from Midland. On your way into or out of town, make a detour to Zehnder's in Frankenmuth for the family-style chicken dinner or some Great Lakes walleye.
Lodging
A visitor who favors hotels will find a couple options an easy, breezy walk from the ballpark -- also central to many of the aforementioned restaurants and attractions -- and multiple choices not a 10-minute drive up Eastman Avenue, near the Midland Mall.
Thinking about camping? It's a good thought. On the eve of a Loons game, you can fall asleep to loon calls.
Bay City State Park, on the shores of Lake Huron's Saginaw Bay, is about a 25-minute drive from the ballyard. Black Creek State Forest, on Sanford Lake, is even closer and offers a quieter and more secluded stay -- although you'll want to be sure to reserve far in advance, as it has far fewer campsites than Bay City State Park.
Moving on
For great Minor League Baseball, you can go just about anywhere from Midland.
Michigan is replete with three Midwest League teams (the Loons, the Lansing Lugnuts and the West Michigan Whitecaps) and there's another just over the Indiana border (the South Bend Cubs) and another just over the Ohio border (the Toledo Mud Hens).
In a freakishly convenient geographical fact, an ambitious traveler could fly into Detroit, catch a Tigers game and then spend a week hitting all five of those Minor League venues before heading back to the airport in Detroit -- with a total of about 14 hours behind the wheel spread over the whole trip.
Approaching the question of an itinerary from a north-south axis rather than a circular mindset, one could hit the Loons, the Lugnuts, the Fort Wayne TinCaps and the Indianapolis Indians with about six total hours of driving.
With that route, it'd be possible to continue on straight south -- the Louisville Bats! The Bowling Green Hot Rods! The Nashville Sounds! The Rocket City Trash Pandas! The Birmingham Barons! The Montgomery Biscuits! The Pensacola Blue Wahoos! -- until one's toes are in the Gulf of Mexico. Or until one runs out of vacation time.
For another option for a condensed trip, why not break east after Fort Wayne? Across the Ohio border, find the Dayton Dragons, Columbus Clippers, Akron RubberDucks, Lake County Captains and aforementioned Mud Hens.
But let's say after a Loons game, you want to fly the coop in a westerly direction. A drive of a couple hours will take you to Ludington, Mich., where you can board the S.S. Badger, which will ferry you across Lake Michigan to Manitowoc, Wis. About an hour after touching land, you can be at a Wisconsin Timber Rattlers game in Appleton, then check out the Beloit Sky Carp, then a Brewers game.
The Road to Los Angeles
It's a long one, and geographically circuitous. A Los Angeles farmhand traveling the system in order goes from practically next door to Dodger Stadium as a member of the Single-A Quakes in Rancho Cucamonga, Calif., out to Michigan to join the Loons, then heads to Tulsa, Okla., to play for the Double-A Drillers before making the penultimate jump to the Triple-A Oklahoma City Dodgers.
Single-A: Rancho Cucamonga Quakes
High-A: Great Lakes Loons
Double-A: Tulsa Drillers
Triple-A: Oklahoma City Dodgers