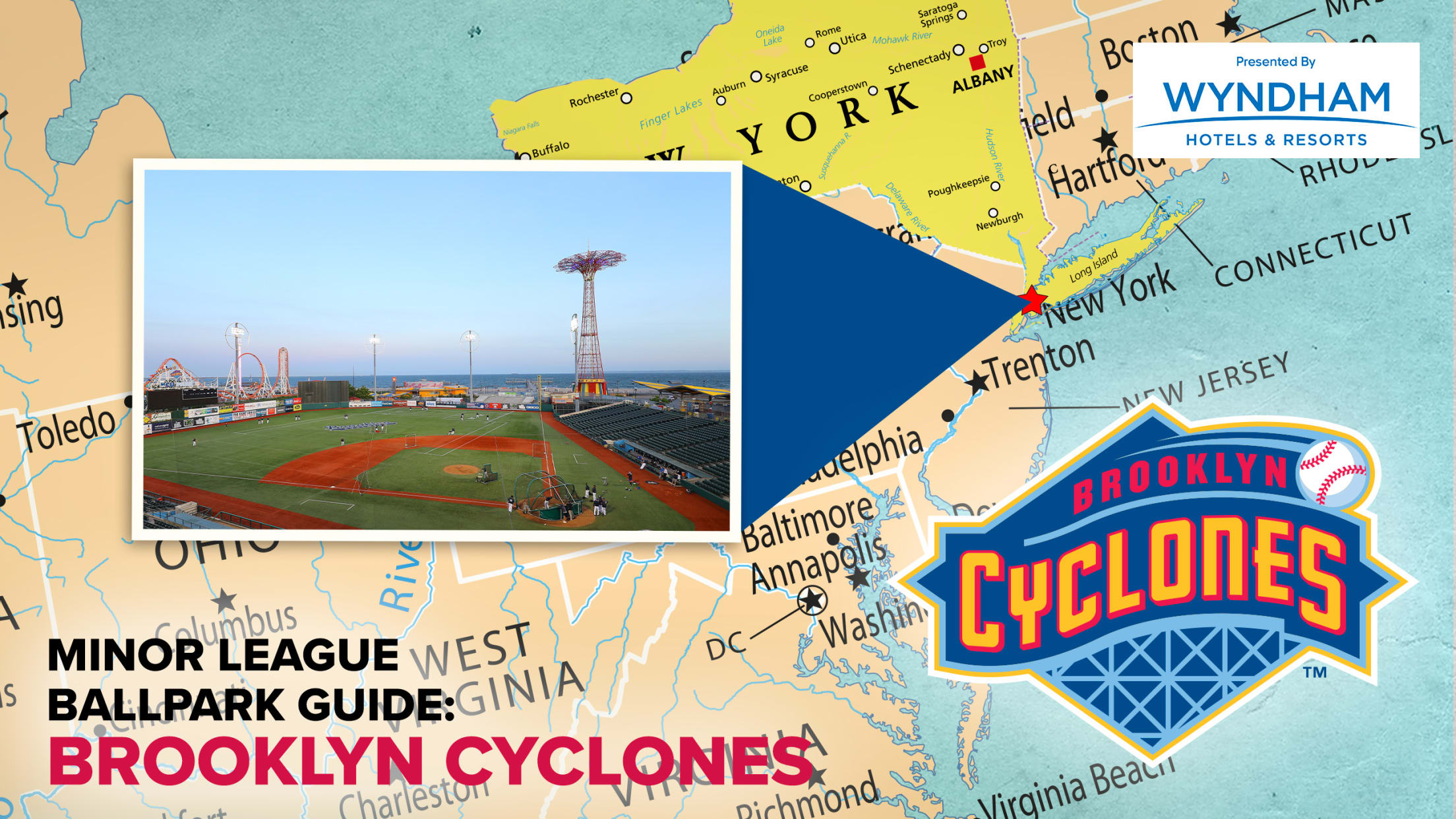 Scroll
Visit Brooklyn's Maimonides Park
Hop on the subway, ride it to the end of the line and enter a magical baseball experience. Where else -- other than your dreams -- can you get baseball, boardwalks, beaches, roller coasters and one of the oldest hot dog stands all in one place? It's Coney Island, baby.
Brooklyn Cyclones (Affiliate of the New York Mets since 2001)
Established: 2001
Ballpark: Maimonides Park (opened 2001, as KeySpan Park)
League: High-A South Atlantic League (Class A Short-Season New York-Penn League from 2001-20)
Championships: 2001 (co-champions), 2019
Alumni: Pete Alonso, Robinson Canó, Michael Conforto, Scott Kazmir, Yusmeiro Petit, Amed Rosario, and New York Mets legend and amazing Cyclones giveaway recipient, Wilmer Flores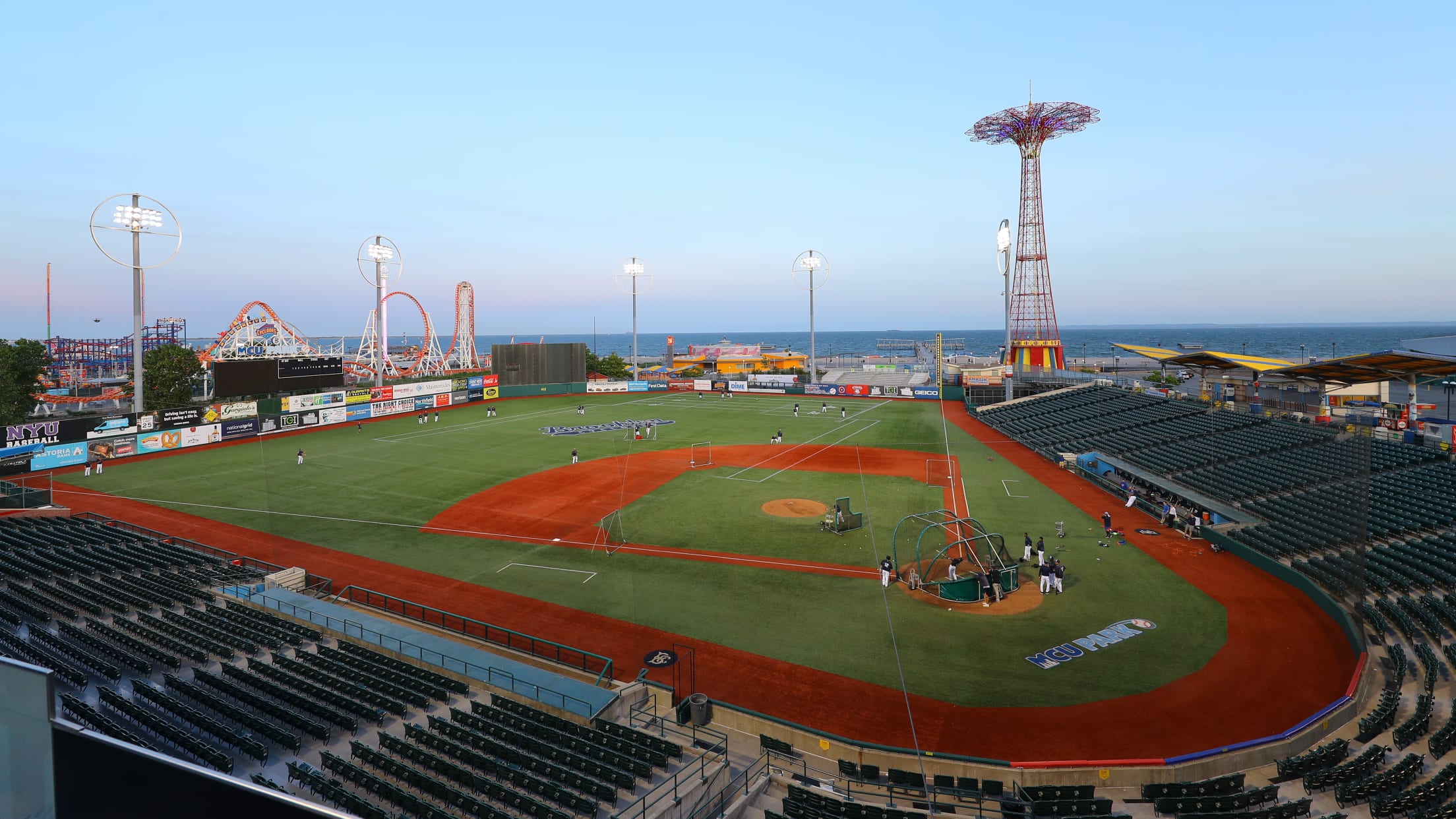 Baseball is, obviously, deep in Brooklyn's blood. Walk down a city street and you're almost as likely to see a fan in a Brooklyn Dodgers cap as you are to see the Mets or Yankees. But after the Dodgers left for L.A. before the 1958 season, Brooklyn was without a professional baseball team until 2001 when the Cyclones moved in at the end of Coney Island's pier.
However, their existence came one year prior in a different Borough: Queens. For one season in 2000, the team played as the Queens Kings -- surely Kevin James' favorite team -- with a unique green-and-purple uniform combination. The next season, the team moved to its current digs in Coney Island where they were named the Cyclones in honor of the iconic wooden roller coaster that has been around since 1927. But that's not the only bit of history: Maimonides Park is located in the former location of Steeplechase Park, which was a Coney Island attraction from 1897 until it closed its doors in 1964. There is even one attraction still standing from the Steeplechase days: The 262-foot Parachute Jump is located beyond the right field wall, and has been in Coney Island since moving from the 1939 Queens World's Fair.
Maimonides Park
Ballpark Location (via Google Maps)
Brooklyn Cyclones Roster
Brooklyn Cyclones Schedule
1904 Surf Ave
Brooklyn, NY 11224
(718) 449-8497
Capacity: 7,000 with an additional 2,500 standing seats available
Dimensions: left field, 315 feet; center field, 412 feet; right field, 325 feet
Park Factors (2021-22)
100 = league average
Runs: 82 | Homers: 64 | Hits: 95
South Atlantic League environment: 5.00 runs per team per game (fifth-highest among 11 full-season leagues)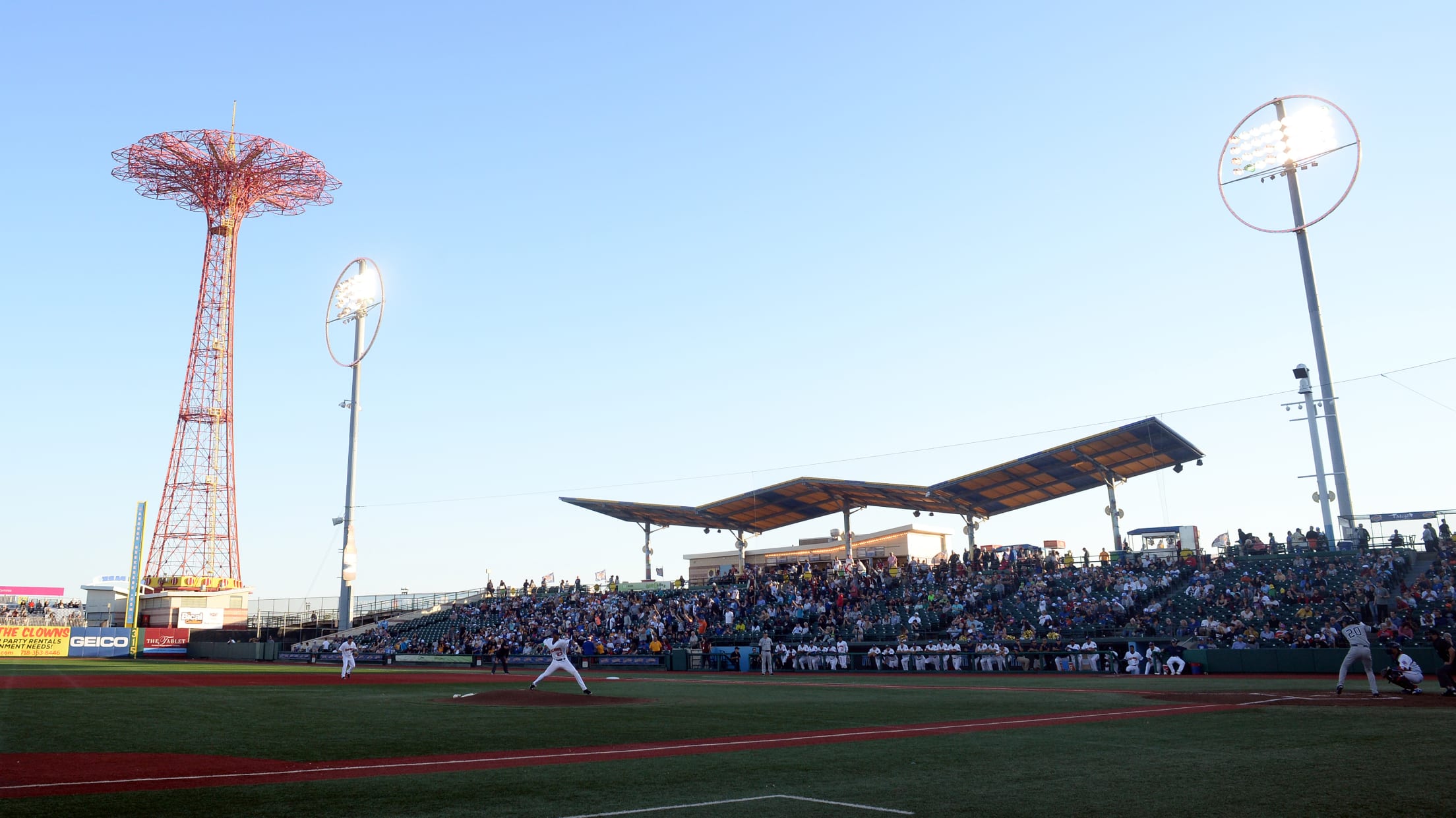 Once you walk through the gates -- after snapping a photo with the Jackie Robinson and Pee Wee Reese statue outside the entrance -- you're going to get a ballpark view that simply can't be beat. Beyond the outfield fence, you'll find a gorgeous view of the ocean, hear the excited screams of children and their families and you can watch in awe (and a little nauseous anxiety) as the theme park goers take on the death-defying rides. It's the kind of thing that looks like it was built in Triple Play Baseball rather than real life.
There is a large two-floor team store -- perfect for all your Brooklyn Cyclones gear -- which you'll need since the team keeps their promotional schedule absolutely packed with fun ideas. From their legendary Seinfeld Nights to taking part in Copa de la Diversion to great bobblehead giveaways, there is plenty of stuff you'll want to load up with before heading home.
Just be wary: The team recently converted from a short-season club to one that plays all season long. Be sure to bundle up for those April games as the wind coming off the ocean can get pretty chilly at night.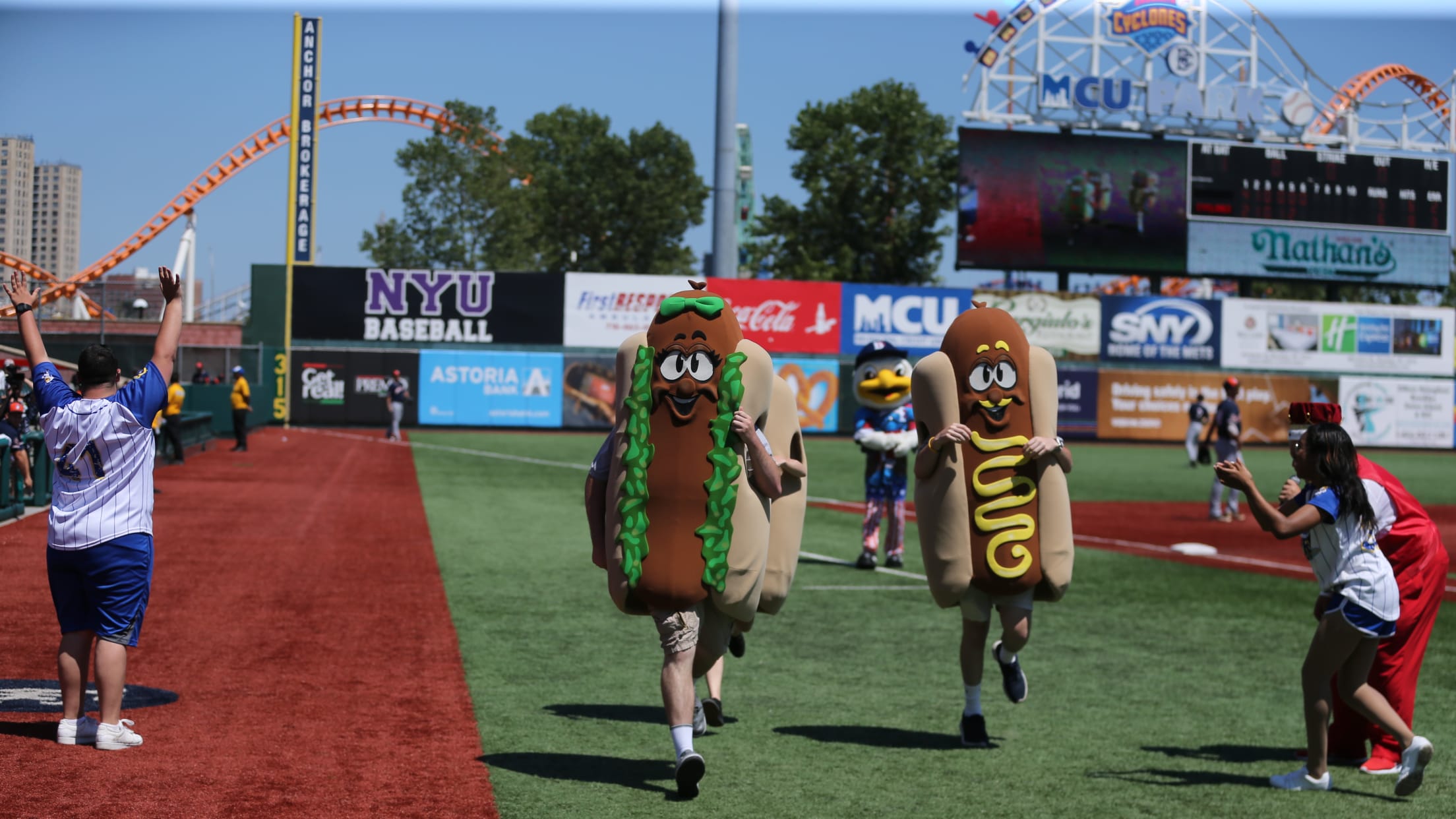 Concessions
For such a wild environment, the food at Cyclones games is actually not much different from your standard ballpark fare. Which makes sense -- if you want fried dough or fried clams or one hundred other bizarre and deep fried foods, there are more than enough options for you up and down the boardwalk. The team carries Nathan's Hot Dogs at multiple concession stands -- also serving up burgers, fries and chicken tenders -- inside the park. So, snap a pic at the iconic 106 year-old stand located on Surf Ave., but skip the long lines -- waits can sometimes take an hour -- and grab your dog inside the ballpark.
You'll also find Arancini Bros. stands serving up Sicilian-style rice balls -- a local favorite -- and, of course, ice cream.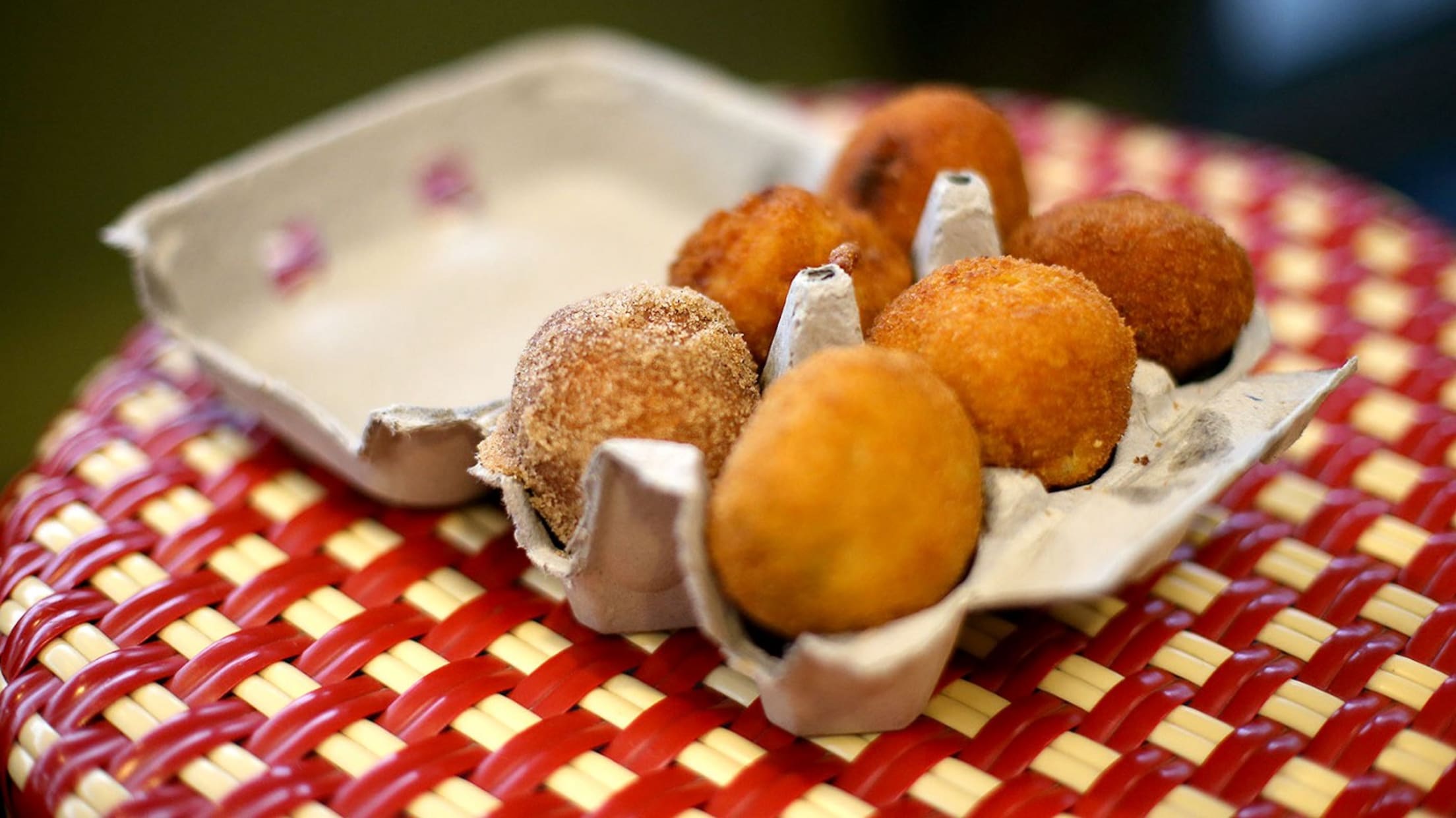 Mascot
Say hello to Sandy the Seagull. Named in honor of Sandy Koufax, Sandy -- like all good superheroes (and every mascot is a superhero of one kind or another) -- even has an origin story. His grandfather grew up a Brooklyn Dodgers fan, listening to games while perched atop a telephone pole. So, when the Cyclones moved to town, Sandy and his grandfather moved their nest to the Parachute Jump to get a closer look at the action. One day during construction of the park, Sandy fell from the nest and instead of vowing vengeance on all theme park attractions, soon became the only choice to represent the team.
Sandy's not alone, though. Look out for his son, Pee Wee, who is named after -- who else? -- legendary Dodger Pee Wee Reese.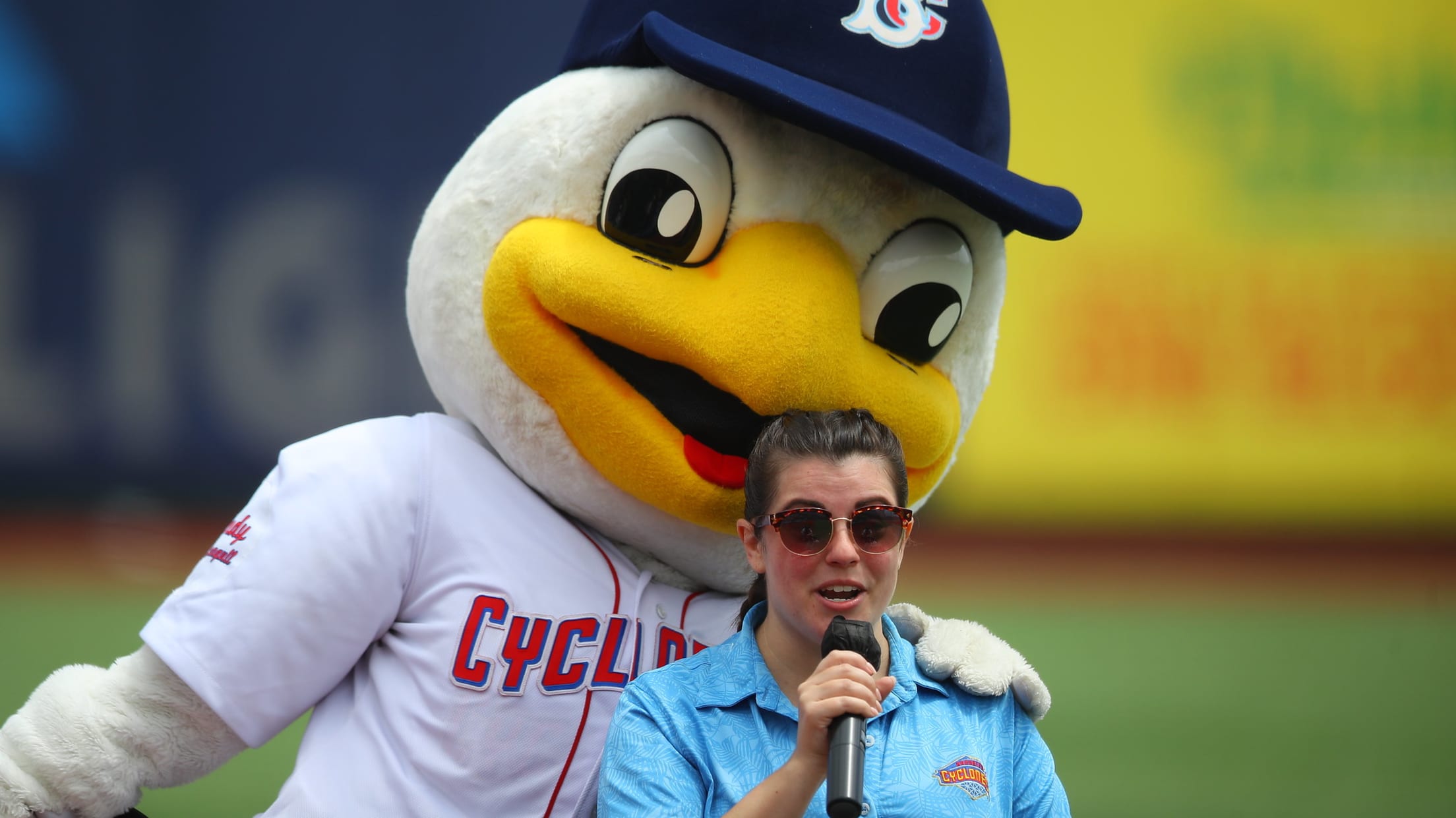 Local Attractions
This is Coney Island. The entire place is an attraction. There's the famous boardwalk, filled with all the sea, sand, and people watching you could hope for. If you choose to skip Nathan's Famous hot dog stand, there are more fried delicacies and food vendors around than any cardiologist would ever be comfortable with.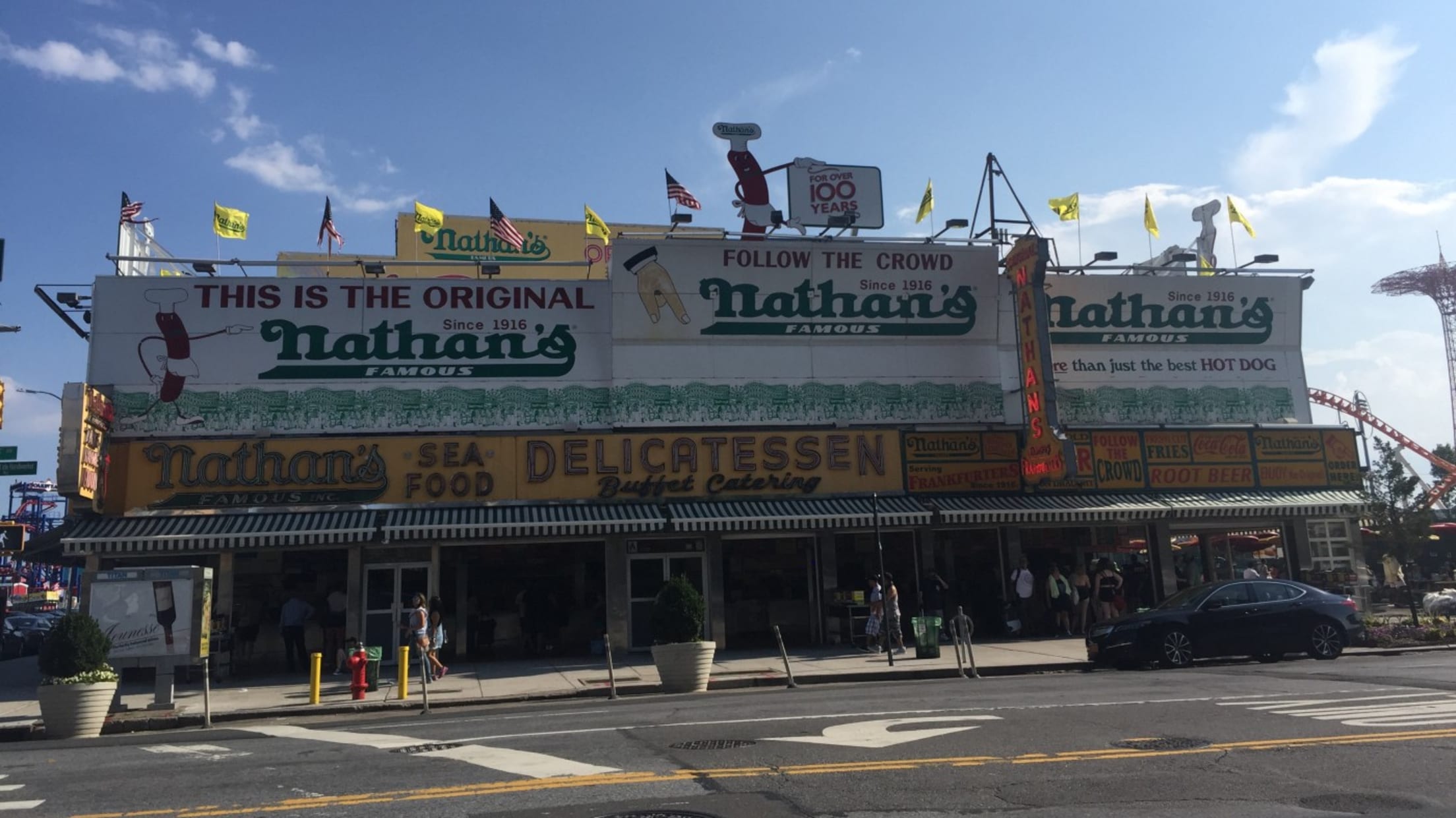 You can ride the Parachute Jump, the Cyclone, or just head over to Luna Park, an amusement park within the amusement park that is Coney Island. Head down Surf Ave. just a few blocks and there's the New York Aquarium, where you can see sharks, otters and octopi without ever having to dip your toe in the ocean.
Of course, how can you head to Coney Island and not see a classic carnival sideshow? Hit up Sideshows by the Shore for the kind of spectacle that the area was famous for -- we're talking sword swallowers, fire breathers, snake handlers and more.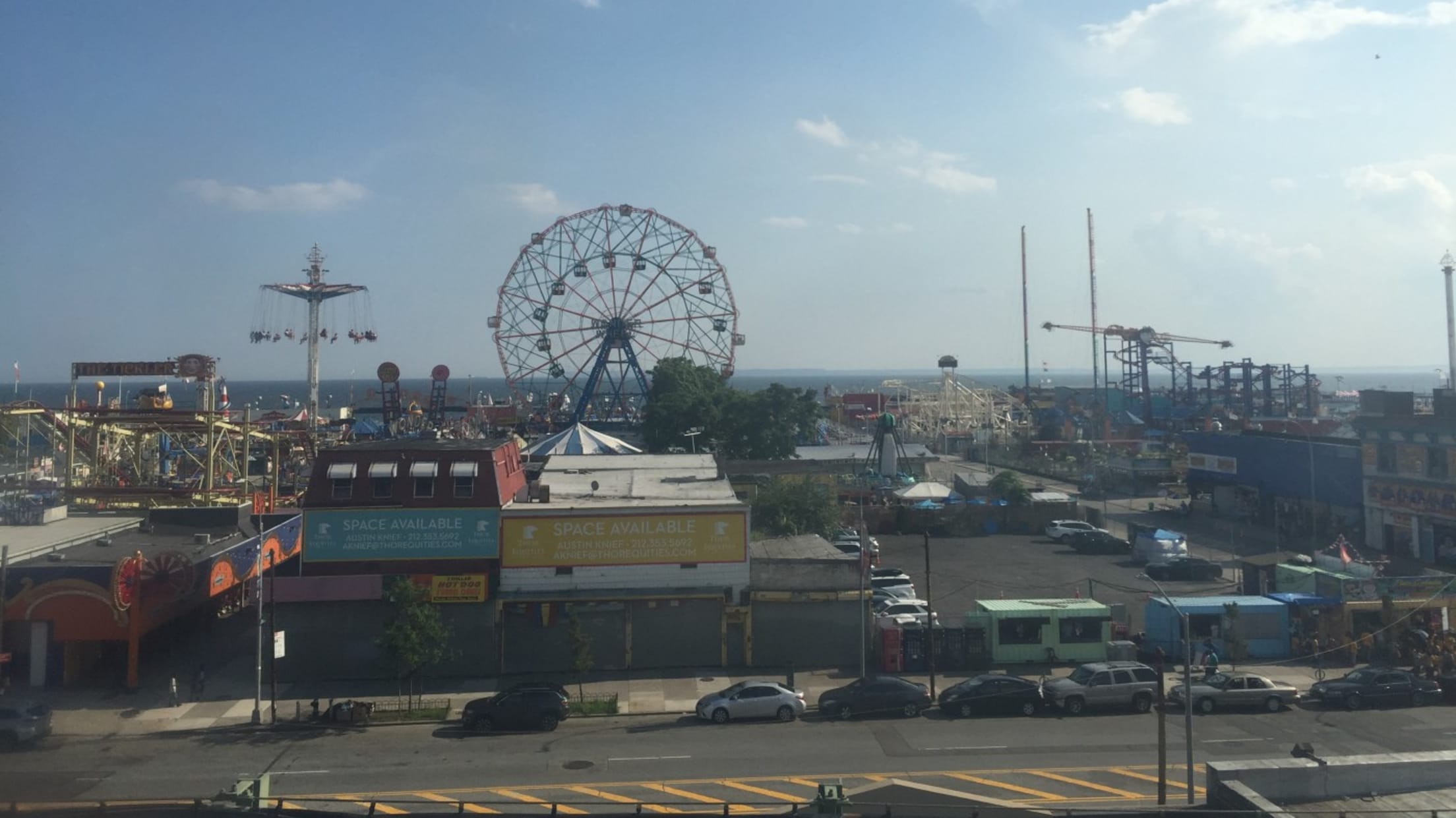 Food and Drink
If you haven't stuffed yourself on hot dogs, make a little time for pizza. Yes, some of the very best pizza is nearby, with Totonno's Pizzeria Napolitano one of the best in the city. Open since 1921, the shop is run by the grandchildren of the original owners. The pizza gets some of its flavor from the coal-fired brick oven they use -- a type of cooking method that is illegal now except for places like Totonno's that have been grandfathered in as long as their doors remain open.
Afterward, if you have any room left, hit up Williams Candy Shop for old school candy apples, cotton candy, ice cream and so much more.
Lodging
While there are hotels near Coney Island, if you're looking to do more than hang out on the water, I'd suggest staying somewhere in Lower Manhattan or Downtown Brooklyn. That way you'll be about a 45 minute to one hour train to Coney Island, but also much closer to the rest of the things you may want to see and do while you're in New York. D, F, N, and Q subway trains all go out to Coney Island, so just make sure you're near one of those stations and you'll be set.
Moving On
Other than the Yankees and Mets -- which you don't need us to tell you about -- you're about 50 miles from the Somerset Patriots -- the Double-A affiliate of the Yankees -- and about 65 miles from the Jersey Shore BlueClaws, the High-A affiliate of the Phillies. You could also choose to head north and hit up the Hudson Valley Renegades (High-A Yankees), Binghamton Rumble Ponies (Double-A Mets), Buffalo Bisons (Triple-A Blue Jays), Rochester Red Wings (Triple-A Nationals), and the Syracuse Mets (Triple-A, and it's pretty self explanatory).
Basically, rent a car, hop in and you've got yourself a full week long vacation all within a few hundred miles.
The Road to Queens
Brooklyn is the closest stop to Queens in terms of distance -- hence why you may see Mets players working their way back from injury there -- but it's pretty close to the start of the professional game for a lot of these players. If you want to see some of the team's youngest and most exciting players, Brooklyn is where you'll want to be.
Single-A: St. Lucie Mets
High-A: Brooklyn Cyclones
Double-A: Binghamton Rumble Ponies
Triple-A: Syracuse Mets