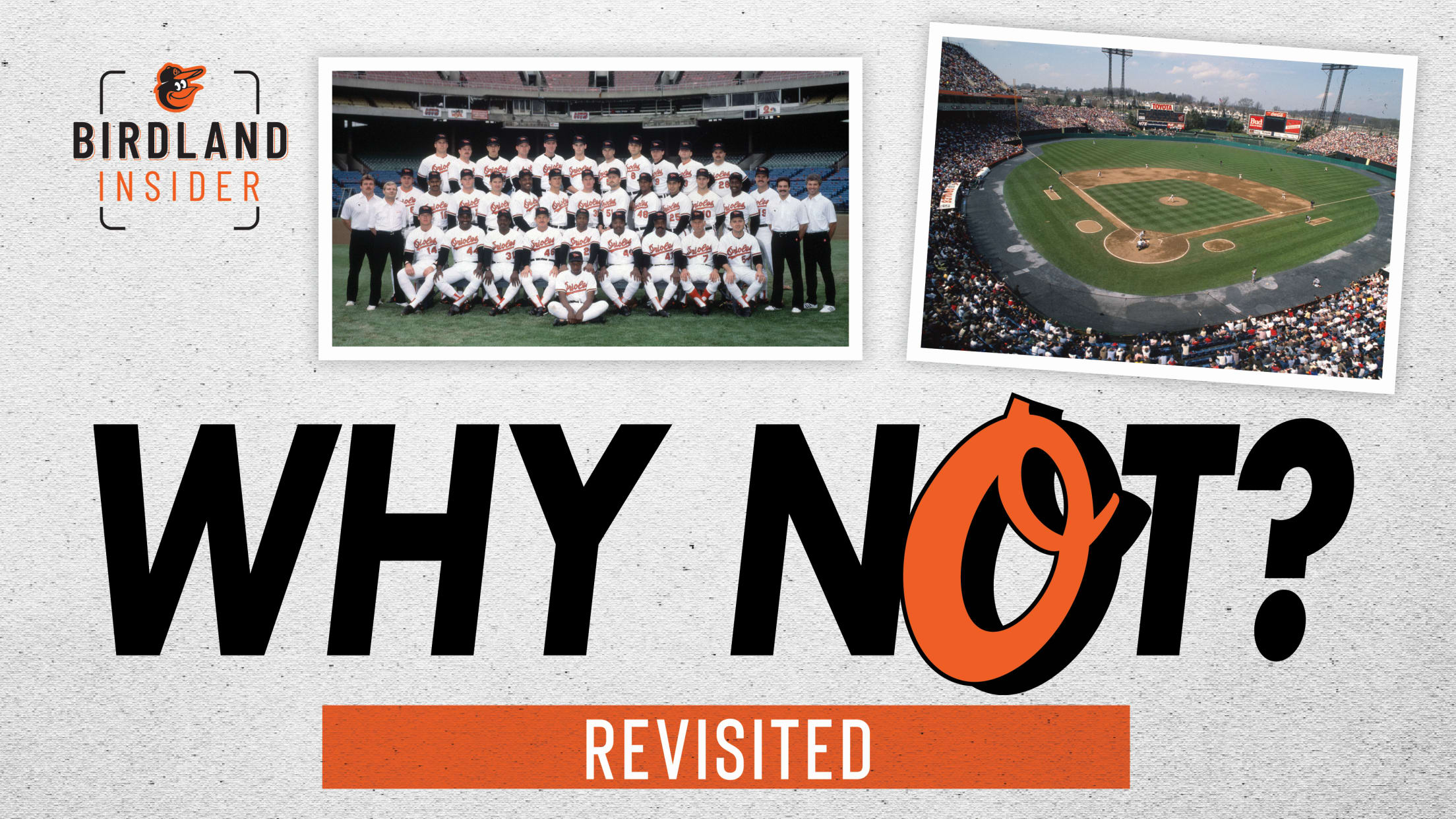 Scroll
Why Not? Revisited
For a team with three World Championships, three other World Series appearances, and 10 total Postseason appearances in 56 seasons of baseball, it may be surprising how many fans recall another year, one which the result didn't end in a trip to the playoffs, as "My Favorite Year."
For many fans who were coming of age in the late 80s, it is not the seasons of championships, but of one glorious near-miss campaign, a season that seemed so improbable at the time. For many, it was their one brush with a playoff chase throughout their childhood. For others, it was the summer-long stretch of fun and wins that a gritty, mostly young, no-name bunch put together in the wake of the worst season in club history, spending 115 days in first place.
What happened in 1989 is the thing that movies are made of. The improbability of the '89 Orioles' march to near-glory in fact led to such unique offerings as a video capturing the season's highlights, with a movie-like poster and premiere showing at renowned Senator Theatre – unheard of for a team that didn't even make the Postseason. But then again, this team wasn't even supposed to get close. They were counted out before the season started, when a Boston columnist predicted in print that they would be no-hit by Red Sox ace Roger Clemens on Opening Day.
Since winning the 1983 World Series, the Orioles had been on a downward spiral, winning fewer games each season and finishing in or near the cellar of the seven-team American League Eastern Division. The '83 World Championship team had aged quickly, and the myriad of veteran players acquired in trades or as free agents to replace them – Lee Lacy, Fred Lynn, Alan Wiggins, Don Aase, Juan Beniquez, Rick Burleson among them – for the most part provided only flashes of their former abilities. Not even bringing back Weaver, the future Hall of Fame manager, could rekindle "Orioles Magic" and stem the tide of losses.
The nadir came in 1988, when the Orioles opened by losing their first 21 games, a Major League record to start a season. And it didn't get a whole lot better. Cal Ripken, Sr. was fired six games into his second season as manager, replaced by Frank Robinson. And while the club did finally post a few victories, the final record of 54-107 marked the most losses in club history and matched the fewest wins – which came in 1954, the team's first season in Baltimore, when they still were a carryover of the woeful St. Louis Browns (and only played a 154-game season).
Coming on the heels of that disastrous 1988 season, there was little to suggest that '89 would be anything special. Steady Eddie Murray, long the team's quiet leader and a future Hall of Famer, was traded in the off-season, following the trade-deadline deals of pitcher Mike Boddicker and outfielder Fred Lynn during the '88 season.
The '89 Orioles came to Spring Training not as the "Why Not?" bunch fans would come to love, but rather as a "Who's He?" contingent fans would have to get to know. Only four players went to camp virtually assured of coming north with the team – shortstop Cal Ripken, the only remaining link to the '83 World Championship team; newly acquired outfielder Phil Bradley; and pitchers Dave Schmidt and Brian Holton, the latter hurler one of three players acquired from the Los Angeles Dodgers for Murray.
"As bad as 1988 was, that's how good '89 was," said Roland Hemond, who took over as Orioles' general manager after the 1987 season. "It was just an incredible comeback. There were so many new and younger players, it was fantastic how the club blended. Frank Robinson did a great job as manager getting that team to play together. It was just a phenomenal year. We were full of surprising performances."
When new catcher Mickey Tettleton owned up to what he ate for breakfast, he made Fruit Loops the new "breakfast of champions." It didn't hurt that he led the club with 26 homers.
Randy Milligan came over from Pittsburgh, and while he was not Eddie Murray, he hit 12 homers and tied for second on the club in doubles. Third baseman Craig Worthington led all Major League rookies in RBI, walks and games played and tied Seattle's Ken Griffey Jr. for the AL rookie lead in doubles; he was named the top AL rookie by The Sporting News.
Cal Ripken played every game at shortstop for the seventh straight season, led the club with 93 RBI and teamed with his brother, Bill, to form one of the best middle infields in baseball.
Robinson rotated five outfielders – newcomers Mike Devereaux, Steve Finley, and Phil Bradley, with Joe Orsulak and Brady Anderson – who ran down everything. Balls that in '88 went for doubles were now being caught.
Jeff Ballard began the season as the No. 5 starter; he finished with a team-leading 18-8 record and 3.43 ERA. Bob Milacki (14-12) and reliever Mark Williamson (10-5) were the only other pitchers with more than five victories and a winning record; Dave Schmidt (10-13) was the only other pitcher with more than five wins.
Williamson, in his third big league season, began the year as the team's closer, mostly out of necessity. But within a month, Gregg Olson, a rookie with a devastating curveball, became the closer, with Williamson setting him up. Olson went on to save a then-American League rookie record 27 games and earn AL Rookie of the Year honors; he was not charged with a run over his final 21 appearances of the season.
In all, 19 of 40 players used during the year were new to the Orioles, and 18 players had no more than two years of major league experience at the start of the season. By the time the season ended, the Orioles would employ 113 different lineups and use 13 different rookies.
It was apparent from the start that this would not be "last year's Orioles." Facing the Red Sox and Roger Clemens on Opening Day at Memorial Stadium, the Orioles were given no chance. But Cal Ripken's three-run homer off The Rocket in the eighth inning gave the Orioles the lead, and even after Boston came back to tie, rookie third baseman Craig Worthington singled in the winning run in the 11th inning. It is only one game, but hey – it beat last year's 12-0 Opening Day loss and puts them 21 games ahead of last year's pace. When the O's started the season 2-0, they already had won more games than they had the previous April.
And suddenly, these Birds kept going. After a 2-0 loss to Cleveland on May 21, their record stood at only 18-21. They were in fourth place, but only one game out of the division lead. Beginning the next day, they won 13 of 14 games to take a five-game lead in the East. A five-game winning streak shortly after the All-Star break stretched the lead to a season-high 7.5 games.
It was about this time that a few hand drawn signs, carried by fans, began to pop up in the stands, all asking the same, unlikely question: "Why Not?" Could this flock of fresh faces, with a new look and new attitude, go from worst to first in the span of one year? Why not?
Beginning July 19, however, the Orioles dropped 13 of 14 games, capped by a doubleheader loss at Boston on August 1 that cut their lead to one game. Although they went 18-11 to the end of the month, the Toronto Blue Jays were putting on a run of their own. The Blue Jays had a losing record as late as August 13 (58-59) but, in the midst of a 20-4 stretch, took over first place on September 1 when the Orioles absorbed back-to-back losses at Cleveland (11-0) and Chicago (10-1). After looking down at the division on throughout the summer, the Orioles were forced to play the role of chaser as Labor Day weekend began.
Ironically, the Orioles finished the season with a three-game weekend series at Toronto, trailing the Blue Jays by a game…the O's would need to win two of three games to extend the season.
Friday night at SkyDome (now Rogers Centre), Phil Bradley led off the game with a home run, and Jeff Ballard took a shutout into the eighth inning. But Orioles back-up catcher Jamie Quirk couldn't handle a two-out, bouncing curveball by closer Gregg Olson, allowing pinch-runner Tom Lawless to score the tie run. Toronto then won the game in the 11th, putting the Orioles' season at dormie.
Pete Harnisch was scheduled to start the penultimate game on Saturday to extend the Orioles' Postseason chances, but he stepped on a nail walking back from the ballpark to the hotel the night before, the brad penetrating his foot. Instead, the start would fall to perhaps the biggest surprise of the season – a player who did not even factor until August 1.
Dave Johnson grew up in the Middle River area of eastern Baltimore County, an Orioles fan through and through (his father was an Orioles usher and attendant, first at Memorial Stadium and later at Camden Yards). Dave drove a tractor-trailer before returning to the Community College of Baltimore and, eventually, signing with Pittsburgh as an undrafted amateur pitcher.
He made five relief appearances for the Pirates midway through the 1987 season, but after spending the '88 season at Triple-A, he was released and signed with Houston.
"I hoped to sign with the Orioles, but after they had 100 losses, are they going to want a 29-year-old rookie? So I signed with Houston after '88, and ended up getting traded to Baltimore on the last day of spring training," said Johnson.
The deal was hardly noticed outside his family; he was assigned to Triple-A Rochester and pitched well when healthy.
Brought up to the majors on August 1, his first Orioles start came in the second game of that day's doubleheader at Boston – a game many thought would be postponed by rain, leaving Johnson's recall voided and his return ticket punched for Rochester. Instead, he worked 7.0 innings in a loss as the Orioles fell to 1-and-13 over a two-week stretch. A week later, pressed into starting duty again, he pitched a complete-game victory over Minnesota and followed that with a complete-game win vs. Boston – both by 6-1 scores, both at Memorial Stadium.
"It's kind of funny, my whole career depended on whether or not it rained in Boston," Johnson recalled. "I wasn't caught up in the 'Why Not?' thing for the whole first month I was there. I had too many other things going on. I was worrying about my career. Then after I make my start in Boston, I get two starts at home and pitch complete game wins and I'm named AL Player of the Week. It was insane to me, just crazy. I'm not only thinking what am I doing here, but I'm worrying about what do I need to do to stay?
"Why Not? My first start in Fenway, I'm sitting 10 feet from Frank Robinson, a guy I grew up with as a kid, thinking I should ask for his autograph. Cal Ripken is at shortstop. I'm older than him, but he's got 7-8 years in the majors and he's Cal Ripken!
"But with three-four weeks left in the season, it was hard not to get caught up in it. It was so intense, it meant so much to everybody."
Johnson went 4-2 with a 3.50 ERA in August but, despite pitching well in several games, carried an 0-5 September record into his start at SkyDome.
"The week before they told Harnisch and me whoever pitched best in Milwaukee would get the start on Saturday in Toronto," Johnson said. "Pete won his game, I lost, so I'm in the bullpen as long man Friday night and that's where I'll be on Saturday. When I get to SkyDome Saturday morning, they had put the two baseballs in my spikes (bullpen coach Elrod Hendricks always put two new baseballs in the locker of that day's starting pitcher). I figured it was a mistake. I went to (pitching coach) Al Jackson and he said, 'Oh, you didn't hear – Harnisch stepped on a nail; you're starting… I played it off as, 'Oh, OK, no big deal, it's just the pennant on the line.'"
Through 7.0 innings, Johnson was near brilliant, allowing only a first-inning run and clinging to a 3-1 lead. After walking Nelson Liriano to lead off the eighth inning however, Robinson went to the bullpen. Before lefty Kevin Hickey and righty Williamson could finish the inning, the Jays had cobbled together another walk, two singles, and a sacrifice fly to plate three runs, giving Toronto a 4-3 win and the division title.
A meaningless win on the season's final day left the Orioles two games out of first place, with an 87-75 record and a 32.5 game improvement over the previous year. Unfortunately, it was little more than a one-year respite. While the Orioles would post winning campaigns in their first two seasons in Camden Yards in 1992-93, their playoff drought would stretch to 13 years before earning the AL Wild Card berth in 1996.
Even now, that season, and especially that final weekend in Toronto, is recalled by Orioles fans as one of the most memorable seasons in O's history.