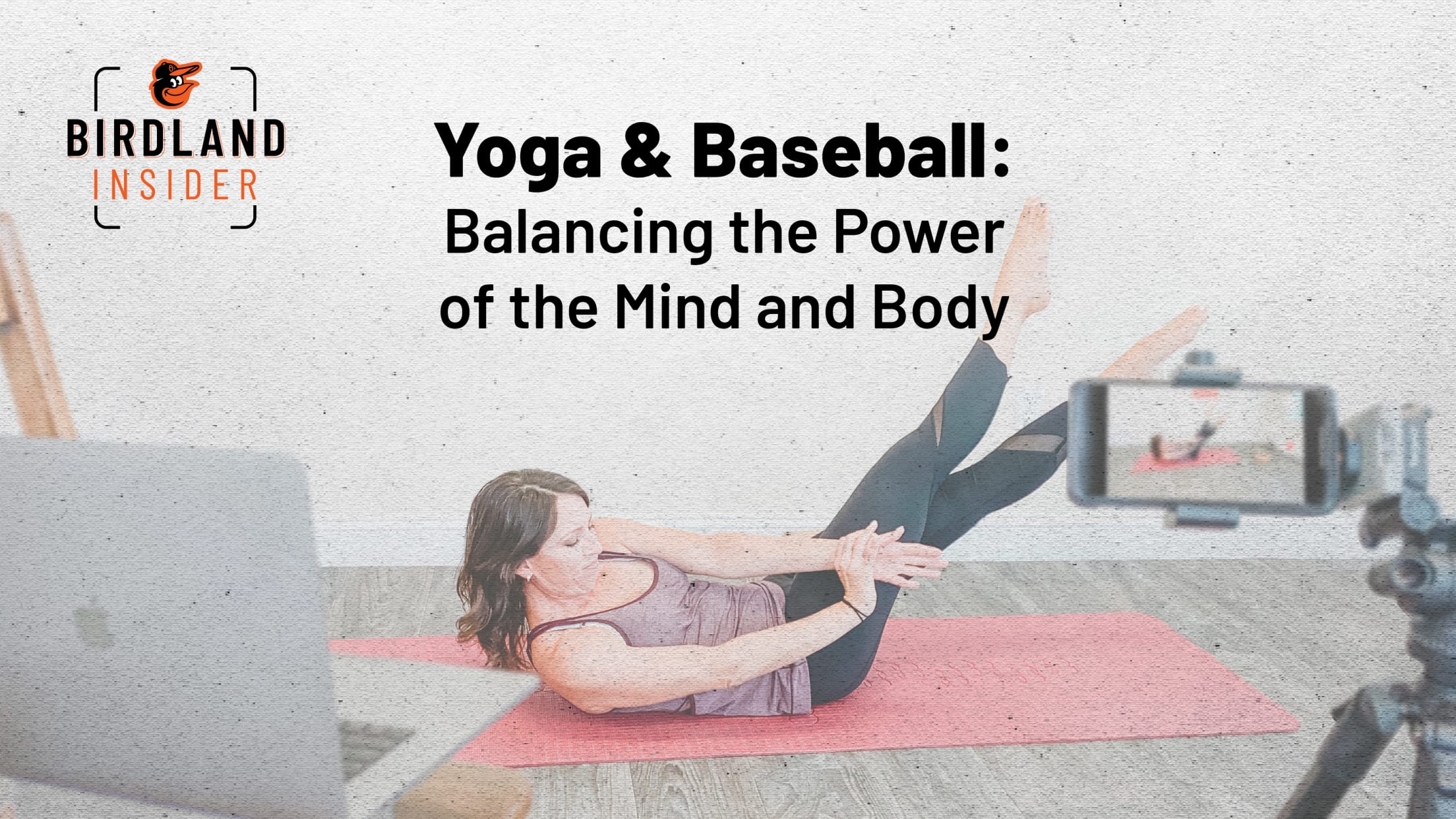 Scroll
Yoga & Baseball: Balancing the Power of the Mind and Body
"Baseball is 90 percent mental. The other half is physical." - Yogi Berra
Bases loaded. Bottom of the ninth. Two outs. Down one run.
Every hitter that has ever walked up to the plate in a moment like this would agree on one thing: you have to be mentally locked-in. The cheers from the fans become practically inaudible. The clamoring of teammates in the dugout goes unnoticed. For a split second, it is just the batter and the ball.
Back in March, the world came to a halt as COVID-19 began to spread rapidly among communities across the globe. Spring Training was temporarily postponed, and players, like the masses of people nationwide, were expected to quarantine, which meant not being able to use gyms or training facilities. Athletes were suddenly forced to get creative with their workouts and find new, unique ways to stay in shape while staying at home.
Players throughout all levels of the Orioles organization recognized the importance of remaining active while in quarantine, so they started participating in weekly virtual mobility classes with Functional Yoga Instructor and Mobility Specialist Tracy Hayes. She has more than 15 years of experience in working with professional athletes in functional movement and balance, and has received advanced certifications in Neuro-Linguistic Programming, as well as Cognitive and Neuroscience studies from Northwestern University. Over the years, Tracy has fine-tuned specialized classes aiming to improve kinematic sequencing through neuromuscular training designed to improve pro athletes' mobility. Her "signature class" combines the foundations of physical therapy-based functional yoga (LYT), classical Pilates, Functional Range Conditioning methodologies, Postural Restoration Institute teachings, positive mindset language, visualizations, and breathing techniques.
In these classes, Tracy focuses on integrating and strengthening an athlete's core by bringing awareness to what truly makes up the core: from the pelvic floor to the shoulder girdle and everything in between. Her expertly-designed dynamic sequences focus on improving active end-range strength, proprioception and balance, proper positioning for efficient diaphragmatic breathing, and an overall advancement in better mobility. She has a very synergistic approach to her teaching, and when working with professional baseball players, Tracy concentrates on the biomechanics of muscles working more efficiently to help players improve explosive movements, power, and swinging/pitching motions. While developing better muscle synergy is important to an athlete, one of the benefits of integrating this multifaceted approach is injury mitigation, which Tracy addresses by developing stronger and greater ranges of motion that can better handle more force and load.
A common misconception of yoga is that it simply helps with flexibility and is not physically strenuous. Tracy's company, Amplified Movement, offers courses to very effectively enhance a person's mobility and true core strength. Over time, joints become accustomed to the movements that are most often used in daily life, and they start to become incapable of moving at their full range. Tracy incorporates movements that systematically override the patterns of compensation and poor habits with purposeful movements and drills, and players have agreed it's anything but easy.
While Tracy's method of teaching is predominantly based on improving athletes' complex dynamic movement patterns, she also emphasizes developmental movements through systematic neural mapping, keen awareness, and observation of the body in the present moment. Tracy explains this is just "a fancy way of saying she helps make the body work better by creating stronger body-brain connections." In her classes, she prioritizes using specifically-chosen language that helps the person more efficiently create new neural pathways that allow the mind and body to work in synergy. This, combined with coaching proper breathwork techniques, helps athletes become more centered and focused in the present moment.
Over the years, Tracy has worked closely with many Major and Minor League Baseball professionals. At the start of Summer Camp in July, she led MLB in its first mobility workout while players were quarantining in their hotel rooms. Strength coaches across the league provided players with foam rollers and other equipment that they could incorporate as props, and players participated in an intensive 45-minute class focusing on hip mobility, core strengthening, overall movement, and breathing.
This year, Tracy has also mentored the first female coach within the Orioles organization, Liz Pardo, who is the strength and conditioning coach for the Orioles' Class-A Advanced affiliate Aberdeen Ironbirds. Liz started as a casual yoga participant, but after training one-on-one with Tracy and completing Amplified Movement's "Mobility Principles for Coaches" course, Liz is now a certified and confident functional yoga instructor who leads dynamic mobility classes and heads the newly-created yoga program for the organization.
"Tracy's approach to mobility for athletes has had a profoundly positive effect on our players. Her experience in working with the best of the best shows in her professionalism, impressive knowledge of movement biomechanics, and her keen ability to detect imbalances within a player," said Liz. "As a team, we've learned so much from Tracy and all she's done for us in the many months of private sessions we've been working with her."
Much like the make-up of our national pastime that Yogi Berra famously proclaimed, yoga is also a coexistence of mental and physical strength. Tracy has dedicated her career to teaching athletes how to attain success by marrying a positive mindset with complete awareness of their body, better mobility, and an increased range of motion.
The work of Tracy, Liz, and many other trailblazers in this field have opened the door for athletes to fully embrace the benefits that yoga, meditation, and mobility training can have on their careers. The virtual courses that have been offered to players within the Orioles organization this year have been hugely beneficial as they worked to stay in shape in the face of a global pandemic.
Through consistent meditations, functional yoga poses, and mobility workouts, the hope is that the next time a batter comes up to the plate in that bases-loaded, two-out, ninth-inning deficit scenario, they can breathe easier, find their center, and get to work.