Each Globe Life Field parking lot, presented by Toyota, now has its own address. Click the name of each lot below to open its address in Google Maps to guide you straight to the lot's entrance.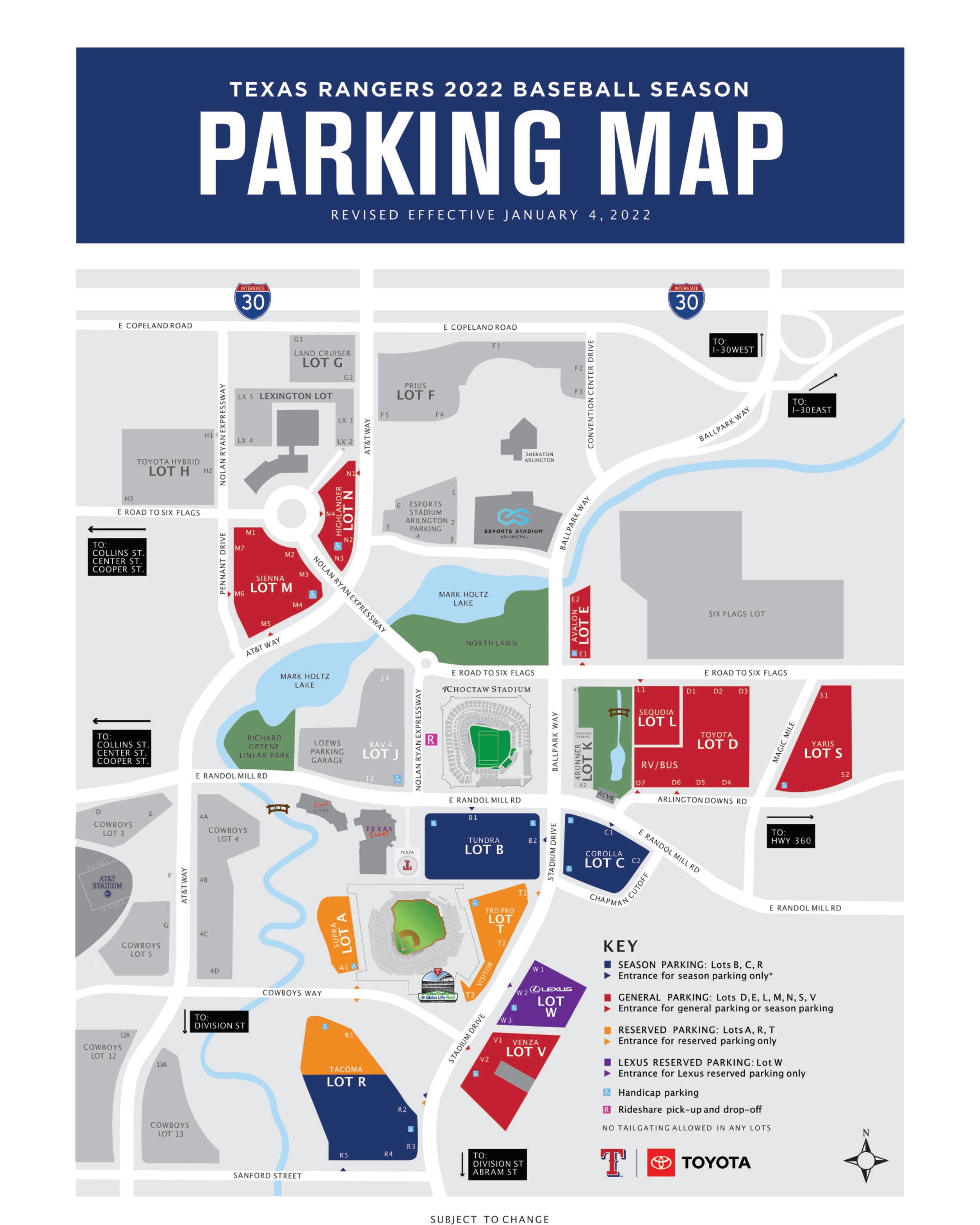 Special Event Parking
Coming to an event other than a ballgame in the Arlington Entertainment District? See what lots are available to you.
Lexus Lot
Complimentary parking is provided for those driving their Lexus to any home game (space permitting) with the required 2022 window decal present. Simply go to Lexus Lot W located at 715 Stadium Drive on the east side of Globe Life Field. The lot can be accessed from both northbound and southbound Stadium Drive. This is a self-park lot (no valet) and will only be for those who have the 2022 Lexus sticker from the dealership. Contact your Dallas-Fort Worth Lexus dealer to obtain your 2022 window decal. Please note that once this lot reaches capacity, you can pay to park in any available cash lot.
Parking FAQs
PARKING
What time do parking lots and ballpark entries open?
Night Games – Lots open 2.5 hours before game time, and entries open 2 hours before game time.
Day Games – Lots open 2 hours before game time, and entries open 1.5 hours before game time.
OCTOBER 4 DOUBLEHEADER NOTE: Parking lots will open at 11:00am and remain open. If you have a parking pass for both games, please show both passes when you arrive. You will not need to leave and re-enter before the second game. If you have not pre-purchased parking, you may purchase parking for both games when you arrive.
Gates for the 7:05 PM game will open one hour after the conclusion of the 1:05 PM game (approximately 6 PM). All guests must clear the ballpark after the conclusion of the 1:05 PM game.
Will handicapped parking be available?
Yes. All general admission lots will have handicapped parking on a first come, first served basis. ADA carts will be available from each lot that can be requested from parking staff.
How do I pay for parking?
You can pay for parking in advance or upon entry at the lot with a debit or credit card. Cash will not be accepted.
Will Texas Live! be open?
Texas Live! will be open from 11 AM-Midnight (Sunday-Thursday) and 11 AM-2 AM (Friday & Saturday).
Will ride share services be available?
Yes. Uber, Lyft, and taxis will be available on southbound side of Nolan Ryan between the traffic circle and Randol Mill.
NOTE: The City of Arlington has discontinued pedicab transportation between the parking lots and the ballpark.