Notes: Dahl's core soreness; Oberg on pace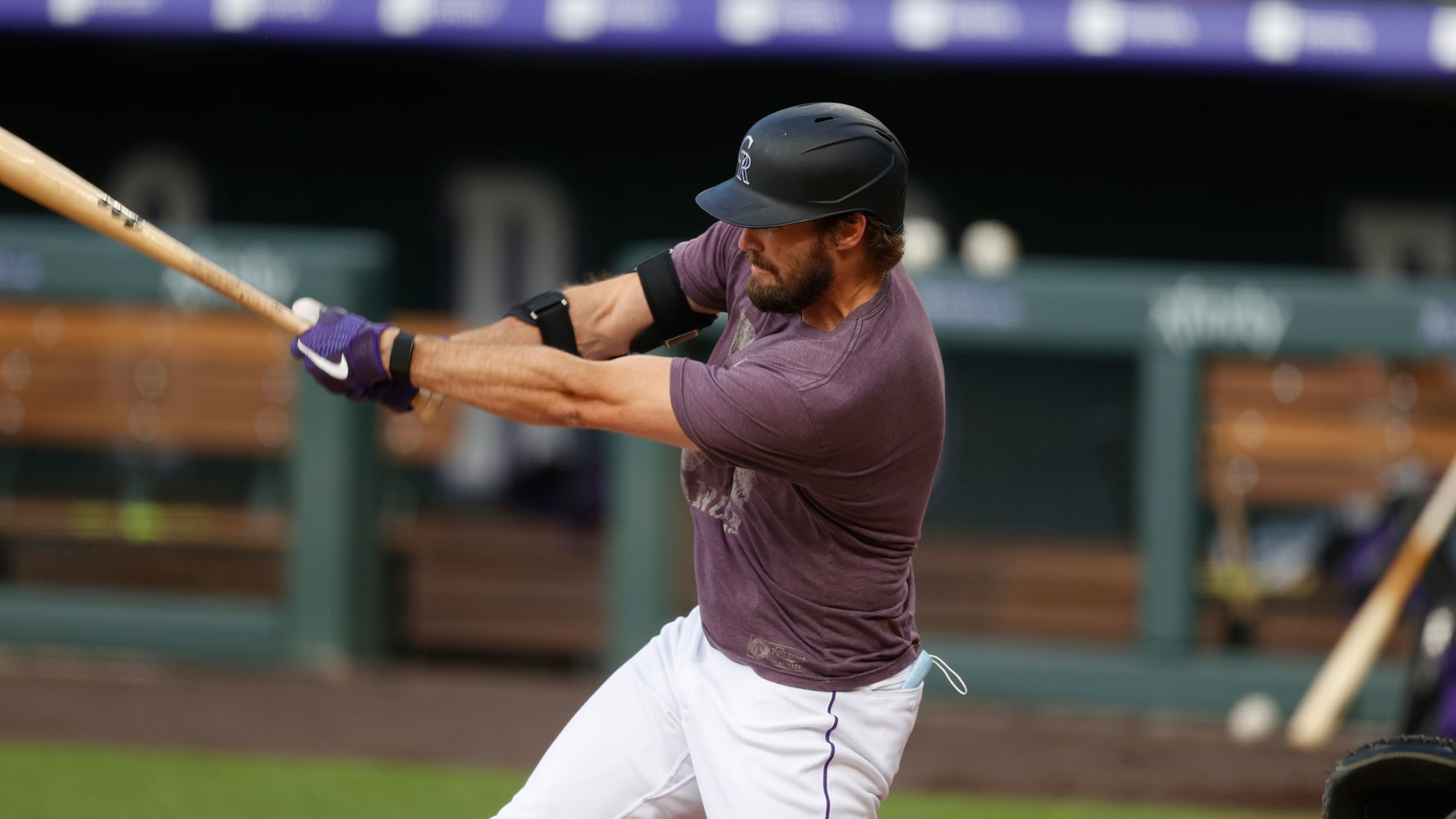 DENVER -- Rockies center fielder David Dahl has not played in the last two intrasquad games because of what manager Bud Black called "core soreness," but Dahl is anticipated to play Friday night. With the season starting in eight days, the Rockies did not want to take a chance with
DENVER -- Rockies center fielder David Dahl has not played in the last two intrasquad games because of what manager Bud Black called "core soreness," but Dahl is anticipated to play Friday night.
With the season starting in eight days, the Rockies did not want to take a chance with Dahl, an All-Star last year and the club's projected leadoff hitter.
"David's had a little core soreness over the last few days, [so] we've decided to take it a little easy with David in these last intrasquad [games]," Black said Thursday. "But he's been playing defense. He swung yesterday in the cage. Today [he] is going to take batting practice on the field. He's going to run the bases. It's going to do more defensive work today.
"I suspect he'll be able to play tomorrow night in our intrasquad [game]."
The Rockies also hope Charlie Blackmon, who recently discussed being sidelined for the early part of Summer Camp because of a positive COVID-19 test, will be ready in time for next Friday night's regular-season opener in Texas. Blackmon was placed on the injured list, but Black explained Thursday the move is "procedural" and does not prevent him for being active when the season starts.
Last season, Dahl produced a .302/.353/.524 slash line with 15 home runs and 61 RBIs in a career-high 100 games before missing the end of the season with a right ankle sprain. The plan is for Dahl to replace Blackmon at the top of the order, with Dahl giving the Rockies the same power and production as Blackmon has provided since 2014, and Blackmon getting more RBI opportunities from the No. 3 spot.
Blackmon also figures to get more pitches to hit, with right-handed-hitting sluggers Trevor Story and Nolan Arenado hitting on either side of him in the lineup.
Oberg on pace
Right-hander Scott Oberg, one of the most effective relievers in the Majors the past two seasons, has not appeared in intrasquad action but is expected to do so soon.
Oberg was 6-1 with a 2.25 ERA, had five saves and 58 strikeouts in 56 innings last year before undergoing surgery for blood clots in his right arm -- the second such surgery of his career. Bullpen coach Darryl Scott explained that Oberg dealt with soreness during his flight to Denver for Summer Camp, so the club decided to be careful with him.
Earning his uniform
Sometimes things get missed when putting together a Summer Camp during a global pandemic. Uniforms, for example.
For Wednesday night's intrasquad game, righty reliever Daniel Bard, making a comeback after being out of the Majors since 2013, was placed on the pinstripes squad. He has a purple jersey with his number and name on the back.
As for the white pinstripes, the Rockies' traditional look, he had to improvise his No. 52.
#Rockies RHP Daniel Bard is taking the mound in a makeshift jersey. His 52 looks to be electrical tape. Bard last pitched in @MLB in '13 with the #RedSox but has looked good in Spring Training and Summer Camp. pic.twitter.com/YSff0wdK8G

— Thomas Harding (@harding_at_mlb) July 16, 2020
"I think MacGyver or whoever that was showed up," Black said. "When we go to Spring Training, we are primarily in purple. We don't fit out all 60-plus players in pinstripes.
"But put it this way: I'd like to see Daniel Bard in a pinstripe beauty with his name on the back. That's B-A-R-D."
Useful dislike
Through live batting practice and intrasquad action, righty Jon Gray is happy with all three of his secondary pitches -- including his developing changeup, which he, Black and pitching coach Steve Foster believe can take him to a higher level.
The fastball velocity is not quite there yet, but it may have something to do with seeing a color other than purple in the batter's box.
"The last intrasquad session it was, like, 94 [mph]," he said. "I would like to average 96-97 [mph] and use it up in the zone a lot more. But once someone gets in the box I don't like, I think I will be there."