Rockies' 25-man roster just about set
Barring any last-minute surprises, here's the Opening Day squad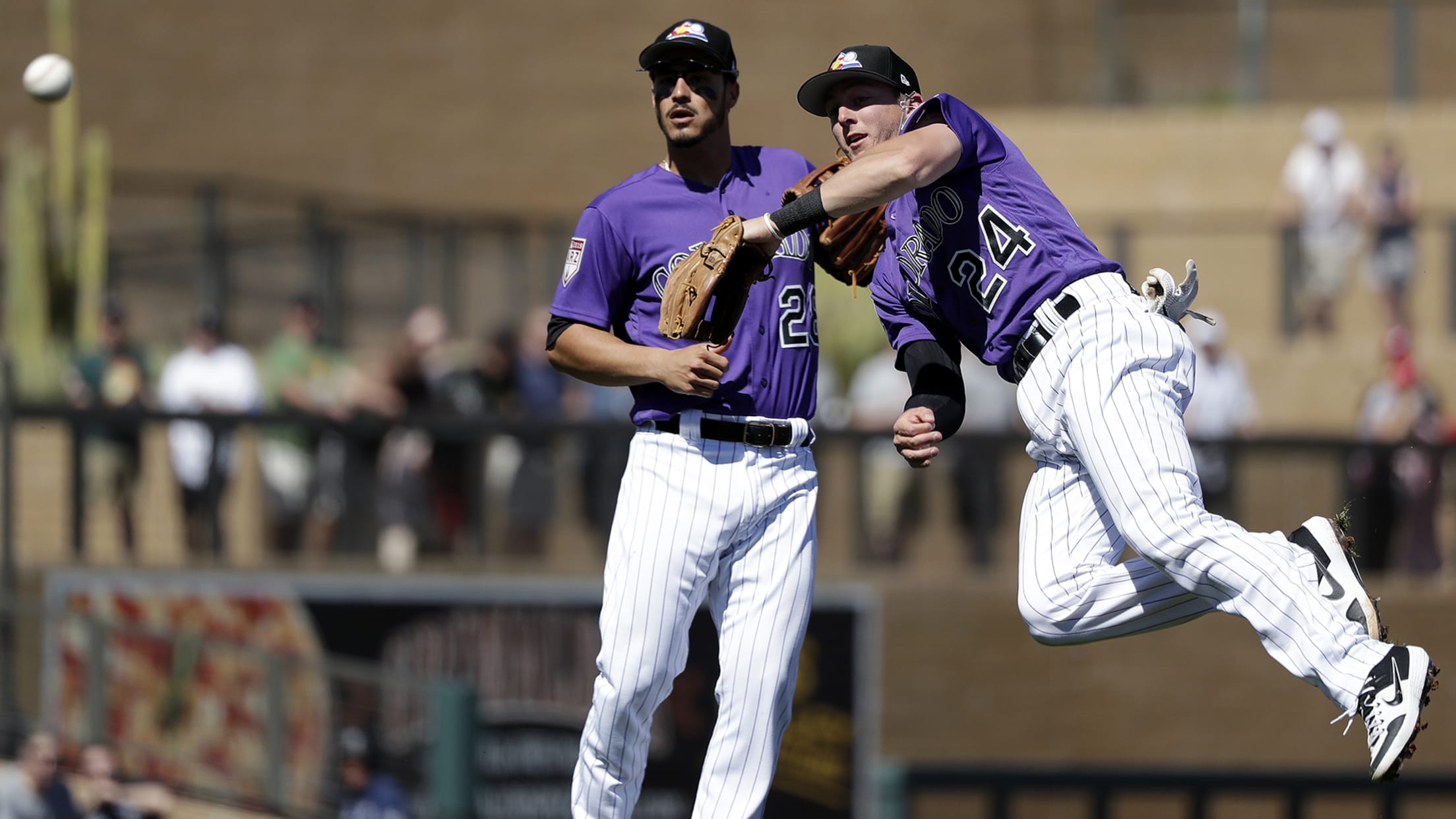 DENVER -- The Rockies moves as they left the Cactus League -- waiving catcher Tom Murphy, who was claimed Monday by the Giants, and optioning rotation candidate Jeff Hoffman to Triple-A Albuquerque -- effectively set the roster for Thursday's opener at Miami. Barring an injury in an exhibition game, all
DENVER -- The Rockies moves as they left the Cactus League -- waiving catcher Tom Murphy, who was claimed Monday by the Giants, and optioning rotation candidate Jeff Hoffman to Triple-A Albuquerque -- effectively set the roster for Thursday's opener at Miami.
Barring an injury in an exhibition game, all that's left is the paperwork that will occur before Thursday -- selecting the contract of non-roster invitee Mark Reynolds so he can be a key righty-hitting reserve, and placing lefty Chris Rusin and righty Antonio Senzatela on the injured list.
But we don't have to wait. Here is a look at how things will shape up:
Catcher (2): Tony Wolters, Chris Iannetta
The incumbents from last year are back, only the Rockies hope Wolters can provide enough offensive consistency to play a little more and reduce the wear on Iannetta.
First base (2): Daniel Murphy, Mark Reynolds
Murphy is more comfortable at first base than second, and his fielding range reduces pressure on the young second basemen. Reynolds is more of a bat off the bench and occasional starter against lefty pitchers.
Second base (2): Ryan McMahon, Garrett Hampson
Both bring solid skills, and can move around -- McMahon to first and third, Hampson to short, third and the outfield.
Shortstop (1): Trevor Story
Coming off an All-Star season, Story is a key offensive catalyst.
Third base (1): Nolan Arenado
Chisel him in for the next eight years.
Left field (1): David Dahl
No one is afraid to say he can follow in the lineage of homegrown stars. The key is that he isn't afraid of the expectation.
Center field (2): Ian Desmond, Raimel Tapia
Is a strong spring a sign that Desmond, a leader in the intangibles, can give offense that matches the dollars on his hefty contract? Tapia, who can play all three positions, must show he can hit off the bench the way he hit as a regular in the Minors.
Right field (1): Charlie Blackmon
The move to put Blackmon in a corner and preserve his legs could help him continue his solid work from the leadoff spot.
Starting rotation (5): LHP Kyle Freeland, RHP German Marquez, LHP Tyler Anderson, RHP Jon Gray, RHP Chad Bettis
Once again, the rotation is -- and has to be -- the strength of the club. Projections have Marquez and possibly Gray outperforming Freeland. If that's the case, this is a good group.
Bullpen (8): RHP Wade Davis (closer), RHP Scott Oberg, RHP Seunghwan Oh, LHP Mike Dunn, RHP Bryan Shaw, LHP Jake McGee, RHP DJ Johnson, LHP Harrison Musgrave
Oberg's spring shows he has taken steps forward even from last year's quantum leap, Oh is experienced late in games and Dunn has seen a revival of his stuff after last year's injuries. Shaw and McGee struggled last year and their springs left fans unconvinced. Johnson and Musgrave are on the team because they stayed in the strike zone all spring.
So here is the 25-man roster:
Pitchers
Tyler Anderson, Chad Bettis, Wade Davis, Mike Dunn, Kyle Freeland, Jon Gray, DJ Johnson, German Marquez, Jake McGee, Harrison Musgrave, Scott Oberg, Seunghwan Oh, Bryan Shaw.
Catchers
Chris Iannetta, Tony Wolters
Infielders
Nolan Arenado, Garrett Hampson, Ryan McMahon, Daniel Murphy, Mark Reynolds, Trevor Story
Outfielders
Charlie Blackmon, David Dahl, Ian Desmond, Raimel Tapia
Injured list
LHP Chris Rusin (upper back tightness), RHP Antonio Senzatela (infected right heel blister)