Davis out as Rockies' closer, Oberg in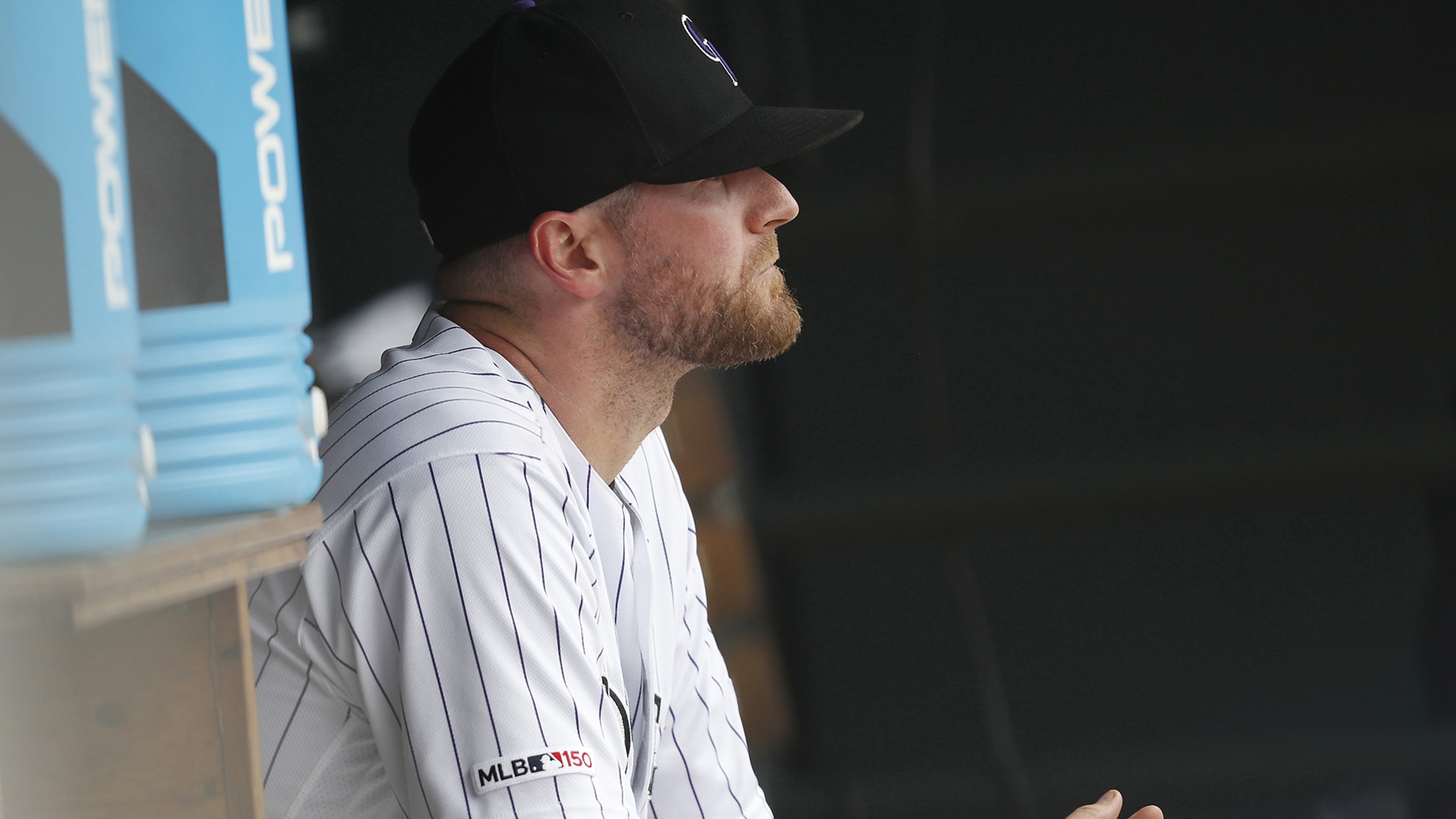 DENVER -- Rockies manager Bud Black said Friday that he is replacing the struggling Wade Davis as closer, and will go with Scott Oberg for the time being. Davis entered a scoreless game and gave up two home runs (five runs total) in the ninth inning of Wednesday's 5-1 loss
DENVER -- Rockies manager Bud Black said Friday that he is replacing the struggling Wade Davis as closer, and will go with Scott Oberg for the time being.
Davis entered a scoreless game and gave up two home runs (five runs total) in the ninth inning of Wednesday's 5-1 loss to the Dodgers. After setting a Rockies club record with 43 saves last season, Davis has a 1-5 record and 6.82 ERA in 36 games in 2019. He has 15 saves and two blown saves.
One aspect of Davis' season -- the second of his three-year, $52 million contract -- is downright odd, as he entered Friday night's game against the Giants with an 11.29 ERA at Coors Field and a 0.68 mark on the road. But the walks have been maddeningly consistent -- 11 in 18 1/3 innings at home, nine in 13 1/3 innings on the road.
Black said there is no issue with Davis' stuff or his pitch action, but location has been a problem.
"We've talked about this -- Wade and I, and the pitching coaches -- to try to identify it." Black said. "It's a little bit perplexing. It just might be one of those years. But the thing that stands out for me is that the walk totals, both home and road, are a little high. And we've addressed that with Wade, and Wade can't come up with an answer, either, why that's happening.
"We've looked at mechanics. We've looked at mindset. We've looked at a lot of different things. When you pitch the ninth inning, regardless whether it's a one-run lead, tie game, when it's the final inning, every pitch matters. It's the finality of the game."
Taking a break from closing this season won't affect Davis' contract. He is due $18 million this year. He is signed for $17 million in 2020, but a $15 million mutual option for 2021 (with a $1 million buyout) becomes a player option if he accumulates 30 games finished in 2020.
Ideally, Black said, Davis would pitch in the middle innings. Oberg (5-1, 1.59 ERA in 51 innings), having a career year, leaves the eighth to some combination of righties Carlos Estevez and Jairo Diaz, and left-hander Jake McGee.
In the ninth inning of Friday night's 5-4 victory over the Giants, Oberg gave up two hits, including Brandon Belt's surprise bunt single with one out. But Oberg worked Mike Yastrzemski into a game-ending double play.
"The only difference for me was that my routine started in the bullpen an inning later, and from there I tried to navigate the inning like I would any other inning," Oberg said.
The Rockies have worked hard to prevent the measurably real differences between home and road environment from affecting the psyche of their pitchers. Black said the team did discuss a system in which Oberg closes at home and Davis on the road, but maintaining routines and addressing the walks led to the plan Black announced on Friday.
"When you go to work, you sort of know what the expectation is that day -- where you will fit into that game, in most games," said Black. "Every game's unique, extra innings, a lot of different things can impact how we use a pitcher. For the time being, it's probably best to have one guy, if rested and all those things."