Oberg may be done for 2020; Davis to IL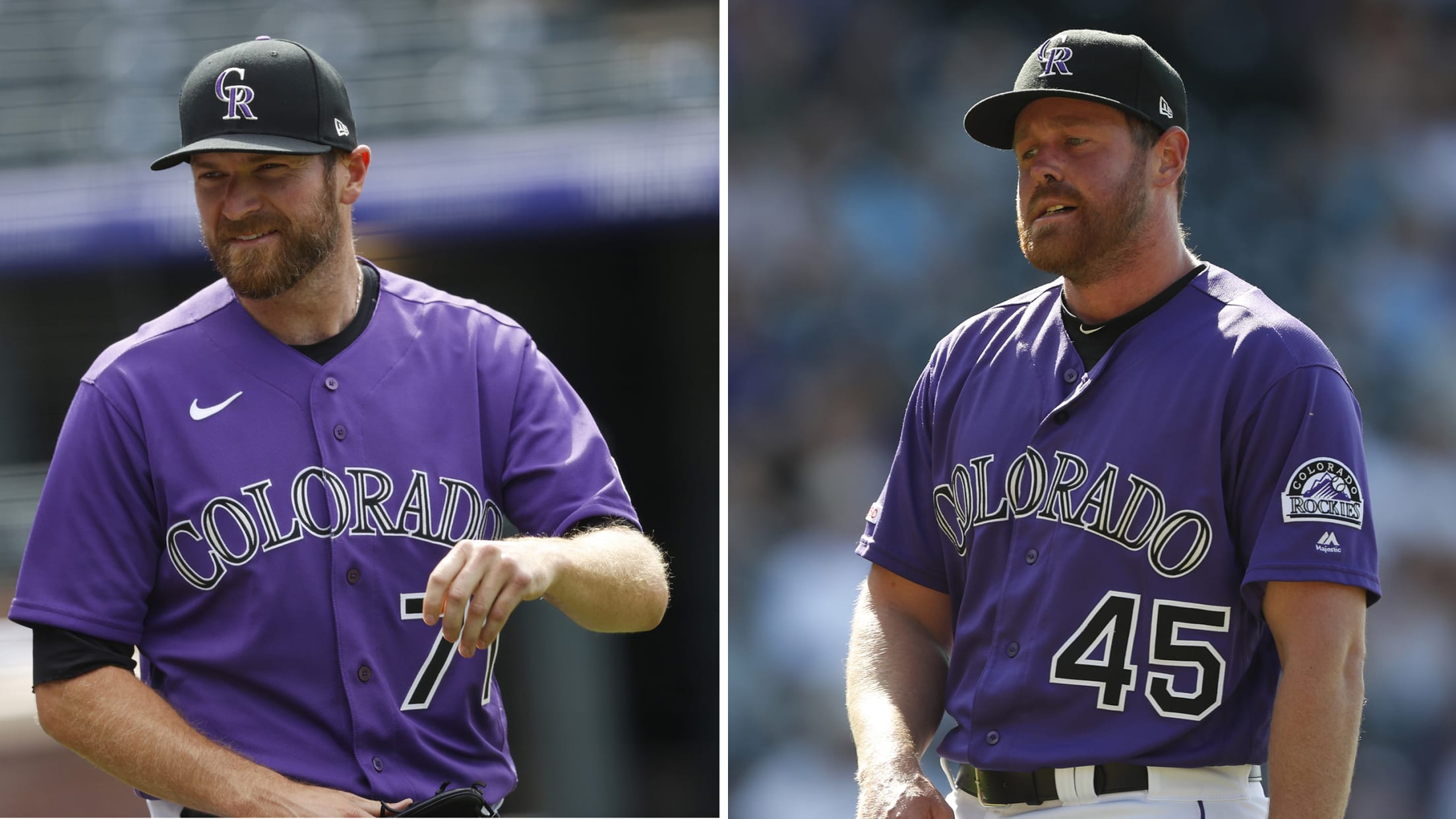 DENVER -- Blood clots have emerged in the right arm of Rockies relief pitcher Scott Oberg for the third time in his Major League career, and his participation in the 2020 season is unlikely, manager Bud Black said on Sunday morning. Additionally, the closer situation became more clouded when Wade
DENVER -- Blood clots have emerged in the right arm of Rockies relief pitcher Scott Oberg for the third time in his Major League career, and his participation in the 2020 season is unlikely, manager Bud Black said on Sunday morning.
Additionally, the closer situation became more clouded when Wade Davis, who struggled Friday in his first Coors Field appearance of 2020, was placed on the 10-day injured list because of a right shoulder strain.
Right-handed reliever Joe Harvey was activated from the alternate training site and joined the 30-man active roster. To make room on the 40-man Major League roster, the Rockies placed Oberg on the 45-day injured list.
Oberg, 30, was one of the Major Leagues' top relievers from 2018-19 (14-2, 2.35 ERA in 105 appearances). But last August, he had to undergo surgery to remove the clots. He had a similar surgery toward the end of the 2016 season.
Oberg took special precautions during the shutdown because his immune system is a concern. In addition to the clots, he has battled psoriatic arthritis. Oberg arrived at Summer Camp expecting to be a key part of the bullpen, but a back strain put him on the 10-day IL to start the season and the clotting problem caused him to cut short a throwing session Saturday. He underwent tests on Saturday night.
"For lack of a better word, it's a bummer," Black said. "It's going to be a while, if at all, for Scott this season. As we know, Scott has been a stalwart for us the last couple of years. I know that he was ready to take another step this 60-game season, but it doesn't look like it's going to happen."
Davis converted two saves at Texas to begin the season and had two outs and a one-run lead in the ninth inning against the Padres on Friday. He then gave up two homers, to Fernando Tatis Jr. and Tommy Pham, and walked two in between to absorb a loss.
"He sort of had some discomfort after the game on Friday," Black said. "Saturday morning, woke up bothersome. It was tight; it was inflamed. We had our medical staff test him [Saturday] morning, and that decision was made through the day through conversations with Wade and our doctors and Keith [Dugger, head athletic trainer]."
Black did not name a new closer and said the decision on Sunday afternoon will come to "some combination" of Jairo Díaz, Carlos Estévez and Daniel Bard. Left-handers Phillip Diehl and James Pazos could figure in, based on matchups.
Harvey, 28, debuted last season with the Yankees (1-0, 4.50 ERA in nine games) before the Rockies acquired him at the Trade Deadline for Minor League left-hander Alfredo Garcia. Harvey posted a 5.63 ERA in nine games with the Rockies last season. He was assigned outright to the Minors from the Major League roster after the season but showed well this year in Summer Camp.