2022 Twins Summer Camp Skills Scores
At each Twins Summer Camp, campers participate in a Skills Competition. At the end of the camp season, the top scores in each grade group compete for awards at Champions Day and the opportunity to be honored prior to a 2023 Twins game.
Below are the latest scores from our 2022 camp season. Updated August 18, 2022.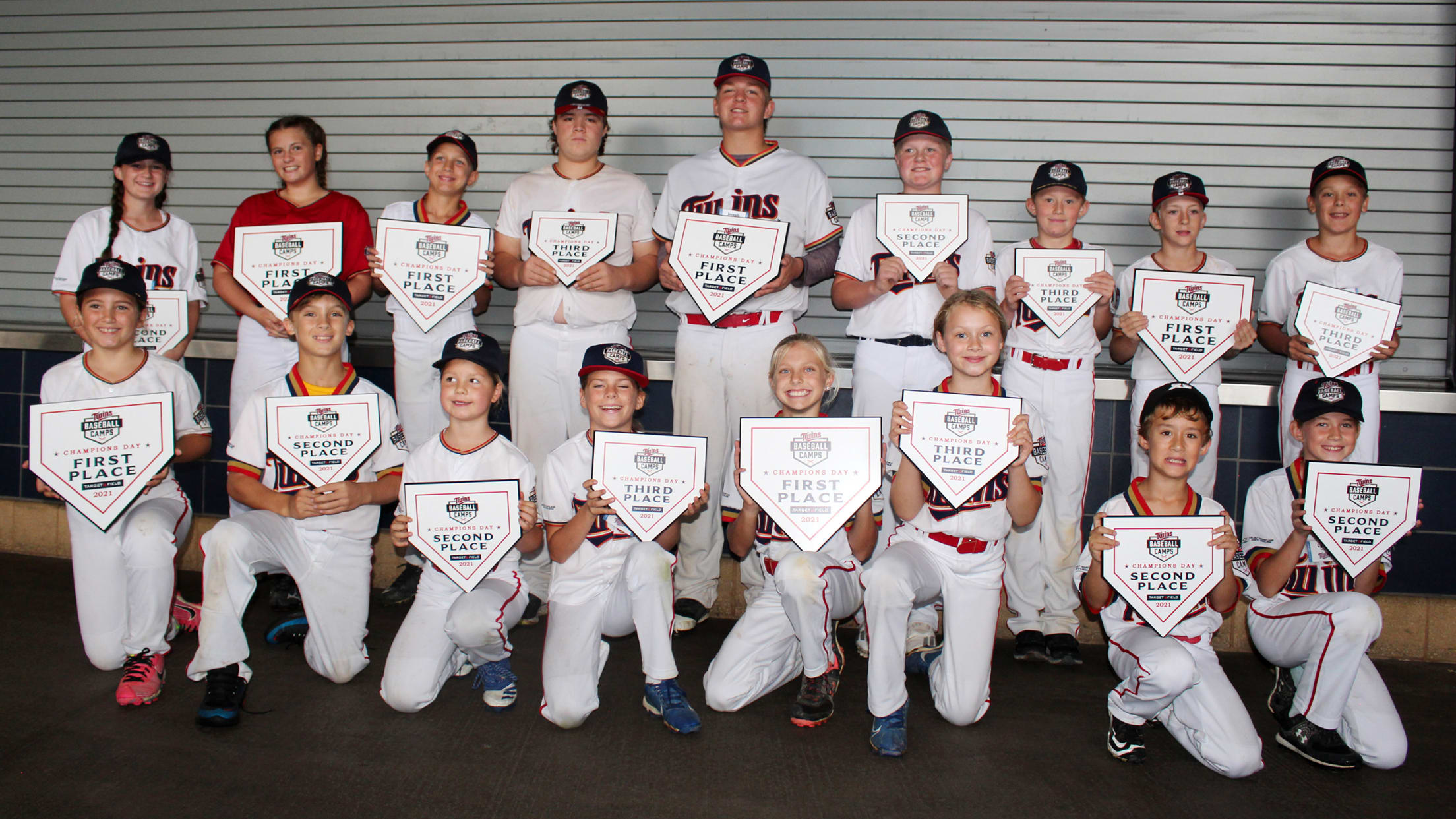 Boys, Grades 1 and 2
| Rank | F.Name | L. Name | Camp Site | Score |
| --- | --- | --- | --- | --- |
| 1 | Jack | Falvey | Edina | 720 |
| 2 | Conor | Murphy | Minnetonka | 689 |
| 3 | William | Travis | Edina | 689 |
| 4 | Lucas | Malen | Delano | 681 |
| 5 | Andrew | Wildung | Minnetonka | 674 |
| 6 | Henry | Dahlen | Rochester | 672 |
| 7 | Max | Holden | Farmington | 671 |
| 8 | Nolan | Bellmont | Edina | 664 |
| 9 | Anders | Jenzen | St. Michael | 662 |
| 10 | Gladden | Pohle | Minnetonka | 657 |
Girls, Grades 1 and 2
| Rank | F.Name | L. Name | Camp Site | Score |
| --- | --- | --- | --- | --- |
| 1 | Vida | Estrada | Northfield | 453 |
| 2 | Ayla | Hanifl | N. Saint Paul | 387 |
| 3 | Freya | Mick | N. Saint Paul | 342 |
| 4 | Rylan | Moore | Edina | 324 |
| 5 | Elizabeth | Adams | Eden Prairie 1 | 310 |
| 6 | Micah | Ruetz | Eden Prairie 1 | 310 |
| 7 | Becca | Vanelli | Eden Prairie 1 | 310 |
| 8 | Zella | Zander | Hopkins | 310 |
| 9 | Addison | Blumhoefer | Northfield | 310 |
Boys, Grades 3 and 4
| Rank | F.Name | L. Name | Camp Site | Score |
| --- | --- | --- | --- | --- |
| 1 | Jack | Johnson | Edina | 933 |
| 2 | JJ | Dill | Edina | 898 |
| 3 | Cayden | Herman | St. Michael | 892 |
| 4 | Cooper | Eastman | Edina | 886 |
| 5 | Bennett | Travis | Edina | 881 |
| 6 | Louie | Sandbo | Eden Prairie 1 | 864 |
| 7 | Grady | Hartzell | Hopkins | 857 |
| 8 | Lachlan | Robideau | St. Michael | 846 |
| 9 | Will | Krueger | Eden Prairie 1 | 842 |
| 10 | Grayson | Johnson | St. Michael | 840 |
Girls, Grade 3 and 4
| Rank | F.Name | L. Name | Camp Site | Score |
| --- | --- | --- | --- | --- |
| 1 | Ava | Boser | Minnetonka | 685 |
| 2 | Catherine | Sills | Hopkins | 669 |
| 3 | Alice | Stoltenow | Stillwater | 654 |
| 4 | Vida | Collins | Stillwater | 643 |
| 5 | Noelle | Peterson | Hopkins | 609 |
| 6 | Abigail | Lehman | Stillwater | 592 |
| 7 | Callie | Griffith | Hopkins | 563 |
| 8 | Brynn | Engelkes | St. Michael | 542 |
| 9 | Ella | Johnson | Minnetonka | 469 |
| 10 | Alexa | Kolehmainen | Farmington | 420 |
Boys, Grades 5 and 6
| Rank | F.Name | L. Name | Camp Site | Score |
| --- | --- | --- | --- | --- |
| 1 | Emmett | Hagen | Hopkins | 999 |
| 2 | Anders | Nicholls | Hopkins | 994 |
| 3 | Aaron | Smith | Eden Prairie 1 | 986 |
| 4 | Harrison | Barnes | Hopkins | 974 |
| 5 | Parker | Lehmann | Stillwater | 942 |
| 6 | Jack | Leicher | Hopkins | 939 |
| 7 | Brody | Jenzen | St. Michael | 927 |
| 8 | Evan | Moline | Delano | 924 |
| 9 | Hank | Anderson | Edina | 923 |
| 10 | Jack | Retzer | Edina | 911 |
Girls, Grades 5 and 6
| Rank | F.Name | L. Name | Camp Site | Score |
| --- | --- | --- | --- | --- |
| 1 | Brooklyn | Bryant | Minnetonka | 819 |
| 2 | Caelyn | Engelkes | St. Michael | 802 |
| 3 | Kaiya | Peck | Edina | 779 |
| 4 | Audrey | Benowitz | Minnetonka | 777 |
| 5 | Alexis | Olmstead | N. Saint Paul | 771 |
| 6 | Kendall | Starkey | Minnetonka | 768 |
| 7 | Ryleigh | Egger | N. Saint Paul | 692 |
| 8 | Penelope | Pohle | Minnetonka | 691 |
| 9 | Sophie | Braun | Northfield | 681 |
| 10 | Harper | Benson | Edina | 664 |
Boys, Grades 7 and 8
| Rank | F.Name | L. Name | Camp Site | Score |
| --- | --- | --- | --- | --- |
| 1 | Noah | Pierson | Hopkins | 1122 |
| 2 | Avery | Johnson | St. Michael | 1091 |
| 3 | Conner | Blake | Apple Valley | 1063 |
| 4 | Braxton | Erickson-Wyckoff | Eden Prairie 1 | 1045 |
| 5 | Judah | Reker | Hopkins | 1044 |
| 6 | Leighton | Egger | N. Saint Paul | 1041 |
| 7 | Dylan | Warn | Hopkins | 1003 |
| 8 | Jimmy | Ferril | Delano | 987 |
| 9 | Will | Snell | Hopkins | 982 |
| 10 | Lucas | Engelkes | St. Michael | 979 |
Girls, Grades 7 and 8
| Rank | F.Name | L. Name | Camp Site | Score |
| --- | --- | --- | --- | --- |
| 1 | Cora | Chanley | Minnetonka | 783 |
| 2 | Gabby | Ladmer | Hopkins | 754 |
| 3 | Stella | Kuznia | Hopkins | 743 |
| 4 | Giada | Gobeyn | Eden Prairie 1 | 585 |