Due to the shortened 2020 Twins season, this theme night event will not be taking place in 2020. It is our hope to reschedule this event to a new game date during the 2021 season. Please check back in early 2021 for more information. Until then, we thank you for your patience and support, and offer our hope for health throughout Twins Territory and beyond.
Cancer seems to impact everyone in Twins Territory. You're invited to join fellow Twins fans at Target Field on Monday, August 31st, to express your support for Cancer Awareness. Supporters purchasing tickets through this special theme night ticket package will receive a ticket for the game plus a Minnesota Twins Cancer Awareness hat. The Twins cap colors correspond to the colors associated with the most prevalent cancers seen throughout Twins Territory. Plus, a portion of each ticket purchased through this special ticket package will be donated back to the American Cancer Society to support cancer research and awareness.
To join the Twins in their effort to strike out cancer, simply click the "Buy Now" button below. Then choose your seating area and cap color.
Cancer Awareness colors:
Gold - Pediatric Cancer awareness
Black - Skin Cancer awareness
Pink - Breast Cancer awareness
White - Lung Cancer awareness
Dark Blue - Colon Cancer awareness
Light Blue - Prostate Cancer awareness
Orange - Leukemia & Lymphoma awareness
Purple - Pancreatic Cancer awareness
Teal - Ovarian Cancer awareness
Lavender - All other Cancer awareness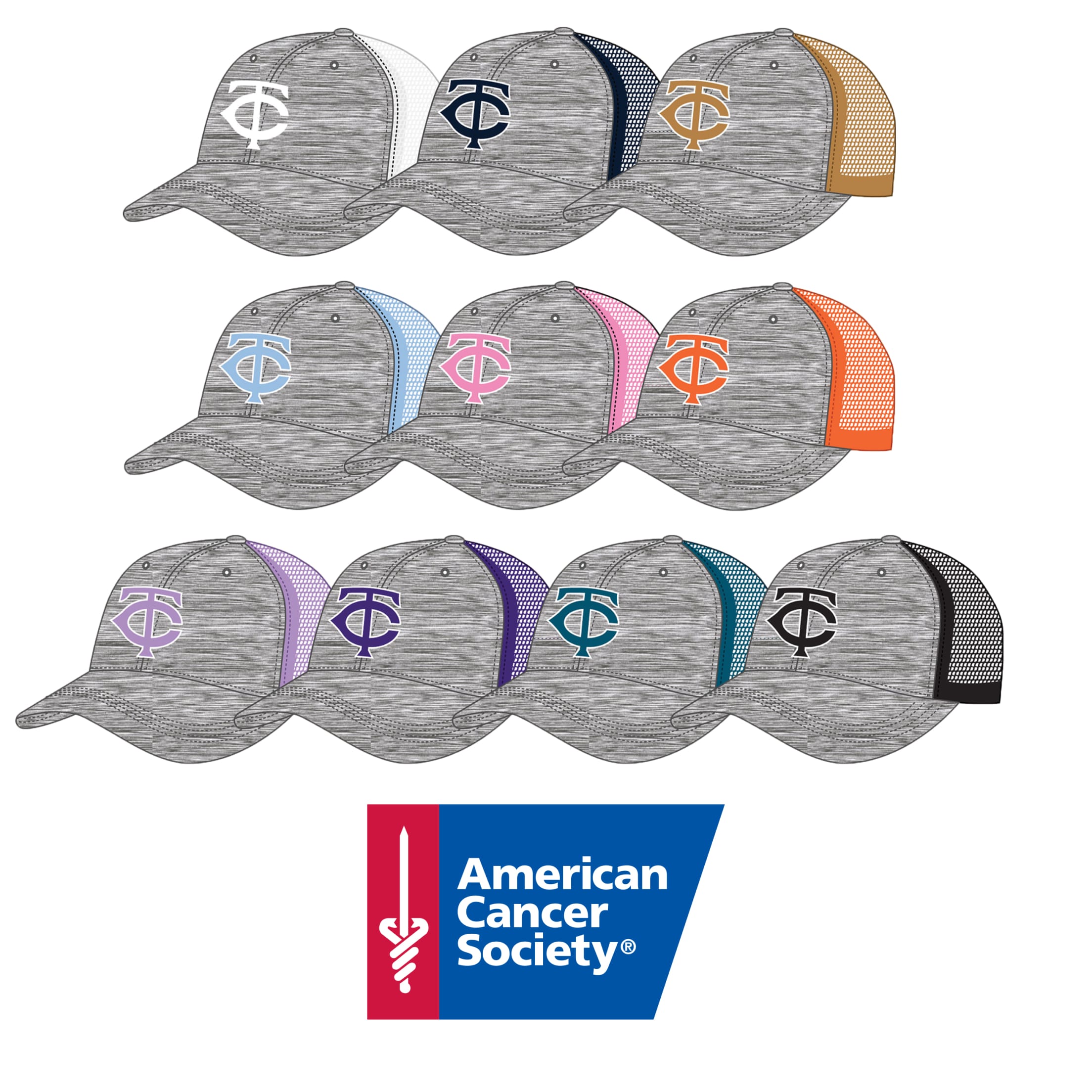 Hat Pick-up Information
You'll pick up your Cancer Awareness hat on the day of the game (only) at Target Field Station, located around the corner from Gate 6 at the northwest corner of Target Field (near 5th Street and the light-rail). A valid ticket purchased through this special theme night ticket package must be presented in order for you to receive your Cancer Awareness hat. Pick up will begin at 5:00 p.m. and run through 7:30 p.m. Cancer Awareness hats are only available in the indicated colors above. Seating & hats are limited and are available on a first-come, first served basis…show your support and purchase your seats today! Hat selections made here does not constitute a guarantee. We'll do our best to provide your first choice of hat.
---
Game date and time subject to change. No refunds or exchanges.
For groups of 20 or more, please contact Jake Langer at [email protected] or 612.659.3579.