Arizona Fall League rosters revealed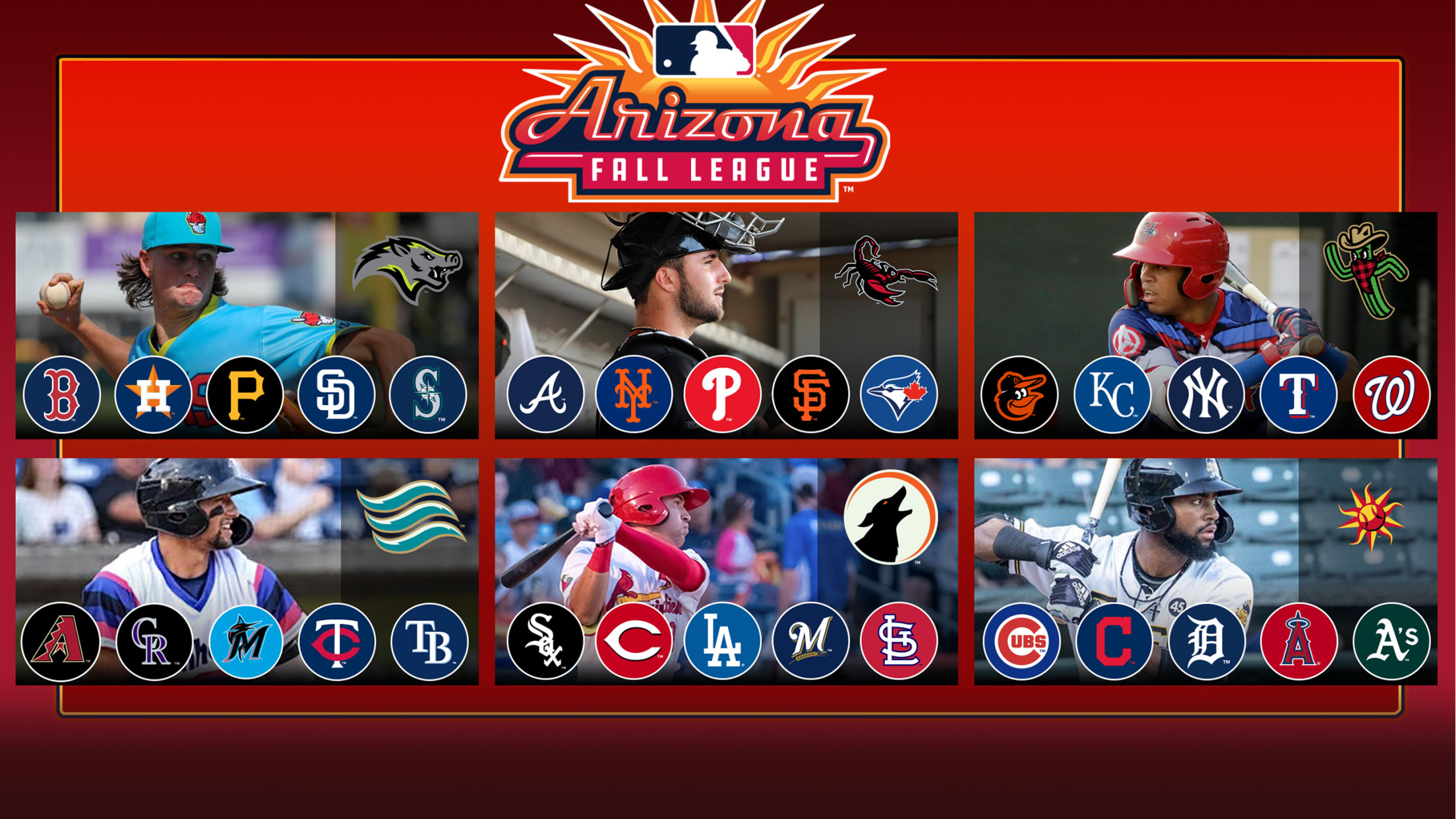 While Minor League regular seasons and playoffs will end by mid-September, several of baseball's best prospects will continue to show their skills in the Arizona Fall League, which begins play on Sept. 18. Angels outfielder Jo Adell, Twins players Royce Lewis and Alex Kirilloff and Astros right-hander Forrest Whitley highlight
While Minor League regular seasons and playoffs will end by mid-September, several of baseball's best prospects will continue to show their skills in the Arizona Fall League, which begins play on Sept. 18. Angels outfielder Jo Adell, Twins players Royce Lewis and Alex Kirilloff and Astros right-hander Forrest Whitley highlight the rosters for the developmental circuit, which were announced on Wednesday.
In all, 20 of MLB Pipeline's Top 100 Prospects will participate in the AFL. Besides Adell (No. 4 on the Top 100), Lewis (No. 7), Kirilloff (No. 16) and Whitley (No. 17), the others are: Giants catcher Joey Bart (No. 20), Mariners outfielder Jarred Kelenic (No. 23), Phillies third baseman Alec Bohm (No. 35), Indians third baseman Nolan Jones (No. 38), Cubs shortstop Nico Hoerner (No. 48), Cardinals outfielder Dylan Carlson (No. 50), Mariners outfielder Julio Rodriguez (No. 52), Giants outfielder Heliot Ramos (No. 53), Pirates shortstop Oneil Cruz (No. 59), Royals left-hander Daniel Lynch (No. 73), Nationals shortstop Luis Garcia (No. 77), Cubs catcher Miguel Amaya (No. 88), Mets shortstop Andres Gimenez (No. 91), Reds third baseman Jonathan India (No. 92), Rays right-hander Shane Baz (No. 93) and D-backs first baseman Seth Beer (No. 97)
More than 2,900 former Fall Leaguers have advanced to the big leagues, including Hall of Famers Roy Halladay and Mike Piazza as well as future Cooperstown locks Derek Jeter and Albert Pujols. The AFL has produced 296 All-Stars, 19 Most Valuable Players (including both 2018 honorees, Mookie Betts and Christian Yelich), six Cy Young Award winners and 30 Rookies of the Year. Gleyber Torres (2016) and Ronald Acuna (2017) won AFL MVP awards before starring in the big leagues, and other recent Fall League standouts include Pete Alonso, Cody Bellinger, Vladimir Guerrero Jr. and Victor Robles.
Below are the initial AFL rosters, broken down by big league team (with MLB Pipeline organization Top 30 rankings in parentheses). There are still a handful of roster spots to be filled, as each team will send a minimum of seven prospects (four pitchers, three position players).
AMERICAN LEAGUE EAST
Blue Jays (Scottsdale): Kevin Smith, SS/3B (No. 14); Cullen Large, 3B; Logan Warmoth, SS/2B
Smith, a 2017 fourth-round pick, had a monster 2018 campaign (.866 OPS, 25 HR, 29 SB) but has taken a step back this season in Double-A, albeit while still hitting for power. Warmoth, the club's 2017 first-rounder, has had his prospect stock continue to slide in 2019 as he's struggled to keep his average above .200 following a midseason promotion to Double-A. The Blue Jays will also have four to-be-determined pitchers on the Scorpions' roster. Complete roster »
Orioles (Surprise): Dean Kremer, RHP (No. 8); Alex Wells, LHP (No. 20); Rylan Bannon, 3B/2B (No. 24); Mason McCoy, SS/2B (No. 25); David Lebron, RHP
Kremer, acquired in last year's Manny Machado trade, led the Minors in strikeouts (178) in 2018 but was limited early this season by an oblique injury. He's since made a healthy return and has advanced to Triple-A. The Australian-born Wells was among the Double-A Eastern League ERA leaders for much of the year, though his performance has backed up a bit late in the season. Bannon, another product of the Machado trade, was recently promoted to Triple-A, and McCoy has put up solid numbers across two levels including Double-A. Complete roster »
Rays (Salt River): Shane Baz, RHP (No. 6, MLB No. 93); Ronaldo Hernandez, C (No. 7); Josh Lowe, OF (No. 12); Taylor Walls, SS (No. 19); Drew Strotman, RHP (No. 25); Alex Valverde, RHP
Baz has front-of-the-rotation potential with his combination of size and power stuff, but the 20-year-old righty must learn how to harness said stuff and repeat his delivery with more consistency. Hernandez, 21, got his first taste of the Fall League last year and has had a solid if unspectacular campaign in the Florida State League. Lowe, a former first-round pick (2016), has made steady progress while climbing the Rays' system and is flirting with a 20-20 campaign this year in Double-A. Walls, 23, does a little bit of everything on the field, hitting for average and some pop while offering value with his speed and slick infield defense. Complete roster »
Red Sox (Peoria): Bryan Mata, RHP (No. 3); Jarren Duran, OF (No. 4); Tanner Houck, RHP (No. 5); C.J. Chatham, SS (No. 9); Marcus Wilson, OF (No. 17); Yoan Aybar, LHP (No. 29)
All six of the announced Red Sox farmhands so far are Top 30 Prospects, including several of their best. Mata and Houck are the two best pitchers in their system, while Duran appeared in the SiriusXM All-Star Futures Game in his first full pro season and has batted .307/.373/.411 with 35 extra-base hits and 44 steals while rushing to Double-A. Complete roster »
Yankees (Surprise): Daniel Bies, RHP; Glenn Otto, RHP; Donny Sands, C; Josh Stowers, OF; Brandon Wagner, 1B
Acquired from the Mariners in an offshoot of the Sonny Gray trade in January, Stowers has a chance to have four average or better tools, with his arm the lone exception. Otto has had difficulty staying healthy but can reach 97 mph and devastate hitters with his curveball when he's at 100 percent. Complete roster »
AMERICAN LEAGUE CENTRAL
Indians (Mesa): Nolan Jones, 3B (No. 1, MLB No. 38); Ernie Clement, SS (No. 26); Gavin Collins, C; Brock Hartson, RHP; Kirk McCarty, LHP
Jones' power potential and patience at the plate makes him one of the best third-base prospects in the game. Clement is one of the best contact hitters in the Minors, striking out in just 7 percent of his professional plate appearances. Complete roster »
Royals (Surprise): Daniel Lynch, LHP (No. 3, MLB No. 73); Kyle Isbel, OF (No. 8); Brewer Hicklen, OF (No. 15); Gabriel Cancel, 2B (No. 30); Tad Ratliff, RHP; Daniel Tillo, LHP
One of the best left-handed pitching prospects in the game, Lynch will be making up for some lost innings during his first full season due to some minor arm issues early in the year. Isbel is in the same boat, having missed much of his first full season with a wrist injury. Complete roster »
Tigers (Mesa): Isaac Paredes, INF (No. 5); Anthony Castro, RHP (No. 20); Derek Hill, OF (No. 28); Alex Lange, RHP (No. 29); Jose Azocar, OF; Wladimir Pinto, RHP; Trent Szkutnik, LHP
Paredes has come on strong offensively in Double-A during the second half, and he'll look to build upon that momentum in the Fall League. He'll be joined on Mesa's roster by fellow Erie teammates Castro, a right-hander capable of hitting 98 mph, Lange, whom Detroit acquired in the Nicholas Castellanos trade, and Hill, a stellar center fielder and former first-round pick (2014). Complete roster »
Twins (Salt River): Royce Lewis, SS (No. 1, MLB No. 7); Alex Kirilloff, OF (No. 2, MLB No. 16); Dakota Chalmers, RHP; Moises Gomez, RHP; Jovani Moran, LHP; Zach Neff, LHP
Lewis and Kirilloff represent the best 1-2 punch from any organization in the AFL this year. Lewis has had an uneven season, though he did reach Double-A and is only 20. Kirilloff started the year on the injured list with a wrist problem, then missed three more weeks in June because of it, but once again looked like one of the best pure hitters in the Minors in August. Complete roster »
White Sox (Glendale): Blake Rutherford, OF (No. 9); Gavin Sheets, 1B (No. 13); Tyler Johnson, RHP (No. 19); Bernardo Flores, LHP (No. 28); Vince Arobio, RHP; Bennett Sousa, LHP
Sheets (a 2017 second-rounder) has found his power stroke in the second half of the season and the White Sox hope Rutherford (a Yankees 2016 first-rounder) can do the same in Arizona -- much like Luis Robert did a year ago. Johnson could use the AFL as a springboard to joining Chicago's bullpen early next season. Complete roster »
AMERICAN LEAGUE WEST
Angels (Mesa): Jo Adell, OF (No. 1, MLB No. 4); Brandon Marsh, OF (No. 2); Jahmai Jones, 2B (No. 6); Aaron Hernandez, RHP (No. 14); Nathan Bates, RHP; Isaac Mattson, RHP; Franklin Torres, C; Austin Warren, RHP
One of the most dynamic offensive players in the Minors, Adell shook off hamstring and ankle injuries suffered in Spring Training to play in his second Futures Game and to reach Triple-A at age 20. He'll make up for lost at-bats in the AFL while preparing himself to join Mike Trout in the Angels outfield in 2020. A sprained ankle also shelved Marsh, another very toolsy outfielder in the system, but he was very impressive down the stretch in Double-A as a 21-year-old this year. Complete roster »
Astros (Peoria): Forrest Whitley, RHP (No. 2, MLB No. 17); Jeremy Pena, SS (No. 9); J.J. Matijevic, 1B (No. 18); Carlos Sanabria, RHP; Colton Shaver, C; Jojanse Torres, RHP
Whitley ranked as the best pitching prospect in the AFL a year ago and returns after a rough season in which he battled minor injuries and his command. The son of former big leaguer Geronimo Pena, Jeremy is a slick defender who has hit better than expected (.303/.383/.447) in his first full pro season. Complete roster »
A's (Mesa): Nick Allen, SS/2B (No. 6); Greg Deichmann, OF (No. 17); Alfonso Rivas, 1B (No. 25); Jhenderson Hurtado, RHP; Jesus Zambrano, RHP
Allen, one of the best defensive shortstops in the Minor Leagues, hasn't played since the end of June after suffering a high ankle sprain, so he'll be making up for lost time after getting off to a very good start in the California League. The same can't be said for fellow 2017 draftee Greg Deichmann, who struggled with the move to Double-A this year and had the injury bug hit for a second straight season, this time in the form of a shoulder strain. Complete roster »
Mariners (Peoria): Jarred Kelenic, OF (No. 1, MLB No. 23); Julio Rodriguez, OF (No. 3, MLB No. 52); Joe Rizzo, 3B/1B (No. 20); Aaron Fletcher, LHP (No. 27); Jose Caballero, SS; Sam Delaplane, RHP; Raymond Kerr, LHP; Penn Murfee, RHP
Mariners fans dream of watching Kelenic and Rodriguez roaming the outfield and hitting in the same Seattle lineup. Kelenic hit his way to Double-A as a high school draftee in his first full season of pro ball and Rodriguez shook off a hand fracture to hit his way up to the California League as a teenager. Complete roster »
Rangers (Surprise): Bubba Thompson, OF (No. 8); Josh Advocate, RHP; Cole Uvila, RHP; Matt Whatley, C
A former Southeastern Conference quarterback recruit, Thompson will be one of the best athletes in the AFL but has been hampered by hamate and ankle injuries in 2019. Uvila was just a 40th-round pick as a 24-year-old senior out of Georgia Gwinnett a year ago, but he has a mid-90s fastball and a 2.04 ERA with 92 strikeouts in 61 2/3 innings between two Class A stops this season. Complete roster »
NATIONAL LEAGUE EAST
Braves (Scottsdale): Greyson Jenista, 1B/OF (No. 11); Trey Harris, OF (No. 18); Daysbel Hernandez, RHP (No. 20); Justin Dean, OF (No. 23); Connor Johnstone, RHP; Brad Roney, RHP; Garrison Schwartz, OF; Brandon White, RHP
Jenista will be playing first base in Arizona, but that's mostly just to get him regular at-bats; no permanent position change is in the works. Harris went from off-the-radar, 32nd-round senior sign in 2018 to hitting his way to Double-A in his first full season. Complete roster »
Marlins (Salt River): Jose Devers, SS (No. 11); Nick Neidert, RHP (No. 12); Victor Victor Mesa, OF (No. 14); Jerar Encarnacion, OF (No. 18); Vincenzo Aiello, RHP; C.J. Carter, RHP; Alex Vesia, LHP
The Marlins are sending an interesting trio of position players led by Devers, the younger cousin of Rafael and part of the Giancarlo Stanton trade with the Yankees, whose quality defensive play overshadows his offensive upside. Mesa signed for $5.25 million last October and has stood out more with his center-field play than his bat, while Encarnacion has plus raw power and arm strength. Complete roster »
Mets (Scottsdale): Andres Gimenez, SS/2B (No. 3, MLB No. 91); David Peterson, LHP (No. 7); Thomas Szapucki, LHP (No. 12); Ryley Gilliam, RHP (No. 16); Ali Sanchez, C (No. 17); Patrick Mazeika, C (No. 26); Luis Carpio, SS/2B (No. 28)
The Mets will be sending seven players from their Top 30 list to this year's Fall League. The group is highlighted by Gimenez and Sanchez, who both played in last year's Fall League, and also includes a trio of hurlers from their Double-A Binghamton roster in Peterson, Szapucki and Gilliam. All three pitchers have the potential to help the Mets' big league staff in some capacity in 2020. Complete roster »
Nationals (Surprise): Luis Garcia, INF (No. 2, MLB No. 77); Sterling Sharp, RHP (No. 13); Cole Freeman, OF (No. 26); Nick Raquet, LHP (No. 29); Nick Banks, OF; Jacob Condra-Bogan, RHP; Andrew Lee, RHP; Jakson Reetz, C
Garcia is set to play in the Fall League after spending his entire age-19 campaign in Double-A, performing better as the season progressed. Sharp also spent the season in Double-A, though the ground-ball-machine right-hander will be making up for lost time in the AFL after having his second half wiped out by an oblique injury. Complete roster »
Phillies (Scottsdale): Alec Bohm, 3B/1B (No. 1, MLB No. 35); Spencer Howard, RHP (No. 4); Mickey Moniak, OF (No. 8); JoJo Romero, LHP (No. 10); Nick Maton, SS/2B (No. 14); Connor Seabold, RHP (No. 30)
Bohm, the club's first round pick in 2018, has hit over .300 and banged out 20 homers while reaching Double-A in his first full season. Howard might have been a Top 100 guy already had he been healthy all year, and should land on it with a strong AFL performance. Moniak is the former No. 1 overall pick (2016) who had an up-and-down Double-A season, but is still just 21. Complete roster »
NATIONAL LEAGUE CENTRAL
Brewers (Glendale): Tristen Lutz, OF (No. 2); Payton Henry, C (No. 16); Pablo Abreu, OF (No. 18); Clayton Andrews, LHP; Victor Castaneda, RHP; David Fry, 1B/3B; Nathan Kirby, LHP; Quintin Torres-Costa, LHP
Lutz, the No. 34 overall pick from the 2017 Draft, has shown a promising blend of hitting ability and power this season in the Class A Advanced Carolina, where Henry ranks among the circuit leaders in RBIs. Abreu has been dinged up this year, limiting him to less than 50 games, but the 19-year-old has natural loft to his swing and a chance to stick in center field long term. Andrews, 22, has established himself as a legitimate two-way prospect, showing late-inning potential as a left-handed pitcher, a knack for making contact at the plate and enough defensive chops to play center field. Complete roster »
Cardinals (Glendale): Dylan Carlson, OF (No. 2, MLB No. 50); Elehuris Montero, 3B (No. 4); Ivan Herrera, C (No. 6); Griffin Roberts, RHP (No. 19); Seth Elledge, RHP (No. 25); Kramer Robertson, SS; Kodi Whitley, RHP
Carlson, 20, has been one of the top breakout prospects of the 2019 season, showing five-tool potential while flirting with a 20-20 campaign between the Double-A and Triple-A levels. Montero has struggled in his age-20 season in Double-A, though he also lost nearly two months with a broken hamate bone in his hand, while Herrera has hit his way up to the Florida State League at age 19. Complete roster »
Cubs (Mesa): Nico Hoerner, SS (No. 1, MLB No. 48); Miguel Amaya, C (No. 2, MLB No. 88); Erich Uelmen, RHP (No. 24); Jordan Minch, LHP; Keegan Thompson, RHP; Jared Young, 1B
The Cubs will ship their top two prospects to the AFL, and the sweet-swinging Hoerner started with the Mesa Solar Sox last fall as well. Amaya already has played in two SiriusXM All-Star Futures Games at age 20 and has the chance to be solid offensively and defensively. Complete roster »
Pirates (Peoria): Oneil Cruz, SS (No. 3, MLB No. 59); Jared Oliva, OF (No. 11); Blake Cederlind, RHP (No. 28); Jason Delay, C; Nick Mears, RHP; Cody Ponce, RHP
Cruz, the 6-foot-6 shortstop, is one of the most fascinating prospects in baseball. He missed two months this season with a broken foot, but still made it to Double-A at age 20. Oliva managed the jump to Double-A in his second full season of pro ball well and was among the Eastern League leaders in stolen bases. Complete roster »
Reds (Glendale): Jonathan India (No. 3, MLB No. 92); Tyler Stephenson, C (No. 7); Jose Israel Garcia, SS/2B (No. 9); Stuart Fairchild, OF (No. 16); Jordan Johnson, RHP; Diomar Lopez, RHP; Dauri Moreta, RHP; Cory Thompson, RHP
India was the Reds' first-round pick in 2018 and while his first full season was somewhat pedestrian, he did reach Double-A and ended with double-digits in both homers and steals. Stephenson was taken in the first round back in 2015 and injuries have hurt his development. But he's stayed on the field for the most part over the last two seasons and been productive, including a red-hot August. Complete roster »
NATIONAL LEAGUE WEST
D-backs (Salt River): Seth Beer, 1B (No. 4, MLB No. 97); Geraldo Perdomo, SS (No. 7); Jake McCarthy, OF (No. 28); Miguel Aguilar, LHP; Matt Brill, RHP; Matt Peacock, RHP; Cody Reed, LHP
Beer was the D-backs' key return from Houston in the Zack Greinke Deadline deal, and he'll headline Arizona's prospect contingent in this year's AFL after hitting 25-plus homers while reaching Double-A in his first full season. Perdomo, a 19-year-old switch-hitting shortstop, has impressed in all facets of the game across two levels in his first full season. McCarthy has had a disappointing first full season, though he also missed time with wrist and ankle injuries. Complete roster »
Dodgers (Glendale): Mitchell White, RHP (No. 9); Omar Estevez, SS (No. 15); Devin Mann, 2B (No. 17); Gerardo Carrillo, RHP (No. 22); Marshall Kasowski, RHP (No. 27); Brett de Geus, RHP; Jeren Kendall, OF
White and Carrillo both have mid-90s fastballs with heavy sink, while Kasowski has averaged 14.8 strikeouts per nine innings as a pro by relying on a heater that features similar velocity and seems to rise at the plate. Mann has had a breakout first full pro season, batting .277/.358/.494 with 18 homers in high Class A. Complete roster »
Giants (Scottsdale): Joey Bart, C (No. 1, MLB No. 20); Heliot Ramos, OF (No. 2, MLB No. 53); Tristan Beck, RHP (No. 18); Jacob Heyward, OF; Jalen Miller, 2B; Frank Rubio, RHP; Bryce Tucker, LHP
Bart and Ramos are the Giants' two best prospects as well as their first-round picks from the 2018 and 2017 Drafts. Bart's power and arm strength make him one of the game's top catching prospects, while Ramos has five-tool potential and has reached Double-A at age 19. Complete roster »
Padres (Peoria): Luis Campusano, C (No. 8); Owen Miller, SS/2B (No. 11); Hudson Potts, 3B (No. 12)
Campusano, 20, is heading to the Fall League after a breakout campaign at Class A Advanced Lake Elsinore that netted him California League co-MVP honors. Miller, a third-round pick from the 2018 Draft, has been a model of consistency in his first Double-A campaign, hitting for average and power while playing above-average defense at both middle-infield spots. Potts is ticketed for his second straight AFL after missing time this season with a strained oblique. The Padres will also have four pitchers on the Javelinas' roster, though none have been announced. Complete roster »
Rockies (Salt River): Colton Welker, 3B/1B (No. 3); Ryan Castellani, RHP (No. 15); Roberto Ramos, 1B (No. 28); Bret Boswell, 3B/OF; Ashton Goudeau, RHP; Alexander Guillen, RHP; Brian Serven, C
Welker has had two different seasons in 2019, breaking out of the gate on fire and looking like one of the best pure hitters in the Minors, then really struggling in the second half of his first taste of Double-A. He could really right the ship with a strong AFL campaign. Castellani used the 2018 AFL to help rediscover his arm slot, but then made just 10 starts this year in Triple-A before elbow issues forced him off the mound. Complete roster »