Simmons comes off IL, returns to Halos' lineup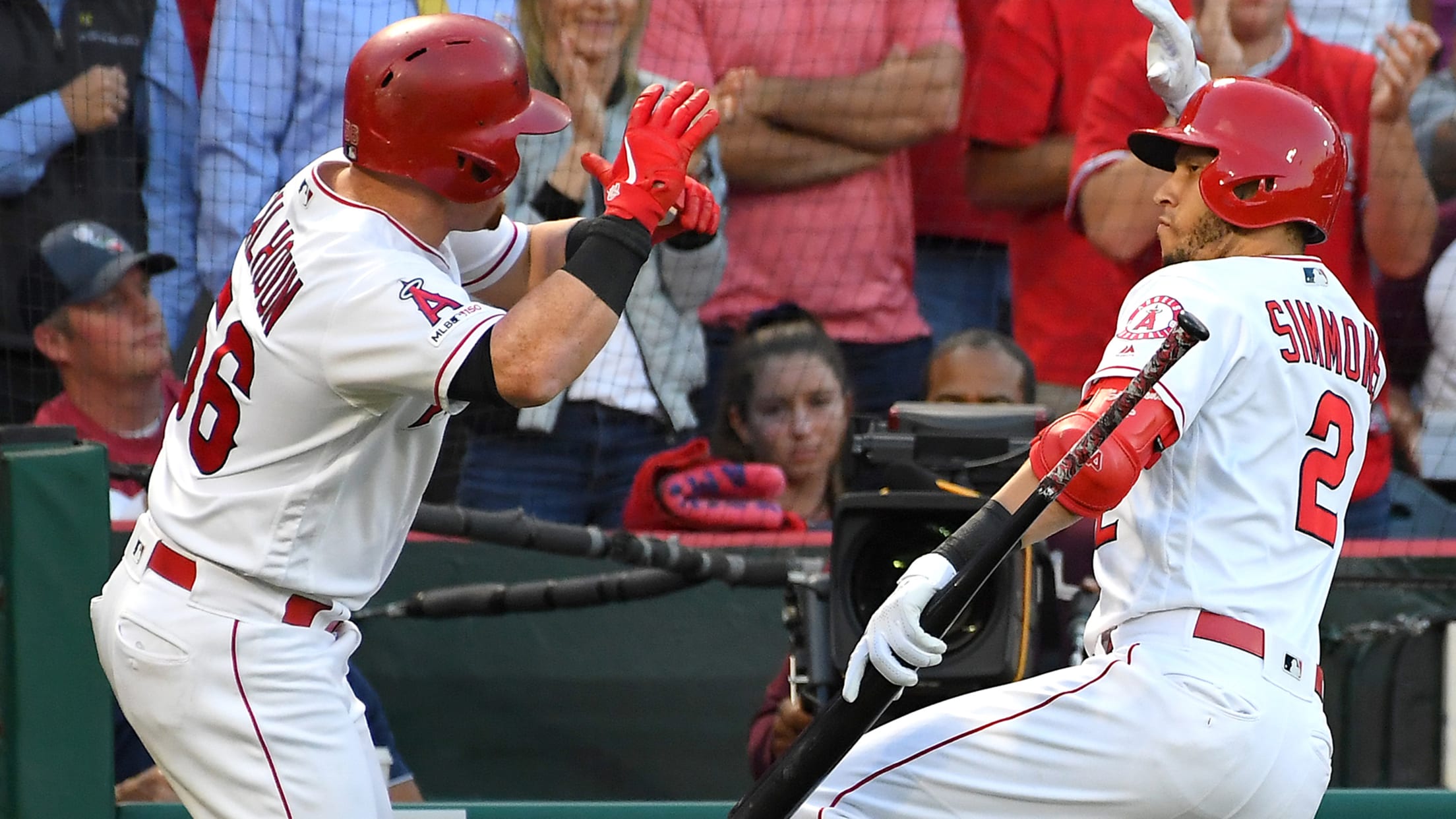 ANAHEIM -- The Angels received a major boost Thursday, as shortstop Andrelton Simmons was activated from the 10-day injured list after missing five weeks with a Grade 3 left ankle sprain. Simmons went 1-for-4 with a single and a run scored in the Halos' 8-3 win over the A's. Right-hander
ANAHEIM -- The Angels received a major boost Thursday, as shortstop Andrelton Simmons was activated from the 10-day injured list after missing five weeks with a Grade 3 left ankle sprain. Simmons went 1-for-4 with a single and a run scored in the Halos' 8-3 win over the A's.
Right-hander Jaime Barria, who allowed one run over five innings in Wednesday's 5-1 win, was optioned to Triple-A Salt Lake to make room for Simmons on the roster.
Simmons made a quick return from the injury, as it generally takes 8-12 weeks to fully recover, but he was already hitting on the field two weeks ago and started a rehab assignment last week. He played two games with Rookie-level Orem before sustaining a slight setback on June 19. But after playing in a game with Class A Advanced Inland Empire on Tuesday, he was cleared to rejoin the Angels for Thursday's series opener against the A's.
"I've been working hard to get back," Simmons said. "I've been watching the games and seeing that they've been doing really good. Hopefully, I can chip in and help that keep going."
With the return of Simmons, it means the Angels' lineup will be nearly at full strength for the first time this season, as they're still missing infielder Zack Cozart, but the lineup now features Shohei Ohtani, who missed the first month because of Tommy John surgery, and Justin Upton, who missed nearly three months with left turf toe.
"It's great to have Simba back," center fielder Mike Trout said. "He plays the game hard. It's the first time all year we've had our full lineup. I'm really excited about where we are right now."
The Angels plan to be cautious with Simmons, as he's not expected to play everyday at shortstop in the early going. They decided to keep rookie infielder Luis Rengifo on the roster, so he'll be rotated around the infield to give breaks to Simmons and fellow infielders Tommy La Stella and David Fletcher.
Angels manager Brad Ausmus, though, was pleased to see Simmons back in the lineup, starting at shortstop and hitting seventh.
"His defense is, in my opinion, the best in baseball at the shortstop position, which is a premium defensive position," Ausmus said. "It doesn't hurt to have his bat as well. We've got exactly half the season left, so there's still a lot of time. It's good to have everyone back together, but we've still got to go out and execute."
Barria, meanwhile, could be replaced by rookie left-hander Jose Suarez in the rotation once that turn comes up on Monday in Texas against the Rangers. Suarez was optioned on June 21, so he's eligible to be called up again Monday.
Middleton to face hitters Friday
Right-handed reliever Keynan Middleton, who is rehabbing from Tommy John surgery, is set to face hitters for the first time on Friday in Arizona. Middleton will continue to build up from there and could start a rehab assignment in about a week. He had a setback in May, but he is expected to need roughly three weeks before he's ready to return.