Ohtani won't return for Angels' Mexico Series
2018 AL Rookie of the Year could DH on following road trip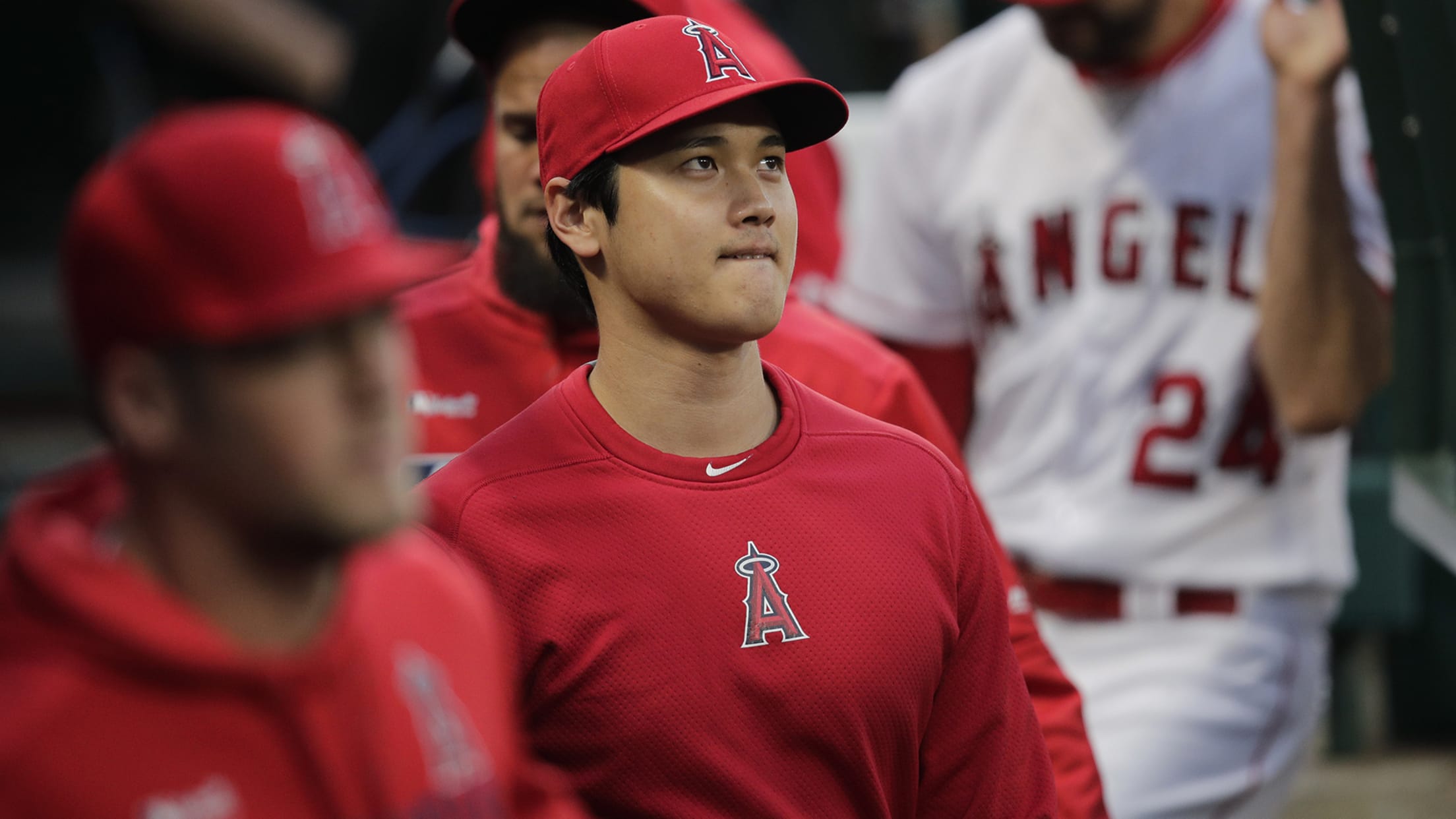 ANAHEIM -- Shohei Ohtani will not be joining the Angels in Monterrey for this weekend's Mexico Series against the Astros on Saturday and Sunday, meaning the soonest he could possibly return as a designated hitter is next Tuesday in Detroit, manager Brad Ausmus said Tuesday. Ohtani, coming off Tommy John
ANAHEIM -- Shohei Ohtani will not be joining the Angels in Monterrey for this weekend's Mexico Series against the Astros on Saturday and Sunday, meaning the soonest he could possibly return as a designated hitter is next Tuesday in Detroit, manager Brad Ausmus said Tuesday.
Ohtani, coming off Tommy John surgery on last Oct. 1, has been participating in simulated games since last Wednesday, including facing a left-handed pitcher in five plate appearances on Monday. But he had Tuesday off from seeing pitching and won't be ready to be activated from the injured list this weekend.
"We do not have plans to take him to Mexico," Ausmus said. "He just needs more at-bats."
Ohtani, the reigning American League Rookie of the Year, is expected to need roughly 40 plate appearances before he returns, and he's had 20 so far. The Angels have been cautious not to overwork Ohtani, as they said he could receive as many as 10 plate appearances in a day, but that hasn't been the case yet.
"They want to progress it slowly, from a medical standpoint, to make sure he's not overloaded on his elbow," Ausmus said.
After the Angels' two-game series in Mexico, they head to Baltimore, Detroit and Minneapolis for a three-city road trip, so Ohtani is expected to make his 2019 debut away from Angel Stadium. But Ausmus said that's the way the schedule worked out and that it wasn't a plan to not have him debut at home.
"I don't know if there's value to him coming back on the road," Ausmus said. "We'll bring him back when he's ready to come back. We want him in the lineup. I don't know if the road plays into it necessarily."
Heaney throws bullpen session
Left-hander Andrew Heaney threw his third bullpen session since sustaining left elbow inflammation in Spring Training, and reported that everything went well. Heaney threw all of his pitches during the session, which was modified to include an eight-minute break to resemble a two-inning stint. Heaney threw 15 pitches, took a mid-inning break, and threw 20 more pitches after that.
"It was a two-inning up and down, and we'll go from there," Heaney said. "It went well. I'm happy. Today was a good day. We'll see what tomorrow brings."
There's still no timetable for Heaney's return, although he's moving in the right direction and looks on track to possibly rejoin the rotation at some point in late May.
Cozart progressing
Third baseman Zack Cozart, on the 10-day injured list with neck stiffness, is nearing baseball activities, Ausmus said. Cozart injured his neck diving back into second base on April 22, but he appeared as a pinch-hitter the next day before being placed on the IL. He's eligible to return Saturday in Mexico.