10 players who you forgot were Blue Jays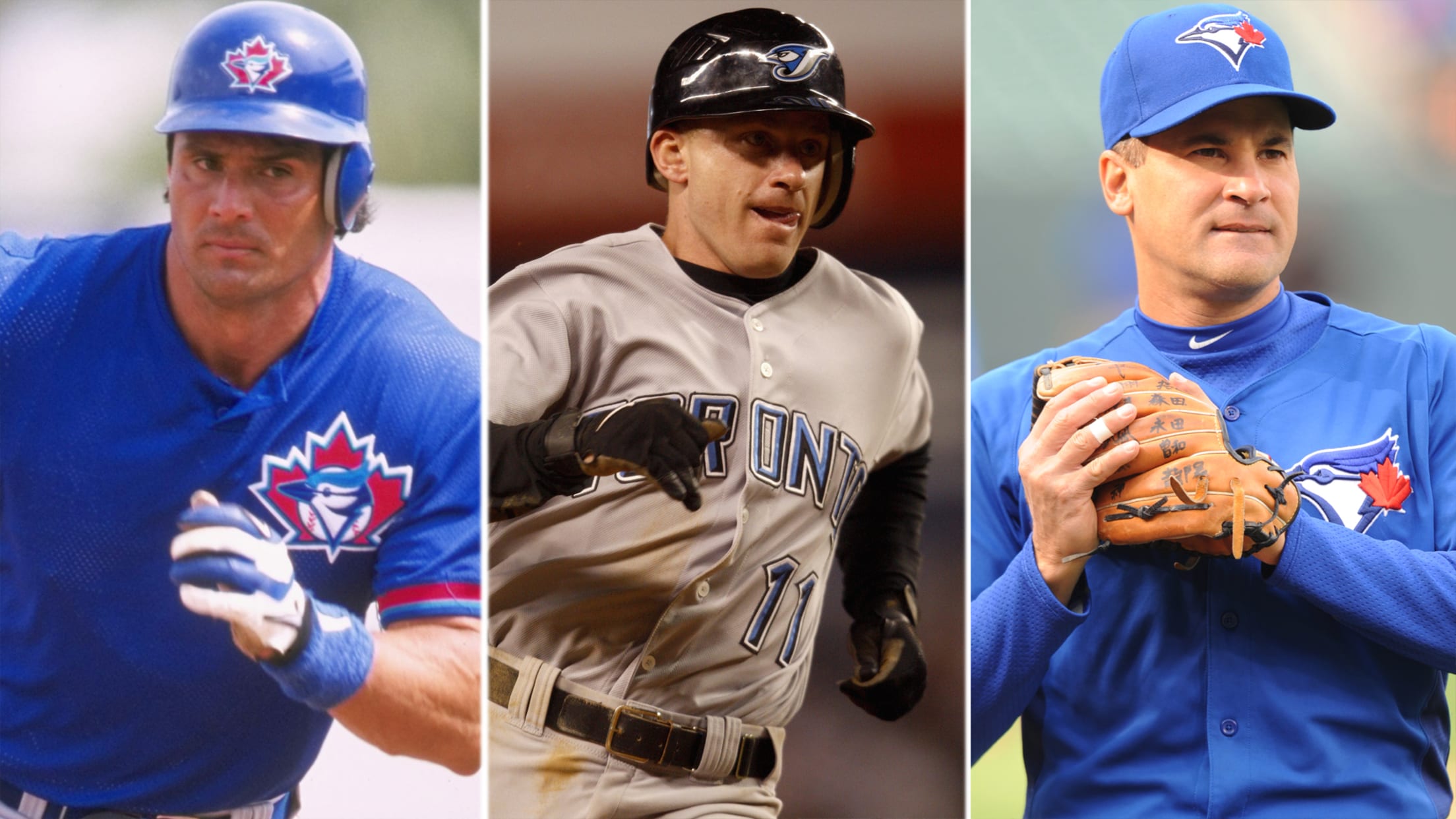 TORONTO -- Most fans still have a difficult time picturing José Bautista wearing anything besides a Blue Jays uniform. In the future, few will be able to name the three organizations Bautista played for in 2018. Some athletes will always be remembered for wearing one uniform in one city, and
TORONTO -- Most fans still have a difficult time picturing José Bautista wearing anything besides a Blue Jays uniform. In the future, few will be able to name the three organizations Bautista played for in 2018. Some athletes will always be remembered for wearing one uniform in one city, and Bautista is one of those.
There are not many people out there who recall that Joe Carter finished his career in San Francisco, or that Vernon Wells played his final game with the Yankees. The opposite can be true, as well, with big-name players having crossed the border only to be mostly forgotten.
As part of a league-wide series, MLB.com is taking a closer look at some players who made their mark elsewhere in the Majors but at least enjoyed a cup of coffee with the Blue Jays. With that in mind, here are the top 10 players you may have forgotten played in Toronto:
Danny Ainge, 1979-81
Wait, what sport is this again? The former NBA shooting guard and current Celtics president of basketball operations started his professional athletic career in baseball. Ainge spent parts of three seasons in Toronto and hit .220/.264/.269 while playing second and third base, shortstop and all three outfield positions. Ainge stepped away from baseball at age 22 to focus on basketball, and he went on to make one NBA All-Star team and win two championships. He now runs the Celtics' front office and won an NBA title in that capacity as well.
Phil Niekro, 1987
There are seven players in the Hall of Fame who wore a Blue Jays cap at some point during their careers. A lot of fans would be able to name six -- Jack Morris, Frank Thomas, Roberto Alomar, Paul Molitor, Dave Winfield and Rickey Henderson -- but even the die-hard fans would struggle to get Niekro. The accomplished knuckleballer made three starts for the Blue Jays in 1987 at the age of 48. Niekro finished his career after that season with 318 wins and a 3.35 ERA, but those Toronto days have long since been forgotten.
Jose Canseco, 1998
Has anyone ever hit 40 home runs for the Blue Jays and made less of an impact? Considering there are only six other names this list -- Carlos Delgado, Jose Bautista, Shawn Green, Edwin Encarnacion, George Bell and Tony Bautista -- it might be a toss-up between Canseco and Tony Bautista. Some Toronto fans will remember that Canseco hit 46 home runs in 1998, but the rest of Major League Baseball probably doesn't. Canseco spent just the one year in Toronto and later had stops with the Rays, Yankees and White Sox before retiring in 2001 with 462 career homers.
Kevin Cash, 2002-04
Not many people remember Cash from his days as a catcher, but he played eight MLB seasons, the first three of which were in Toronto. The Rays' manager made his big league debut with the Blue Jays at the age of 24 in 2002. He was later traded to Tampa Bay in December 2004 for right-hander Chad Gaudin. Cash is about to enter his fifth season as manager for a Rays team that shocked many in '18 with a 90-win season.
David Eckstein, 2008
Fans of baseball in the early-to-mid 2000s will remember Eckstein as the sparkplug leadoff hitter for the Angels and Cardinals. Between '02-06, Eckstein's teams missed the postseason just once, and the 5-foot-6 shortstop always seemed to be on base to lead the way. Eckstein joined the Blue Jays in '08 as a free agent, but the move didn't really work out. He appeared in 76 games for the organization and was traded to Arizona midway through the season for right-hander Chad Beck.
Mike Napoli, 2011
Napoli also never played in a game for the Blue Jays, but he was a member of the organization -- and even did media interviews -- for a grand total of four days in January 2011. Napoli was acquired alongside outfielder Juan Rivera in the trade that sent Wells to the Angels. Napoli was flipped later in the week to Texas for reliever Frank Francisco. That move was one former general manager Alex Anthopoulos lived to regret, because while Francisco was a bust as Toronto's closer, Napoli went on to have starring roles for the Rangers and Red Sox, the latter of whom he won a World Series with.
Vladimir Guerrero, 2012
Vladimir Guerrero Jr. is about to become the face of the Blue Jays, but how many people remember that his Hall of Fame father signed with Toronto in 2012? Guerrero never appeared in a game for the Blue Jays, but he worked out at the club's Spring Training complex, played four games for Class A Advanced Dunedin and eight games for Triple-A Las Vegas before getting released. Guerrero toyed with the idea of making a comeback with another team, but it never happened and his stint with the Blue Jays closed his baseball career. Guerrero finished his career with 449 home runs and was inducted into the Baseball Hall of Fame in 2018.
Omar Vizquel, 2012
It hasn't even been that long, and it already seems weird to remember that Vizquel finished his glorified career in Toronto. The 11-time Gold Glove Award winner will forever be remembered for his time in Cleveland, where he made three All-Star teams and went to the postseason six times, but his final moments as a player came with the Blue Jays. Toronto signed Vizquel as a utility infielder and he appeared in 60 forgettable games for the organization before announcing his retirement after 24 years in the Majors. Fans might forget Vizquel's brief stint, but reporters never will because of the colorful Venezuelan documentary film crew who followed every step of his final year.
Chien-Ming Wang, 2013
In the mid-2000s, Wang was one of the best pitchers in the game. He picked up 19 wins in back-to-back seasons from 2006-07 and had a starring role for the Yankees. Wang's career was later derailed by injuries, but he attempted to make a series of comebacks and one of them was with the Blue Jays. In 2013, he joined Toronto and showed flashes of his former self by tossing at least 6 1/3 innings during each of his first three appearances. Three starts later, Wang was released with a 7.67 ERA. He didn't make it back to the big leagues again until '16 and is now retired.
Jeremy Jeffress, 2014
The 2018 All-Star reliever joined the Blue Jays in 2014 after a minor trade with Kansas City. Jeffress won a relief role in Spring Training, but his stint with the Blue Jays proved to be short-lived. Jeffress made three appearances while allowing four runs, and the lack of Minor League options on his contract meant led to him being designated for assignment. Jeffress turned his career around that year, as he rejoined the Brewers and posted a 1.88 ERA over 29 appearances. In 2018, Jeffress picked up 15 saves with a 1.29 ERA and played a key role in the postseason for Milwaukee.
Honorable mentions
Eric Thames, 2011-12
Most Blue Jays fans remember Thames, but not many MLB fans know his big league career began in Toronto. Thames was taken by the Blue Jays in the seventh round of the 2008 Draft, and three years later, he debuted as a September callup. He opened the season as Toronto's starting left fielder in 2012, but struggles with the bat, and even more with the glove, led to a midseason trade to Seattle for Steve Delabar. Thames spent the following season in the Minors before heading to Korea, where he would become a star. Thames came back to the Majors in 2017 and now has a prominent spot in Milwaukee alongside Jeffress.
Edgardo Alfonzo, 2006
Alfonzo was a star infielder for eight years with the Mets, notching an All-Star appearance and three trips to the postseason. His best year arguably came in 1999, when he picked up a Silver Slugger Award after hitting 27 home runs and 108 RBIs with an .886 OPS. Alfonzo's numbers weren't even close to that in Toronto, though. He joined the Blue Jays at age 32, and while Toronto initially hoped he would fill a glaring need at second base, the move backfired. Alfonzo had just one extra-base hit over 12 games before the Blue Jays decided to cut him loose.