1 prospect from each team who could be dealt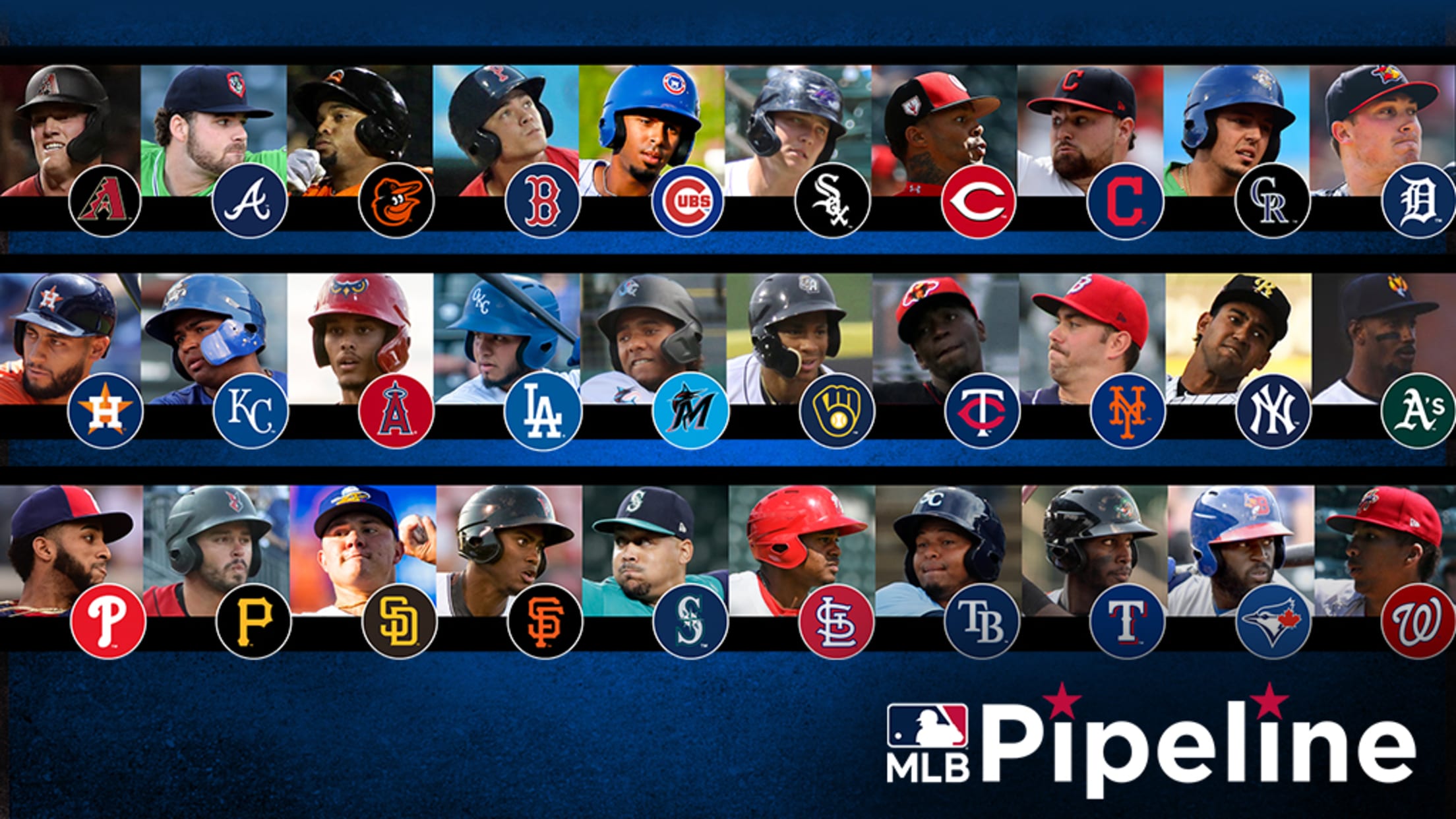 Every year when the baseball world descends on the Winter Meetings, there's excitement about the potential for big trades. It doesn't always pan out that way, but there will undoubtedly be the same level of expectation when this year's Meetings start in San Diego in early December. There's certainly a
Every year when the baseball world descends on the Winter Meetings, there's excitement about the potential for big trades. It doesn't always pan out that way, but there will undoubtedly be the same level of expectation when this year's Meetings start in San Diego in early December.
There's certainly a rich history of deals involving prospects, though you have to go back to 2016 for the most recent blockbuster: Chris Sale to the Red Sox for Yoán Moncada, Michael Kopech, Luis Alexander Basabe and Victor Diaz. At the time, Moncada was the No. 1 prospect in all of baseball. It's hard to imagine the Rays dealing baseball's top prospect, Wander Franco, this offseason, just as no one anticipated Moncada being traded that winter.
In 2015, the D-backs traded their No. 1 Draft pick from the previous June, Dansby Swanson, to the Braves along with Ender Inciarte, for Shelby Miller. It's fair to assume, though, that Adley Rutschman, the No. 1 pick last June, won't be dangled by the Orioles very soon.
So just who are the prospects who could be available in the right deal? Here's a look at one from each organization who could end up finding a new home should the trade winds blow their way.
American League East
Blue Jays: Anthony Alford, OF (No. 20) - The former two-sport star has produced a .145/.203/.218 line in 33 games since his big league debut in May 2017, and his past two Triple-A campaigns haven't been particularly encouraging. But the 25-year-old is still an impressive athlete with some tools, and a team with 40-man roster flexibility that believes in Alford's untapped potential could try to acquire him and give him a shot.
Orioles: Yusniel Díaz, OF (No. 5) - Acquired in the 2018 Manny Machado blockbuster trade under then-Orioles general manager Dan Duquette, Díaz appeared in only 85 games in his first full year in Baltimore's system while batting .262/.335/.472 with 11 homers in Double-A. While the 23-year-old hasn't moved as quickly as expected and has battled injuries in consecutive years, he also still has time to put it all together. Díaz could draw trade interest if the Orioles become impatient with his development.
Rays: Ronaldo Hernandez, C (No. 7) - As the owners of one baseball's best farm systems, the Rays could pull off just about any trade with their combination of high-end prospects and overall depth. Catchers who have the tools to impact the game on both sides of the ball are always a coveted breed, and Hernandez, with his right-handed raw power and cannon arm, certainly fits that bill.
Red Sox: Bobby Dalbec, 3B/1B (No. 2) - Though he offers comparable power and superior defense, Dalbec isn't going to wrest Boston's third-base job from Rafael Devers. He could fill the Red Sox's hole at first base, but he also would be an attractive piece of trade bait if new senior vice president of baseball operations Chaim Bloom wants to swing a significant deal.
Yankees: Deivi Garcia, RHP (No. 1/MLB No. 62) - Garcia generates tremendous spin on a devastating curveball and a 91-96 mph fastball, but he's also small and still figuring out how to harness his stuff. New York dealt a Top 100 Prospect pitcher (Justus Sheffield) last offseason for more immediate help (James Paxton), and it could do so again for another rotation upgrade.
American League Central
Indians: Logan Allen, LHP (No. 4) - Though Cleveland just acquired Allen in the three-team Trevor Bauer trade four months ago, he's no better than the seventh-best option for its 2020 rotation. A pitchability left-hander with a quality changeup, he might be of interest to a team with a more immediate need for a starter.
Royals: Kelvin Gutierrez, 3B (No. 17) - Gutierrez had a solid, yet unspectacular, first full season with the Royals in Triple-A and made his big league debut. But the third baseman doesn't have a clear place to play in Kansas City with Hunter Dozier now entrenched at the hot corner.
Tigers: Beau Burrows, RHP (No. 14) - The 2015 first-rounder struggled in his first Triple-A exposure, posting a 5.51 ERA with 61/32 K/BB in 65 1/3 innings, while right shoulder woes limited him to just 15 starts. The Tigers still decided to add the 23-year-old to their 40-man roster after the season, but in a system that's teeming with upper-level pitching prospects, Burrows appears to be the most expendable.
Twins: Nick Gordon, SS/2B (No. 14) - Gordon had a bit of a bounce-back season in 2019, with a .298/.342/.459 line in Triple-A, albeit in an injury-shortened, 70-game season. He can play both second and shortstop capably, but is blocked in Minnesota by All-Star Jorge Polanco at shortstop and Luis Arraez is looking like the everyday second baseman.
White Sox: Steele Walker, OF (No. 6 ) - Chicago has a surplus of young outfielders and Luis Robert isn't going anywhere. But Walker could be expendable and of interest as a solid hitter who may be able to stick in center field.
American League West
A's: Jorge Mateo, SS/2B (No. 4) - Mateo had 62 extra-base hits and 24 steals in 2019, shaking off a rough 2018 season to put him back on the prospect map. But he didn't get a call up to the big leagues in September. He's not going to unseat Marcus Semien after his MVP-caliber season. He could compete for the second base job, but he's also out of options, leaving the A's without much flexibility.
Angels: Jeremiah Jackson, SS/2B (No. 5) - Jackson is far away, which might limit his value, though it also could make the Angels willing to part ways with him if it would help the big league team compete. There is a depth of talent up the middle in the system, with 2019 draftees Will Wilson and Kyren Paris, in addition to Jahmai Jones, on the right side of the infield at the upper levels.
Astros: Abraham Toro, 3B/2B (No. 5 ) - Toro finally had the breakout season Houston was waiting for, but he's still not displacing Alex Bregman from third base or José Altuve from second. He'd be a nice bench bat but would be more valuable to another club seeking a regular at the hot corner.
Mariners: Justus Sheffield, LHP (No. 9) - Sheffield very well could be a part of the Mariners' Opening Day rotation after a 2019 season that saw him right the ship after having to go back down to Double-A. If the Mariners aren't convinced he's permanently on the right path, he still has value as a 23-year-old lefty with good stuff. And we all know Jerry Dipoto isn't afraid to make moves to help the big league club out if it looks ready to contend.
Rangers: Sherten Apostel, 3B/1B (No. 10 ) - Teams routinely inquire about Apostel, who was acquired from the Pirates in the 2018 Keone Kela trade and slammed 19 homers between two Class A stops as a 20-year-old last season. His massive power makes him valuable, though Texas spent its top two 2019 Draft picks on third basemen who were two of the best hitters in college baseball, Josh Jung and Davis Wendzel.
National League East
Braves: Bryse Wilson, RHP (No. 6) - Wilson has done all he's needed to do to prove himself in the Minor Leagues, but he hasn't been able to find traction in the big leagues over the last two seasons. Some of that is because of the young pitching depth in Atlanta and in the system, which could make him expendable.
Marlins: Jerar Encarnacion, OF (No. 17) - It's hard to envision a scenario where Miami would be trading prospects rather than acquiring them at this stage of the rebuilding process. But it has amassed a lot of outfield depth and Encarnacion ranks just seventh at the position on MLB Pipeline's Marlins Top 30 despite his plus raw power and arm strength.
Mets: David Peterson, LHP (No. 7) - Taken 20th overall in the 2017 Draft, Peterson made the jump to Double-A last season and struck out 122 batters while tossing 116 innings and posting a 4.19 ERA. As the Mets' most advanced pitching prospect, Peterson, with his strike-throwing ability and extreme ground-ball tendencies, could soon be ready to help fill out the team's big league rotation. He could also serve as intriguing trade bait if the Mets attempt to upgrade their staff via an offseason deal.
Nationals: Sterling Sharp, RHP (No. 13) - An oblique injury cost Sharp roughly three months during the middle of the season, but the former 22nd-round pick (2016) returned to make nine Double-A starts, then continued to make up for lost time in the Arizona Fall League. The best athlete in Washington's system and one of the premier ground-ball artists in the Minor Leagues, Sharp could be appealing to a club looking for either rotation or bullpen depth.
Phillies: Adonis Medina, RHP (No. 4) - Medina's star has faded a bit, largely because of his inconsistent 2019 season and the fact he hasn't missed that many bats, and partially because Spencer Howard has passed him by in the Phillies' system. His pure stuff could still attract many suitors and the Phillies did trade a top pitching prospect a year ago in the offseason to get J.T. Realmuto.
National League Central
Brewers: Corey Ray, OF (No. 4) - The No. 5 overall pick in 2016 appeared to turn the developmental corner in 2018, hitting 27 homers and swiping 37 bags en route to Double-A Southern League MVP honors, but an early-season finger injury in '19 halted the 25-year-old's progress, and he ultimately slashed .188/.261/.329 line with seven homers and 89 strikeouts in 53 Triple-A games. There's still enough upside in Ray's profile to make him a potential trade target, though such an acquisition comes with some risk.
Cardinals: Elehuris Montero, 3B (No. 4) - Coming off of a 2018 campaign in which he earned Class A Midwest League MVP honors, Montero was pushed up to Double-A for his age-20 season and never found his groove at the plate, slashing .188/.235/.317 in 59 games around a broken hamate bone that cost him two months in the middle of the season. With Tommy Edman plenty capable of handling third-base duties in the big leagues and 2018 first-rounder Nolan Gorman representing the club's future at the position, Montero is perhaps the Cardinals' best offseason trade bait.
Cubs: Brennen Davis, OF (No. 3 ) - Chicago isn't looking to deal Davis, a potential 30-30 guy whose bat has proven more advanced than expected since he signed as a 2018 second-rounder. But the Cubs need pitching help and he has yet to play above low Class A, so he might be expendable in a deal for a quality arm.
Pirates: Kevin Kramer, 2B/3B/OF (No. 9) - Kramer had a breakout 2018 season that led to his first callup to the big leagues. He didn't duplicate that in 2019 and while he did make it back to Pittsburgh for a spell (mostly in September), he doesn't seem to have a place to play with Adam Frazier at second and Colin Moran at third (with Ke'Bryan Hayes waiting in the wings). He could be a utility player or he could be trade bait.
Reds: Vladimir Gutierrez, RHP (No. 11) - After a solid 2018 season, Gutierrez struggled for much of the 2019 campaign. He did finish the season well, giving hope for the future. There's no apparent room in the rotation in Cincinnati, and while the Reds would have to sell low, the right-hander's stuff is still very good.
National League West
D-backs: Kevin Cron, 3B/1B (No. 26) - A 14th-round pick in the 2014 Draft, Cron, who is the younger brother of C.J. Cron, erupted to crush a Minor League-best 39 homers, including a franchise-record 38 in just 82 games with Triple-A Reno, and added six more dingers in 39 games with Arizona after making his debut in May. That the D-backs will enter 2020 with several players (Christian Walker, Jake Lamb) potentially fighting for playing time at first base -- Seth Beer is moving quickly through the Minors, too -- could prompt an offseason trade, and it's a safe bet that there'd be interest in the 26-year-old Cron's massive right-handed power should the team make him available.
Dodgers: Keibert Ruiz, C (No. 3/MLB No. 33) - He's still one of the best catching prospects in baseball but Will Smith appears to have surpassed him as Los Angeles' catcher of the future. Los Angeles keeps getting mentioned as a possible destination for Mookie Betts and could part with Ruiz in the right blockbuster.
Giants: Alexander Canario, OF (No. 7) - San Francisco is more likely to trade for prospects than give them up. We'll play along with this premise, however, and suggest Canario, who has the upside of solid tools across the board but ranks behind Heliot Ramos and Hunter Bishop among Giants outfield prospects.
Padres: Adrian Morejon, LHP (No. 7) - Morejon made his big league debut on July 21, and it was around that time that the 20-year-old southpaw's name started to pop up in trade rumors. His stuff plays well as either a starter or a reliever, though any team who pursues Morejon in a trade surely will be interested in his untapped potential as a cost-controlled starter.
Rockies: Colton Welker, 3B/1B (No. 3) - Welker started off the 2019 season hot, but struggled after that and didn't hit well in the Arizona Fall League, either. But there are offensive tools there and no clear place for him to play in Colorado, with Nolan Arenado at third and Daniel Murphy and Ryan McMahon likely getting the time at first.