Each club's best Players' Weekend nickname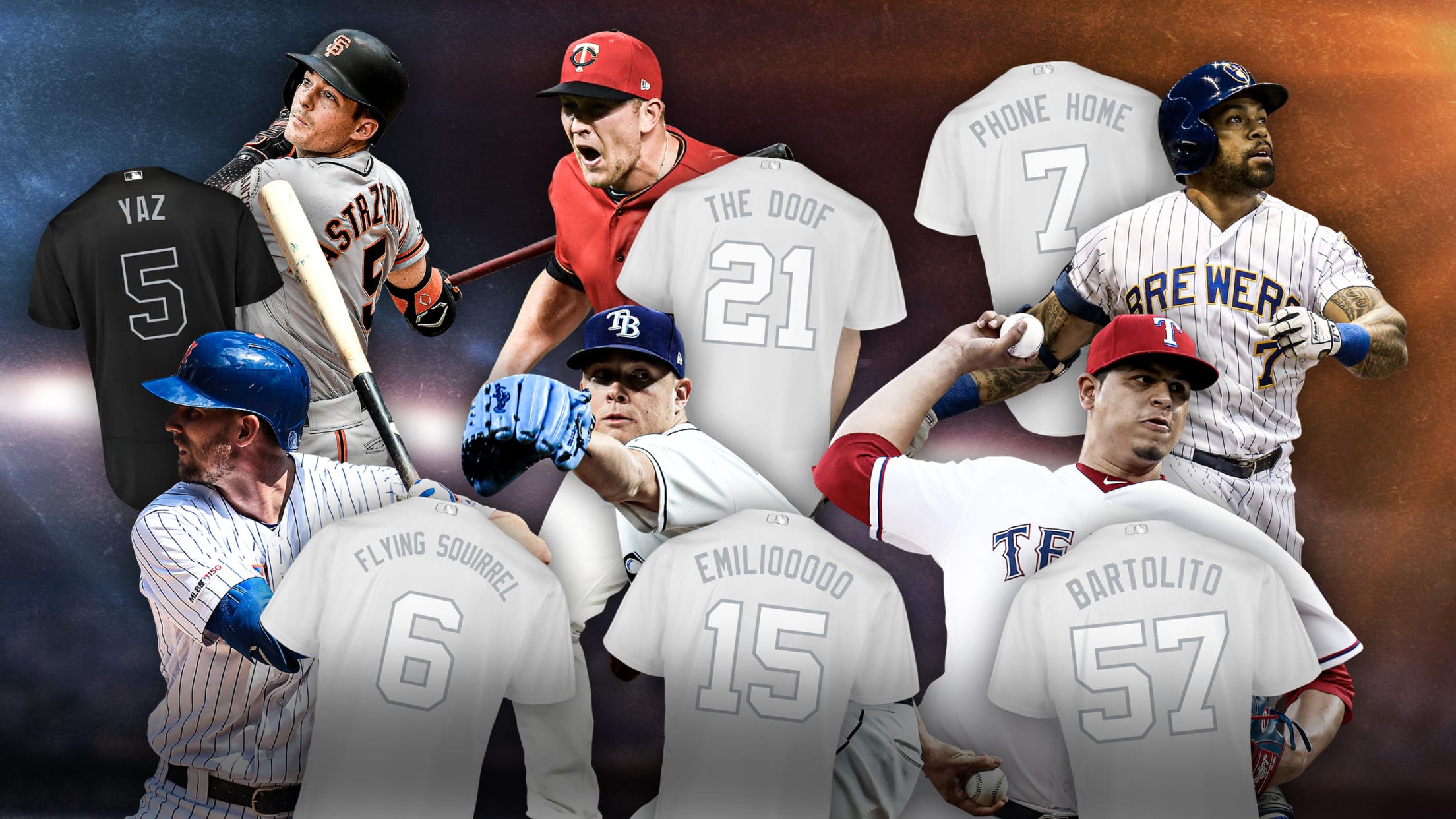 It's Players' Weekend! And for many, the true fun of this annual event is in the names on the back of the uniforms. Baseball player culture has often discouraged (arguably to the game's detriment) players from showing their true personalities, so this weekend gives them that opportunity. It lets you
It's Players' Weekend! And for many, the true fun of this annual event is in the names on the back of the uniforms. Baseball player culture has often discouraged (arguably to the game's detriment) players from showing their true personalities, so this weekend gives them that opportunity. It lets you see the players as they see themselves.
So today we take a look at the best Players' Weekend nicknames for each team. There are still plenty of emojis this year, but no extra credit for those this time.
• Every team's Players' Weekend nicknames | Players' Weekend FAQ
AMERICAN LEAGUE EAST
Blue Jays -- #PINAPOWER JR.
Lourdes Gurriel Jr.'s nickname comes from his pineapple-like hair (pina is Spanish for pineapple) that can add a near-foot to his height. Bonus points for this being a hashtag and for it being a hashtag with a Jr. at the end.
Orioles -- PAPA FRITA
Paul Fry has to have some sort of potato-related pun on the back of his jersey and, frankly, this is hopefully what his kids call him.
Rays -- EMILIOOOO
The best part about this nickname – which is a reference to a scene in the movie A Night At The Roxbury -- is that Emilio Pagan requested as many o's at the end as the team could fit on his jersey. The answer was apparently four, but if you ask me, they could have gotten at least eight or nine on there.
Red Sox -- DR. CHILL
Sam Travis didn't go through all those years of Chill School to be called Mister Chill, that's for sure.
Yankees -- WITH A K
Any writer can appreciate a player like Zack Britton making sure that all copy editors know precisely how to spell his first name.
AMERICAN LEAGUE CENTRAL
Indians -- DIRTBAG
Careful wearing your Jason Kipnis Players' Weekend jersey around your middle school, kids.
Royals -- SCOOTS McGOOTS
There's surely a detailed explanation as to why Scott Barlow chose this as his nickname, but isn't it more fun if you just assume this was his given name?
Tigers -- EL FELINO
This is actually Ronny Rodriguez's stage name -- he's a singer and rapper in the Dominican Republic in the offseason -- which means that we hope there is one concert a year in which he goes on stage with simply RODRIGUEZ on his back. It's like Rapper's Weekend.
Twins -- THE DOOF
I'm fairly certain that Tyler Duffey's Players' Weekend nickname was unknowingly stuck to my back with tape and paper several times when I was in high school.
White Sox -- FORGETTING SARAH
Evan Marshall might not be the biggest Jason Segel fan on the White Sox, but he has to at least be in the top five.
AMERICAN LEAGUE WEST
Angels -- (PEACH, TREE EMOJIS)
You will not forget Ty Buttrey's name anytime soon after this jersey.
Astros -- 12-6
This is actually the name of Collin McHugh's podcast, and you have to admire the hustle: Promoting podcasts is hard! You've gotta use every venue you have!
Athletics -- SLYDAH
This is how Australians, like Liam Hendriks, say "slider," apparently.
Mariners -- WATER
This Mallex Smith nickname led to the following exchange between Smith and Dee Gordon, reported by MLB.com's Greg Johns.
The fleet-footed outfielder hung this moniker on himself at the start of the year for a simple reason: "Because I flow anywhere." Hard to argue with that, though his teammate Gordon doesn't hesitate.
"Water can be cut off at any time," teased Gordon.
"Does the ocean ever stop?" countered Smith. "It flows all the time. If lightning hits water, I still flow. You don't see lightning every day. Everybody needs water. Every. Single. Day. You need your daily dose. Your body is made of 70 percent water. Everybody is water, but they can't be 'Water.' There's only one 'Water.'"
Whoaaaaaaaaa.
Rangers -- BARTOLITO
If Bartolo Colon can't be there, Ariel Jurado is there to honor him with his Little Bartolo nickname.
NATIONAL LEAGUE EAST
Braves -- JER-RY JER-RY JER-RY
Those of us of a certain age will have a Pavlovian, vaguely ill feeling of recognition of the "Jerry Springer Show" in our stomach when we see Jerry Blevins' jersey.
Marlins -- COOPALOOP
Garrett Cooper's nickname is "Coop," but he added "ALOOP," because, hey, why not?
Mets -- FLYING SQUIRREL
Jeff McNeil may have tried to run from his college nickname, but once his Mets teammates learned about it, it was never going away. Now that it's on the back of his jersey, it's canon.
Nationals -- OBI-SEAN
Eventually Doolittle has to just go with "SETH ROGEN," doesn't he?
Phillies -- J. WINDERMERE
This is a complicated nickname for Brad Miller that stems from him having grown up in a town that counted Ken Griffey Jr., Tiger Woods, and Shaquille O'Neal among its residents. I'll let MLB.com's Todd Zolecki explain the rest.
NATIONAL LEAGUE CENTRAL
Brewers -- PHONE HOME
Like all good-thinking and good-hearted people, Eric Thames wants to remind you of how wonderful a movie E.T. is.
Cardinals -- 5280'S
Miles Mikolas is always here to remind you how many feet are in a mile.
Cubs -- SPEEDPASS
Steve Cishek used to work at a gas station, which is a good way to someday get a nickname of "Speedpass" when you make the Major Leagues.
Pirates -- NIGHTMARE
Felipe Vazquez's Players' Weekend nickname for a few years now still freaks me out. This is a lot to see on the back of a baseball uniform!
Reds -- BOLIBOMBA SUAREZ
This is a lot of letters to fit on Eugenio Suarez's (ample) back. You sure you couldn't fit more O's on Emilio Pagan's back?
NATIONAL LEAGUE WEST
D-backs -- CRASH LANDING
This is probably not how the D-backs would like Archie Bradley to finish games.
Dodgers -- CHICKEN STRIP
Nothing's ever going to beat Rich Hill's "Dick Mountain," but Ross Stripling's name is at least in the ballpark.
Giants -- YAZ
This isn't the most creative one. But come on, how do you not pick this one, worn by Mike Yastrzemski?
Padres -- CHUBBS SENIOR
Kirby Yates took this name because his dog's name is "Chubbs," but whatever the reason, it makes us giggle.
Rockies -- CHUCK NAZTY
This has been Charlie Blackmon's Twitter handle for years, and it never fails to amuse.