Inbox: Will Rogers Centre use natural grass?
Beat reporter Gregor Chisholm fields Blue Jays fans' questions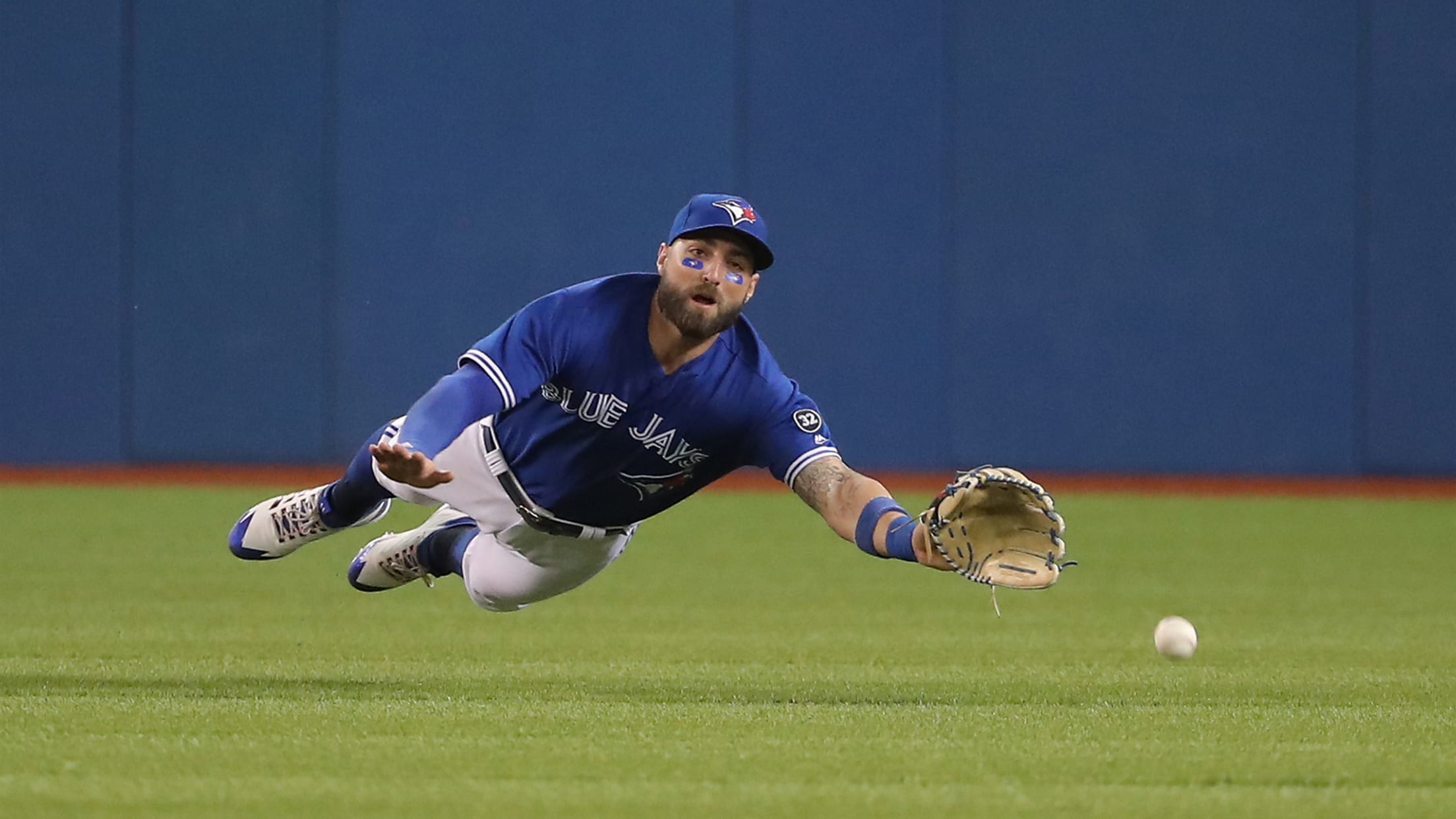 TORONTO, ON - MAY 18: Kevin Pillar #11 of the Toronto Blue Jays dives but cannot catch a bloop double hit by Jed Lowrie #8 of the Oakland Athletics in the sixth inning during MLB game action at Rogers Centre on May 18, 2018 in Toronto, Canada. (Photo by Tom Szczerbowski/Getty Images) (Tom Szczerbowski/Getty Images)
If the Blue Jays aren't going for it until 2021, why not the start the process of turning Rogers Centre into a natural grass surface? Mark Shapiro said in recent interview that natural grass would cost in the $10 million range. Since the Blue Jays are not putting any money
If the Blue Jays aren't going for it until 2021, why not the start the process of turning Rogers Centre into a natural grass surface? Mark Shapiro said in recent interview that natural grass would cost in the $10 million range. Since the Blue Jays are not putting any money into payroll, why not do it now?
-- Bob, Abbotsford, British Columbia
Sounds to me like the team president's comments were misinterpreted. I'm not sure which interview you are referring to, but I was present at a recent media availability in which Shapiro loosely compared the annual maintenance cost of a natural grass infield to that of a prominent free agent -- i.e., the $10 million figure you are referring to. But there's a big difference between the annual maintenance cost and the upfront fee to renovate the stadium.
Toronto has never released the price tag for a natural grass field, but a full installation could cost hundreds of millions of dollars. A proper drainage system is needed, a new roof might be required as well and a new grass surface would have to be installed every spring because there would be no way to keep it alive during the winter. The maintenance fee is just a small fraction of the overall cost, and that seems to be why the Blue Jays have stopped focusing on natural grass.
:: Submit a question to the Blue Jays Inbox ::
Should we expect Kendrys Morales to go north with the team? It seems they are trying to "unblock" a lot of young guys, and frankly, he's a big slow block.
-- @d_v_h
That's a fair question, especially considering the Blue Jays decided to cut ties with Troy Tulowitzki and Russell Martin, while Morales' situation remains the same as it was last year.
The easy answer is yes, you should expect Morales to go north. The veteran slugger may eventually lose some at-bats to Teoscar Hernandez, but he'll be on the Opening Day roster and he'll likely act as the unofficial mentor to Vladimir Guerrero Jr. once he arrives. Hernandez should be able to get plenty of at-bats in the outfield, so Morales isn't really blocking anyone. But with only one year remaining, if it gets to the point where he is stopping a younger player from being called up, it's probably time to go.
Is the hype coming off of Eric Pardinho real? He dominated players who were, on average, three years older. Do you think he has a legitimate shot to make it to the big leagues and succeed?
-- Thomas K., Aylmer, Ontario
The hype is as real as it can be for anybody his age. Pardinho turned 18 in early January and is only now approaching the age he would be drafted out of high school. Despite all of that, Pardinho already has a season under his belt in which he went 4-3 with a 2.88 ERA at Bluefield of the Rookie-level Appalachian League. The product of Brazil is well positioned to continue advancing through Toronto's system with a stop in Vancouver later this year.
So why does everybody love Pardinho so much? Well let's start with the fact that his fastball touches 96 mph and the number might rise even higher as he grows into his frame. Pardinho also possesses a curveball, a slider and a changeup, and while he has the tools required to be a power arm, he also mixes speeds well and pitches with finesse. Fellow top prospect Nate Pearson has received more attention over the past year or two, but Pardinho's ceiling might be just as high.
What will the starting lineup look like around mid-August? Any other prospects coming up from the system?
-- Kieran B., @sir_jays, Victoria, British Columbia
By August, the Blue Jays likely will be preparing for another wave of young arrivals. Shortstop Bo Bichette will be the biggest name to watch, and a strong first half might put him in position for a promotion late in the year. Even if Toronto decides to delay his arrival until the following season, there will be no shortage of other candidates for promotions.
Infielder/outfielder Cavan Biggio, outfielder Anthony Alford, right-hander Hector Perez, outfielder Forrest Wall and first baseman Rowdy Tellez will be some of the names to keep an eye on. Other veteran players such as Justin Smoak, Marcus Stroman, Aaron Sanchez and Ken Giles could find themselves on the way out for the rebuilding ballclub. This year is all about the development. Best guess at a September lineup? I'll say Bichette is pushed back until 2020, which leaves something like this:
1. Brandon Drury, 2B

Lourdes Gurriel Jr., SS

Guerrero Jr., 3B

Tellez, 1B

Randal Grichuk or Kevin Pillar, CF

Hernandez, DH

Alford, RF

Danny Jansen, C

Billy McKinney, LF
Any rumblings about the Blue Jays bringing back Marco Estrada in 2019? I know he had a rough season last year, but I'd love to see him back if possible, and I'm sure they could sign him to a one-year, $3 million-$4 million deal.
-- Rob M., Kitchener, Ontario
That ship likely sailed earlier this month when the Blue Jays signed Matthew Shoemaker and traded for Clayton Richard. In Shoemaker, Toronto has found its No. 4 starter, and the club appears content to allow Richard to compete for the final job alongside a long list of candidates including Sean Reid-Foley, Trent Thornton, Sam Gaviglio and Thomas Pannone, among others.
The odds of Toronto adding another starter on a guaranteed deal aren't great, and if it happens, the Blue Jays likely would be targeting someone who also profiles as a reliever, and that's something Estrada hasn't done since the beginning of his tenure in Toronto. A veteran arm could be added on a Minor League contract, but it's hard to imagine a guaranteed deal for Estrada.
Why is everyone so high on Bichette? Does anyone remember Russ Adams?
-- Kyle R., Saskatoon, Saskatchewan
I have to admit, this one confuses me. Adams was a first-round pick in 2002 and only appeared in 286 games at the Major League level, so in that sense he failed to live up to the hype, but he was never as highly regarded as Bichette. Adams predates the MLB Pipeline era, but he was never ranked on Baseball America's list of top prospects.
Bichette is not only listed as Toronto's No. 2 prospect, but he's also ranked among the best in the Minors. Not every prospect is going to pan out, but Bichette is ranked No. 11 overall by MLB Pipeline for a reason, and there is just nothing remotely comparable between his game and Adams.