Inbox: Will Vlad Jr. make Opening Day roster?
Beat reporter Gregor Chisholm fields Blue Jays fans' questions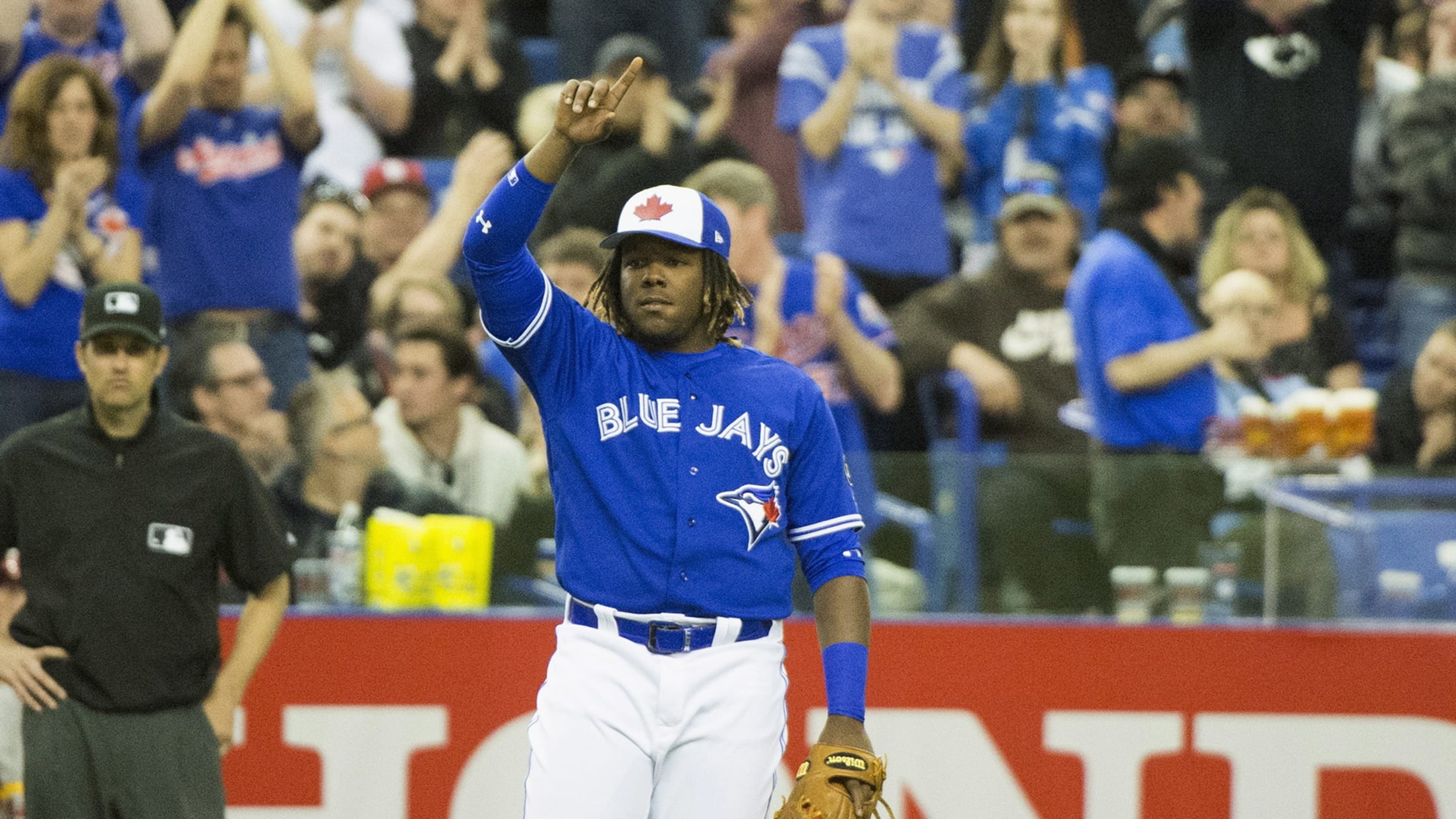 Toronto Blue Jays third baseman Vladimir Guerrero Jr., center, son of former Montreal Expos all-star Vladimir Guerrero, reacts to a standing ovation after coming into a spring training baseball game during the seventh inning against the St. Louis Cardinals, Monday, March 26, 2018, in Montreal. (Ryan Remiorz/The Canadian Press via AP) (Ryan Remiorz/AP)
Are you able to explain the logic behind Vladimir Guerrero Jr. not starting on Opening Day? I keep reading they need to hold him back until the end of April. -- Michael, Melbourne, AustraliaAt this point, it's basically a foregone conclusion that Guerrero will start the year in the Minors,
Are you able to explain the logic behind Vladimir Guerrero Jr. not starting on Opening Day? I keep reading they need to hold him back until the end of April.
-- Michael, Melbourne, Australia
At this point, it's basically a foregone conclusion that Guerrero will start the year in the Minors, and it's all because of service time. Toronto gains an extra year of control by delaying his Major League debut another few weeks. Why? According to to the rules, a full year of service is defined as 172 days on the Major League roster, but the season spans 187 days. So the only way to guarantee 2019 won't count as a full year is by pushing back Guerrero's arrival date.
• Vlad Jr. highlights 2019 infield
The Blue Jays can't say any of this publicly because it would provide clear-cut evidence the club is manipulating Guerrero's service time. Instead, expect Toronto to focus on the aspects of Guerrero's game that could use a little bit of work before it's on par with the rest of his skill set. The Cubs did something similar in 2015 when Kristopher Bryant was left off the Opening Day roster, only to be promoted on April 17 before going on to win the National League Rookie of the Year Award.
:: Submit a question to the Blue Jays Inbox ::
Don't the Blue Jays need to trade an outfielder? Using a Teoscar Hernandez/Billy McKinney platoon doesn't really make sense because they need to find out if both can be productive everyday players.
-- Christopher M., Richmond Hill, Ontario
You're not wrong. At some point the Blue Jays need to make a decision, but it doesn't have to be right away. There should be plenty of at-bats to go around if Toronto puts together an outfield rotation that sees Randal Grichuk making some occasional starts in center and Hernandez receiving occasional at-bats at DH. With five players -- including Kendrys Morales -- for four spots, playing time should not be that big of an issue.
If McKinney and Hernandez have strong camps and get off to hot starts, the Blue Jays might have a problem on their hands, but it's one they'll be more than happy to deal with. Neither player would benefit from yet another stint in the Minors, so the Blue Jays might as well see what they've got at the Major League level, even if it's not in the traditional everyday role. After all, Hernandez is already 26 and McKinney is 24.
Do you think just releasing Troy Tulowitzki was really best for the team when they could have traded him for prospects and not have to pay for him to play for another team?
-- Justin M., Chicopee, Ontario
In order to trade Tulowitzki for prospects, there would've needed to be an offer on the table to make it happen. There wasn't. There also wasn't a scenario in which the Blue Jays could have avoided paying almost the entire $38 million he was owed over the next two years, no matter what happened.
The only thing up for debate here is whether Toronto should have waited a little bit longer before making a final decision. If Tulowitzki showed up in Spring Training and proved he was healthy, would the Blue Jays have been able to get something for him in return? Possibly, but no matter how good he looked, no team was taking on that money, so the downside doesn't go nearly as deep here as most people think. This was always going to be a sunk cost.
Everyone talks about Danny Jansen as the latest "catcher of the future." But what do you think about Reese McGuire? I feel like his arm/defense is superior to Jansen and that there's more to his bat than people think. Could he supplant Jansen as the catcher of the future?
-- Jay P., Cambridge, Ontario
Jansen will get the first crack at the full-time role, but McGuire will have plenty of opportunities over the coming months and years to take the job away. These two have pushed each other at the Minor League level for well over a year, and that trend will continue at the Major League level for the foreseeable future.
McGuire does have the superior arm, and the 23-year-old has drawn a lot of praise for his work with a pitching staff. The bat you referenced hasn't developed as hoped, though, with a .651 OPS for the Bisons last season. McGuire had some offensive success earlier in his Minor League career, but he currently projects as an elite backup. If Jansen struggles early, that could change. But for now, the job is his to lose.
If the Jays find themselves in a similar situation to the Rays last year near the Trade Deadline (vastly overperforming), do you think that'll change any of their sell-off plans for the veterans (Marcus Stroman, Justin Smoak, etc.)?
-- Aren B., @ArenBergstrom, Toronto
If the Blue Jays are contending midway through the year, they won't be selling off any assets. If anything, they'll be looking to make some short-term additions to strengthen the roster while making a run at the postseason. Even so, it's easy to see why that's not the expected outcome for this organization. The Yankees and Red Sox are coming off seasons in which they won at least 100 games, and both clubs are expected to just as good this year.
Toronto, meanwhile, features a lot of promising young talent and is in the midst of a rebuild that will extend into 2020. If the young players develop early and this team contends ahead of schedule, the Blue Jays would be overjoyed. There just won't be too many people who expect it will happen that quickly, and that's why Stroman, Smoak and others should be on their way out before long.
Any teeny chance that Jose Bautista could be brought back, maybe play a final year in a Blue Jays uniform? Paid league minimum last year ... could still smack a few, mentor newbies, maybe one more bat flip?
-- Carla, @CarlaCarmact, Halifax, Nova Scotia
There's no chance of Bautista returning to play another game in a Blue Jays uniform, but it's not out of the realm of possibilities that he will eventually retire as a Blue Jay. Toronto honored Roy Halladay that way when the future Hall of Famer announced his retirement in 2013, and it would only seem fitting to give Bautista a similar send-off.
I'd say there's more than a decent chance that could happen at some point, but it will be determined by Bautista, who has yet to show any kind of indication that he plans to retire. The 38-year-old was a late signing in 2018, and he might be one again this year. It just won't be in Toronto.