Offseason checklist: Blue Jays' needs, moves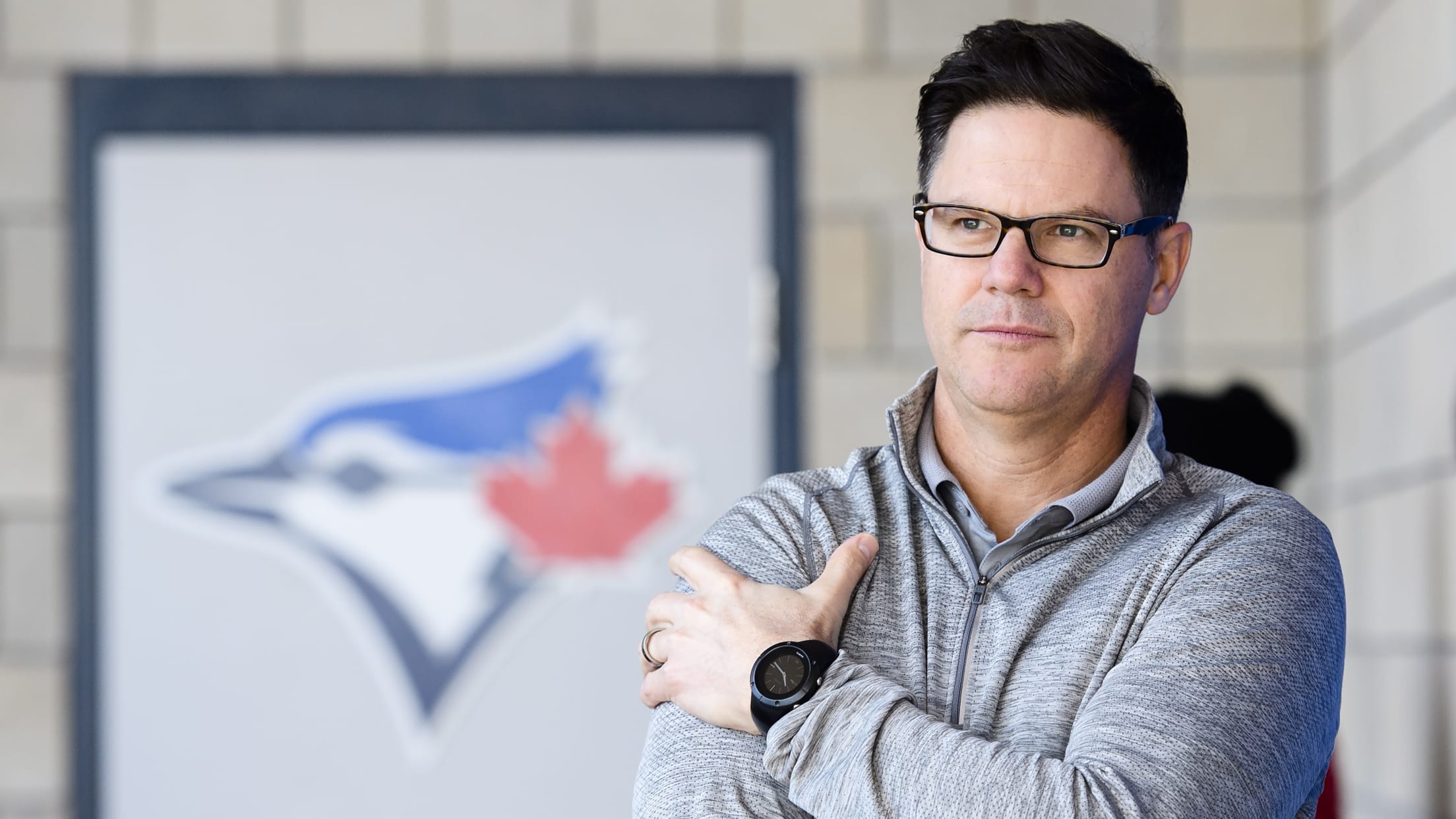 TORONTO -- The Blue Jays finished the 2019 season with a record of 67-95, but their new wave of exciting young talent and increased payroll flexibility this offseason leave the club in a position to take a significant step forward. So what are the Blue Jays' biggest needs entering 2020,
TORONTO -- The Blue Jays finished the 2019 season with a record of 67-95, but their new wave of exciting young talent and increased payroll flexibility this offseason leave the club in a position to take a significant step forward.
So what are the Blue Jays' biggest needs entering 2020, and what moves have they made to address them? MLB.com is keeping track here. As the offseason continues, be sure to check back for updates.
NEEDS ADDRESSED
Starting rotation
With the additions of Hyun-Jin Ryu, Chase Anderson and Tanner Roark the Blue Jays gained some much-needed durability and stability to the rotation after the club used 21 starters in a 2019 season that included a reliance on the opener strategy and bullpen games. Toronto also has plenty of young options who could compete for back-end or depth jobs, with No. 1 prospect Nate Pearson expected to arrive in '20 and bring his ace potential with him. Toronto also signed Japanese right-hander Shun Yamaguchi, who has the potential to start or serve as a swingman.
First base/designated hitter
The addition of Travis Shaw allows the Blue Jays some flexibility at the infield corners, though the 29-year-old is expected to play mostly first base. He is also likely to see time as the designated hitter. Rowdy Tellez impressed at points in 2019, but his .293 on-base percentage and .742 OPS will need to improve if he's going to fill the remaining lineup spot, as the Blue Jays could simply choose to use the DH spot as a rotating position, particularly with their extra corner outfielders like Teoscar Hernández.
NEEDS LEFT TO FILL
Outfield
If the Blue Jays choose to address their outfield, keep an eye on center field. Seven players saw time in center in 2019, the most since 2014 (7), which was the year before Kevin Pillar took over full time. Current outfield options like Randal Grichuk, Hernández, Lourdes Gurriel Jr., Derek Fisher and Billy McKinney all bring tools to the table, but the Blue Jays can improve both the defensive value and the consistency of the offensive approach they get from their outfield group as a whole.
Bullpen
Ken Giles is expected to receive trade interest this offseason, which will be the biggest variable in the club's bullpen picture. Beyond that, expect the Blue Jays to follow their history from the past few offseasons of adding multiple veteran arms to compete for roles. The front office has done well to flip many of those relievers for prospect capital at the Trade Deadline, including Daniel Hudson in 2019, who went on to record the final out of the World Series for the Nationals.
MOVES MADE
Dec. 30: Toronto agrees to terms with Shaw
After a tough 2019 season for the 29-year-old infielder, the Blue Jays are hoping to see the Shaw that hit 63 homers, 57 doubles and drove in 187 runs from 2017-18 with the Brewers. The Ohio native can man both infield corners and could see time in the lineup as designated hitter. In order to make room for Shaw on the 40-man roster, shortstop Richard Ureña was designated for assignment.
Dec. 27: Blue Jays finalize four-year contract with Ryu
Ryu signed a four-year, $80 million contract as a free agent after leading the Majors with a 2.32 ERA last season and finishing second in NL Cy Young Award voting. He went 14-5 while pitching 182 2/3 innings for the Dodgers. Ryu also made his first career All-Star appearance in 2019 and was the starting pitcher for the NL All-Star Team.
Dec. 27: Blue Jays sign Yamaguchi
After the Japanese outlet Sankei Sports first reported on Dec. 17 that Yamaguchi and the Blue Jays were nearing a two-year deal worth nearly $3 million annually, the right-hander passed his physical and made the contract official. USA Today's Bob Nightengale reported that the deal is worth $6.35 million, with up to $1.4 million per year in incentives. Yamaguchi, 32, has pitched 14 professional seasons in Japan. Originally a reliever who developed into an effective closer, Yamaguchi eventually transitioned to the rotation, where he made 90 starts over his NPB career.
Dec. 18: Toronto inks Roark to two-year deal
The Blue Jays made their $24 million deal with the 33-year-old official, adding some stability to a rotation badly in need of it. Roark has made at least 30 starts in each of the past four years, splitting last season between the Reds and Athletics organizations, where he posted a 4.35 ERA over 165 1/3 innings. The 6-foot-2, 240-pound righty owns a combined 3.71 ERA over seven years in the Majors.
Dec. 3: Blue Jays sign reliever Bass
Anthony Bass, who was claimed off waivers from the Mariners on Oct. 29, has agreed to a one-year, $1.5 million contract, avoiding arbitration. While the club is still expected to add several relievers to compete for jobs in the spring, Bass could have an inside lane following a fairly strong year with Seattle. After joining the Mariners in May last season, the 32-year-old right-hander posted a 3.56 ERA with 43 strikeouts over 48 innings. Bass throws a heavy fastball, averaging 95.3 mph, according to Statcast, and he turns to a slider nearly one-third of the time as his primary out pitch.
Dec. 2: Blue Jays non-tender three players
The Blue Jays non-tendered right-handers Derek Law and Jason Adam along with catcher Luke Maile, making all three free agents.
Law posted a 4.90 ERA for the Blue Jays in 2019 after coming over from the Giants in the Kevin Pillar trade, but got stronger as the season went on and emerged as one of the club's more consistent relievers. Adam had a successful stint with the club, posting a 2.91 ERA over 23 outings, while Luke Maile leaves after three years with the organization.
Dec. 2: Blue Jays sign 5 to Minor League deals
The club announced the signings of right-handed pitchers A.J. Cole, Justin Miller, and Phillippe Aumont along with infielder Andy Burns and outfielder Patrick Kivlehan. Both Burns and Kivlehan return to the organization after spending most of 2019 with the Triple-A Bisons, while this will be the second stint with Toronto for Aumont, the big Canadian who spent 2019 pitching in independent ball before a big showing at the recent WBSC Premier 12 event. Both Cole and Miller could be part of a large competition for bullpen roles and all five players have received invitations to Major League Spring Training.
Nov. 25: Blue Jays deal Shafer to Reds
Right-handed reliever Justin Shafer had been with the organization since being drafted in 2014, but he was recently designated for assignment when the Blue Jays added two players to their roster ahead of the Rule 5 Draft deadline. The Blue Jays received cash considerations from the Reds for Shafer, who posted a 3.86 ERA over 39 2/3 innings at the MLB level in 2019.
Nov. 11: Ryan Tepera enters free agency
Right-hander Ryan Tepera cleared waivers and elected free agency. The 32-year-old reliever -- and the longest-tenured member of the Blue Jays heading into the offseason -- posted a 4.98 ERA over 23 appearances during a 2019 season marred by injury. Tepera, the Blue Jays' 19th-round Draft pick in 2009, owned a 3.64 mark over 216 games and 215 1/3 innings in five seasons with Toronto
Nov. 7: Devon Travis elects free agency
Second baseman Devon Travis declined his outright assignment to Triple-A Buffalo and elected free agency. The 28-year-old missed all of 2019 after undergoing left knee surgery, another challenging recovery in a series of shoulder and knee injuries that have plagued the talented young player since his impressive 2015 and '16 seasons. Travis was one of the most respected players in the organization, and he should have opportunities on Minor League deals entering '20 if his body cooperates, but Toronto's young infield depth would leave him another steep hill to climb with the Blue Jays.
Nov. 4: Blue Jays acquire veteran right-hander Chase Anderson
The Blue Jays made their first significant move of the offseason, acquiring right-hander Chase Anderson from the Brewers in exchange for 1B/RF prospect Chad Spanberger. Anderson, 31, owns a 3.94 ERA across six MLB seasons, and has pitched 150-plus innings in three of his last five seasons. The Brewers were at their deadline to decide on Anderson's $8.5 million option for 2020 ($500,000 buyout). Anderson also has a $9.5 million option for 2021 but, for now, he's expected to slot in to Toronto's rotation, where the Blue Jays hope that he'll act as a steadying force around their young, upcoming arms. Anderson's best season came in 2017, when a sharp curveball helped him to a 2.74 ERA and 3.2 WAR (FanGraphs) over 141 1/3 innings.
Toronto also designated reliever Ryan Tepera for assignment and outrighted second baseman Devon Travis to Triple-A Buffalo. Ryan Borucki, Tim Mayza, Matt Shoemaker and Lourdes Gurriel Jr. were all activated from the 60-day injured list.
Oct. 30: Blue Jays outright three relievers
The club outrighted relievers Brock Stewart, Ryan Dull and Buddy Boshers to Triple-A Buffalo, which clears three additional roster spots. Boshers saw the most time with the Blue Jays in 2019, posting a 4.05 ERA over 28 appearances. Dull, who was claimed off waivers from the Yankees in late September, appeared in just one game for Toronto.
Oct. 29: Blue Jays claim reliever Anthony Bass
The Blue Jays claimed reliever Anthony Bass off waivers from the Mariners and, in a corresponding move, designated reliever Ryan Dull for assignment. Bass, 31, posted a 3.56 ERA over 48 innings of relief for the Mariners last season after signing with them on May 21. The majority of his appearances came in the eighth inning or later and included five saves. Given the openings in their bullpen and the potential of using the opener strategy again in 2020, expect the Blue Jays to continue adding relievers at multiple levels of the market throughout the winter.