Zeuch unsatisfied despite strong Buffalo debut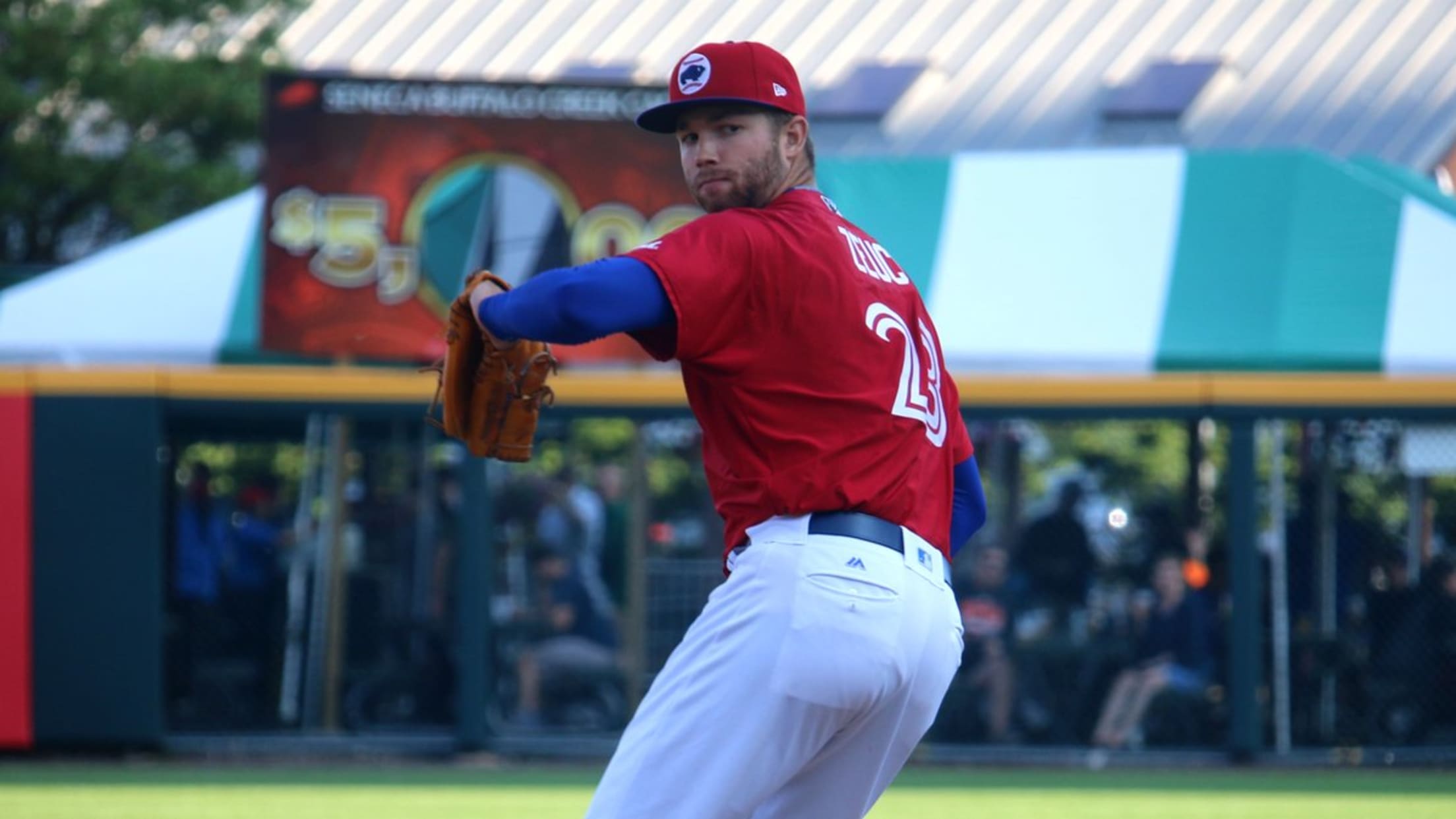 BUFFALO, NY -- T.J. Zeuch is never satisfied. Any outing that comes short of perfection for the 23-year-old right-hander is one that he can improve upon. Though Zeuch realizes that having a flawless performance every time he takes the hill is impossible, it doesn't stop him from aiming outside the
BUFFALO, NY -- T.J. Zeuch is never satisfied.
Any outing that comes short of perfection for the 23-year-old right-hander is one that he can improve upon. Though Zeuch realizes that having a flawless performance every time he takes the hill is impossible, it doesn't stop him from aiming outside the realm of possibility.
"Nobody has higher expectations for me than myself," Zeuch, Toronto's No. 12 prospect, said. "I expect myself to go out there and be almost perfect every outing. Obviously that's an unrealistic expectation, but if you're not setting the bar high for yourself then you're doing yourself a disservice."
While Zeuch has found a great level of success during his three Minor League seasons -- with a combined 3.47 ERA over 52 starts and 264 2/3 innings, with 68 walks and 206 strikeouts to go along with championships in the Florida State League in 2017 and in the Eastern League last year -- there are times when he hasn't met his own bar.
"You learn from it," Zeuch said. "Learn from your mistakes, go back, look over the game and see if maybe there was a mechanical issue, or if I was missing spots too much and catching too much of the middle of the plate. You learn from your mistakes and don't let them repeat themselves."
In his Triple-A debut on Saturday, the Blue Jays' 2016 first-round pick didn't make a whole lot of mistakes -- he hurled 5 2/3 scoreless innings, allowing two hits and one walk while striking out four in his return from a lat injury. But he is still looking forward to what comes next.
"No, No, No... Not in my house!" -T.J. Zeuch, probably pic.twitter.com/0zg35vxNi9

— Buffalo Bisons (@BuffaloBisons) June 22, 2019
"I didn't think I was very sharp today, especially in the beginning of the game," Zeuch said. "But I was lucky enough to have a brick wall for a defense, and a great catcher [in Reese McGuire, Toronto's No. 19 prospect] behind the plate to keep me in a good rhythm and mixing really nice pitch calls for me. … I felt good. I got a little tired at the end, just still getting used to building up, but definitely will get better from here."
"Better" would only be an improvement on an already positive impression the young pitcher has made.
"He was pretty much as advertised," Bisons pitching coach Doug Mathis said. "Good sinker, threw his other pitches for strikes, worked a good tempo, and threw it over the plate and got a lot of soft contact. He gave up two hits, and really one or two hard-hit balls. So he was outstanding for his first outing in Triple-A and coming off the injuries he's had this year."
Moving up a level in his return to the mound after what Zeuch described as a "long" rehab process, the 6-foot-7, 225-pound righty felt he knew what he needed to do to find success in Triple-A.
"My mindset was to keep everything simple and do what got me here," Zeuch said. "Keep the ball down, throw strikes in the zone, make good put-away pitches and execute. Just keep it simple."
Added Mathis: "Our game plan today was just to attack and be who he is and use his sinker. He ended up making a little adjustment after the third inning with his breaking ball and started getting some swings and misses with it. That actually made his fastball better late in the game. Not as many ground balls as he usually gets probably, but he still kept the ball on the ground and got lots of soft contact."
With holes to fill in the Blue Jays' rotation, Zeuch understands that he could be on the move sooner than later. But first, he needs to do everything he can to prove himself with the Bisons before he can continue climbing the ladder.
"The only thing to get me to where I could be next is to pitch well down here," Zeuch said. "So I take it one game at a time, go out there and give quality starts, give this team a chance to win every time I'm out there. I know that's what's going to get me to the big leagues, so I've just got to do that."