Reid-Foley looks to keep things simple in return
Hard-throwing Canadian reliever Romano optioned to Triple-A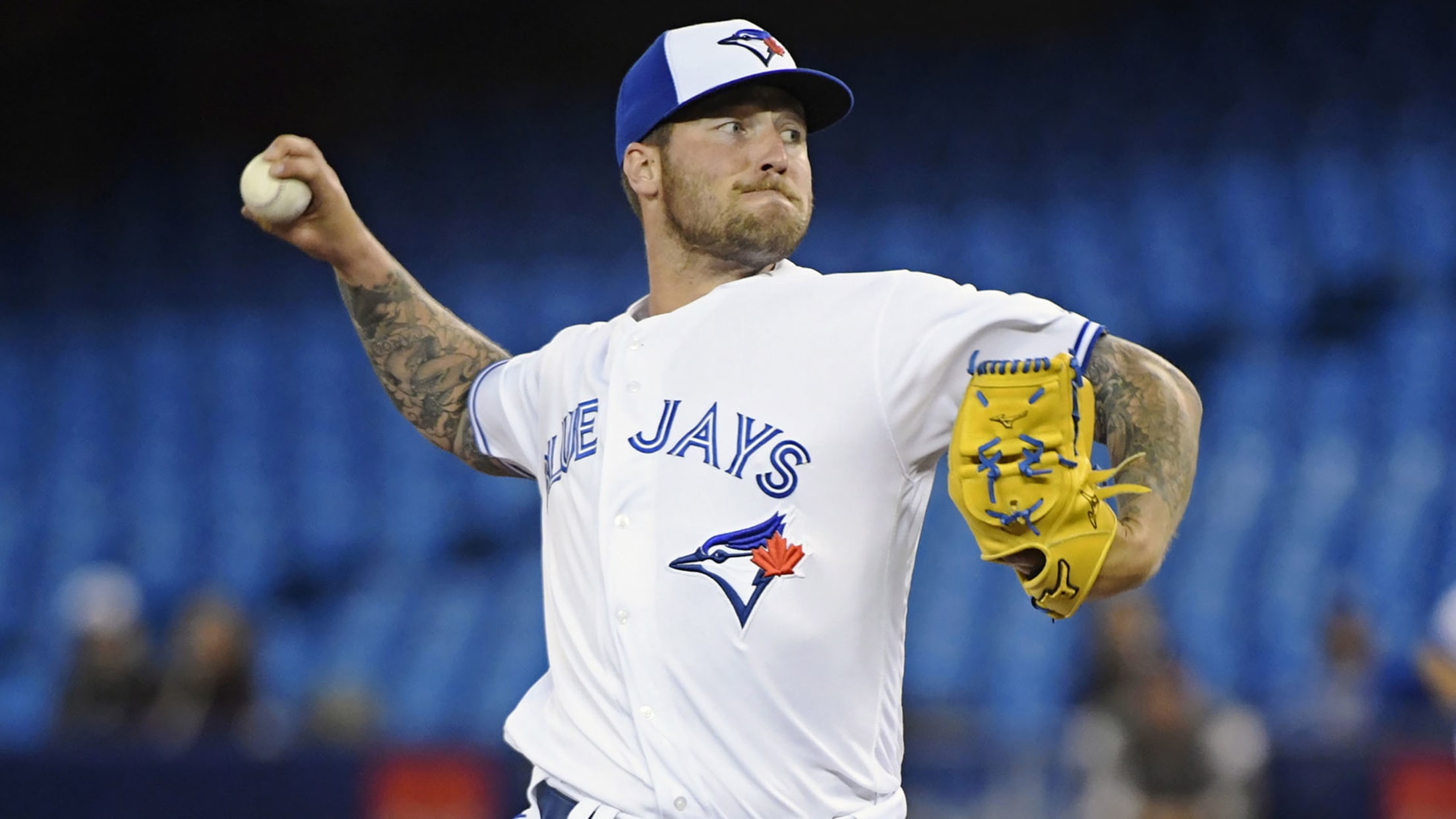 BUFFALO, NY -- Sean Reid-Foley is back in the big leagues. Recalled ahead of Sunday's game against the Red Sox, the 23-year-old right-hander has spent his time at Triple-A Buffalo this season working toward another chance in the Majors, and felt as though the experience he's already had in the
BUFFALO, NY -- Sean Reid-Foley is back in the big leagues.
Recalled ahead of Sunday's game against the Red Sox, the 23-year-old right-hander has spent his time at Triple-A Buffalo this season working toward another chance in the Majors, and felt as though the experience he's already had in the big leagues was an education in what he needed to do in order to return.
"I really just learned that it's the same game, you're just on a camera every day," Reid-Foley said on Friday in Buffalo. "That's it. You're at the highest level that you could ever play at, and you're playing a kid's game, so you always need to realize it's a game, and don't ever take it too seriously.
"I just need to throw strikes, honestly. Once I do that and I get more consistent, and pitch deeper into games, it's a lot easier to get away with more stuff that you shouldn't get away with."
The biggest battle for Reid-Foley of late has been in finding the strike zone.
At Double-A New Hampshire and with the Bisons last year, Toronto's No. 7 prospect had it. Reid-Foley limited hits and free passes, his strikeout numbers were up, and he impressed the Blue Jays enough to earn his first call up to the Majors.
With Toronto in his first two stints in the big leagues, and in his return to Buffalo this season, the young righty found himself looking for that consistency once more, and he has spent his year working with Bisons pitching coach Doug Mathis on a way to find it.
"I just need to be more consistent in the zone," Reid-Foley said. "Last year, I pounded the strike zone pretty well. This year, it's been off and on, but that's the only thing we're working on right now, just pounding the strike zone. Whenever I do that, obviously the walks are down and everything else is minimized."
The most difficult piece of the puzzle for the young hurler has been trying to figure out exactly what is responsible for the difference. He doesn't feel as though he is trying to be too fine with his pitches and hasn't lost any comfort in his repertoire, but hasn't pinpointed what it is he needs to fix.
"I wish I had an answer," the hurler said. "Because then I probably wouldn't do it. I don't really have an answer for what it is, because if I knew, I would change it."
Reid-Foley has made 14 appearances and 13 starts for the Bisons this year, posting a 5.87 ERA over 69 innings with 77 strikeouts, holding opponents to a .213 average, though he has allowed 54 hits and 51 walks over that span. He is the author of four quality starts, and when things are going well for the righty, it's because he is able to keep them simple.
"It goes back to throwing strikes and making sure you're always in good counts, in pitchers' counts, not hitters' counts," Reid-Foley said. "You can throw whatever you want then, and if you're not in those counts, it definitely shows. That's with anybody at any level. You definitely get hurt when you're not."
And when things aren't going well, Reid-Foley makes an effort to refrain from thinking while he's on the mound. If the situation begins to snowball, he aims his focus on something away from the field, in order to get back to pitching without letting the game affect him.
"You can't really think about too much because then the game speeds up on you," the Florida native said. "[To settle in], it goes back to picking off something in the stands somewhere that you see, that helps you focus back in or slows you back down. But other than that, it's really just making sure that you know what you need to do to pitch in and pitch out, not really worrying about the results much."
Mathis has been impressed by the improvements his young hurler has made throughout this season, and believes that eventually the work Reid-Foley is putting in will result in the performance level he's looking for.
"He's made a lot of big strides," Buffalo's pitching coach said. "He's gotten better. The struggles he's gone through this year have actually made him better. He's shown some flashes where he's dominant -- he leads the league in batting average against, and he's [sixth] in strikeouts -- so he's got a lot of good things going on. It's just whether he can limit his walks, and he hasn't really gotten over that hump yet.
"He's been snakebitten by walking guys and giving up some big innings; that's where a lot of his runs have come from. He's done the work, it's just not carrying over into the game. It's really a mental thing, attacking the strike zone and then throwing your best stuff over the plate. He has good stuff and he beats hitters when he's in the zone."
In two big league stints with the Blue Jays over two seasons, Reid-Foley has gotten eight starts, posting a 5.60 ERA over 35 1/3 innings with 23 walks and 45 strikeouts. In order to make room on the roster for the starter, Canadian reliever Jordan Romano was optioned to Buffalo.