13 intriguing stats, facts from NLCS Game 6
The Dodgers beat the Braves, 3-1, on Saturday at Globe Life Field to force a decisive Game 7 in the National League Championship Series on Sunday. This marks just the third time we've had Game 7s in both LCS since the round expanded to a best-of-seven format in 1985. The
The Dodgers beat the Braves, 3-1, on Saturday at Globe Life Field to force a decisive Game 7 in the National League Championship Series on Sunday. This marks just the third time we've had Game 7s in both LCS since the round expanded to a best-of-seven format in 1985. The other instances came in back-to-back years -- 2003 and '04.
The Dodgers are bidding to make their third World Series in the past four years, and the Braves are looking to play in the Fall Classic for the first time since 1999.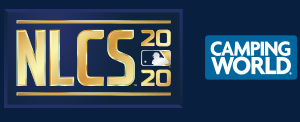 Here are 13 key facts looking back on Game 6 of the NLCS and ahead to Game 7.
Seager continues to rake, as does Dodgers' offense
1) With his first-inning solo home run, Corey Seager became the first player in MLB history to hit five or more home runs in the NLCS, and his five home runs tie him for the second-most homers in any postseason series (Nelson Cruz hit six in the 2011 American League Championship Series).
2) Seager now has six home runs this postseason, the most by a Dodgers player in a single postseason. That's also tied with Carlos Correa this postseason and Rich Aurilia in 2002 for the most homers as a shortstop in a single postseason.
3) The homer also gave Seager 11 RBIs, which is tied for third most in any postseason series. The only players with more are Cruz (13) in that 2011 ALCS, and Boston's John Valentin (12) in the 1999 AL Division Series. Seager's 15th RBI for this entire postseason also pushed him past teammate Justin Turner (2017) for the Dodgers' record.
4) In the Dodgers' first 244 postseason games, entering this series, they never hit multiple home runs in the first inning. But when Turner followed Seager with a homer of his own, it marked the second time in six games this NLCS that L.A. has managed the feat. The club also homered three times in the opening inning of Game 3, a burst which included back-to-back bombs, in that case from Joc Pederson and Edwin Ríos.
5) Turner's 10th career postseason homer tied him with Steve Garvey for second on the Dodgers' all-time list, trailing only Duke Snider (11). Turner already held the franchise record for postseason RBIs; he now has 39.
6) The Dodgers' two homers gave them 14 in six games against the Braves, the third most by a team in any postseason series. They trail only the 2008 Rays (16 in the ALCS) and '17 Astros (15 in the World Series). Factor in the Braves' output, and the 22 big flies hit in this NLCS put the teams four away from tying the all-time record of 26 set by the Rays and Red Sox in the '08 ALCS.
Buehler's day
7) Walker Buehler gave the Dodgers exactly what they needed, turning in six scoreless innings during which he scattered seven hits while walking none and striking out six. Though he wasn't able to get through more than five innings in any of his three prior starts this postseason, he's limited the damage done against him. Buehler's Game 6 performance lowered his career postseason ERA to 2.44.
8) Buehler became the seventh pitcher in Dodgers history with a scoreless start when facing elimination in a postseason series, and the first since José Lima in Game 3 of the 2004 NLDS. The others include Orel Hershiser (1988 NLCS Game 7), Jerry Reuss ('81 NLDS Game 5), Sandy Koufax ('65 World Series Game 7), Clem Labine ('56 World Series Game 6) and Johnny Podres ('55 World Series Game 7). It's worth noting that each of the six pitchers other than Buehler threw a shutout.
9) Buehler has thrown 527 four-seam fastballs during the 2020 regular season and postseason combined, and only five were thrown harder than his 99.7 mph four-seamer to the Braves' Nick Markakis for a called third strike in the second inning. The hardest four-seamer Buehler threw this season was 100 mph, and it came on Sept. 20 against Tim Locastro of the D-backs.
Looking ahead to Game 7
10) Rookie Ian Anderson has been announced as the Braves' Game 7 starter. And with Dustin May starting for the Dodgers, this is the first winner-take-all game in postseason history where both starting pitchers are rookies, according to the Elias Sports Bureau. The last rookie to start an LCS Game 7 was Buehler, in the 2018 NLCS -- which the Dodgers won, over the Brewers.
• Every Game 7 in NLCS and ALCS history
11) At 22 years and 169 days old, Anderson will be the sixth-youngest pitcher to start a winner-take-all postseason game, behind only Fernando Valenzuela (1981 NLCS Game 5), Bret Saberhagen ('85 ALCS and World Series Game 7), Don Gullett ('72 NLCS Game 5), Jaret Wright ('97 ALDS Game 5 and World Series Game 7) and Marty Bystrom ('80 NLCS Game 5). Of those seven prior winner-take-all games started by pitchers this young, their teams are 6-1, with the only loss being the Indians, in Game 7 of the 1997 World Series, to the Marlins.
12) Sunday's Game 7 will be the 14th winner-take-all game in Dodgers history, and the club is 7-6 in those games. It will be the 12th winner-take-all game in Braves history; they are 4-7 in such contests.
13) The Dodgers are looking to win the series after being down 3-1. This was the 10th time in franchise history that they trailed 3-1 -- and they have not come back to win any of the nine prior such series. In fact, it's the first time they have even forced a Game 7 in those series.
Overall, entering 2020, 87 teams had fallen behind 3-1 in a best-of-seven postseason series. Only 17 forced a Game 7 -- but of those 17, 13 won Game 7 to finish the comeback.